Hi Dear - SplinterMates,
For this week's Battle Share Contest Organised by the SplinterLands Team; details can be found @ Weekly Splinterlands Battle Share:: For this week challenge, we have DEATH Element Monster who is named as DEATH ELEMENTAL; we will explore this Magic attack DEATH ELEMENTAL monster in our post today. I strongly feel that Winning or losing battles does not matter. What matters most is how a player is building upon his/her game strategy.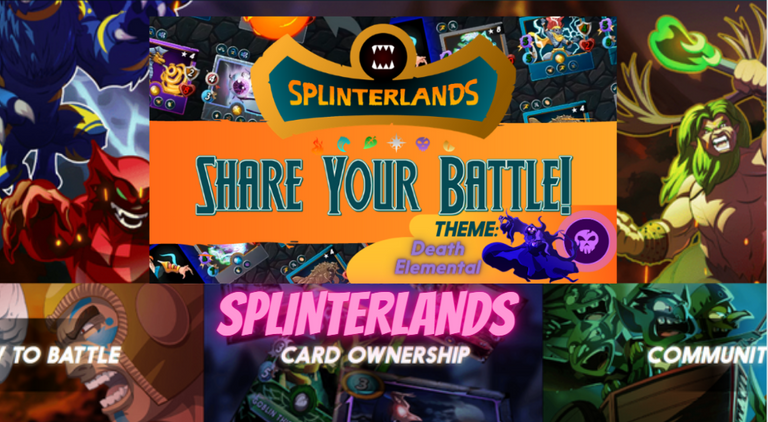 In this post, we will explore this DEATH Element Monster DEATH ELEMENTAL-; share my strategy around it and how I'm using this card i.e. its placing position on the battlefield and how often I use the card, and at what level it should work the best for you. At the end of the post, we will also be doing a Cost-Benefit Analysis of this Card DEATH ELEMENTAL
The high-level pointers that we are going to discuss are as follows::-
DEATH ELEMENTAL Monster card level discussion, stats, and how I am stack with the LIFE monster card DEATH ELEMENTAL
Gameplay & Strategy discussed in detailed
Battle Results & How Often I use this DEATH element card DEATH ELEMENTAL
A Final Note to keep things simple; talking a bit around the cost-benefit analysis for this card. Simplicity is the one that is admired by most people & I'm one of them that likes to keep things clean, simple, and straightforward.
How Often I use this DEATH element Monscard DEATH ELEMENTAL
Check the following image to know how many cards I've of this Death Element Magic attack Monster.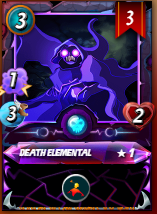 I have THREE cards of this DEATH Monster. And frankly speaking, I would be using this card for the first time in the Battle-Field. But before I get this card to the Battle-Field; let's combine all the THREE cards that I have and then check its stats.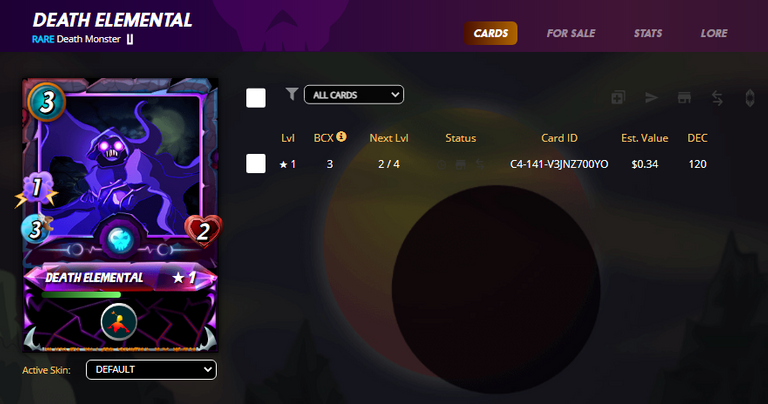 After combining the THREE Cards, I need another 2 Cards to bring this DEATH ELEMENTAL monster at level 2. Since I've some Extra DECs the In-game currency to spare. I'm going to buy this card from the internal market. One card costs around $0.15 cents Approx.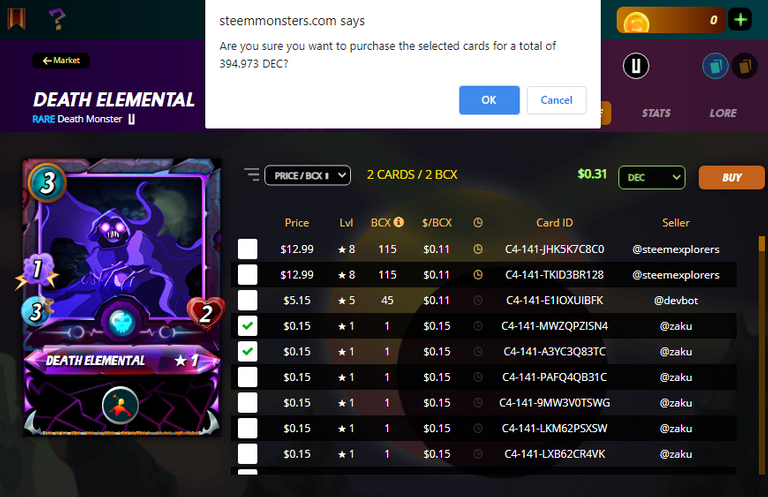 Bought these 2 Cards for 394+ DECs and combined them to bring this monster card at level 2. Looking at the stats of the Card, I got extra health and at level 2 it has a health of 3 and at the same time, we get to explore the SINPE Ability. This means it attacks monsters that are not in the FIRST position.
Now that we know about the card and how I'm stacked up with it. Lets Battle As
THE::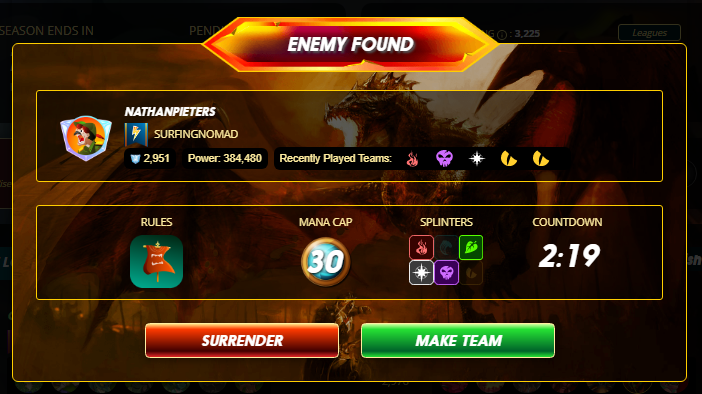 So it was a 30 MANA CAP Battle with ONE Rule - Standard; No change to the Standard gameplay rules and mechanics. This time I took the Summoner; "ZINTAR MORTALIS" as this would decrease - 1 Melee attack from my opponent monsters giving my monsters a bit of upper hand.
Game Plan & Strategy Discussion::
The Game strategy here that I used was to benefit from the POISON Ability of my monsters. Just have a closer look at the monsters that I took in the Battle-Field.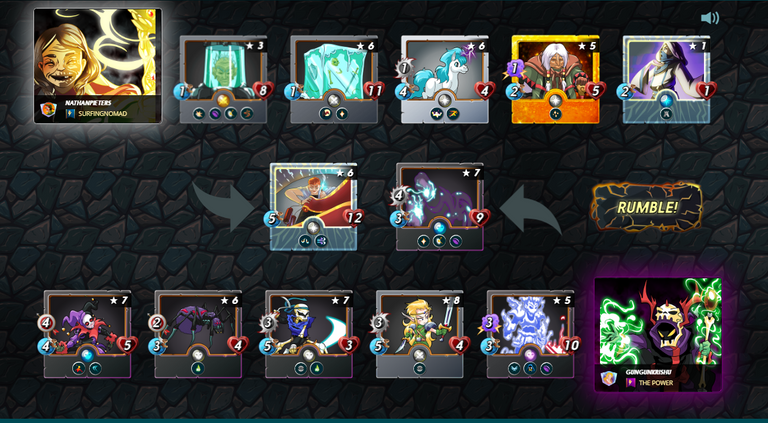 We had TWO Monsters having the POISON Ability. And they are::
1.HAUNTED SPIDER At Level 6
2.SKELETON ASSASSIN At Level 7
Both these Monsters together did the real damage with their POISON Ability. Apart from them even HAUNTED SPIRIT Monsters lined up first stood there till the end of the Battle.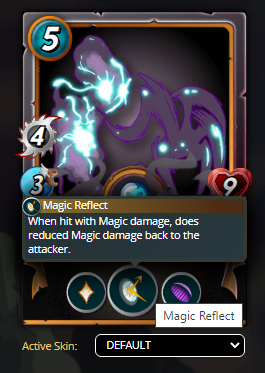 I really like its Self Healing and the Magic Reflect ability. The Magic Reflect was the answer to all the Magic attacks that were planned by my oppononet. Overall; HAUNTED SPIRIT was well supported by other monsters and especially TWISTED JESTER was doing the damage from the other ends by attack monsters that were not in the first position. Along with PHANTOM SOLDIER support & it's SILENCE ability further weaken our opponent monsters.
The Battle RESULTS;
The rest is history and I'll keep it for you to explore in the Replay Match. So overall the strategy did work out as I was expecting. And here is the result:: A Clear Winner that got me +20 points and +36 DECs the In-game currency WON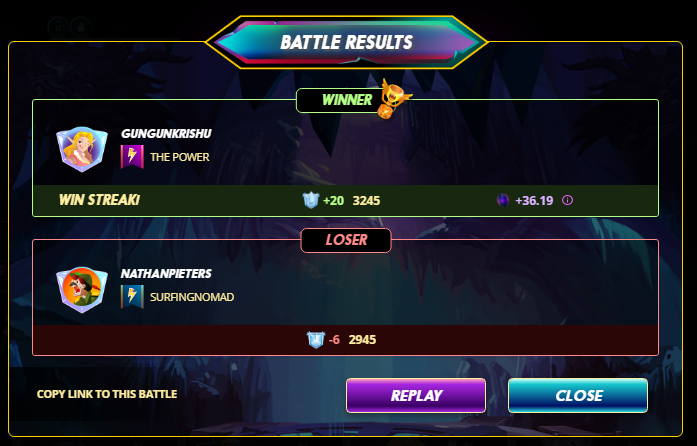 Watch the Battle HERE
A Final Note to keep things simple; Tell me in One Word Should I include this DEATH ELEMENTAL in my card collection?
The straight forward answer is YES. And I say it because of two reasons::
Reason1. Its a Low Mana Cap Card and at 3 it perfectly fits for any battle
Reason2. You get to explore the SNIPE Ability from the Start
I guess both these reasons should be sufficient to support my answer to have this DEATH Monster Card in your collection. I'm a big FAN of Low Mana Cap cards and as and when opportunity strikes, I keep building these cards. Therefore DEATH ELEMENTAL is a good card to include in your card collection.
Cost-Benefit Analysis for DEATH ELEMENTAL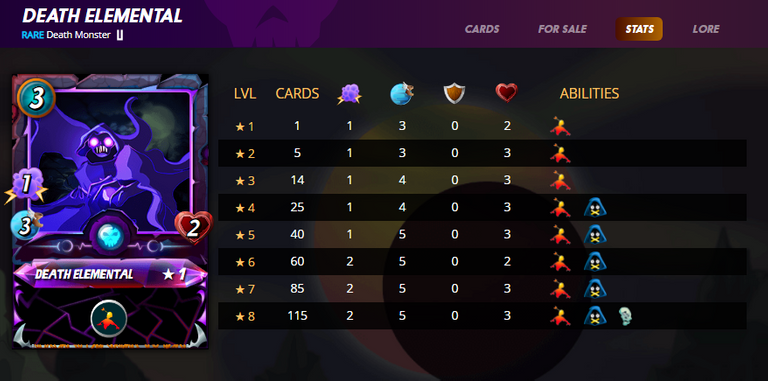 The Ideal level considering the cost-benefit ratio and the maximum utilization of the card. I think this card at level 4 should be the best FIT. To bring this DEATH ELEMENTAL card at level 4; you will need to combine 25 cards and 1 Card cost around $0.15 cents. Hence You will need to shed close to $6.25
$0.15 * 25 = $6.25 Approx.
I'm sharing the price of the card being sold individually. But for sure there definitely are going to some deals for buying in bulk. Anything less than $5 or close to it for 25 cards should be a stealer. If you are not the one to buy the cards in Bulk then I would recommend building this card gradually as I would be doing the same i.e. will be working out to upgrade this DEATH ELEMENTAL from level 2 to level 5.

Best Regards
Do you love playing games and do you want to earn as well while playing the game. If YES then come join this amazing online trading cards game SPLINTERLANDS here
See You @ The Battle Field - May the POWERS be with You!!
Cheers & Thank You!!!
Find me on LBRY & Earn LBCs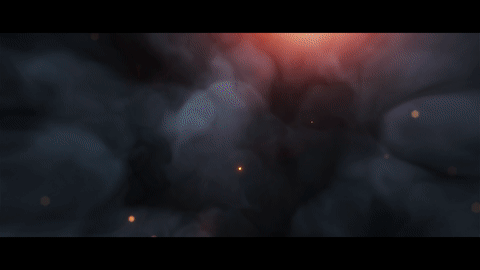 ---
Image Courtesy: SplinterLands