SHARE YOUR BATTLE Weekly Challenge! SAND WORM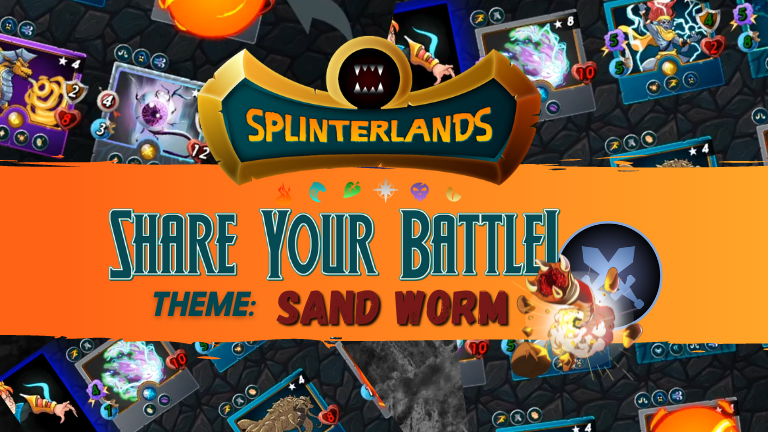 Every week there is a Splinterlands challenge to share a battle using a card and on this week's post it is the Sandworm card. I also encourage Splinterlands players to partake in the challenge because you get to try different strategies and earn some crypto in the process.
Featured Monster: Sand Worm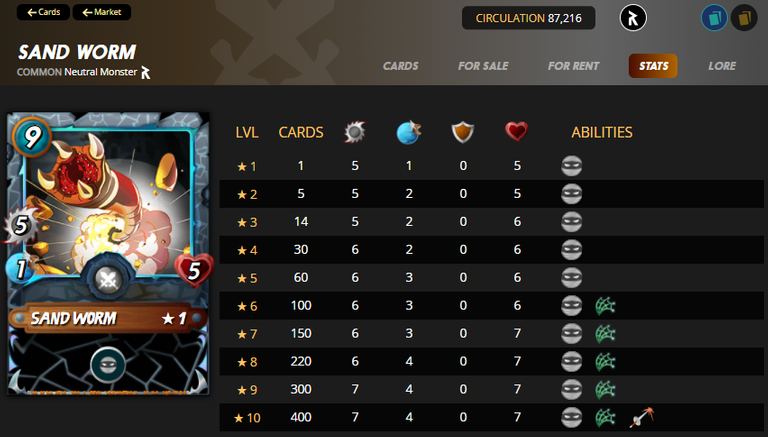 Sandworm is a common neutral splinter card and it is also one of the cards I got from my daily quest rewards. I am unsure whether or not they are still being printed but it is definitely a great card. It has high attack but low speed with the sneak ability at level 1. At level 6, it earns the snare ability and at max level, it earns the piercing ability.
I generally use this card when I there is a decent amount of mana available and I also like to use it when we have the reverse speed rule set. My plan with this card is for it to deal as much damage as it can on the last month they have available. With so much attack, most monsters will die in one to two hits.
My current Sand Worm is level 3 because I bought a cheap gold Sand Worm in the past. It has served me well and I also like gold cards because they will help me earn more DEC from ranked fights. So my Sand Worm only has the sneak ability.
Rule set, Battle and Plan

The rule set this time is opportunity and rise of the commons. So I will not be able to use my epic or legendary monsters in this fight and most of my monsters will target the lowest HP monster on the field. The splinters available are limited this time so I can only use light, earth and dragon. On the plus side, I have 48 mana available so I can use quite a few high mana cards.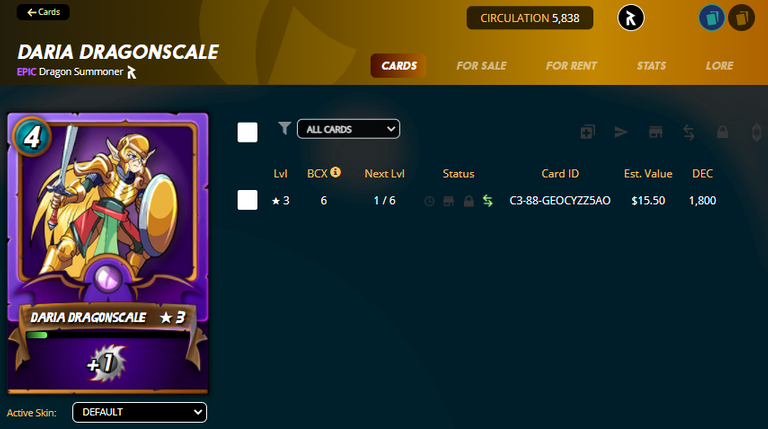 The summoner I choose to use this time is Daria Dragonscale. I don't actually own this card but it was delegated out to me and I use it quite often in my fights. Although it is only level 3, the bonus attack makes it a perfect fit when building a melee monster team with its +1 melee attack. As there is opportunity in the rule set, I am thinking of creating my line up with purely melee monsters.
Looking at the cards I can use, I feel that the Dragon plus Earth Splinter deck is the best choice. It has a bunch fast and powerful melee monsters with various abilities from healing, void magic and flying.
Round 1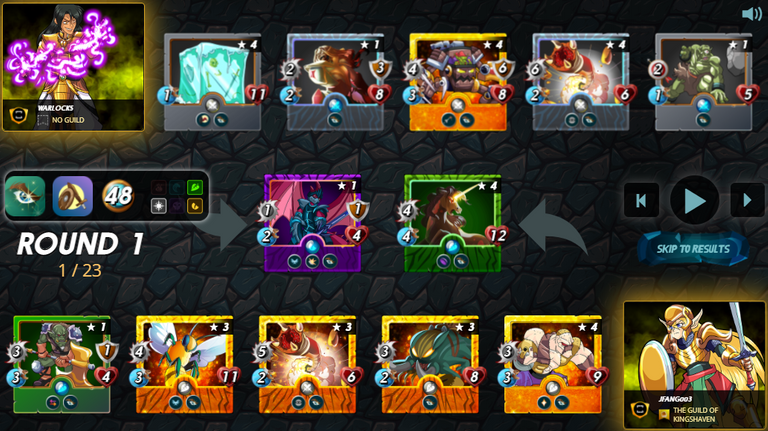 I don't really recognize my opponent's summoner and after looking it up after the fact, it only adds +1 speed to his team. I feel that my opponent also felt like melee monsters were the best choice and from a glance, I think my lineup would be stronger. The last card in my line up is the Stonesplitter Orc because of it's retaliate ability.
Round 2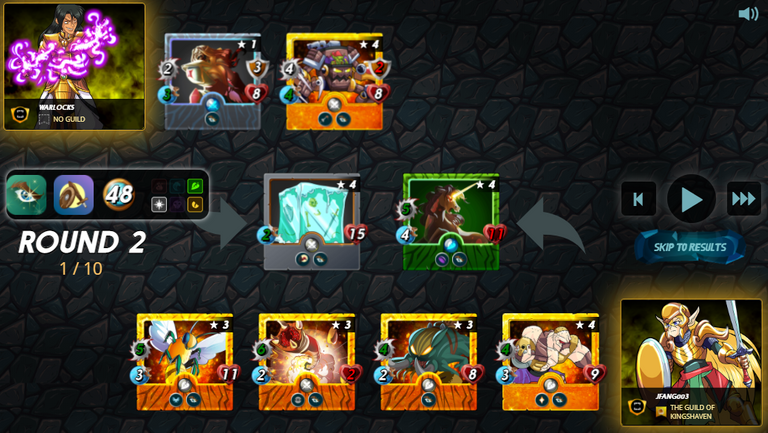 I am completely satisfied with how my first round played out. The Stonesplitter Orc was hit twice and it retaliated twice to deal 6 damage to my opponent's team. One of them was the opponent's Sand Worm and taking that out reduces the damage I take in the rest of the fight. As a bonus, I was able to get rid of 3 cards on my opponent's side and he only has 2 attacking monsters left. I believe there is no way for me to lose this fight given the total damage on my side.
Round 3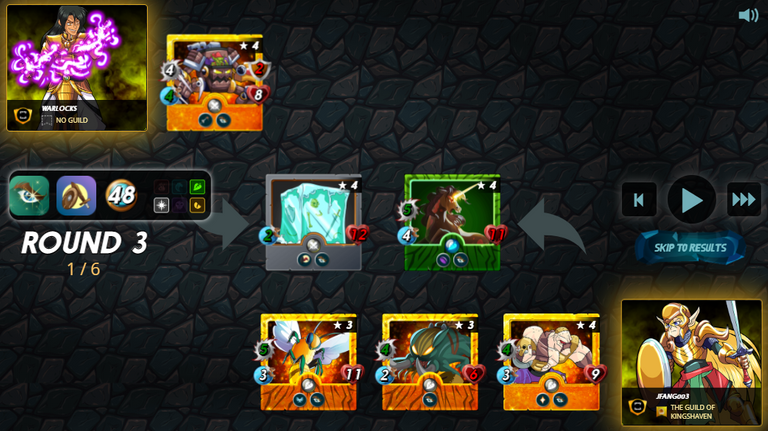 I wanted the Sand Worm to deal another hit but it died off quite early given the boosted speed on my opponent's side. However I was able to clear another monster on my opponent's side and he is down to a single attacking monster left. Given his damage ouput and the health on my cards, none of my cards will die this round and I should be able to drop him down to 1 card next round if I don't miss.
Round 4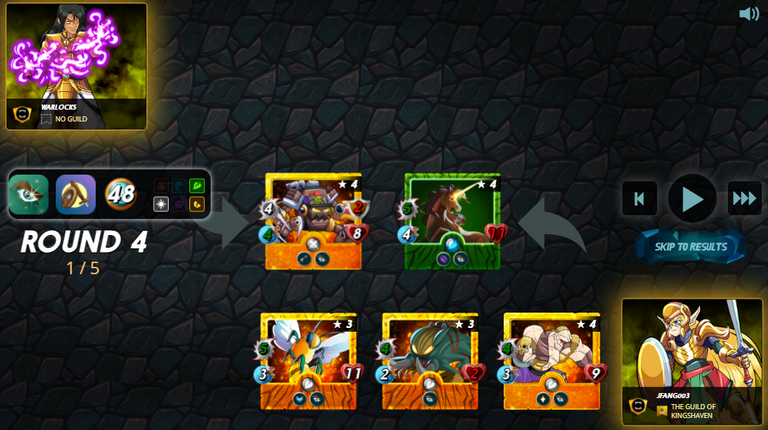 I did miss an attack but my opponent is down to a single card left. I don't see any reason why I shouldn't kill off my opponent during this round. At the same time, I am not worried since my Flesh Golem is next up even if my Unicorn Mustang dies.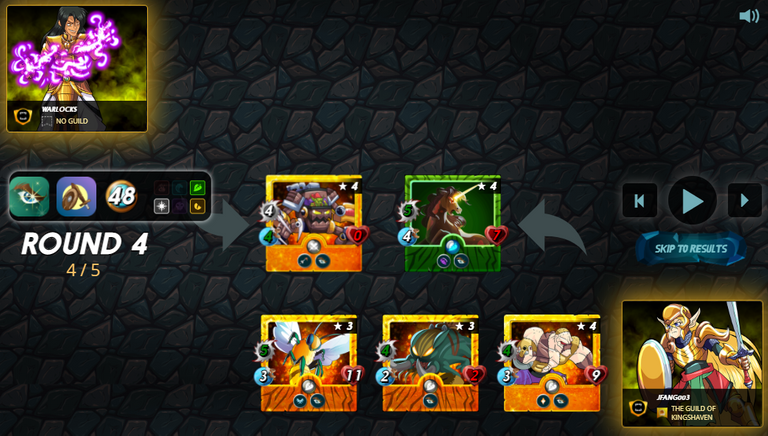 Nothing out of the ordinary happened and I was able to finish off my opponent.
Conclusion
The battle went exactly like I thought it would since I choose a set of melee monsters. I think my first round went extremely well since it was able to wipe out three of my opponent's monsters during the first round. The Sand Worm killed off only 1 monster but it did its job to deal damage and take a few hits.
Daria was definitely a big help during the fight as it boosted my damage as well. With the opportunity ability, I was free to pick whichever monster I felt was best but the no neutral monster quests going on did affect my decision. So I went with a bunch of effects to make the most of whatever my opponent would throw at me. I thought my line up would be fast enough but I ended up moving after my opponent though.
You can see my entire match here.
What did you think of my match? Was there anything you would of done differently? I think it is quite interesting to see how different players use the same card.
---
---