🔆 New Reward Cards + Quest Potion, Day 3 of 11 🔆 Finally some NEW Cards! 🔆 33 SPS Up for Grabs! 🔆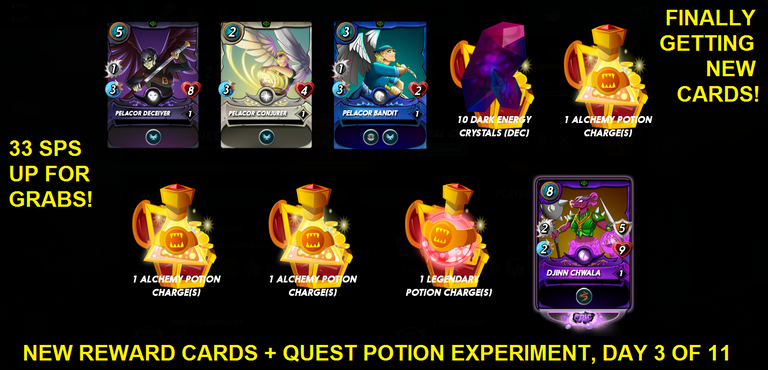 Welcome to Kenny's
New Rewards + Quest Potion
Experiment and Giveaway
Day 3 of 11
It seems like the old reward cards must have finally run out, because I got 4 new ones this time around, including an epic! Exciting times :-)
Besides that, we gave away 500 DEC for last episode's giveaway, and today we've got 33 SplinterShards (SPS) to give out!
Be sure to follow me on Hive, 3speak, and/or Odysee (the blockchain video platform with that pays you) so you don't miss anything!
Without further ado, let's crack packs!

This first embed is @3speak, and there's an Odysee embed at the bottom of the post.

The Experiment
As many of you know, the quest potions recently went from costing 750 credits or 750 DEC, to only being available for DEC, leading to a 5-7x in the price of the potions. That, combined with the end of the print run for the last rewards cards definitely stopped a lot of us from buying potions.
So, I just bought 11 Quest Potions, for 7200 DEC. With DEC sitting at $0.0055, that makes for a total of $39.60, or $3.60 per QP.
Day 1 Rewards: $13.93
Day 2 Rewards: $1.53
Day 3 Rewards:
3 Alchemy Potions = $0.12
1 Legendary Potions = $0.05
10 DEC = $0.05
Pelacor Conjurer = $0.20
Pelacor Deceiver = $0.20
Pelacor Bandit = $0.27
Djinn Chwala = $3.98
Total value for Day 3 = $4.87
Profit over cost of Quest Potion: $1.27

Of course, this is also based on those current prices for the cards, which may very well come down as more of them hit the market, based on the discount I get in the shop from the upgrades that the @Hive.Pizza Guild has, and the current cost of DEC... so it's all sort of meaningless, and mostly just based on your luck anyway :-P
It seems like Quest Potions are far more valuable for those who are in Silver or Bronze brackets, as they only get 1-4 reward chests normally. That means a Quest Potion is at least doubling their pulls.

Last Episode's Winner
In the last episode, I offered up 500 $DEC, with the prompt being to leave us a comment with their favorite of the new rewards cards.
The RNG picked our winner this time, and it was @adulruna for this comment. Here's the blockchain transaction of the Hive being sent.
Thanks for entering everyone!

Today's Giveaway
For today's giveaway, I'm going to offer a new prize. For the first time, someone will be winning SPS - Splintershards!
Leave a comment below, with your favorite or least favorite rule-set. What's the one that you always lose, or you always win. Maybe just the one you can never quite figure out the right strategy for? Besides sharing together, I'm happy to offer some insight to folks as well :-)
3 winners will be picked, and they will each receive 11 SPS tokens!
Good luck!

(Unsupported https://odysee.com/$/embed/daily-quest-potion-3-of-11/a2eea36769f61109269cb60f5dfdfd16ac536c29?r=8MJrRfYG58iLQ7X6RgwpMqJyFHadhMsa)

---
---

---
---