Some Advice For Splinterlands Newbies (From A Splinterlands Newbie)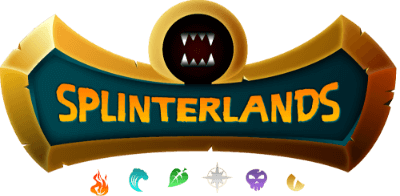 Photo Source
Yes, I'm a 'NEWBIE' who has read virtually every article out there on the Hive blockchain advising new guys and gals how to approach playing this game. Admittedly, I have a ton more to learn, but I wanted to share one piece of advice I read that really worked for me as well as a recommended card for a newbie to purchase (if possible - it's expensive).
The advice: Don't skip around trying to play all the different splinters using all the available Summoners! Pick one and learn it - learn it well. Then pick a second as a back up - learn it well.
By doing this you will find your win rate quickly rising. Take the time to find out which cards work for you to combine for wins (and you'll find out at the same time which combinations are losers). You can't do that by playing all the splinters, but playing one and getting one to work for you and give you wins will allow you to move on to learning a second splinter.
Now, you might think this sounds crazy. I originally thought that, but it's not, IT WORKS!!!!!
Every morning as part of my routine (and to get a Splinterlands fix for my new addiction) I play 10 battles. A mere three days ago, out of these morning 10 battles I was lucky to win 2 of them (and most of the time only one). I sucked at the game and I knew it - so I tried the advice. I first chose the Fire splinter using Malric Inferno as my Summoner. That was the only splinter I played for most of that day, and as I went and used various combinations, well, I started to see what groupings would lead me to victory.
This morning, my 10 battle addiction fix continued. Out of this mornings 10 battles, good ole Malric and I managed to get 8 WINS!!! All I can say is WOW!!! So dear newbie friends, this tactic works. Try it for yourself.
Anyway, I also knew I needed to make some major improvements to my deck. Have you checked out the price of cards - THEY'RE CRAZY. But this new addiction to this game made me throw caution to the wind. I was looking through cards for sale and came across a 'Furious Chicken' (yes, at a crazy high price). But I remembered reading in one of the articles I had studied something to the effect 'if you have the chicken and can play him - play him'. I figured what the hell and I cracked open my piggy bank and bought it.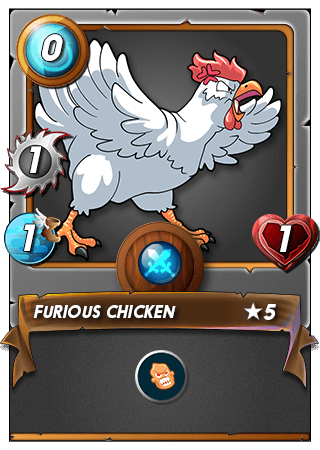 Photo Source
The 'Furious Chicken' is one damn good card! I'm still not exactly sure what it does, but I believe this card in conjunction with the above advice, has lead to this new found game success measured in wins I'm now experiencing.
Give both a try Splinterlands newbies. It worked for me and just maybe it will work for you too! Good luck and may all your battles be wins (unless I'm your opponent!),
---
---