Splinterlands Art Contest | Week #121 | Elven Cutthroat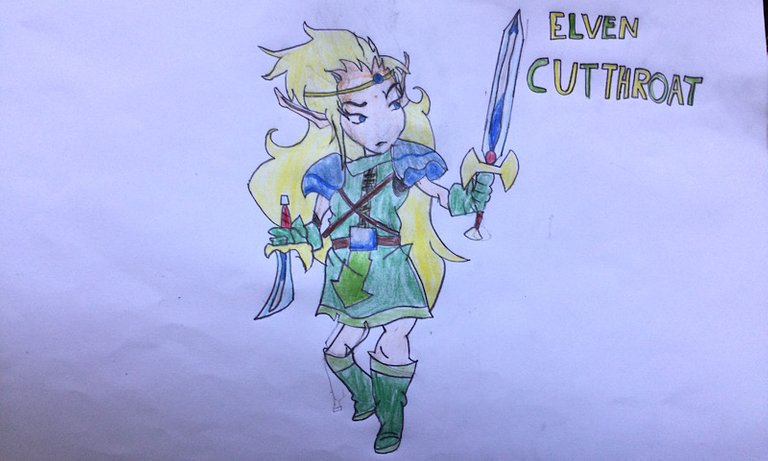 Maybe, this is the last post for Splinterlands art contest. I don't know why I never win. I draw Elven Cutthroat. Enjoy
Splinterlands Art Contest Week #121
I love to play Splinterlands and I really love to know about Splinterlands. I drew Elven Cutthroat because I want to draw something like a human. I found Elven Cutthroat to draw. Elven Cutthroat is an elf. Elven Cutthroat is a female elf.
I really love her style. It is so beautiful. She is my first elf drawing. I never draw this beautiful before. I am happy that I choose her. At first I think it is too hard but now it is easier than I think. Enjoy my drawing.
Let's Draw The Elven Cutthroat
Step 1

     Okay, first you need to draw a half oval shape bit you have to draw it a bit point.

Step 2

     Now, draw two eyes, two eyebrows and a mouth. You also have to draw a thing like a crown and a little circle in the middle.

Step 3

     Now, draw her ear and her hair. You also have to draw her arm and a part of her sword.

Step 4

     Next, draw her shirt and don't forget to complete her sword and another sword too.

Step 5

     Now, you have to draw a half of her body and her skirt.

Step 6

     Now, you have to color her hair with gold color or yellow color.

Step 7

     Now, color her like I color her. The colors that you need is yellow green and green.

Step 8

     At last, you have to color her skin with tanned color. You have to color her cloths with dark blue and blue. Her sword with red, blue, gray and sky blue.


This is an open-ended Art contest for Splinterlands inspired creations.
You can create art based on the cards or you can create something entirely new!
Creations which may include, but aren't limited to:
Drawings
Paintings
Digital Art
Logos
Blog Dividers
Blog Footers
New Card Ideas
Mixed Media Art
Dolls
Computer Generated Art

The Prize!
15-ish Booster Packs will be split between the winners!!!

Rules for Submission
Post your creation on your own Steem or Hive account
Please describe and show some steps of your process
Link your post in the comments of this submission post
Upvote/resteem this post
The Deadline for submissions is Saturday, January 9th at 10:00 PM CST
All entries must be art CREATED AND INSPIRED BY SPLINTERLANDS.
Please do not submit artwork that was created for something else.
All entries must clearly be Splinterlands inspired.
Using your old artwork and rebranding it will no longer be accepted.

🙏 THANKS FOR READING 🙏
If you enjoyed this post, please upvote and reblog.


---
---