Hello!
This is my first Splinterlands blog post. Ever!
So first thing is: Thank you for visiting and reading! I'd like to give you the tl:dr version of an introduction for myself and then tell you why you should come back and be a regular visitor.
Who is King-Of-Rockets?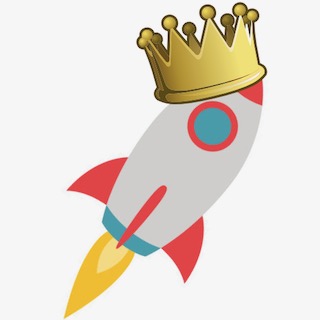 Right off the bat, I am the self proclaimed king of rockets. Why? I don't know. It just sounded interesting at the time. Now I'm stuck with it. Let's move on.
I am a relatively new player to Splinterlands. I started around February of this year. I've made some real progress since then. Thanks to the guidance and generosity of a couple experienced players who I now proudly call guild-mates, I've built myself quite a decent deck, if I do say so myself. It's not the greatest collection ever put together. My budget isn't big enough for that. But I think I've made some good purchases since I started and managed to put together a more or less solid Gold League deck. It's still a work in progress for sure but all in good time. It's enough to get me into Diamond II and if I was a better player, perhaps Diamond I or dare I dream... Champion III! That's a lofty goal but I feel like with enough practice and grinding, I will get there. I can feel it!
Well, a few more awesome cards wouldn't hurt either :)
Why Should You Subscribe and Come Back

I'm going to be posting regularly on things like:
Progress on improving my gameplay skill, rank play and tournaments, card collection, etc
Helpful hints for newer players
Featured battles and cards of mine
Thoughts on Splinterlands news and updates like the new rental system, brawls v2.0, SPS, Land Plots, etc
Interviews with prominent players and members of the Splinterlands community. And also people who I think are just cool that you should know more about!
Other weird and fun thoughts I have here and there about Splinterlands
GIVEAWAYS?!?!
YES, GIVEAWAYS!!!
Yup, I'm gonna have me a great time. So come along for the ride, won't you?
And just in case you read all of this and thought to yourself...
"What the heck is SplinterHands?"
First, it's "SplinterLANDS". Hand splinters are the worst.
Second, it's an amazing play-and-earn blockchain-based trading card game. You should definitely check it out which you can for free!
https://splinterlands.com?ref=king-of-rockets

** that's my affiliate link which I may get something or other for signing up through it, I'm really not sure, but let's assume I get something out of it. If you'd rather go directly, no problem, here is their site as well: www.splinterlands.com.
The important part is, go see what it's all about.
Until next time!