Splinterviews: InvestyGator (thegcc) - User Profile and Interview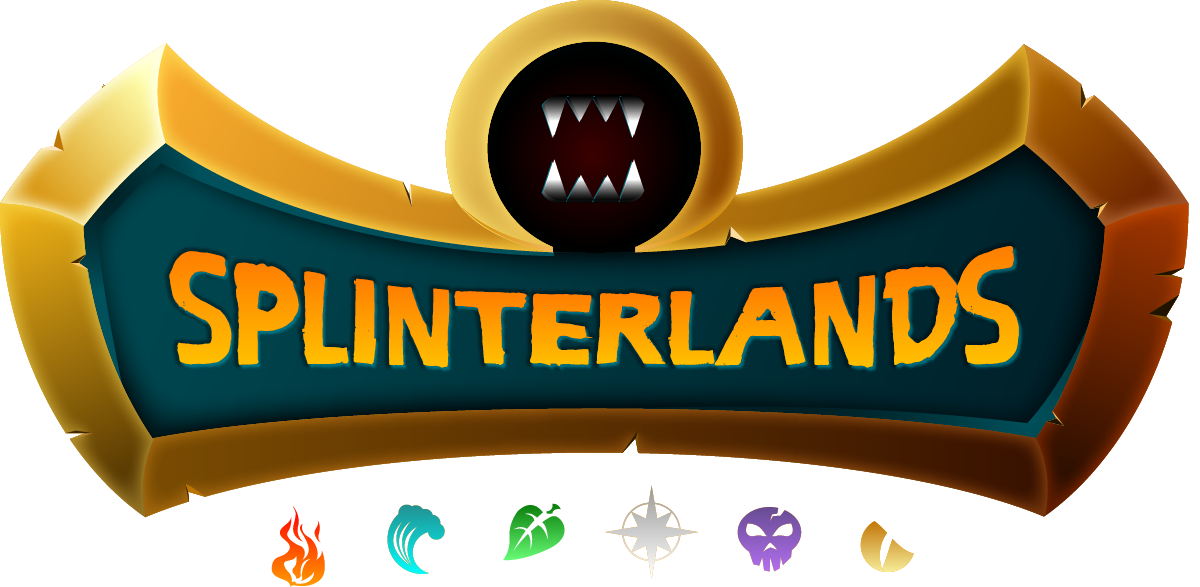 Splinterviews: InvestyGator (thegcc)
Hello everyone and welcome back to Splinterviews! The series where we take a closer look the users that inhabit the Splinterlands and keep things alive in the Splinterlands Discord Server.
Today we're shining a spotlight on @thegcc (InvestyGator).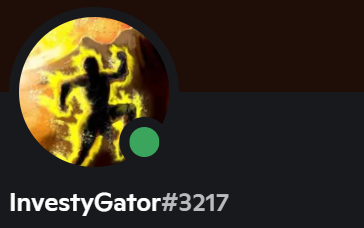 This week we present one of the legendary support staff members who immediately jumped in to the rescue during the recent Discord emergency. @thegcc "InvestyGator" on Discord, is a moderator and part of the Splinterlands Support Staff. He is known to work tirelessly and respond immediately. He's also liked for his kind nature, stays away from drama, and attends to others. His responses are characteristically to the point and complete.
Expect nothing but solid and immediately useful responses if you're ever unsure about anything regarding Splinterlands:

Scammers hate him :(

Literally what "working tirelessly" looks like:

If thegcc (InvestyGator) has helped you in the past, please take a moment to say thank you in the comments as he'll most certainly be checking them in the days to come. He deserves it!
He is likely to be found in any of the official channels of the Discord, but most frequently in the #tech-support, #mobile-tech-support, and #rc-issues request.
Favorite card: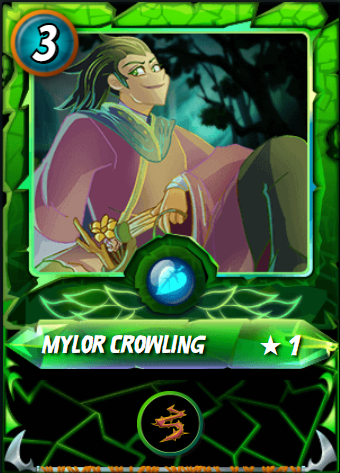 Source: Splinterlands.com
Mylor Crowling: He was, surprisingly, not nearly as popular as he is now when he came out. Bronze was more full of people running Untamed summoners, like Pyre or Bortus, and he helped me get quite a few wins. Yodin was too pricey on my, what I can grind, budget at the time. Now they've both gone up in price by pretty large factors. Sadly, I don't get much use out of him recently. I only got him to level 2, and I'm limping through in Gold league with a high level Bortus and Wizard of Eastwood.
Here's what some of the community has had to say about InvestyGator:
"gator is so cool when he's doing his job, quick response and helpful"

A great mentor!

---
Now onto the interview:
---
InvestyGator, when did you first enter the splinterlands?
I have a running blog about it, so I can go look up a pretty close actual date: September 2020.
So you joined around late last year as a regular user, not staff, correct?
I just bought a Spellbook and started playing. It was actually an experiment of sorts, to try to see how well I could do without investing money outside the $10 for the Spellbook.
How'd that experiment go? Any success?
Not too bad. It took several months to get out of Bronze, and mainly by getting lots of free stuff from Clove71, and later Marcus Wahl, plus grinding out DEC and tournament winnings to slowly build up a deck. It fell apart about 30 or so weeks in... I was also playing Alien Worlds, and when that blew up first, I sold a bunch of their TLM token, and bought a set of Gold Foil Untamed Common + Rare cards to be able to help my guild fill the Gold Foil brawl slots.
At what point did you become part of the support staff?
For most of the history of Splinterlands, Matt was basically support. Then they brought in Byzantinist to help out with support. Then this year they decided with tens of thousands of accounts opening a day, they needed to actually get more staff and started bringing in people to help out 😄. Officially it was around August 13th when they told us to start logging hours and they would reimburse us. It did originally start out as just Discord moderation and answering questions. Then, eventually I got promoted to having access to the support tickets, and some minimal admin access to fix things on accounts. I'm basically mid-tier support, though at this point I think almost everyone is😄.
Do you get paid!? i have no idea how that works!
We do. It's a lot less hourly than I make at my day job, but it's really a job. There's a lot of work involved, both in a customer service aspect of dealing with players, as well as lots of research to try to figure out what is actually an issue, or just user error.

We also weren't paid initially for quite a while. They took a month or so to figure out how they were going to pay us - after telling us they would be doing so. For a long time the team was a pretty small group, and they're just recently really expanding to have an actual set of employees/independent contractors filling a lot of roles that you would expect to have in a software company.
Ok, I have to ask: Are there any additional benefits you get for being a support staff? Do you get delegations, discounts on fees, more supply of RC, perhaps a Christmas bonus?
Nope! Lol, we'll find out about a Christmas Bonus next month. Not sure that I wouldn't be doing this anyway if I wasn't in a support role, but I'm actually delegating out a bunch of cards and HP that are just my own personal stuff to try to help out people.
None of that stuff is coming from Splinterlands or any official support resources.
I still remember when you delegated me RC. I had very recently started and was down to 1%. I couldn't do anything! Saved my life, Bro.
Glad I could help. Yea, the game is in kind of a weird spot right now, as it's heavily moved to a rental economy and card prices have exploded. Back when I started, people tossed me a few rares and commons to help me get going, which at the time were worth a few pennies, to maybe a little under a dollar. I feel like people coming in now really need a little help to get started, especially with the DEC rewards being removed from the Novice/Bronze III tiers.
What's an example of completely absurd requests you get in support? Does it ever feel like babysitting?
Hmm, well, usually the most absurd sort of tickets I see are ones where people don't put in the effort to even write out a full question. They'll just put MASTER KEY and that will be the entire submission :/
LOL that's actually hilarious. MASTER KEY. How do you stay patient throughout it all?
At the end of the day I'm also just another player of the game. I know I'd be upset if I had issues, especially in a game where I had invested a ton of money. I want to help people get their stuff fixed and off playing the game. I often don't have the ability to do so, but I at least try to make sure to pass it on to people that can fix it.
Do you hide your "crypto life" from your friends and family?
No, not particularly. I don't go out of my way to hide my crypto and gaming stuff from anyone in real life, though I also don't just throw it around in casual conversation. Well, my wife was pretty happy that I got a 2nd (part time) job - as long as it involved the pay checks going to her 😄😅
Most users never consider what the staff is up to, other than their performance in the discord and/or support ticket system. I'm guilty of this as well. How many times a day do you play and for how long?
Of late, I usually just try to play and get my dailies done. I did make a 2nd account a while back, to try to test out renting when it first came out - so I'm doing quests on 2 accounts. It varies, but usually about an hour or so. I'll sometimes do a few extra games just to burn down ECR. I also try to join the occasional tournament. Back in my Bronze days, I was playing a lot more to try to fight for leader board spots. But, since I know my collection isn't good enough to make it in Silver/Gold, there's a lot less pressure to grind out wins.
So you're quite competitive as well then? Any tournaments that stood out?
Back in the day, I did manage to go undefeated in a Bronze Blunderbuss 😄. And came in first a couple other times in those or Kobold Novice tournaments, back when I was playing in them. Let's see, back in June I came in first in a Clove Saturday tournament.
We have a screenshot here. WOW!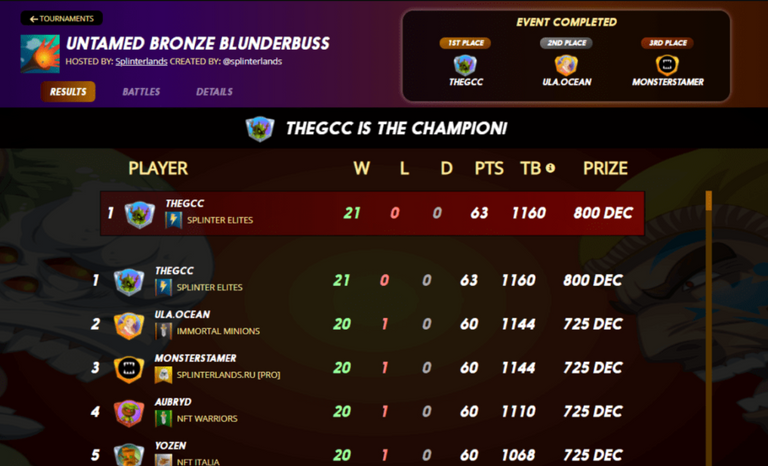 Man that is impressive!
Is there anything people might be surprised to know about you?
Lol, I play 90% of my games with a tiny dog sleeping on my lap 😄
What's the most overrated card?
Hmm, that's a tough one. Maybe Archmage Arius 😄. For the 2 extra manna, I feel like Yodin Zaku or Scarred Llama are usually better. I don't really want to say Yodin or Llama, as they are really overpowered at lower leagues.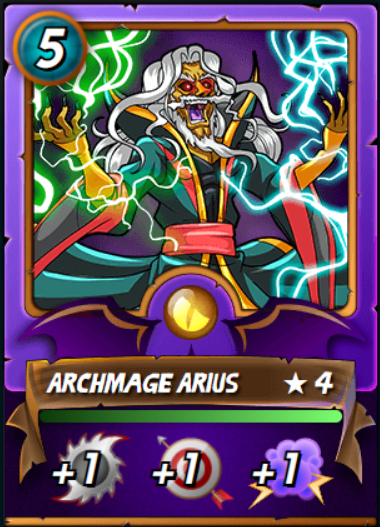 Arius looks upset about that for sure!
Anyone you'd like to give a shoutout to?
Ok, in no particular order: @cryptofiloz (doing daily giveaways for over a year now), @zeruxanime (for his PeakD card giveaways), @MarcusWahl (for doing a ton of new player tournaments and giving out DEC on his streams), @stever82 (for his 1,000 DEC and card giveaways on PeakD), @UnitQM (for organizing New Boost to help out new players for almost a year now), @Clove71 (for doing tons of tournaments and Twitch giveaways), @unorgmilitia (for helping handle the RC requests), the rest of the support staff for trying to help everyone. Probably forgetting a couple of people, but that's a decent list to start with. Oh, and 1 additional shout out to @aussieninja (for actually reading my blog posts)😄.
@cryptofiloz @zeruxanime @marcuswahl @stever82 @unitqm @clove71 @unorgmilitia @aussieninja @cicisaja @meokonlonton
---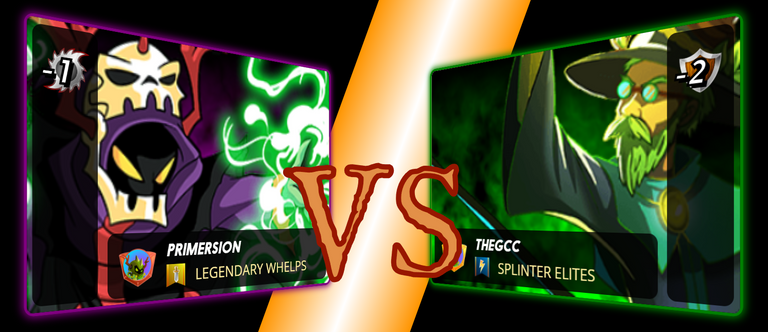 This was a fun one, need to wait for the end though.
Wow! That chicken really is Furious! You really should wait for the end if you're reading it, it's worth it. Our dear InvestyGator is out-leveled here, but Primersion must have never played Zelda and didn't know better than to upset a chicken.
Finally tell us about your experience with Guilds.
I am in a guild, Splinter Elites, I'm not really a fan of the snooty name, but it's actually fairly laid back. We've got an interesting array of people in it, ranging from Gold league Mavericks, to casual Novice/Bronze players 😄. I'm one of 3 co-leaders at this point, under the guild leader. We tend to do decently in Brawls, usually finishing in the top 3... except sometimes when people forgot to submit their teams for 9 matches :/
As a veteran player, do you have any tips for new players just starting out?
I would say to set some realistic expectations for yourself and the game. It's a grind at low levels, especially with some of the recent changes. Try to take advantage of giveaways on PeakD, Twitch, and events in game to work on slowly building up your deck. UnitQM usually does a big monthly giveaway (NewBoost), and the league requirements might end up getting revamped when Chaos Legion comes out and the format splits into modern and wild.
Be sure to also have a look at InvestyGator's blog: https://www.splintertalk.io/@thegcc/
---
That's all for today's Splinterview, folks. If you have any questions for @thegcc (InvestyGator), feel free to ask in the comments below and he might just find the time to reply. As for me, if there's someone else you'd like to find out more about, do suggest them in the comments!
Check out Splinterlands: https://splinterlands.com/
Splinterlands Discord: https://discord.gg/nKnYWEaC

Be sure to Follow me as there are more Splinterviews to come! You will not want to miss the next one with @cornavirus
---
---