Cheap OP Cards - Manticore || Ep. #56 || Splinterlands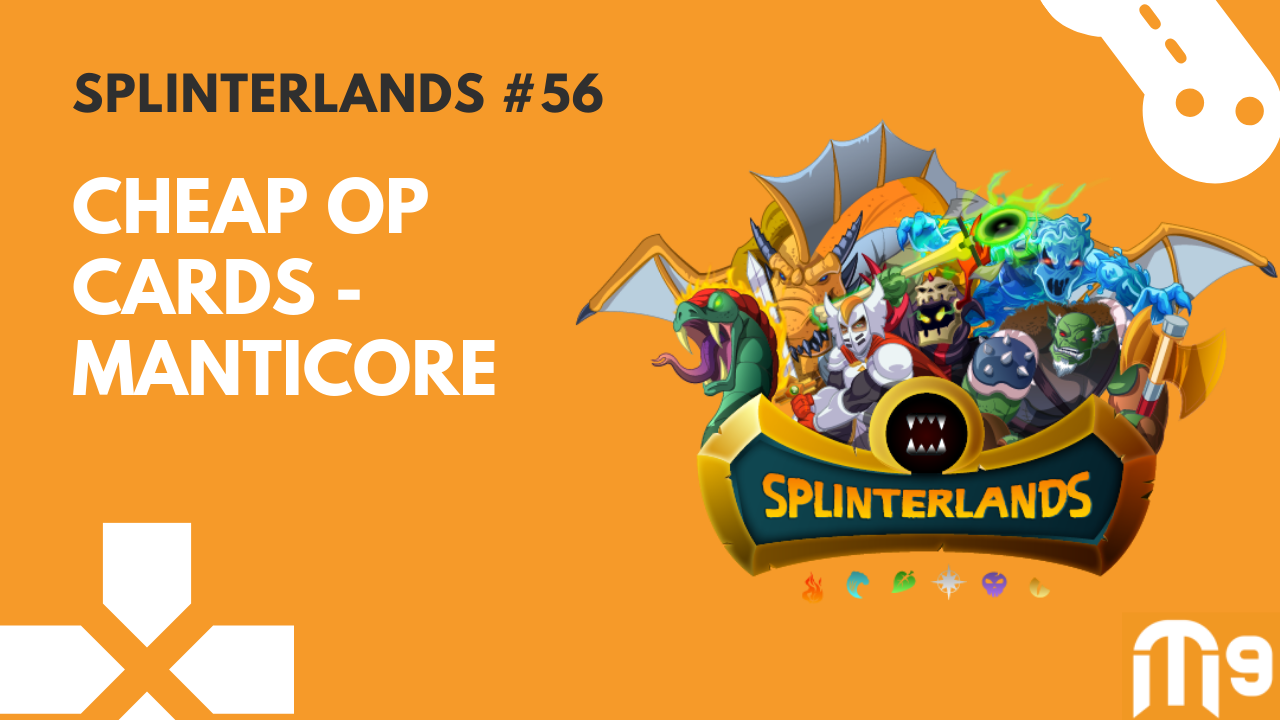 This will be an on-going series that will give new players a decent head start with splinterlands by focusing on overpowered monster cards that can be a cost-effective and useful investment to their starter decks.
Manticore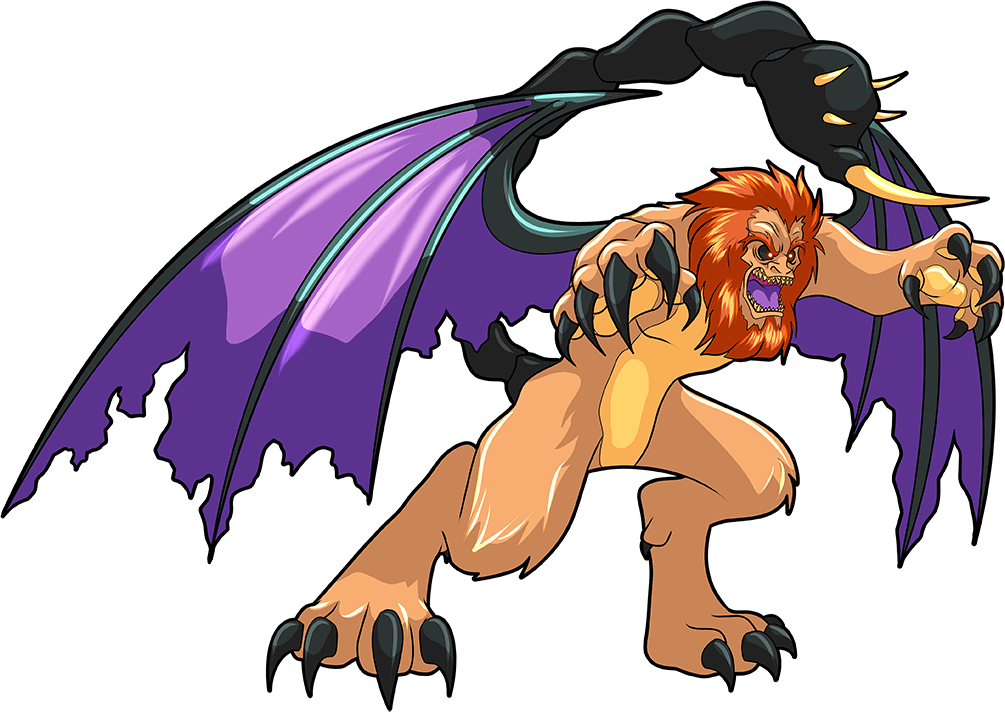 Lore
Another product of the twisted genetic experiments of the Gloridax is on the loose. The hybrid monster known as the Manticore is a cross between a Dragon, a Lion, a scorpion, and countless other monstrosities from which it draws its powers. Except when summoned to battle, the Manticore answers to no one.
Card Details at Level 1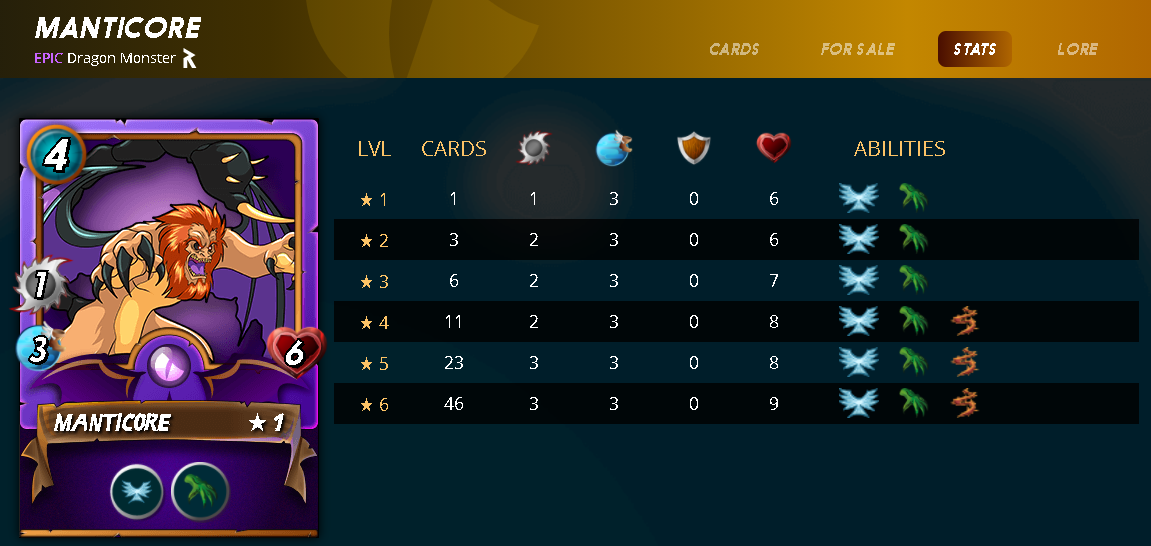 Rarity: Epic
Splinter: Dragon
Mana cost: 4
Melee damage: 1
Speed: 3
Health: 6
Abilities Overview

Current Market Price Details
A single BCX card of Manticore will cost $0.37. I would recommend leveling it up to level 4 as this unlocks the Thorns ability. At level 4, it becomes very useful with 2 melee damage, 8 health, 3 speed, and 3 above-mentioned abilities. At level 4, it will cost $3.95.
Historical Market Price Details
Over the past period, 1 BCX of the Manticore has reached as high as $0.437 and as low as $0.2.


Source: SplintX
Manticore top battles across different leagues
The following battles showcasing the Manticore battles across the different leagues. This gives everyone an idea of how powerful this super sneak melee monster can be:
Usage and win rate of Manticore for each league
| League | Usage% | W | L | Win rate |
| --- | --- | --- | --- | --- |
| Bronze | 1.06% | 16 | 14 | 53.33% |
| Silver | 4.08% | 70 | 57 | 55.12% |
| Gold | 4.55% | 162 | 118 | 57.86% |
| Diamond | 1.72% | 99 | 87 | 53.23% |
| Champion | 1.38% | 162 | 225 | 41.86% |
Source: Usage/win rate of monsters and summoners for each league | Season 52
Closing Thoughts
The Manticore is one of my favorites monster cards. It has a low mana cost, okish damage, decent speed, awesome health and 3 great abilities at level 4. Generally, I like to use the Manticore in position 2 to utilise the reach and almost always use it in Earthquake ruleset battles. Another tip is to utilise the Manticore with Daria Dragonscale summoner who buffs the melee damage of all friendly monsters by 1, which is adds that little extra bite to the Manticore. If you haven't gotten the card yet, I would highly recommend picking it up and looking to level it up to level 4.

I recently did a compilation post titled, The New Players Guide to Splinterlands: A Collection of Articles and Guides. This post serves as a summary of articles and guides I have written for new players starting fresh on Splinterlands. If you enjoy reading my Splinterlands content, please follow and support me by signing up to playing Splinterlands through my affiliate link: https://splinterlands.com?ref=mercurial9.
---
Thank you for reading and hope you have a good rest of the day!
Follow me on these other platforms where I also post my content: Publish0x || Hive || Steem || Read.Cash || Uptrennd || Instagram || Twitter || Pinterest
---
---