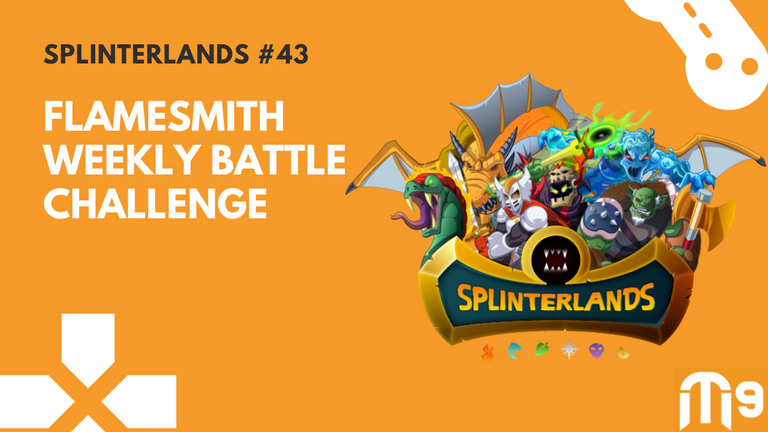 This week's battle challenge focuses on the Flamesmith:
The strongest weapons and armors in the Burning Lands are crafted by the Ferox, a silent race of fire people who live beneath the mountains. A Ferox body consists of flowing magma held together by a single ferox stone that sits at its core. If a Ferox is killed in combat, its ferox stone ceases to glow, the magma cools and stops flowing, and the two horns fall to the ground. Ferox are made for the forge; they can handle superheated metals with their hands, and they can harden and reshape parts of their bodies at will. This means that a Ferox blacksmith not only has all the tools it needs. It is the tools.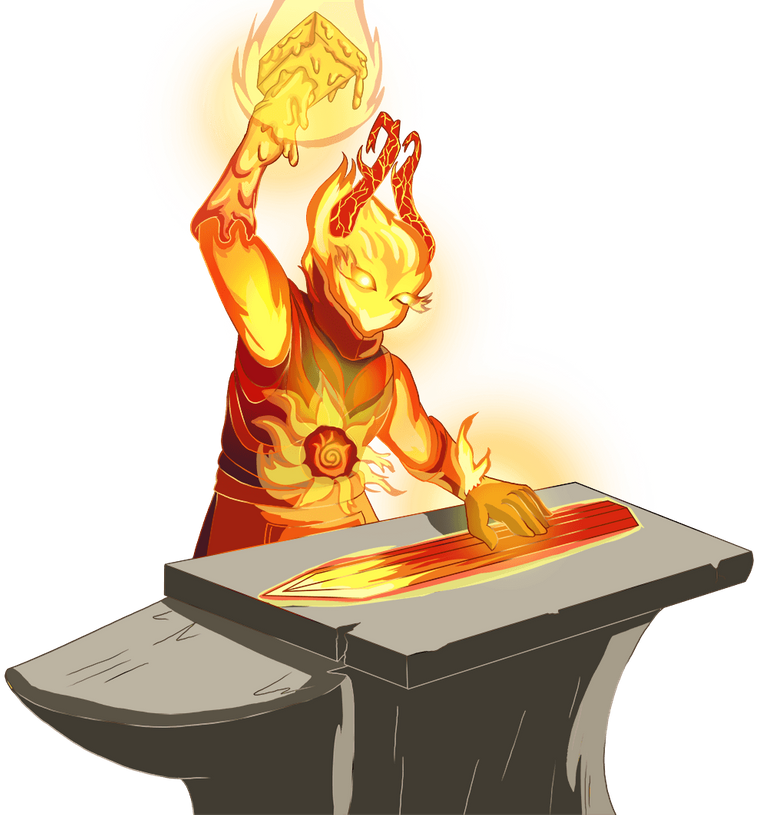 Card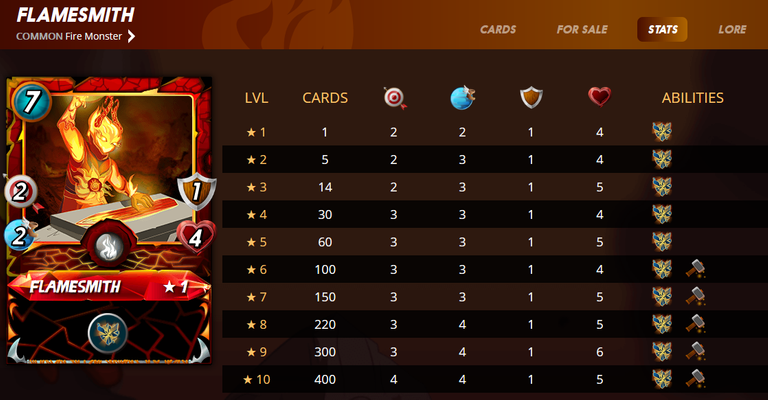 A Dice common level monster from the Fire Splinter at level 1:
Estimated costs: $0.065
Range damage: 2
Speed: 2
Health: 4
Armor: 1
Shatter ability: Targets armor is destroyed when hit by an attack from Monster with shatter
This is a monster card I didn't have, and for the weekly challenge, I bought a level 1 card and sent it to my alt account as my alt account plays in a lower league and therefore would be able to utilize this card. Purchasing the Flamesmith at a level for my primary account would've worked out too expensive (level 6 at current market prices works out to $6.45) and therefore I don't see myself using it a lot. At level 1, its the only range monster card with the shatter ability and I think this is why its priced higher than other common cards.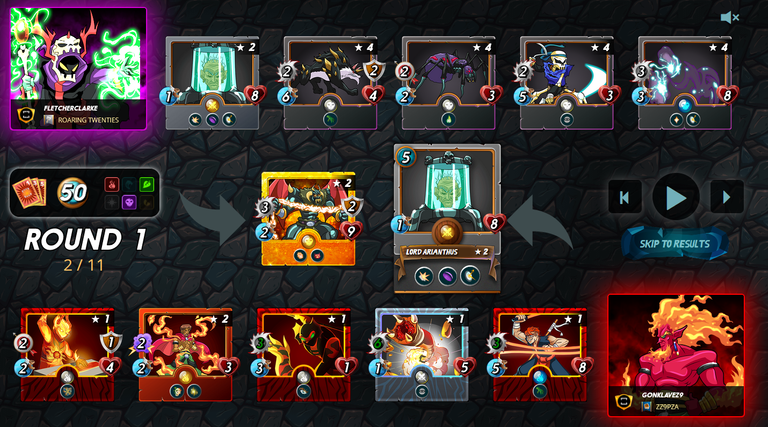 Battle Details
Mana cap: 50
Ruleset: Odds One Out
Lineup
Lord Arianthus - primary tank
Fineas Rage - damage dealer with reach ability
Sand Worm - damage dealer with sneak ability
Serpentine Spy - support damage with opportunity
Zalran Fleet - leeching life off enemy's primary tank and cleansing any hexes applied to Lord Arianthus
Flamesmith - support damage and trying the card out for the weekly challenge
Did your strategy work? What will you try differently next time?
Yes, the strategy worked out very well. When I saw my enemy's line-up, I was worried as they had higher level cards than me, but surprisingly I won the battle. While the Flamesmith didn't last very long, it still proved very useful in this battle by landing the killer blow on the enemy's primary damage-dealing tank. Also, the armor on the Flamesmith is very useful as it was able to sustain an additional blow without losing health. This battle didn't portray the Flamesmith's shatter ability, so next time I would like to utilize that more.
Do you like the FLAMESMITH? Why or why not?
I think the Flamesmith can be useful in specific battle matches, but I still feel it's expensive and the stats are just ok for what you get.

I recently did a compilation post titled, The New Players Guide to Splinterlands: A Collection of Articles and Guides. This post serves as a summary of articles and guides I have written for new players starting fresh on Splinterlands. If you enjoy reading my Splinterlands content, please follow and support me by signing up to playing Splinterlands through my affiliate link: https://splinterlands.com?ref=mercurial9.
---
Thank you for reading and hope you have a good rest of the day!
I also post my content on the following platforms:
Publish0x: https://www.publish0x.com/@aftershock9?a=Vyb82ANmev
Hive: https://hive.blog/@mercurial9
Read.cash: https://read.cash/@merurial9
Uptrennd: https://www.uptrennd.com/user/mercurial9
Steempeak: https://steempeak.com/@mercurial9
Instagram: https://www.instagram.com/minimalistpixel/
Pinterest: https://za.pinterest.com/minimalistpixel/boards/
Twitter: https://twitter.com/minimalistpixel