Monster Profile: Bila the Radiant || Ep. #69 || Splinterlands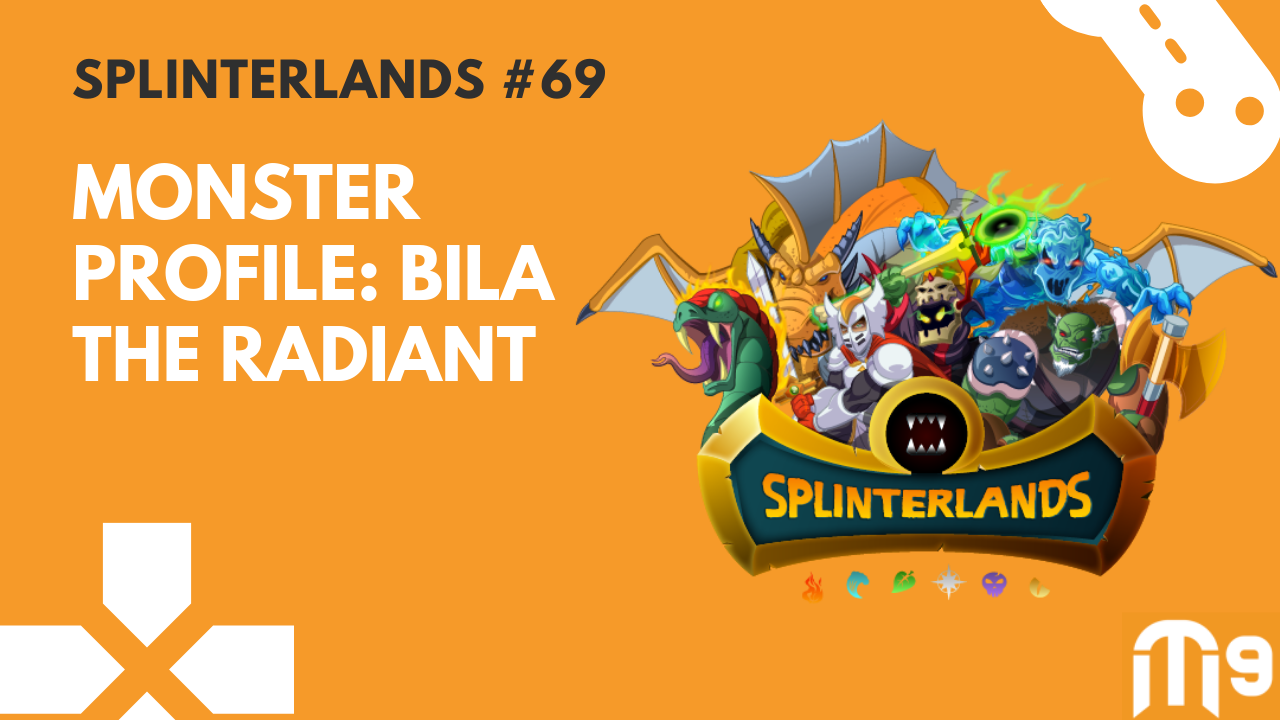 Today is the start of a new series where I will profile splinterlands monster and summoner cards. Each post will be dedicated to one monster or one summoner card. It will explore the card in detail, look at their usage stats and market-related information.
Bila the Radiant
The second cheapest (currently on the market) legendary monster card, Bila the Radiant, is a high mana cost magic card that does mediocre damage. Still, she becomes useful when she unlocks her stun ability. I see Bila the Radiant more as a support card, but I wouldn't rushing out to purchase her cards.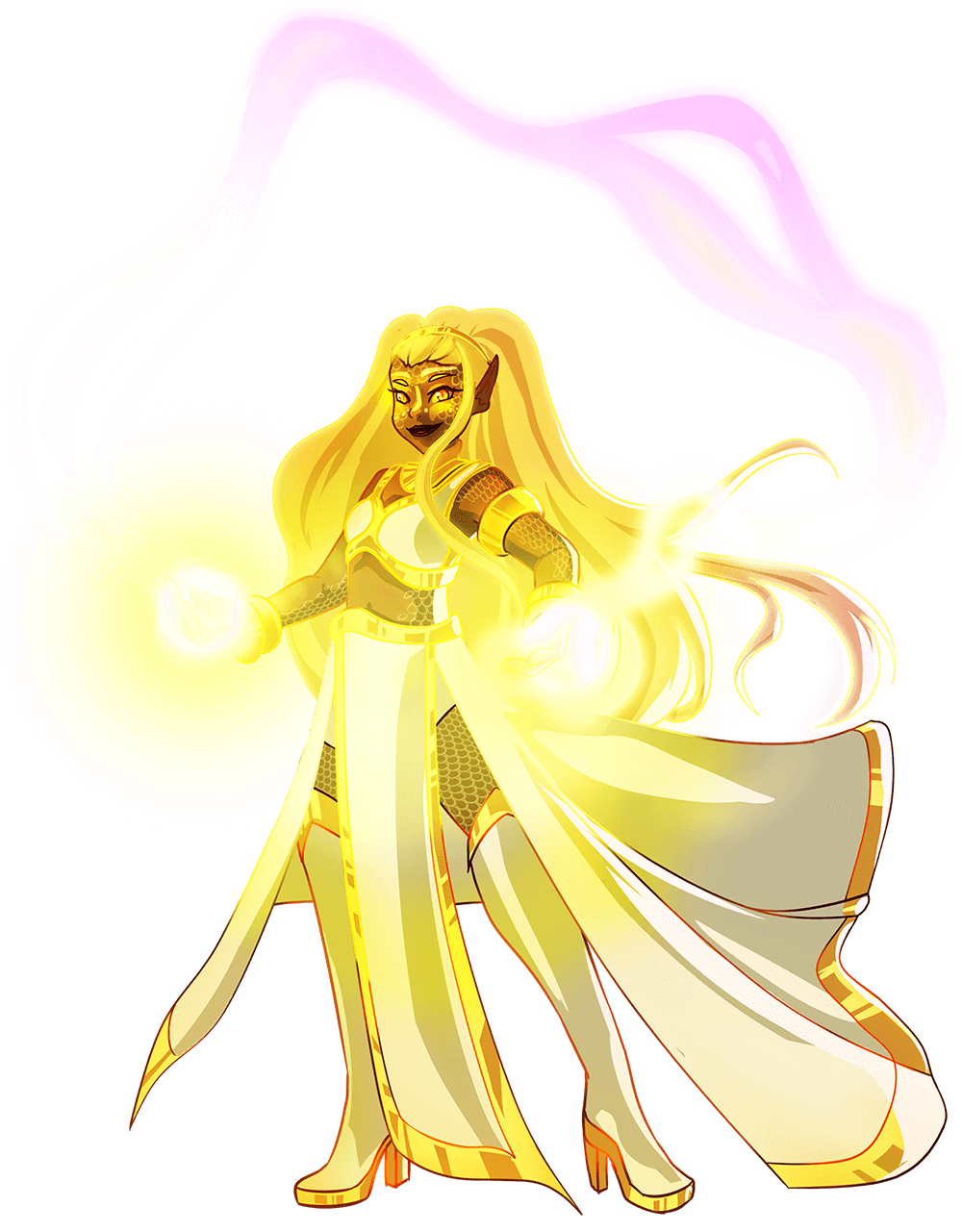 Lore
Only weeks after the thaw of the Khymian north, a lone woman descended from the heights of Angel Summit and trekked toward Shimmer City. She is a beautiful, luminous vision of a woman, and no Khymian could argue the divine origins of her journey. She came to the city as a benevolent savior, a selfless servant of the people, but also a wizard whose magical powers are unmatched on the Mount Mox battlefield. She fights solely for Khymeria, a fact which has attracted the suspicion of not only the Order of the Silver Shield, but the Gloridax and the Dragon Masters. Bila has made no pretense about the land from which she hails. She is one of the Solaki, the original Moon Daughters who live today on an island in the sky.
Source: Splinterlands Legendary Card Profile - Bila the Radiant
Card Details at Level 1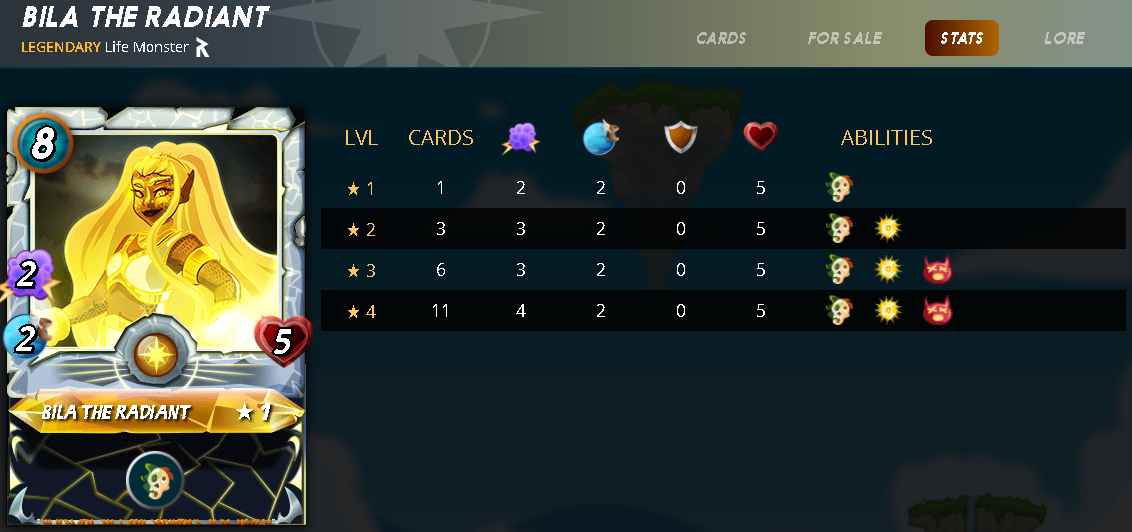 Rarity: Legendary
Splinter: Life
Mana cost: 8
Magic damage: 2
Speed: 2
Health: 5
Abilities Overview

Current Market Price Details
A single BCX card of Bila the Radiant will cost $1.13. I would recommend leveling it up to level 3 as this unlocks the Stun ability. At level 3, it becomes very useful with 3 magic damage, 5 health, 2 speed, and 3 above-mentioned abilities. At level 3, it will cost $7.04.
Please note: To utilise the Bila the Radiant at level 3, you require a Rare Summoner at level 5 (e.g. Tyrus Paladium).
Historical Market Price Details
Over the past 3 months, 1 BCX of the Bila the Radiant has reached as high as $1.498 and as low as $0.969.

Bila the Radiant top battles across different leagues
The following battles showcasing the Bila the Radiant battles across the different leagues.
Bila the Radiant usage and win rate for each league
Please note these stats are based on the top 100 players in each league.
| League | Usage% | W | L | Win rate |
| --- | --- | --- | --- | --- |
| Bronze | 0.17% | 2 | 2 | 50.00% |
| Silver | 0.25% | 5 | 1 | 83.33% |
| Gold | 0.39% | 13 | 15 | 46.43% |
| Diamond | 0.29% | 20 | 18 | 52.63% |
| Champion | 0.16% | 29 | 25 | 53.70% |
| Total | 0.25% | 69 | 61 | 53.08% |
Source: Usage/win rate of monsters and summoners for each league | Season 54
Similar Monster Cards
The following monster cards have similar abilities and damage to Bila the Radiant.

Source: SplinterStats - Cards by League Cap

I recently did a compilation post titled, The New Players Guide to Splinterlands: A Collection of Articles and Guides. This post serves as a summary of articles and guides I have written for new players starting fresh on Splinterlands. If you enjoy reading my Splinterlands content, please follow and support me by signing up to playing Splinterlands through my affiliate link: https://splinterlands.com?ref=mercurial9.
---
Thank you for reading and hope you have a good rest of the day!
Follow me on these other platforms where I also post my content: Publish0x || Hive || Steem || Read.Cash || Noise.Cash || Uptrennd || Instagram || Twitter || Pinterest
---
---