Splinterlands Tier List - Opportunity Monsters || Ep. #64 || Splinterlands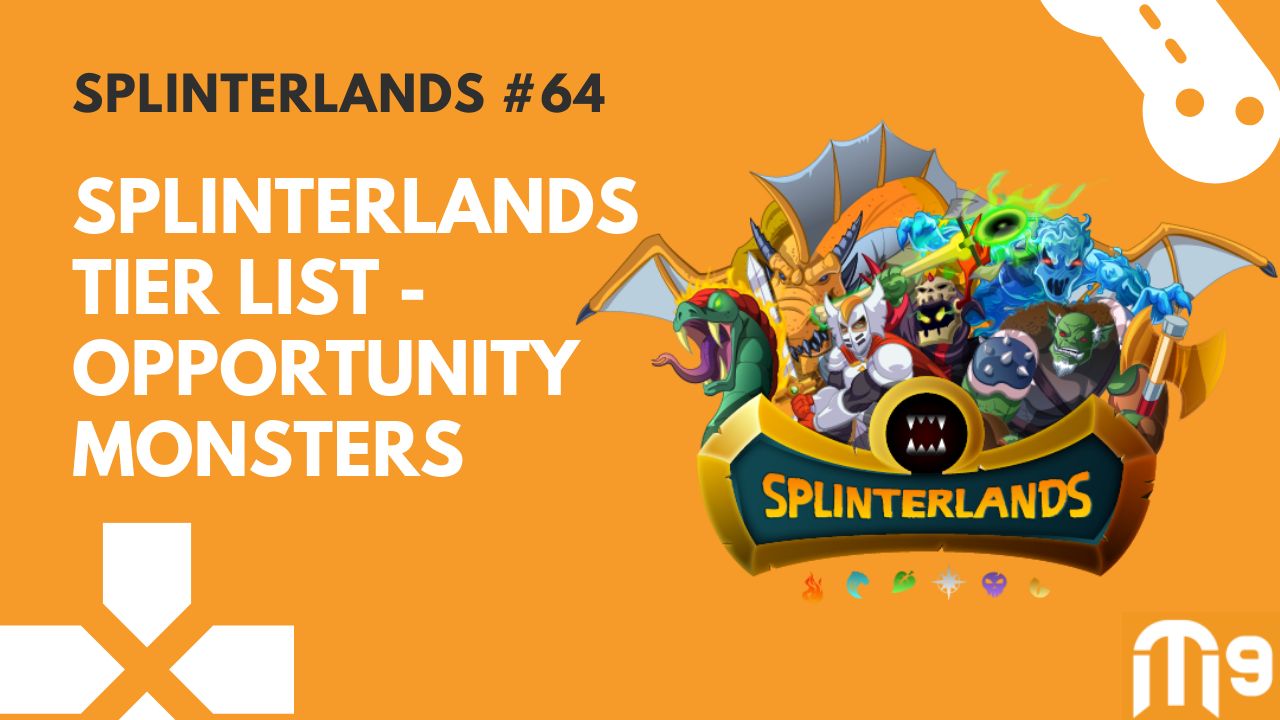 In Splinterlands, there's an absurd number of monster cards to choose from. For players who are jumping in for the first time, this makes it very overwhelming. It's hard to know, even if you've been playing for a while, which monster cards are fantastic, and which ones could hold you back. That's why you need to consult a tier list of splinterlands, so you can see whether it might be worth changing your plan or not.
Data Source(s)
This is a personal tier list based on the data from these two sources:
It took a while to work through the data and verify as I only include data from the league/level that the monsters unlock the opportunity ability.
| Monsters | Usage% | W | L | Win rate |
| --- | --- | --- | --- | --- |
| Fiendish Harpy | 1.45% | 523 | 391 | 57.22% |
| Screeching Vulture | 5.55% | 1888 | 1471 | 56.21% |
| Battering Ram | 1.62% | 819 | 694 | 54.13% |
| Dragon Jumper | 1.88% | 1032 | 879 | 54.00% |
| Serpentine Spy | 6.64% | 2063 | 1842 | 52.83% |
| Maggots | 0.65% | 340 | 348 | 49.42% |
| Cave Slugs | 1.05% | 340 | 393 | 46.38% |
| Feasting Seaweed | 0.95% | 363 | 424 | 46.12% |
| Parasitic Growth | 2.59% | 936 | 1111 | 45.73% |
Splinterlands Opportunity Monsters Tier List
This is my splinterlands Monsters with opportunity ability tier list. There are no real definitive lists in existence. This is because of the ebb and flow that happens due to rulesets, and also how an individual player can perform on any given day can affect things too much. Nonetheless, here is my splinterlands opportunity ability tier list based on each monster's recent win rates.
TIER S
The best of the best. If you want to spend your time studying them well, you will be sure that you will find a lot of success. Also don't be too surprised when someone else plays them as well, for a reason, after all, they're top tier.
Screeching Vulture
Fiendish Harpy
TIER A
These monsters are very similar to the top tier, but the stats do not assist them. That said, if you're very good at one of them already, then it's probably worth it to stick with them.
Dragon Jumper
Battering Ram
TIER B
It is probably also worth sticking with these splinterlands monsters. Such monsters are still fine, but the winning percentages do not fit those higher up the list.
TIER C
While each of them is a fine choice, it isn't easy to justify them over others on the list. If you love the look, stick to them by all means. If you want those extra little edges, don't choose them.
TIER D
Alas, these monsters just don't cut the mustard on our splinterlands opportunity tier list. In the shed, they're not the sharpest tools, but they do mean well.
Cave Slug
Feasting Seaweed
Parasitic Growth
Summary
This was a fun and time-consuming exercise to go through. I was surprised by the results. I have previously blogged about the Screeching Vulture being a cheap OP card, and it was great to see it rank so highly in terms of win-rate ratio.

I did a compilation post titled, The New Players Guide to Splinterlands: A Collection of Articles and Guides. This post serves as a summary of articles and guides I have written for new players starting fresh on Splinterlands. If you enjoy reading my Splinterlands content, please follow and support me by signing up to playing Splinterlands through my affiliate link: https://splinterlands.com?ref=mercurial9.
---
Thank you for reading and hope you have a good rest of the day!
Follow me on these other platforms where I also post my content: Publish0x || Hive || Steem || Read.Cash || Noise.Cash || Uptrennd || Instagram || Twitter || Pinterest
---
---