Battle Mage Secrets - How To Use Drybone Raider Effectively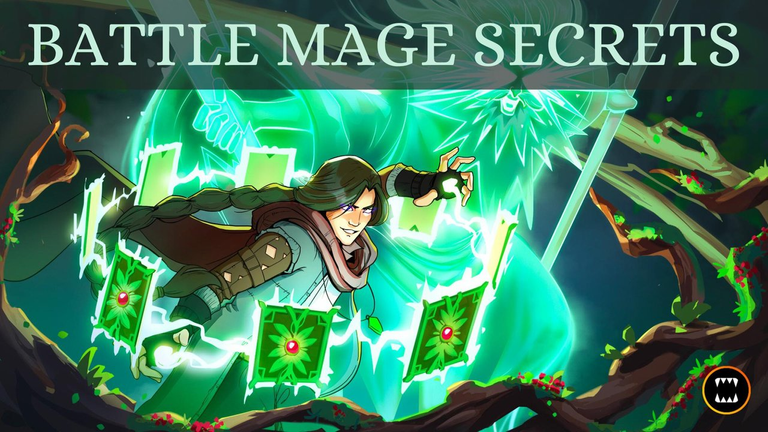 The theme for the current "Share Your Battle" challenge is something new this time! It has been renamed as "Battle Mage Secrets" and it's based on Aim True Ruleset! It's not always easy to get the specific ruleset, but if you play hard enough, you definitely can find one!
For Aim True ruleset, the key is to go for pure damage and speed of the cards are not so important since there won't be any missed hits.
Anyway, I thought it would be still be interesting to introduce some useful cards and show how their strengths can be maximised especially with a particular ruleset. In this post, the featured card would be Drybone Raider, a Legendary Soulbound card.
Looking at the stats, I used to think that the damage is pretty average even though it has Double Strike. But I soon realised, when paired with the Martyr ability, his attacks can scale up very quickly and become very deadly.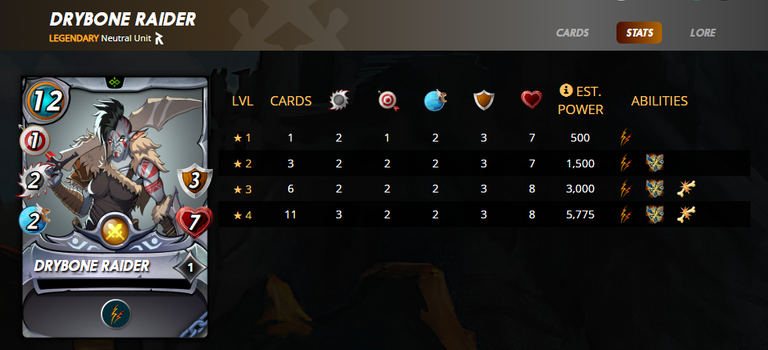 As usual, here's the lore for Drybone Raider for your reading interest:
The Drybone Raiders are part of a tribalistic and fractious collective of anarchists led by the llamataur warlord, Eternan Brune. They control the Drybone Badlands in the Wild Northeast of Praetoria and often conduct predatory incursions into neighboring lands, attacking settlements for loot, plunder, and fun.
Drybone Raiders generally armor themselves in primitive furs and leathers, wield all manner of swords and spears, and sometimes ride large, beast-drawn war machines into combat. They are known to create warpaint from dyes and the bones of their enemies. While undisciplined and disorderly, they are feared throughout the Drybone Badlands and its outlying areas for their ferociousness and tenacity.
---
Battle Type & Team Lineup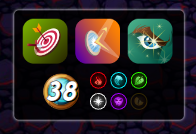 | Position | Card/Level | Mana |
| --- | --- | --- |
| Summoner | Astral Entity | 6 |
Being a Silver player, I only would encounter battles with 3 rulesets during brawls and it was actually quite stressful to adapt to each combination, and think of a strategic lineup, all within the time constraint. This time, there was Opportunity ruleset so definitely I would call upon Astral Entity and Venari Marksrat. This would then allow the Resurrect to achieve a double boost from the Martyr ability.
| Position | Card/Level | Mana |
| --- | --- | --- |
| 1 | Harlaw | 8 |
It's a long fight and we had enough mana this time so Harklaw was selected as a tank to ensure that we had the strongest defence up front. Since we were unlikely to see Magic cards, Harklaw's Shield would be crucial here.
| Position | Card/Level | Mana |
| --- | --- | --- |
| 2 | Trapp Falloway | 4 |
This was a brawl battle so Gladius cards could be used. Trapp Falloway would always be the card to feature for any Opportunity rulesets because of his damage and stats. Even though he might be taken off with his low HP, it's still worth a gamble to see if he could get Bloodlust quickly.
| Position | Card/Level | Mana |
| --- | --- | --- |
| 3 | Pelacor Deceiver | 5 |
Pelacor Deceiver was selected to be one of the adjacent cards to receive the Martyr boost, or double boosts, if everything went according to plan. With 2 attack, 4 speed and 8 HP, coupled with Flying and Dodge (from Astral Entity), he would be very difficult to hit.
| Position | Card/Level | Mana |
| --- | --- | --- |
| 4 | Venari Marksrat | 3 |
The main action would take place in this position, as Venari Marksrat had the lowest HP in my lineup (intentionally planned) and would likely be the first card to be taken out by the Opportunity ruleset. The Martyr ability would be what we were looking out for.
| Position | Card/Level | Mana |
| --- | --- | --- |
| 5 | Drybone Raider | 12 |
Drybone Raider used a whooping 12 mana to fill so hopefully the Martyr boost(s) will happen and with Opportunity ruleset, he can do both Melee and Ranged attacks from his position in the backline as well.
---
Pre Battle: My opponent clearly had a stronger lineup compared to mine based on the level of the cards, but I came with a strategy and hopefully we get enough misses to win this battle.

Round 1: 36 actions in just Round 1! And were just left with 6 cards on the board. Lots of stuff took place - as we expected Venari Marksrat was the first to go, got resurrected, and then went off again. Our double Martyr boost strategy worked! Even with the opposing Disintegrator, you could see that Pelacor Deceiver had 3 Melee damage, 6 speed and 10 HP, while Drybone Raider had 3 Melee damage, 3 Ranged damage and there's Double Strike! As a result, my opponent's cards were swiftly struck out.

Round 2: It was definitely a pleasure seeing Drybone Raider dealing 12 damage (3+3+3+3) per round. With the opposing Disintegrator struck out, it was up to 14 damage (3+4+3+4) now.


Rounds 3: There was no way for my opponent to stop Drybone Raider's 14 damage per round. It was no surprise that he single handedly cleared the board. And we are done!

If you are interested to watch the battle, you can find it here.
---
Post Battle
Did my strategy work? Definitely, I combined the abilities of Astral Entity and Venari Marksrat to churn out a Drybone Raider with monster stats and it was almost impossible for my opponent to handle a card with 14 damage per round eventually. Having the Aim True ruleset also helped knowing that my hits would definitely go through regardless.
What's the Battle Mage Secret? Drybone Raider is definitely fun to play, but only with Martyr boost. More importantly, Astral Entity is proving to be one of the top class summoners, at least in my view.
---
So that's all I have! What are your takeaways from this battle? Feel free to comment below, as I am always keen to learn and improve!
As always, thanks for reading and have a pleasant day ahead!
---
If you are interested to sign up to play Splinterlands, my referral link is here.
---
---