Fan Art Text Dividers - Chaos Legion Splinterlands Theme ( Free to use to decorate your posts )
Hello there, summoners. How are you doing? Did you enjoy the excitement of receiving vouchers?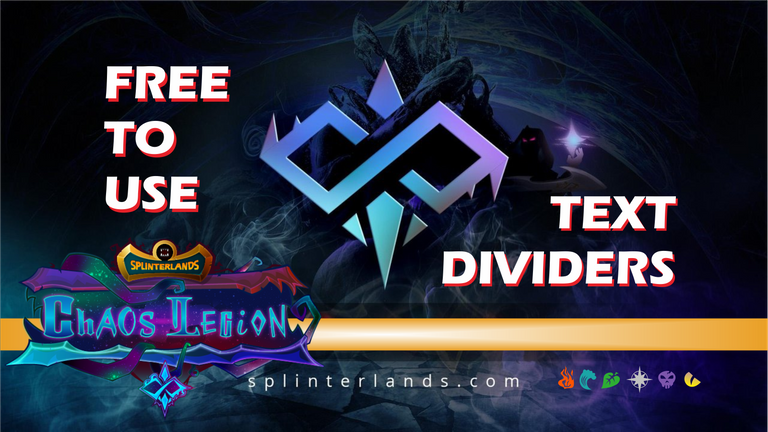 Yes, the Chaos Legion has begun, and some people are happy since they now have distribution coupons to use when purchasing Chaos Legion packs. If you haven't received a voucher-like me 😭, don't be discouraged. Let's get started with SPS stacking. Because 33,333 Vouchers are distributed to SPS Stakers each day.
Of course, the excitement with the opening of the Chaos Legion Presale event for the next 30 days will bring many stories. I'm also planning to write a post later, and I think I'll need some elements in it to support my Chaos Legion article. And, for those of you who will be making posts about the Chaos Legion, I have made several text dividers with the theme of Chaos Legion. If there's something you like, you can use it later in your post.
Below are some text dividers that can enliven your blog. I have provided a link that you can download in the form of a png image. I took certain parts of the text dividers from splinterlands.com and changed them to fit the chaotic legion concept. I ask permission from @splinterlands, If some items are not according to your rules, I will delete them. But I hope that there will be no complaints, so this text divider can add to the excitement of making posts for me and maybe for all.
---
Chaos Legion






👆 Link Download : Gdrive
---
Chaos Legion line
Version 1







👆 Link Download : Gdrive
Version 2






👆 Link Download : Gdrive
Version 3







👆 Link Download : Gdrive
---
Splinterlands Elements Bar
Version 1






👆 Link Download : Gdrive
Version 2






👆 Link Download : Gdrive
Version 3






👆 Link Download : Gdrive
---
Chaos Legion Logo
Version 1


Version 2

👆 Link Download Ver 1 & Ver 2: Gdrive
Finally, I request permission from @flauwy to use the Oneup logo. When I was drawing the final text dividers, I thought it would be interesting to include those characters as well. And it appears to match Oneup's mushroom stance surrounded by splinterlands lines.(If the use of the logo is unacceptable, I will remove it later)
---
Well, that's all my post about the text divider I designed for my post. I hope it will be beneficial to others as well. All Fan artworks and designs in this post draw in CoreldrawX7.
I just hope you liked my post, give it an upvote, comment and share. Greetings and i love you.

🍃 Much appreciated. Terima kasih banyak. Muchas gracias. 🍃

Talk about Splinterlands,
If you haven't tried out this fantastic game called Splinterlands yet,
I invite you to Join.
It's free, but you'll need to invest in a beginning deck or buy gaming cards to gain real assets like cards and tokens.

Do you want to boost your earnings? For daily SPT payments, try delegating your SPT to @monster-curator. Check out their how-to post for more information.
---
---