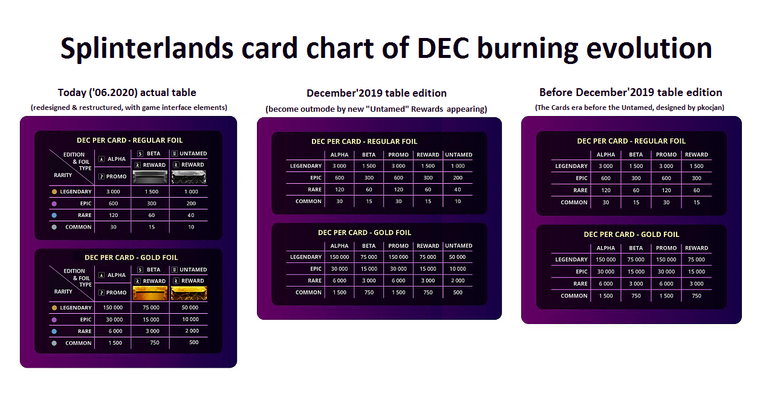 More than six months have already passed, as I expanded the table with a hint for the number of decks when burning cards. The only thing that was need to do with: to add columns with data of the DEC creation from the Utamed Edition Cards.
So here the post about that event:
"Sweet useful chart of the Splinterlands cards burning into DEC (Update with Untamed)"
I also clarified that I did not know who the author of the original one, and @jacekw answered me in a comment that it is @pkocjan: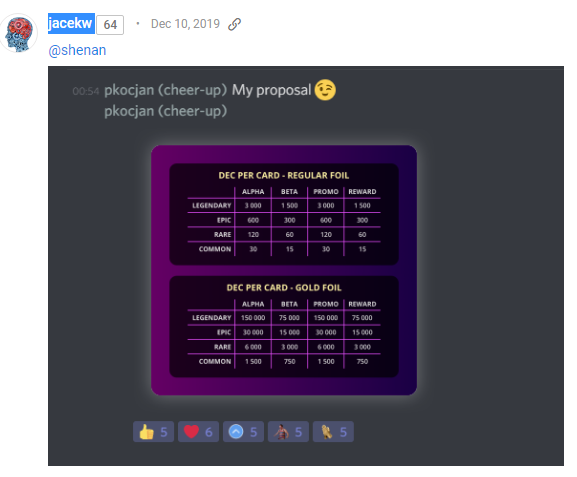 The actual table itself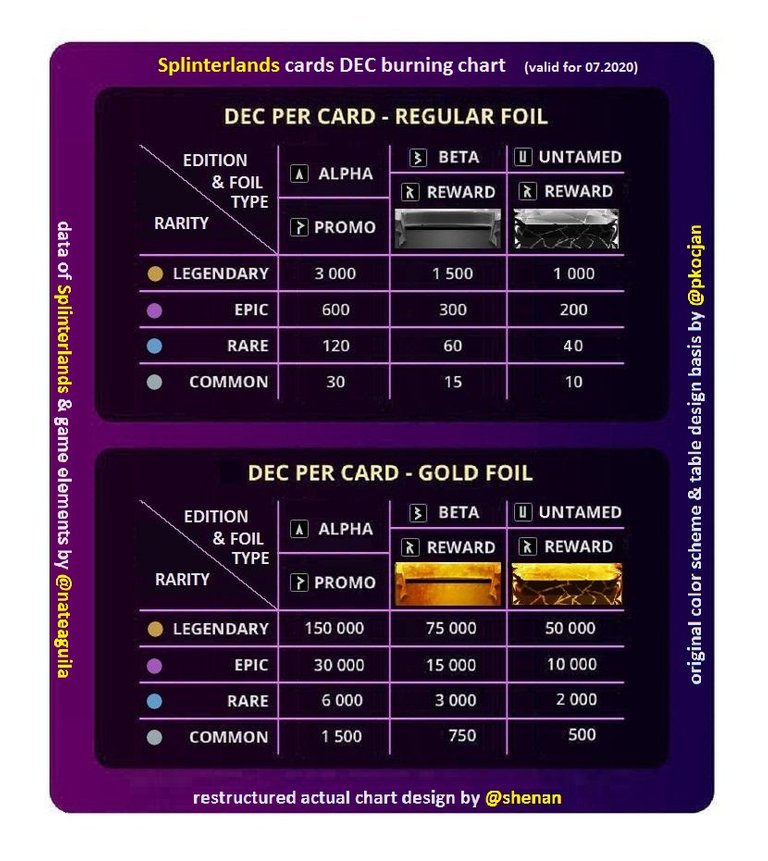 (click here to open the image in own tab (for download, etc.))
This table looks capacious and informative, but it takes time to develop the whole structure, even of the basis I had before. My goal was to make the chart understandable for any player, no matter what his native language and knowledge of English. So the idea was implemented using original game elements!
I also decided to capture the people, who was involved in the creation of this Chart variant.

Credits
Splinterlands for amazing game!
Nate Aguila (@nateaguila) for the game Creative UX/UI design
Paulina (@pkocjan) for the basis table design and original color scheme ("table skin"). As for me, it looks very stylish
me as Shenan (@shenan) - chart restructure with native game elements
P.S. Also, I hope, everybody knows that this сhart is relevant today, but tomorrow everything can change. And even more so, there will be changes when / if the Splinterlands releases the next edition of the maps.

For those who don't know what this is all about: Splinterlands is a collectible card crypto game on the Hive blockchain. To (confirm) actions in the game, transactions are used in the blockchain, and each card is a unique token (which you can sell, trade, burn, rent smbdy). In addition, the cards have a fairly wide variety of parameters; daily in the market players sell cards in total about several thousand dollars!