"He who controls the Dark Energy, controls the fate of the Splinterlands!" - The Grand Seer
Context
Since the release of DEC in May 2019, and with it, Mystery Potions, 229 Mystery Potion Promo cards have been released, 11 of which have been gold. The current running Mystery Prize, The Mighty Dricken has only 55 cards left to be won.
At the beginning of July I began to post daily statistics regarding the approximate value of Mystery Potions received, an approximate cost, and the net effective impact on DEC supply from the value received.
For those not familiar with Mystery Potions, for the price of 1200 DEC (or less with guild discounts) a player can currently receive one of the following prizes:
Legendary, Alchemy, Quest and Mystery Potions.
Any currently printing rewards edition card (standard or gold) .
UNTAMED Booster Packs (previously ORBS were included).
Mystery Promo Cards (a 50% chance each day of being given out).
Previous Monthly Reports:

August Highlights
No gold Mighty Drickens were released.
@jesterago won two standard Mighty Drickens.
There were 0 mystery potion rewards on the 13th August. From just before midnight 12th to early morning 14th, the 13th marked a no Prize day.
On average there were 100.2 Mystery Potions were running.
On average there was a 46.67% chance of a Mystery Prize was awarded each day.
846 UNTAMED Booster Packs were won, down 293 from last month.
Total DEC 🔥 value of rewards cards 105,700
Total DEC value of potions was 869,950
Mystery Prizes
14 Standard Foil Mystery Cards valued at 455,700 won.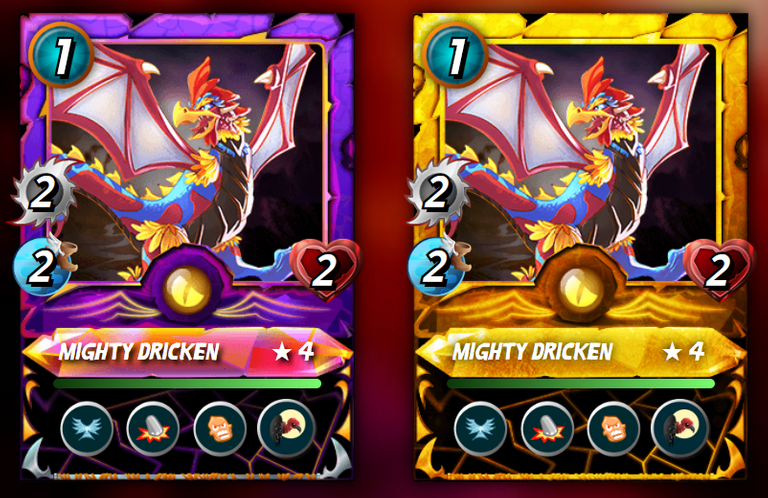 @clove71 @steemitmonsters @honstheking @anouk.nox @jesterago @jesterago @goldmatters @decuration @sonyscv88 @azircon @jrvacation @davel22 @rce @wonsama
C2-238-X19YHR2FLC C2-238-F29PUJ5JM8 C2-238-R8CYNKAIG0 C2-238-E719RL3ESG C2-238-G9U0DZA84W C2-238-HN212VYXPS C2-238-SP605JFB28 C2-238-3KFFR4PXLC C2-238-RPAX9A0R40 C2-238-CM4VGNK4QO C2-238-ONZTIGYYMO C2-238-5P2O9JGSGG C2-238-LQ7MTMAYWG C2-238-LHZOF8MRWW
Charts
Daily NET DEC 1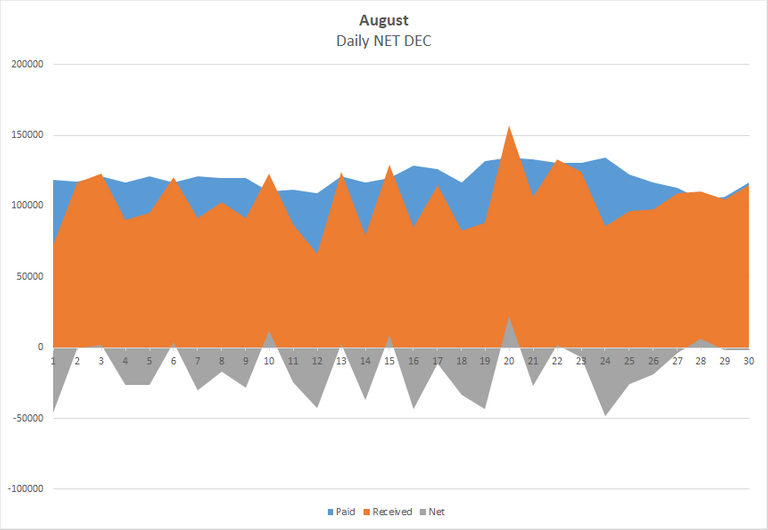 NET DEC (1000s) vs Mystery Potions Running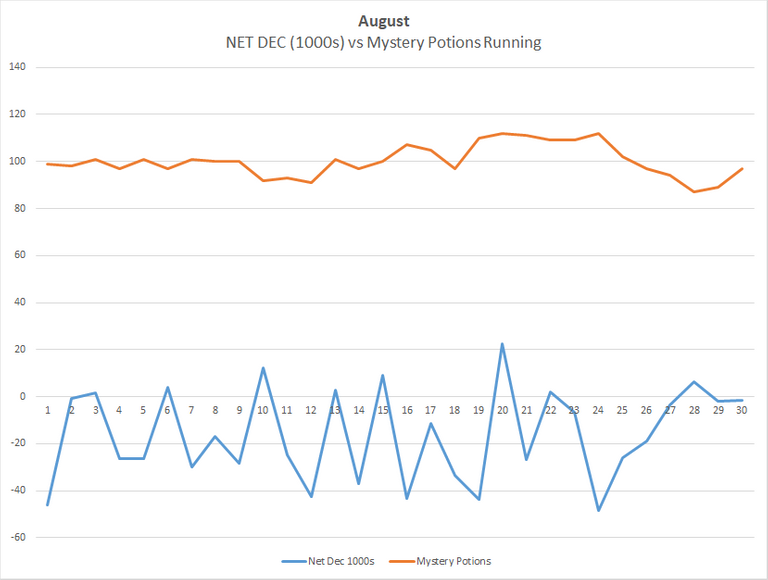 Reward Distribution (qty)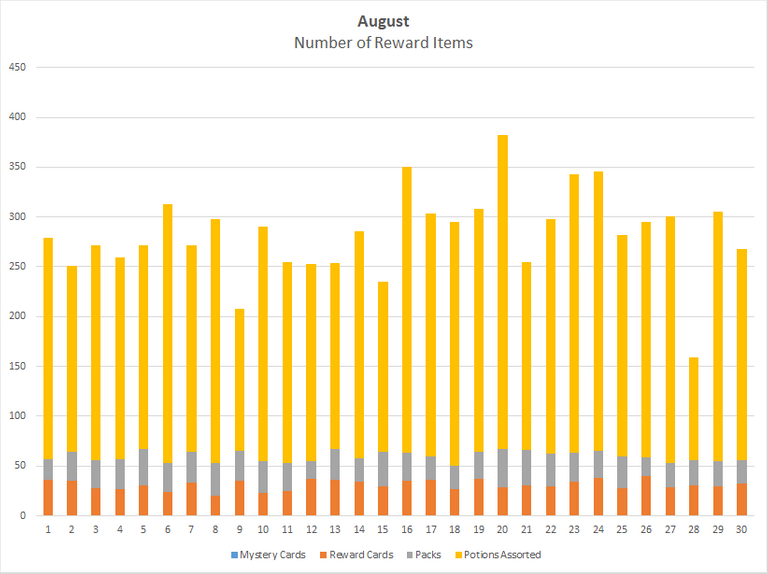 Reward Distribution (DEC)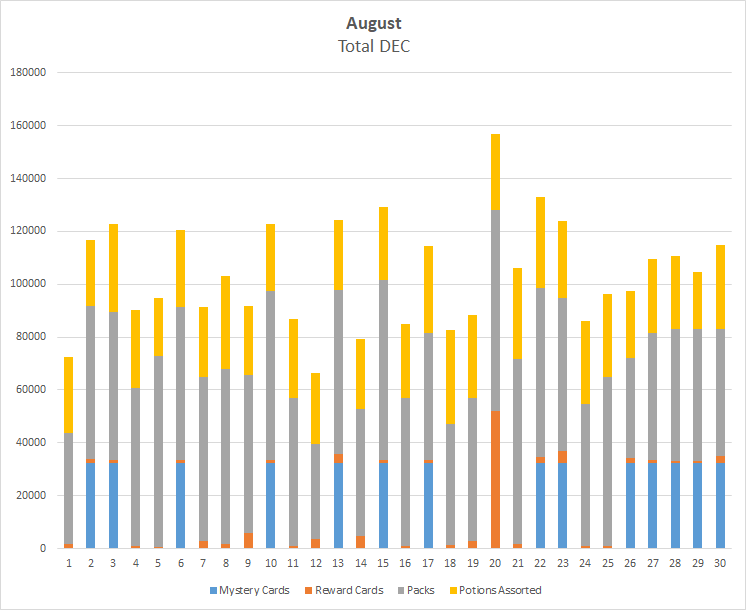 Rewards% (pi chart)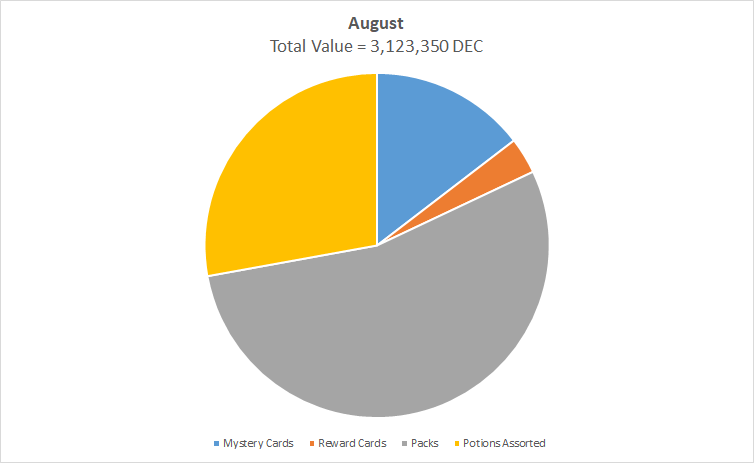 Number of Potions Running: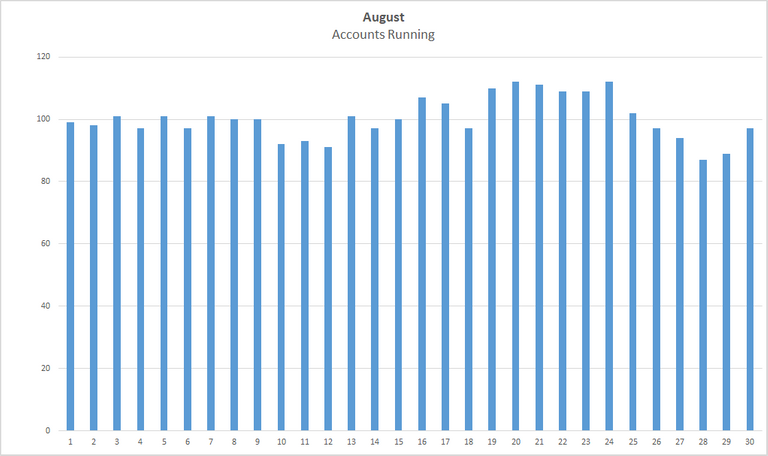 Feel free to request any specific statistics you would like to see (which can be generated from data in the daily posts).
@kiokizz