Welcome to the inaugural #SplinterDebate!
What is a SplinterDebate?
A
#SplinterDebate
is a comment or question about
#Splinterlands
that is intended to spark conversation, controversy, and experimentation on the battle field.
I look forward to hearing your opinion about today's topic!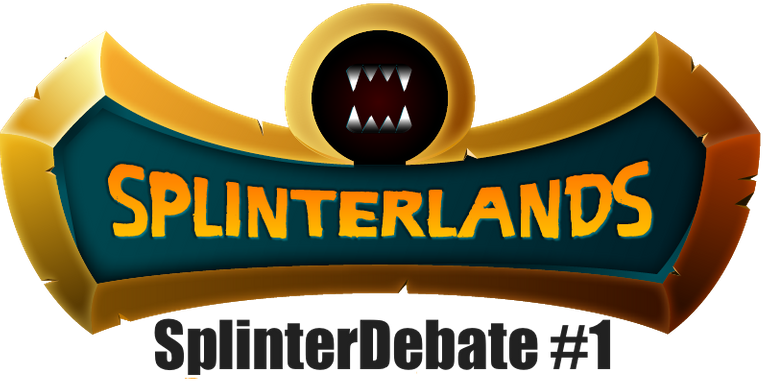 source: Splinterlands Brand Asset
Today's SplinterDebate
Hands down, without a shadow of a doubt, Earth is the All-Star Healing Team of the Splinterlands.
Do you agree?
Here are my reasons why:
There is no other splinter than fill 6 slots with monsters that have some type of healing ability.
Earth has more Tanking Healing monster than any other splinter.
Khmer Princess is one of the few monsters with both Tank Healing and Triage.


Fact check me! Let me know if I am wrong.

The All-Star Lineup
This lineup has everything I want in All-Star Healing Team.
Fresh Golem is great in the first position because of high health and Void ability.
Kron The Undying will be able to hold off Snipe attacks well in the second position.
Wood Nymph and Khymer Princess don't bring a punch, but they keep everyone else healthy. Both are susceptible to Magic Reflect. This might be the biggest weakness of the Healing All-Star Team.
Spirit of the Forest add a little extra Shield protection.
Earth Elemental can hold its own against Sneak attacks.
| Flesh Golem | Kron the Undying | Wood Nymph |
| --- | --- | --- |
| | | |
| Khmer Princess | Spirit of the Forest | Earth Elemental |
| --- | --- | --- |
| | | |
Would you change up this line-up in any way? Let me know how you would place each monster.

Even Better if you add in Neutral and Dragon
On its own, Earth blows away all of the other Splinters. But in case you want to consider substituting a few monsters in the lineup, don't forget ...
| Hydra | Cornealus | Tortisian Chief | Gold Dragon | Red Dragon |
| --- | --- | --- | --- | --- |
| | | | | |
| first position tank | last position | middle of the lineup | any position | any position |

source: @flauwy
Are we on the same page?
If you don't agree with my assessment, then let me know in the comments section:
Which Splinter does the All-Star healing team come from?
How would you change up the recommend Earth lineup?
Thanks for stopping by and see you on the battlefield!


source: @nateaguila