Thoth's Guild Brawl Report & Giveaway #1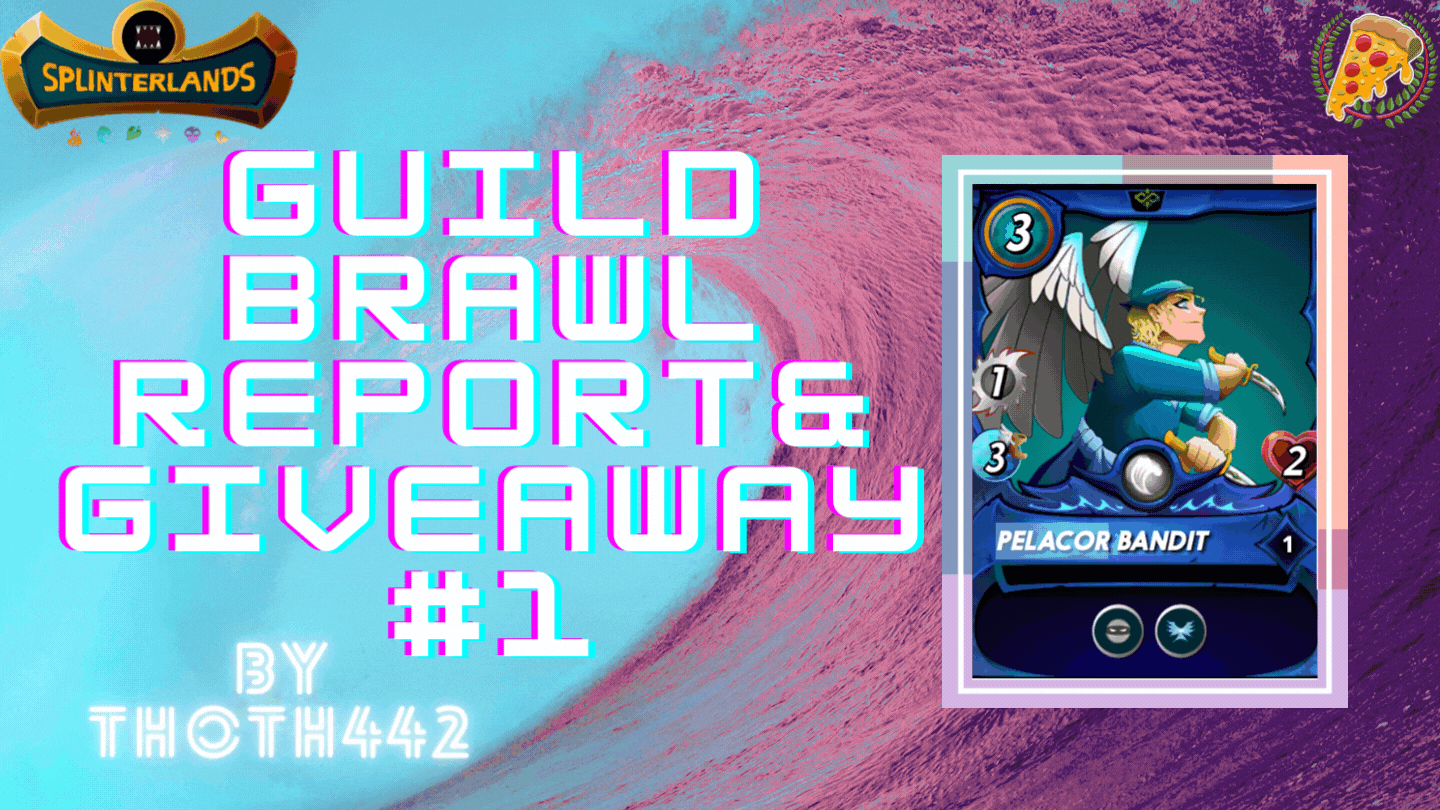 Introduction
Hi everyone, and welcome to my first Brawl Report and Giveaway post. It's been a great week of first experiences on Hive. Most noticeably, I joined my first Splinterlands guild! I am now a happy member of Pizza 1: The Stuffed Crust. Everyone has been so super welcoming, helpful, and friendly.
I recently completed my first Guild Brawl, and it was a blast. But, out of nine matches, I only scored two wins and had seven losses. I want to improve, so I will share and analyze some of my failures in this report and hope to get some good feedback from the community.
Also, to celebrate my first Guild Brawl, I will try my first card giveaway at the end of this post.

Guild Brawl Report
My Fray Limits for this brawl were Bronze League Level Caps and All Cards Playable may be used. I don't own a maxed Bronze deck yet, so I chose to primarily use water splinter cards I was renting for my daily focus.



Water is my most comfortable and familiar Splinter, so I was surprised to have achieved so many losses. For this report, I've chosen two of my seven spectacular losses to share, break down, and analyze with you today.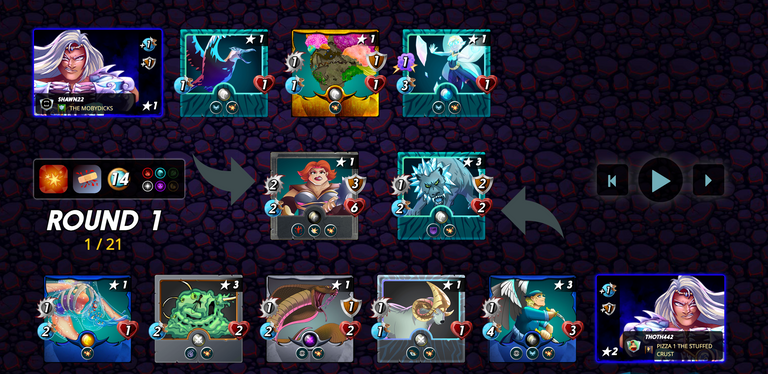 This brawl had a mana cap of 14 and the Explosive Weaponry and Healed Out conditions. I usually do ok in low mana battles with Water, so I felt pretty good going into this. I hoped to blast away their back line quickly with sneak/opportunity monsters. I also felt confident going into the battle with a higher-level summoner.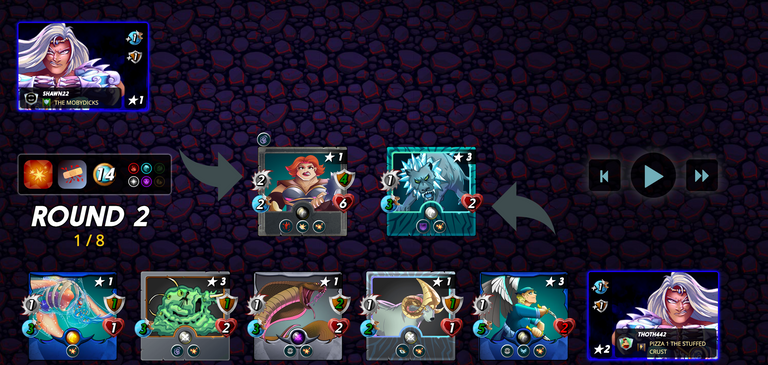 At the beginning of Round 2, I was still feeling good. I hadn't damaged Alva yet, but had knocked out their backline. I had never seen a Gladiator card before at this point :).
Little did I know that I was in for a long painful world of hurt. One by one Alva the Crusher crushed my monsters. And, with her Bloodlust ability, she was gaining +1 to her stats with each kill. It was the perfect storm and in the final round, only my little Torrent Fiend remained standing. I don't need to tell you what happened next...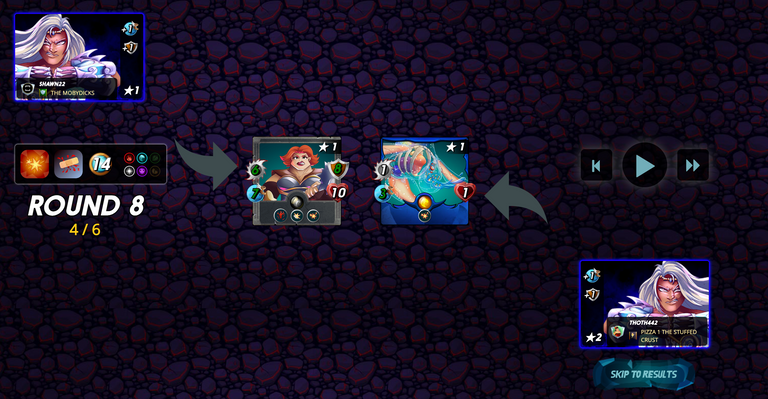 Lessons Learned
With Explosive Weaponry enabled, fielding six low-health monsters was an error. There were a lot of ways this could have gone wrong. Ideally, I should have used a more robust tank and a monster that could scavenge or regenerate health.

Alva the Crusher looks like a pretty awesome card. Rounds 3-7 of this battle are just my monsters swinging and missing while Alva crushes them one by one and gets more powerful. I faced her in another brawl as well. I'm looking forward to buying my first Gladius case soon :)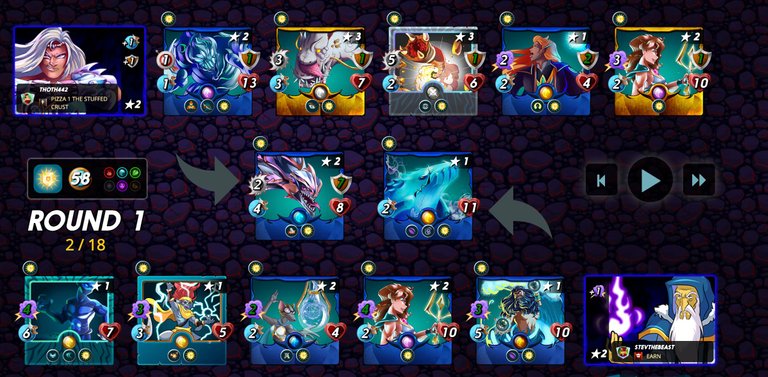 This brawl had a mana cap of 58 and the Holy Protection condition enabled. I chose what I thought was a strong line-up. My plan was for Wave Brood to absorb much of the first round of attacks with its Taunt ability, hopefully giving my Deeplurker and Sand Worm time to quickly take out the other side's back line.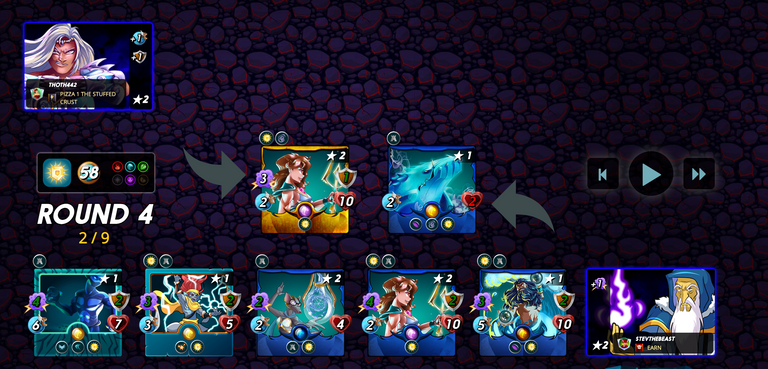 My opponent's magical power was too strong, and I was quickly obliterated in only four rounds, and my opponent gained a flawless victory.
With that summoner buff, my opponent was shooting 16 magic damage at me per round. My team could also do 16 damage but with a mix of melee, ranged, and magic damage.
My opponent's Baakjira slowed my whole team, and the armor buffs from their Ruler of the Seas and Wavesmith essentially rendered my melee attacks worthless.
Lessons Learned
River Hellondale was probably not a good choice. I'm having a hard time thinking of how I could have defeated my opponent with a melee-focused team. Perhaps I would have stood a better chance had I used more monsters with magic damage, but with the summoner buff, I feel like my opponent would still have won.

In a high mana game, it might not be about using the most expensive monsters. My opponent's team had better synergy.

Giveaway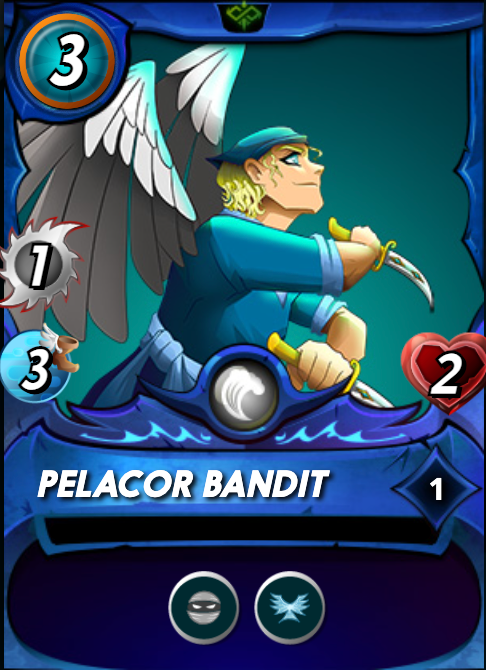 In celebration of these new adventures, I'm stoked to do my first giveaway. To enter the giveaway:
Leave a comment with your username. Nothing else is required. But, any tips or advice related to brawls, or comments/critique on my shared battles and post are much appreciated.
I will use the Hive Random Winner Picker after this post pays out, and announce the winner in a future brawl report.


Thanks so much for reading.
Peace, Thoth442
End Notes & Links:
🔥Still not playing Splinterlands? Click Here to Play Splinterlands.
🍕Are you a part of the Pizza Guild yet? Join the Pizza Guild Discord Server
🌓Until next time friends. Rest is revolutionary, take care of yourself. 🌗
---
---