My First SPS Airdrop 364 Days To Go
I got my first airdrop on splinterlands and while I'm sure it's not much I have to say earning a little passive income like this just for playing a game is pretty mind blowing.
The price of DEC has skyrocketed to all new levels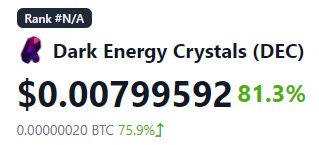 This is a 700%+ increase in price per DEC since just a few days ago which is crazy! I still can't believe how high the price is for it as people are seriously FOMOing in on this.
SPS has also been mooning which is awesome to see. It went from around $0.20 in value to $0.86 in the matter of 24 hours.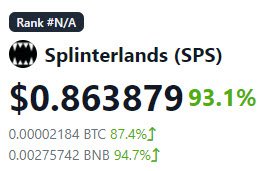 But that's not all. Because there are so many new people joining the game and playing the amount of DEC being earned per battle is HUGE which I think is trying to off set the high price of DEC which I also think has a pegged price of $0.001 from what I'm understanding (correct me if I'm wrong on that)
SPS Splinterlands Governance
When you research more about what this token does (or better yet will do) it's no wonder why it's in such high demand right now. If it's anything like AXIE and Splinterlands gets as big as AXIE that would put the price of this token at around $10 each still room to 10x rather easily.
---
---