Let's talk a bit about Exploding Rats, comment vote for good advice.
Yesterday I received a rare Exploding Rats Card as a chest reward. As I am a bit new to the game and have not mastered it very well yet, I wanted to ask other users of the Splintertalks community for advice. Of course I will vote for the good advice that will help me know how to place this Card in my deck.
A brief of the Card that we are talking about in its level 1:
Type: Fire Monster
Mana: 4
Strength: 3
Speed 7
Health: 1
Skill: Explosion
Current cost: $ 0.24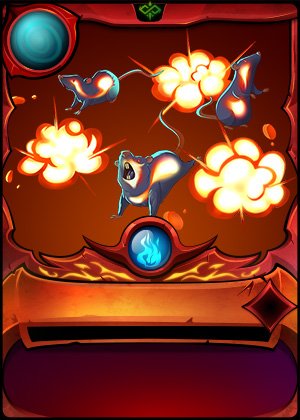 It is a Card of medium mana, medium strength, very high speed and low health.
Advice:
Where would you put it out of the deck to make it more effective?
How would you combine it to make it stronger?
Which summoner would you use it with?
Against which source do you think it will be more effective?
Any other advice would be appreciated.
If you still do not play this game and you want to be my referral, I will thank you with the delegation of several Cards so that you can start once you have bought the spell book.
Here is my referral link:
https://splinterlands.com?ref=yeckingo1
---
---