After days of humiliating series of loses that made my win-rate for the whole season drop near 43%, I somehow got lucky today and FINALLYYYY got some wins and advanced myself towards the DIAMOND I leagues, guaranteeing me with sweet sweet sweet 60 LOOT CHESTS rewards which I have very low expectations of!!!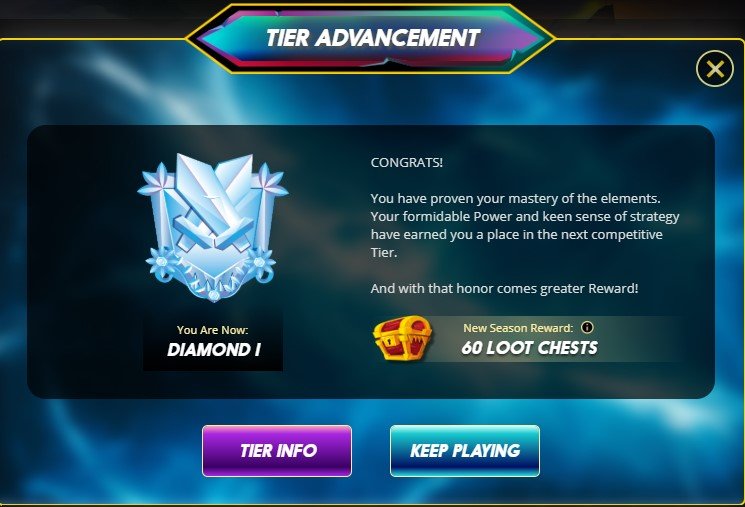 With less than 22 hours left before the current season ends, I am also giving up on the idea of reaching the CHAMPIONS league, not that I had a chance to begin with though. But it is worth to note that I was literally one win away 2 seasons ago so I though I would finally reach it the next seasons since I have been slowly leveling up and buying some cards. Turns out that still wasn't enough. XD

I have been contemplating about this for months now but I think I will really do this starting next season. Next season, I think I will no longer advance to the DIAMOND leagues and will STAY IN THE GOLD LEAGUES.
It is yet to be seen whether it would be profitable in terms of DEC~earnings and Daily Quest Rewards in the Gold leagues rather than advancing to the Diamond leagues but most likely my win-rate will not be close to 50% anymore. xD
I have also looked at the GOLD Leaderboard and I think I have a shot of at least placing in the top 10 and get at least 10 UNTAMED PACKS.
At the moment if I had stayed in the GOLD leagues, my current Battle Point Rating of 3460 would give me the 2nd place in the leaderboard.
Sure the last 2 hours of this would probably be bloody but I think I can maintain at least top 10 in GOLD's right?! XD