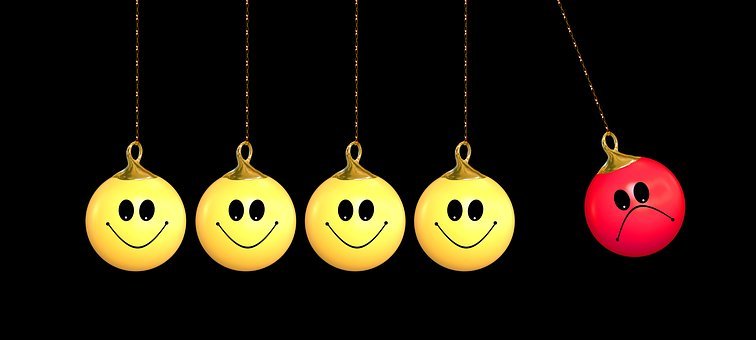 Immagine CC0 creative commons
I write this post with bitterness in my mouth, and with a sense of infinity sadness, I hope that the Google translator can overcome and transfer all the disgust that I'm feeling right now, for two comments I received on a post I made last night, the post in question is as follows ....
https://steempeak.com/hive-140217/@mad-runner/5qvh1p-missione-giornaliera-di-splinterlands
I know perfectly well that what happened is irrelevant to this week's contest, but I wanted to bring to the evidence of all of you what happened, also in consideration of a fact, that I received this gift in an innocent post on the Daily Mission Splinterlands, which I wrote in Italian, my language, I don't understand who might have bothered...
I am absolutely not a puritan or easily scandalized person, but these images have nothing to do with it, and if they bothered me, that I have a high degree of tolerance on topics like this, let alone an ordinary person, whom I think can feeling offended by such visions...
Silencing this fact did not seem right and correct, so, apologizing immensely for those images, I hope it can serve at least to sensitize everyone's conscience, because it is not tolerable to ruin a post, albeit normal and not of a high standard, with that sucks...
Let's try to go back to the contest, maybe concentrating on this week's topic I will be able to partially turn the page, even if I don't believe completely...
Opportunity, it is the widest subject of this contest, it is a quality that few cards have on Splinterlands, personally I do not have many, and if there hadn't been, for example, a previous contest of yours that had as object Maggots I would have one less, being a card that had not attracted my attention, nor had it ever been assigned to me among the cards won for different titles.
But what are the cards that I have that have the Opportunity ability, and above all, what does it consist of?
It is a very singular and particular gift, as the cards that possess it attack the card of the opposing formation that has the poorest health, a sort of sniper who deliberately shoots against the dying card, but finally we come to the cards I have...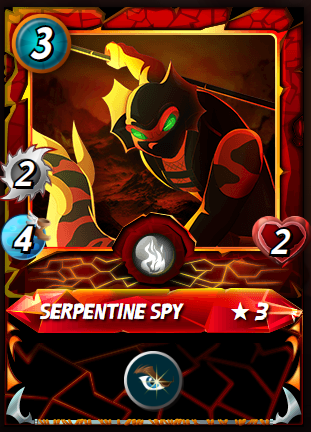 This too was a card object of your contest a few weeks ago, the Fire Element to which it belongs is not among my favorites, although soon I will have to raise Malric Inferno to 4th level to compete at higher levels, reason so Serpentine Sky I don't use it much, even though I took it to the 3rd level.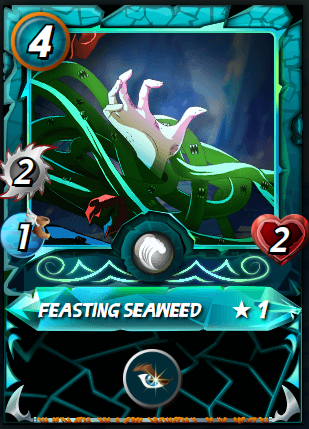 The Water Element, now I think it is well known, is one of my favorites together with the Earth Element, but the paper I own with the quality Opportunity I rarely use it, I can't quite frame it, also because the competition in this element it is really high, I have a list of at least a dozen cards that I use systematically before Feasting Seaweed.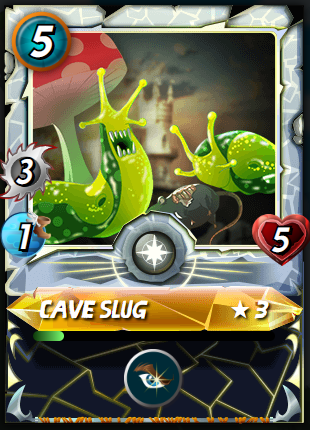 Life, probably the Element that I like least of all, and also Cave Slug is no exception to this rule, although it is a card that, when I am forced to play with this Element, I use it quite frequently, always in relation to the fact that I systematically try to avoid playing with this Element.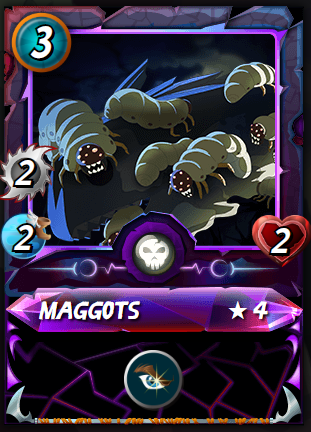 On Maggots I have already mentioned something, I must admit that it was a pleasant rediscovery, although I do not like very much the Death Element I use this card quite frequently, for the relatively low cost in terms of Mana and for the discrete performances overall.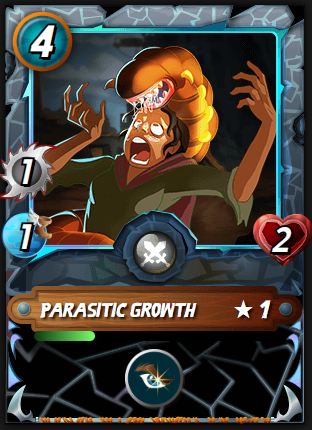 Parasitic Growth it's a card that I received from the Daily Missions, I don't think I've ever used it, maybe only once, every now and then I find it in the opposing sides, it doesn't make me crazy...
Well, I think I have talked enough about the cards that have the quality of the Opportunity, so I have nothing to do but greet you cordially, but but a moment, maybe I forgot someone, yes, I forgot the card that clearly makes me crazy for its great qualities, which I use a lot, is that I have already brought to the 8th level, fully exploitable, at least for the moment, only when I can use as a Summoner Delwin Dragonscale...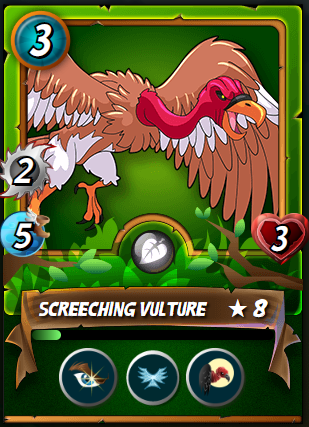 Screeching Vulture, a bolt from the blue, becomes a real nightmare, especially if the opposing team does not have a card that can immediately counteract its potential growth, because it also acquires the ability to Scavenger, which drastically increases its dangerousness, the battle that I want to bring to your attention not by chance involves this card, I don't anticipate anything, but it has really had 7 lives like cats...
https://steemmonsters.com?p=battle&id=3b7f440e6db59c9c43bd4d07c36699a121b7d0de&ref=mad-runner
I sincerely thank Splinterlands for several reasons for these wonderful opportunities that it offers us, and if any of you are not yet registered in this game I recommend with increasing determination and pleasure, this is my affiliate code...
https://steemmonsters.com?ref=mad-runner
If you want to participate in this very valid contest, here is the link to access it...
https://peakd.com/splinterlands/@splinterlands/share-your-battle-weekly-challenge-win-upvotes-opportunity
P.S.: I apologize again for my outburst, unfortunately the bitterness is still high...
Screenshot of my property, taken from my computer