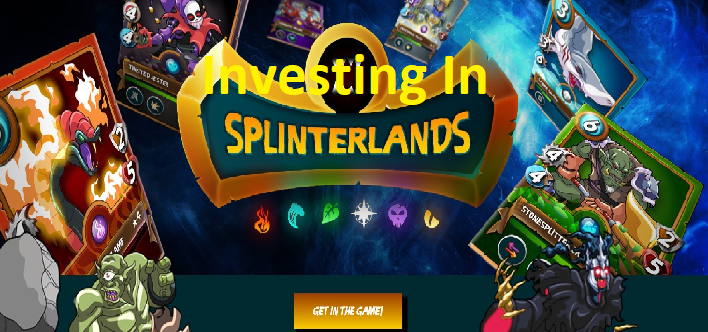 Over the years my experience with crypto although not new I feel l lack of understanding on many different crypto projects. Hence my spectrum of what I think are best crypto investments may be lacking. However I have experience enough benefits to say my best crypto investment to date is to have invested in Splinterlands. I have a decent card collection and now begun a Plot land collection.
My Deck Collection
Thanks to Peakmonsters.com I have a daily review of my card collection. It has a nice breakdown of each card rarity I own and how many BCX of each.

With close to $2k of worth cards a majority of the cards were bought through the use of earned hive, HBD and in the past Steem and SBD. All in all I would say about 70% of the deck collection value were from earned rewards. Of course the rise in value of the cards also played a role.
A fan of Alpha Summoners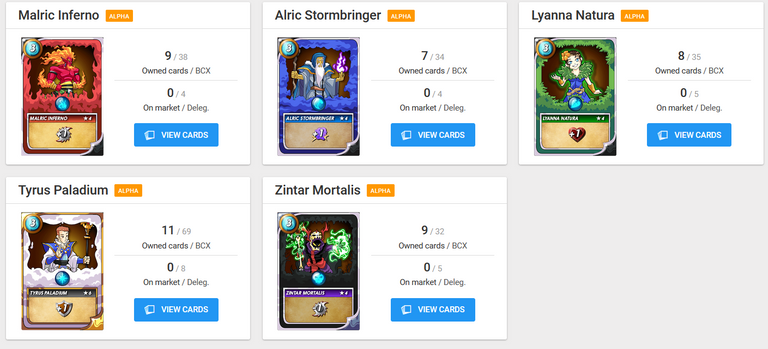 Prior to Untamed cards introduction I was hooked to purchasing Alpha summoners for their extra bonuses. When I was hooked to wanting to own those summoners was also the time when their prices rose much higher almost overnight. Basically there were less Alpha summoners in circulation selling and since many players combined their cards the total supply of Alpha summoners were also falling. The effects of supply demand were playing out. The demand for them was ever increasing while the supply was getting smaller.
In my time investing in Splinterlands I have found that high demand cards are mostly summoners and legend rarity. These get rented out the most and I use that toward creating a passive income. That is I rent out my summoners and legend cards in hopes of creating a steady passive income. Over more than a year later I now earn slightly over one Hive a day.
Plot of Land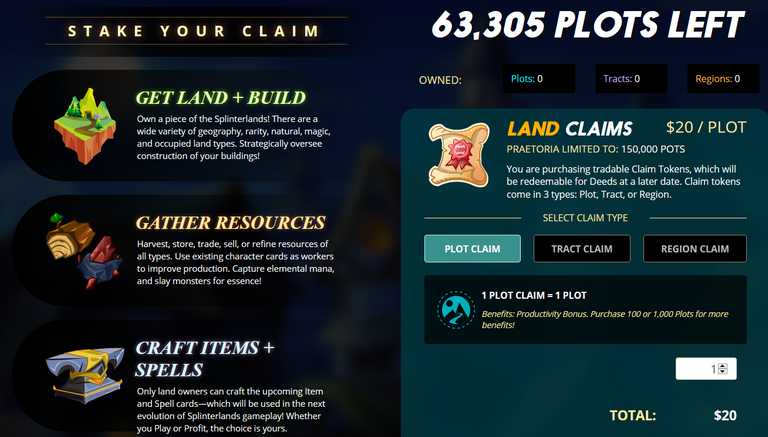 The most recent sales of the next big in game product update are the Land Expansion. There lies the newly created plot of lands that players need to purchase in order to have future participation in the next game play updates.
What intrigues me with Lands is that they are collectable and productive in a way that can earn passive income with their use. Very similar to introduction of a new set of booster packs. The last big addition was the Untamed booster packs and since its introduction it has remain to be quite popular. From this experience I hope the Land Expansion will have similar effects.
Conclusions
As I said earlier owning NFT cards in the game will likely appreciate in value over time. Even during the past few years when btc dropped in value and stay pretty flat for some time the Splinterlands market had be steadily climbing and stable in value. The key part "stable" is a very important reason why I continue investing into Splinterlands. The fact that I can easily earn and sell cards makes the products very liquid. While demand is high that more likely than not when I post a card for sale and near or at the lowest price on the list it usually gets sold within 24 hours.
Beyond supply and demand there is the collectibles in Land Expansion. The potentials gains that may come from owning Lands are still not clearly fully vetted out by the game's developers. However there are hits presented by the developers that leaves many who play the game the desire to own Plots. The Plots have potential to earn users one of a kind items that when incorporated to cards it will make a new unique card. The possibilities are endless but an expansion that is worth investing in.
Then I want to end it with the fact that Splinterlands has a foundation for players to lend and rent cards out easily. The passive income one can earn through renting out cards is limitless. The more cards one has and the higher the level the more they are able to rent it and rent it at higher prices. There has yet to be another game that has a rental system from 3rd party Peakmonsters.com developed for users to easily lend or rent cards at which ever prices the player decides. Lower prices will more likely get rent out, while higher prices will require some luck to rent out because at higher rates are more competition.
Until next time thanks for reading!!!
I have plenty of other cards for rent! Just go on peakmonsters and check out the market place and if you are curious what I offer here is a link:
If You have yet to take part in playing this great game called Splinterlands please click on my referral link. It is free but in order to earn real assets such as cards and token you would have to invest in a starter deck or purchase game cards. Join the discord to learn more. Good luck!

THANKS FOR READING! CONTINUE TO PLAY SPLINTERLANDS!