SHARE YOUR BATTLE Weekly Challenge! - [Beatrix Ironhand]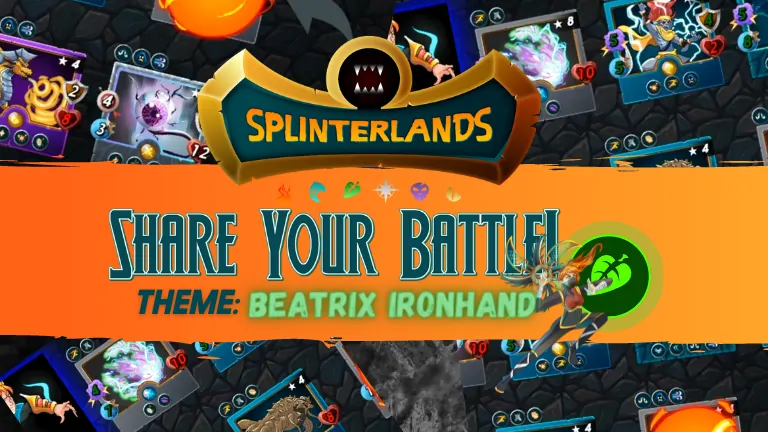 Welcome back to another SYB weekly.
The unit of choice this week is Beatrix Ironhand!
I love playing earth splinters and I had a lot of fun playing matches with her. I didn't have this weeks card prior so I used the new rental feature and picked one up for 0.25 dec a day.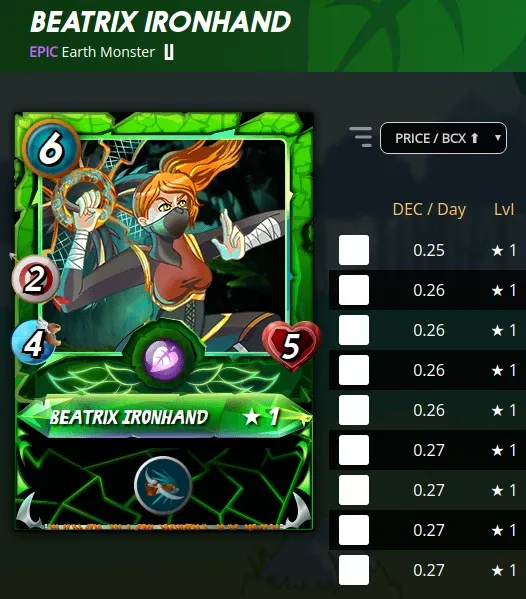 ---
and/or
Sign up for Splinterlands Today!
---
Rules:
27 Mana
Noxious Fumes: All Monsters start the battle Poisoned.
Lost Magic: Monsters with Magic attack may not be used in battles.
Only Fire, Water, Earth, Life splinters allowed.
The plan is to make sure my units can survive atleast one round of Poison. So, anything with 3+ Health works. I would have normally tried to throw Wood Nymph in with Nectar Queen for more survivability but the restriction on Magic users made that impossible. That's okay though because it allowed me for more room to experiment with cards I don't normally use, like Screeching Vulture. 27 Mana gave me a lot of flexibility aswell so I didn't mind spending 9 mana on Nectar Queen.
Team: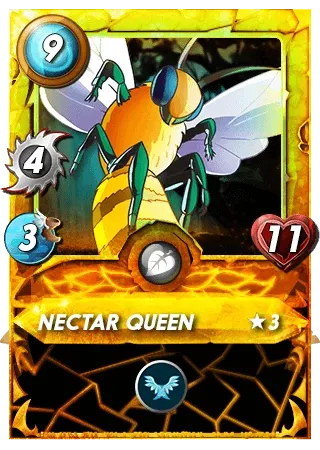 Nectar Queen
The tank I decided to go with this week was Nectar Queen! For 9 Mana I am getting 11 health, 4 damage, and 3 speed. Sounds good, right? That's not even taking into consideration the Nectar Queens flying ability which makes it a little more evasive then your average creature. The fact that this card is gold gives me a nice extra DEC bonus at the end of the match AND it is level 3! Nectar Queen is a solid earth tank.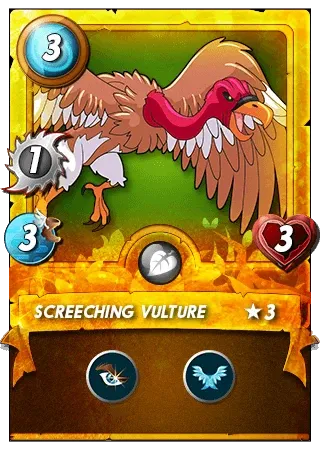 Screeching Vulture
Another Gold card. I threw this guy in there for a little extra DEC aswell as some additional back-up in the front line. He is a little fragile with 3 health but the 3 speed makes sure he starts dishing out damage as early as possible. It's also nice to include ways to pick off weaker monsters the opponents have so his opportunity ability really shines there. The opportunity ability allows the Vulture to attack from any position and it targets the enemy monster with the least amount of health..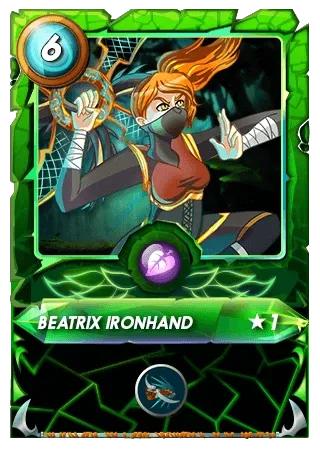 Beatrix Ironhand
The star of the show. What this week is all about! For 6 mana you get a 5 health, 2 ranged attack, and 4 speed monster. That's really good in my opinion. 4 speed is fast, 5 health makes it possible to withstand a couple attacks, and 2 ranged damage gives her some serious firepower. She also has the close range ability which allows her to attack with ranged attack even in the first position but I chose not to showcase her using the ability because I think it is one of those abilitys that works well when you need it to, but isn't something to necessarily build around.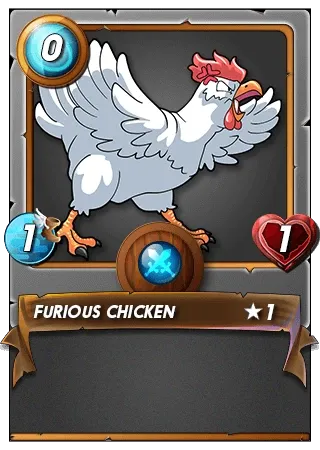 Furious Chicken
The ultimate chump blocker. This thing was made to die, just look at it. You can strategically put this guy anywhere in your team. Really good for soaking up damage or stalling so your ranged attackers can get in some extra damage. I never go without him unless I can't fit him! Most likely a room for him though.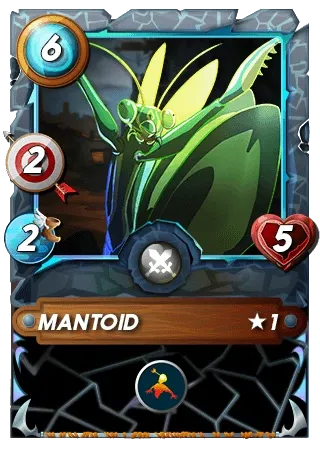 Mantoid
The stats look a little familiar? He is also a 2 ranged attacker for 6 mana with 5 health. The difference being both the speed and the ability. Mantoid can afford to be a little slower then Beatrix Ironhand because of his snipe ability. Snipe allows him to attack enemy monsters with Ranged, Magic, or no attack that are not in the first position. Honestly though, I chose him in my team today because my daily quest was to win with the snipe ability 5 times, so I made sure to include it in my strategy.
ENEMY:
Living Lava
Fineas Rage
Goblin Shaman
Furious Chicken
Centaur
Fire Beetle
Round 1:
Malric Inferno buffs the enemy teams Melee damage by 1.
My Summoner takes away 2 shield from the enemy.
Goblin Shaman reduces the health of my units by 1.
Fineas Rage reaches over Living Lava and attacks Nectar Queen for 3.
Beatrix Ironhand attacks Living Lava for 1
Centaur snipes Beatrix Ironhand for 1
Screeching Vulture sees an opportunity and kills Furious Chicken
Nectar Queen attacks Living Lava for 2, 3 health remains.
Fire Beetle snipes Beatrix Ironhand for 1, 2 health remaining.
Mantoid snipes Goblin Shaman for 2, 2 health remains.
Living Lava attacks Nectar Queen and misses!
Round 2:
All units recieve poison.
Living Lava is left with 1 health.
Goblin Shaman dies and my units recover the 1 hp he reduced from them.
Screeching Vulture is left with 1 hp.
Beatrix Ironhand is left with 1 hp.
Furious Chicken dies.
Fineas Rage reaches over Living Lava and attacks Nectar Queen for 3.
Beatrix Ironhand deals 2 damage to Living Lava and kills him.
Fineas Rage steps up to the first position.
Centaur attacks Beatrix Ironhand for 1 and kills her.
Screeching Vulture deals 1 damage to Centaur, leaving it with 1 health.
Nectar Queen attacks Fineas Rage for 4
Mantoid attacks Centaur and kills it.
Fire Beetle attacks Mantoid for 1.
Round 3:
All units recieve poison.
Fineas Rage dies.
Fire Beetle dies.
Screeching Vulture dies.
Mantoid dies.
Nectar Queen survives with 1 health.
Conclusion:
Even though I put Beatrix Ironhand in the back and didn't utilize her Close Range ability, she still worked very well and delivered a lot of value. She even took out the Enemys Tank! If the prices of everything weren't out of whack, I would pick her up. She is an EPIC rarity card though and going for 6+ dollars currently so I am happy with just renting her for now. She shares similar stats to Mantoid who I also included in this match for both the Snipe ability and the 2 ranged damage. At the bronze level matches I mostly play, most monsters are around 1-3 damage so 2 is a nice middle point. Next time I play with her, I will really try to utilize that ability she has and show it off. Maybe even use her as a tank. I love these weekly share your battle challenges because they give me the chance to play with cards that I don't have or that I wouldn't normally choose and its a lot of fun figuring out how all these different cards work together. After a couple months of playing this game I can see a drastic change in my approach to strategy and how familiar I am getting with certain cards. If you don't have an account please sign up with my referral link at the top to get started on your #play2earn adventure with a free card. That's it for this week, thank you for joining me for another battle. See you again next week. :)
---
---