---
👉 ENG VERSION 👈
---
Hello friends
Also, this week @splinterlands has published the new weekly Challenge, among the many, it publishes this is my favourite because it allows me to learn more about the cards I have and especially the ones I don't have and evaluate an upgrade of my deck.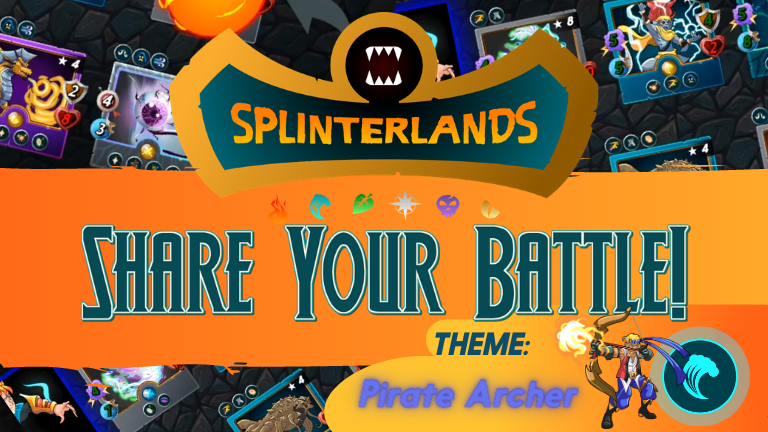 SHARE YOUR BATTLE Weekly Challenge! PIRATE ARCHER
🌊🌊🌊
The card chosen for this week is a card that I happen to use quite frequently and it is
--->PIARATE ARCHER<---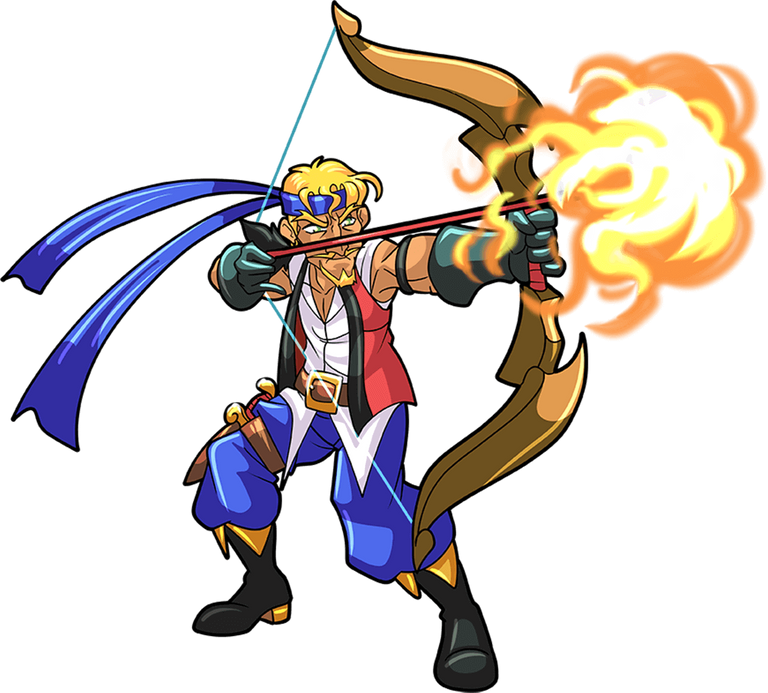 PIRATE ARCHER is part of the Pirates of AZMARE 'dangerous destroyers of ships and crews with carabiners and cannons.
Ultimamnenti also specializes in archery.
They shoot flaming arrows and before embarking they perform in light shows in the sky so fantastic that they are capable of making even Jack Sparrow and his crew gape.
🌊🌊🌊
This Archer is part of the REWARD collection, it is a RARE card, it is part of the WATER element but can also be used by DRAGONS and uses RANGED attack.

---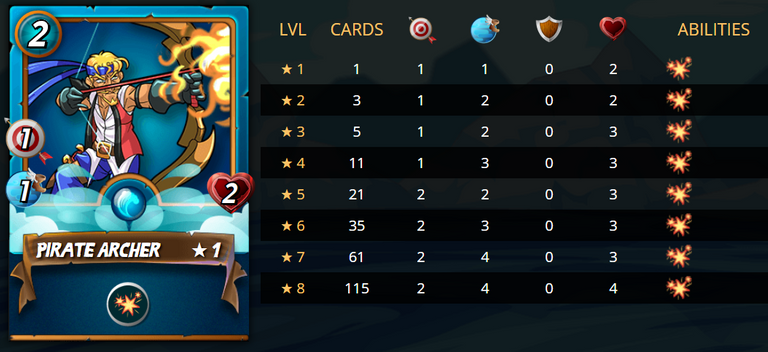 I own this card at level one and despite this, I like using it for its BLAST ability already present from the base level.
This card can be upgraded up to level eight, taking its damage from one to 2, speed from one to four, and life from two to four.
BLAST is the only ability this monster possesses and in my opinion, it is a value that makes this card preferable to others despite this card having low characteristics.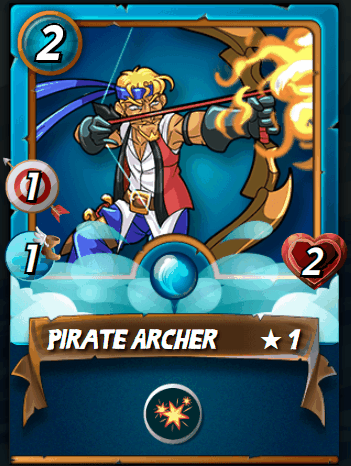 ---
ATTACK:
My card attacks with 1 being level 1.
Despite the low attack points this card I like to place it because having RANGED attack it is easy to place in the rear and well protected by the TANK in front.
BLAST which transfers part of the damage to the monsters close to the target one helps a lot in winning games.
---
LIFE:

Life is 2, even this very low indeed very low haha.
As written above, even if it has a low waist it is easy to place in the back and if well protected this little card can hurt a lot.
---
MANA:

Small card, small cost, big advantage!
This monster costs only 2 MANA, easy to place did I mention that already? :-)
Very comfortable in games with low MANA and has its own why in games with high MANA and maybe EQUALIZER as a MATCH condition.
🌊🌊🌊
I often use this card especially with little MANA available.
It uses BLAST as a skill and for me, it is one of the strongest skills in the game.
I don't know yet whether to enhance it or not and I take advantage of this Challenge to study it perhaps at higher levels.
But enough of the chatter :-) and let's see our pirate in action!
---
LEEET'S GOOOO!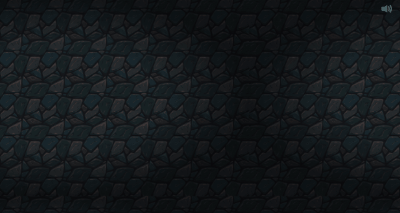 🌊🌊🌊
MATCH CONDITIONS:
EQUALIZER: The initial life of monsters is equal to that of the monster with the longest life.
KEEP YOUR DISTANCE: Monsters with MELEE attack cannot be used.
MANA: 13

🌊🌊🌊
DEPLOYMENT: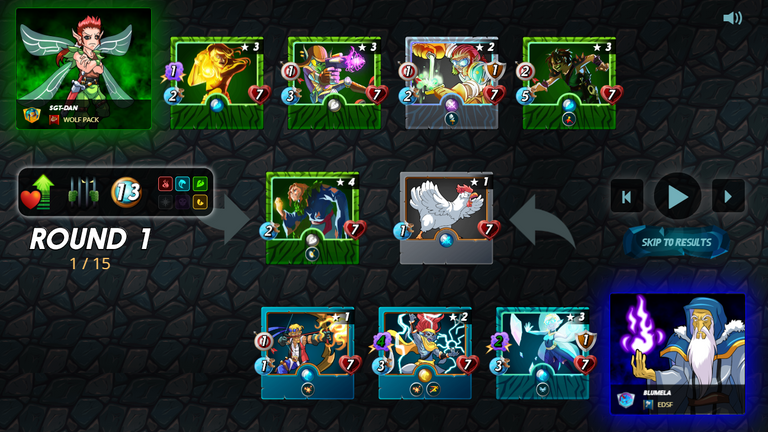 For this game, I chose the WATER element and as Summoner I entered ALRIC STORMBRINGER level 4, he can increase the magic attack of my DECK by one.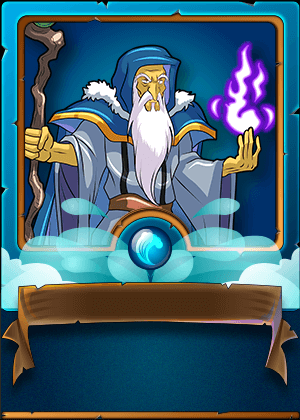 After having emphasized the importance of a good TANK to make PIRATE ARCHER survive, I decided to include CHICKEN FURIOUS in the front row :-).
As always, this nice hen does not betray and had a moment of glory during the game.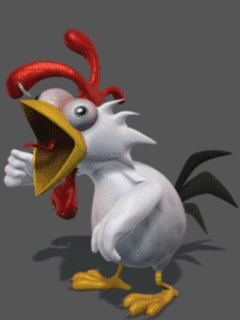 __
The low MANA available and my Summoner made me opt for ICE PIXIE in the second row.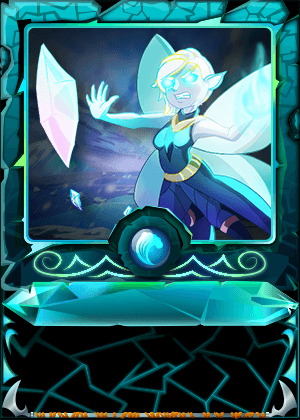 --
In the third row I entered my recent purchase RULER OF THE SEAS, I hated it so much that I had to buy it :-) must-have card and coincidence ... it has blasted.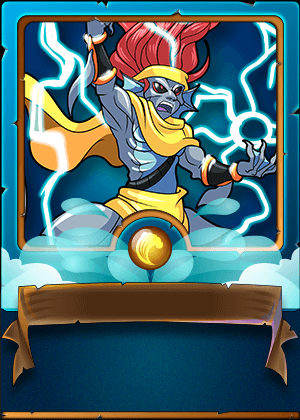 __
In the last row, the fourth, I entered our pirate Equalizer has done its effects and all my cards start with life 7.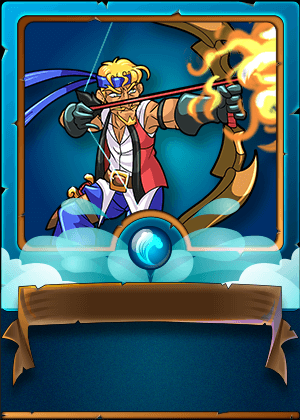 __
OPPONENT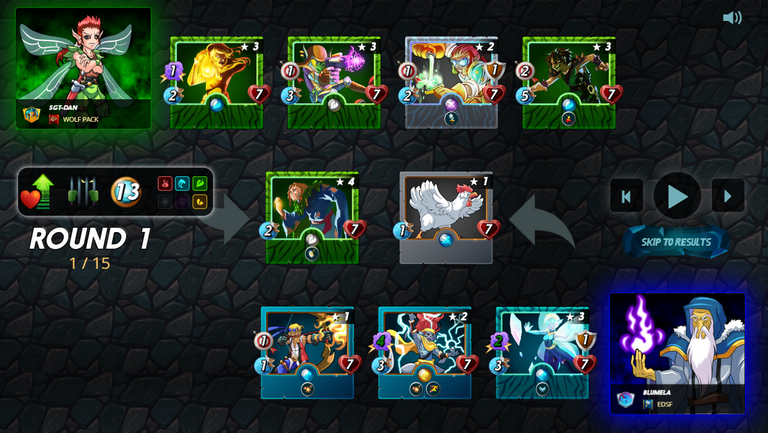 My opponent chose the EARTH element with the Summoner XANDER FOXWOOD, Summoner with low Mana cost but zero skill.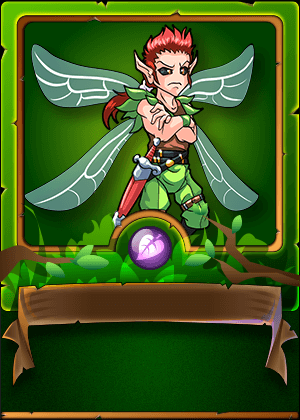 In the front row, he inserted FAILED SUMMONER with the MAGIC REFLECT ability capable of reflecting any magical attacks .... I'm in trouble!? ...
He then deployed 4 other cards including one with MAGIc attack and the others with a RANGED attack ...
Here is the reply of the game, if you are curious to know if I won or not you can watch the game at this link :-)
https://splinterlands.com?p=battle&id=f43985a8a3b78169988dcc9853ba44f18bd8833c&ref=blumela
As always it is not true that the spoiler is with you!
I won and our pirate stayed alive until the last ROUND helping the team a lot,
CHICKEN FURIOUS was only taken down in the final round absorbing most of the enemy attacks.
FAILED SUMMONER couldn't stop my MAGIC and BLAST attack.
🌊🌊🌊
If you haven't tried this game yet my advice is to do it this is my link referral
you can use the link if you like it or not but the point is always the one game to try! :-)
https://splinterlands.com?ref=blumela
🌊🌊🌊
Have fun and see you in battle !!
🌊🌊🌊
The photos and gifs are screenshots taken of the Splinterland game in my possession, except one taken from giphy.com.
---

---
---
👉 ITA VERSION 👈
---
Ciao Amici
Anche questa settimana @splinterlands ha pubblicato la nuova Challenge settimanale, fra le tante che pubblica questa è la mia preferita perchè mi da modo di conoscere meglio le carte che ho e soprattutto quelle che non ho e valutare un upgrade del mio mazzo.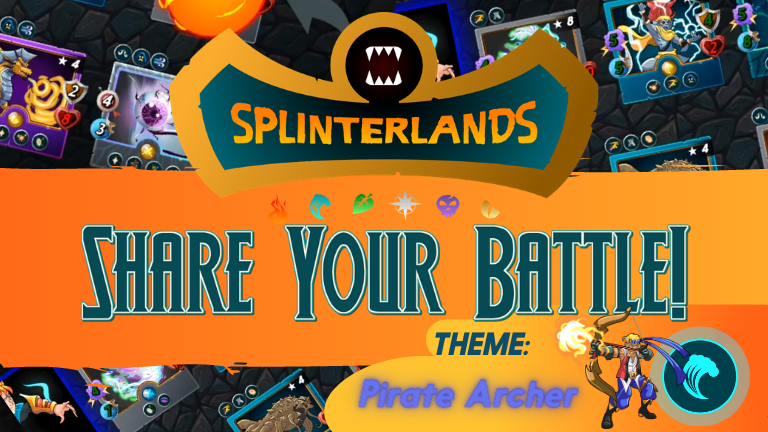 SHARE YOUR BATTLE Weekly Challenge! PIRATE ARCHER
🌊🌊🌊
La carta scelta per questa settimana è una carta che mi capita di usare abbastanza frequesntemente ed è
--->PIARATE ARCHER<---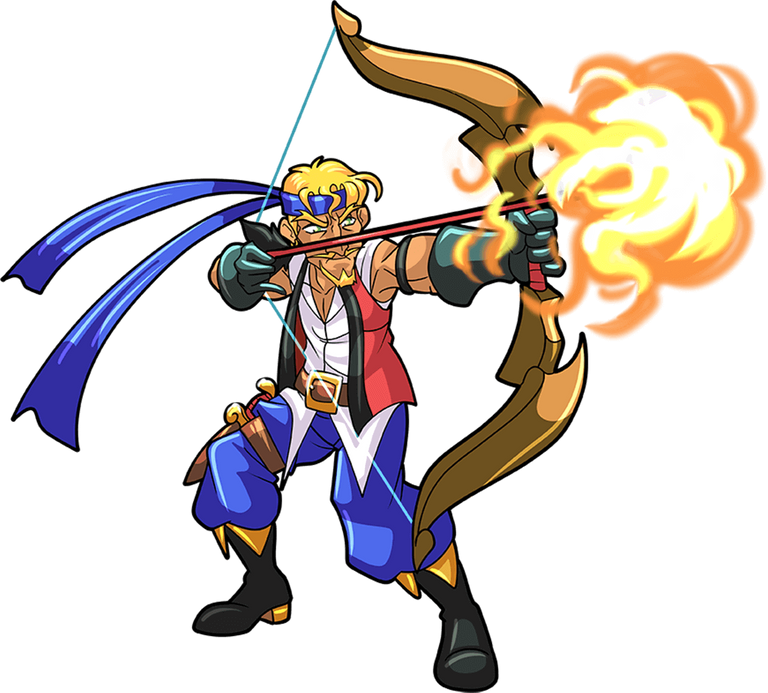 PIRATE ARCHER fà parte dei Pirati di AZMARE' pericolosi distruttori di navi ed equipaggi con moschettoni e cannoni.
Ultimamnente specializzati anche nel tiro con l'arco.
Lanciano frecce infuocate e prima dell'arembaggio si esibiscono in spettacoli di luce nel cielo cosi fantastici che capaci di far rimanere a bocca aperta anche Jack Sparrow e la sua ciurma.
🌊🌊🌊
Questo Arciere fà parte della collezzione REWARD è una carta RARE, fà parte dell'elemento WATER ma utilizzabile anche dai DRAGON e utilizza attacco RANGED.

---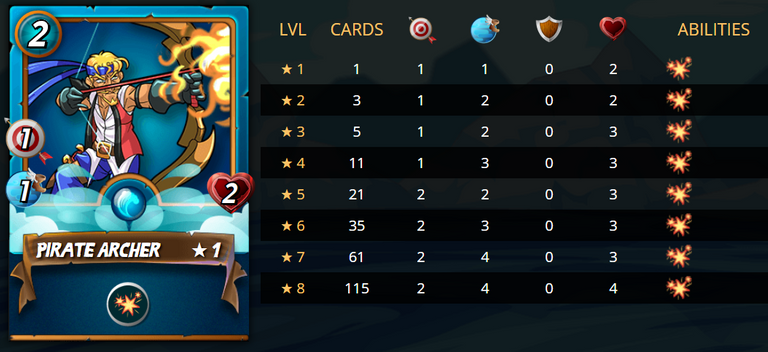 Possiedo questa carta a livello uno e nonostante questo mi piace molto utilizzarla per la sua abilità BLAST già presente dal livello base.
Questa carta può essere potenziata fino a livello otto, portando il suo danno da uno a 2, la velocità da uno a quattro e la vita da due a quattro.
BLAST è l'unica abilità che questo mostro possiede e secondo me, è un valore che rende questa carta preferibile ad altre nonostante questa carta abbia caratteristiche basse.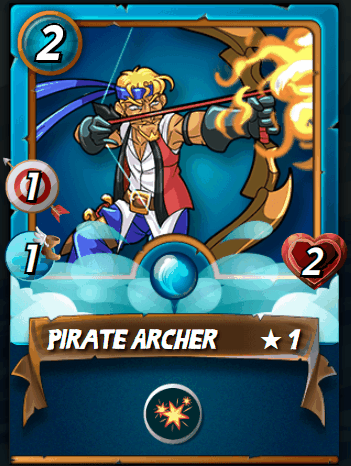 ---
ATTACCO:
La mia carta attacca con 1 essendo di livello 1.
Nonostante i punti attacco cosi bassi questa carta mi piace posionarla perchè avendo attacco RANGED è facile da posizionere nelle retrovie e ben protetta dai TANK davanti.
BLAST che traseferisce parte del danno nei mostri vicini a quello bersagliato aiuta tantissimo nel vincere le partite.
---
VITA:


La vita è 2, anche questa molto bassa anzi bassissima haha.
Come scritto sopra anche se ha vita bassa è facile da posizionare nelle retrovie e se ben protetta questa piccola carta può far molto male.
---
MANA:


Piccola carta, piccolo costo, grande vantaggio!
Questo mostro costa solo 2 di MANA, facile da posizionare l'ho già detto? :-)
Molto comoda nelle partite con basso MANA e ha un suo perchè nelle partite con alto MANA e magari EQUALIZER come condizione MATCH.
🌊🌊🌊
Utilizzo spesso questa carta soprattutto con poco MANA a disposizione.
Utilizza BLAST come abilità e per me è una delle abilità più forti nel gioco.
Non so ancora se potenziarla o no e approfitto di questa Challenge per studiarmela magari a livelli più alti.
Ma basta con le chiacchiere :-) e vediamo in azione il nostro pirata!
---
LEEET'S GOOOO!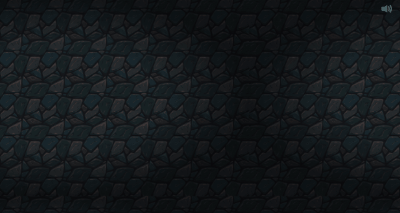 🌊🌊🌊
CONDIZIONI MATCH:
EQUALIZER: La vita iniziale dei mostri è pari a quella del mostro con vita maggiore.
KEEP YOUR DISTANCE: i mostri con MELEE attacco non possono essere utilizzati.
MANA: 13

🌊🌊🌊
SCHIERAMENTO: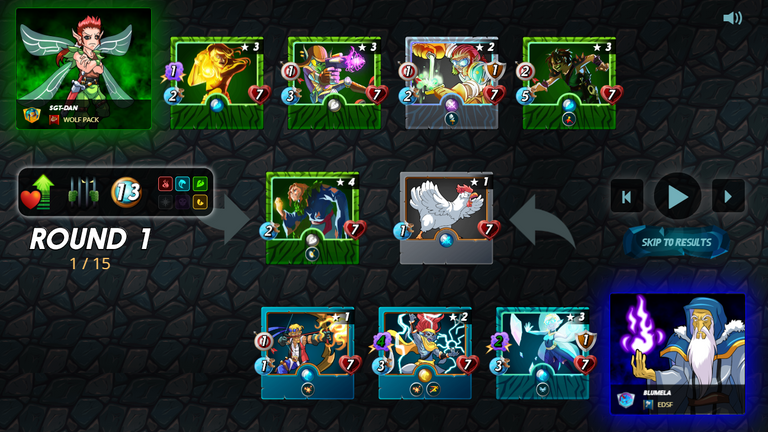 Per questa partita ho scelto l'elemento WATER e come Summoner ho inserito ALRIC STORMBRINGER di livello 4, la sua abilità è quella aumentare di uno l'attacco magico del mio DECK.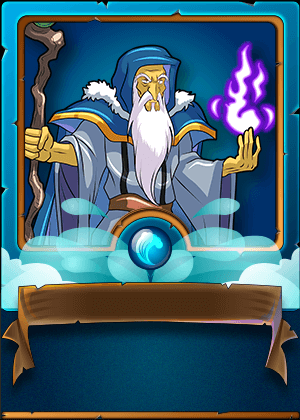 Dopo aver accentuato l'importanza di un buon TANK per far sopravvivere PIRATE ARCHER ho deciso di inserire in prima fila CHIKEN FURIOUS :-).
Come sempre questa simpatica gallina non tradisce e ha avuto un suo momento di gloria nel corso della partita.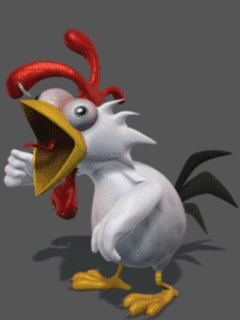 __
Il basso MANA a disposizione e il mio Summoner mi hanno fatto optare per ICE PIXIE in secopnda fila.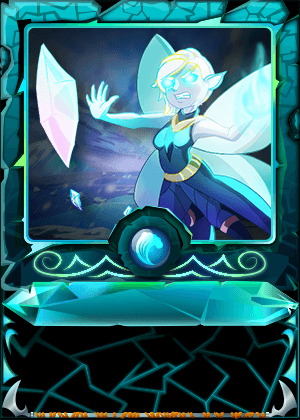 --
In terza fila ho inserito un mio recente acquisto RULER OF THE SEAS, l'ho così odiato che l'ho dovuto comprare :-) carta assolutamente da avere e coincidenza... ha BLAST.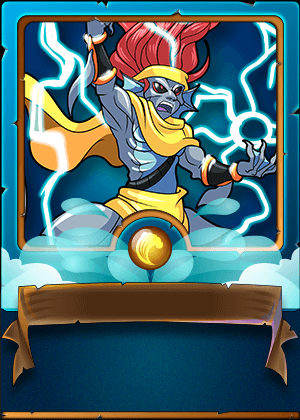 __
In ultima fila, la quarta, ho inserito il nostro pirata Equalizer ha fatto i suoi effetti e tutte le mie carte partono con vita 7.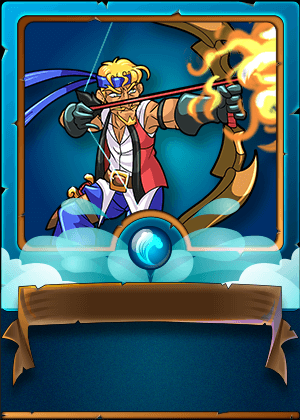 __
AVVERSARIO_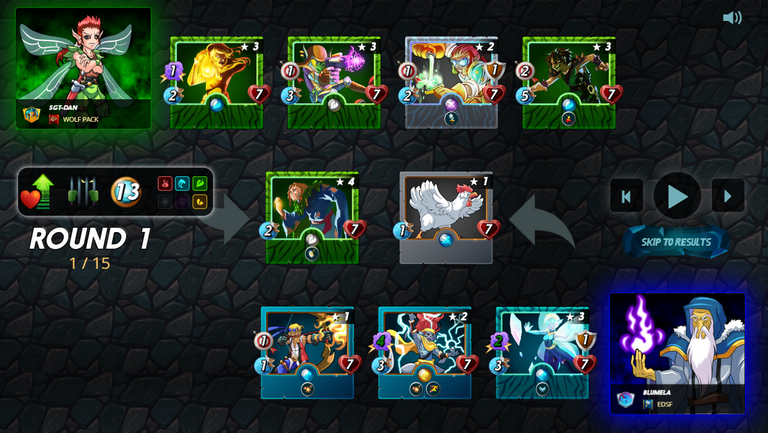 Il mio avversario ha scelto l'elemento EARTH con il Summoner XANDER FOXWOOD, Summoner con basso costo in MANA ma zero abilità.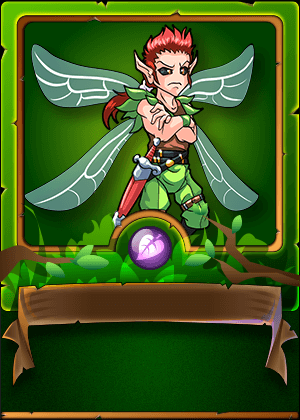 In prima fila ha inserito FAILED SUMMONER con l'abilità MAGIC REFLECT capace di riflettere eventuali attacchi magici.... sono nei guai!?...
Ha poi schierato altre 4 carte tra cui una con attacco MAGIc e le altre con attacco RANGED...
Ecco il reply della partita, se siete curiosi di sapere se ho vinto o no potete guardare la partita a questo link :-)
https://splinterlands.com?p=battle&id=f43985a8a3b78169988dcc9853ba44f18bd8833c&ref=blumela
Come sempre non è vero, che lo spoiler sia con voi!
Ho vinto e il nostro pirata è rimasto in vita fino all'ultimo ROUND aiutando molto la squadra,
CHIKEN FURIOUS è stata abbattuta solo al round finale assorbendo gran parte degli attacchi nemici.
FAILED SUMMONER non ha potuto fermare il mio attacco MAGIC e BLAST.
🌊🌊🌊
Se ancora non hai provato questo gioco il mio consiglio è quello di farlo questo è il mio link refferal puoi utilizzare il link se ti fa piacere oppure no ma il punto è sempre quello gioco da provare! :-)
https://splinterlands.com?ref=blumela
🌊🌊🌊
Buon divertimento e ci vediamo in battaglia!!
🌊🌊🌊
Le foto e le gif sono screen shot fatti al gioco Splinterland in mio possessor, tranne una presa da giphy.com.
---