Hi all @splinterlands friends,
Here we are in a new contest that allows us to get to know in detail some monsters of the vast kingdom of Splinterlands and also offers us the opportunity to earn some HIVE for our work of publishing the post.
Today's theme is Soulstorm, UNTAMED Epic card, belonging to the death summoner, a monster with remarkable offensive abilities but with poor defensive statistics. In fact, already at the first level, the card has a +3 ranged attack, making it one of the most powerful ranged attacks at the basic level. The weak point as already mentioned is the defense, having only 2 life points and no armor points available. A small advantage is the Flying ability which allows you to have a chance to dodge attacks from monsters that have no flying ability.
The defensive situation does not improve with increasing the level of the card since at the maximum level the life points are 3 and without purchased armor points but Soulstorm reaches 4 skills: in addition to Flying, it also gets the skills Snare, Headwinds and Stun, increasing exponentially the power of the monster.
Advice: being a Fort card in attack but weak in defense, it is advisable to avoid deploying it in first or second position and in last position. By inserting Soulstorm inside the cards, you will have a greater chance of life and greater damage to enemies.
You can watch my battle by clicking on the link below and see how Soulstorm can really be a great element in battle 😉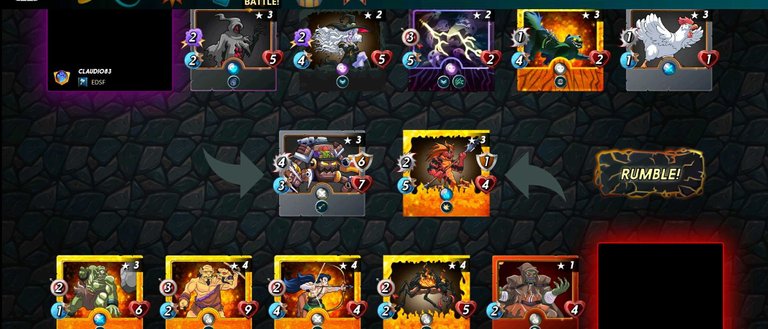 Here I explain how I laid out my cards for the battle
1. GOBLIN MECH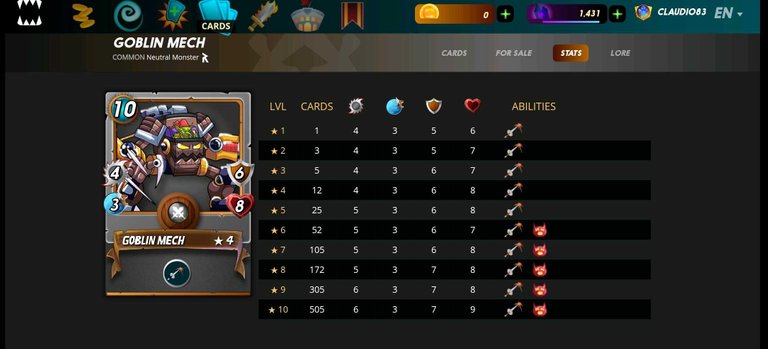 In first position the assault tank par excellence, trusted adventure companion. Thanks to him, I won my very first battles. It is currently upgraded to level 4 and sports a powerful attack +5 and an excellent defense with 8 life points and 6 armor points.
2. BOOGEYMAN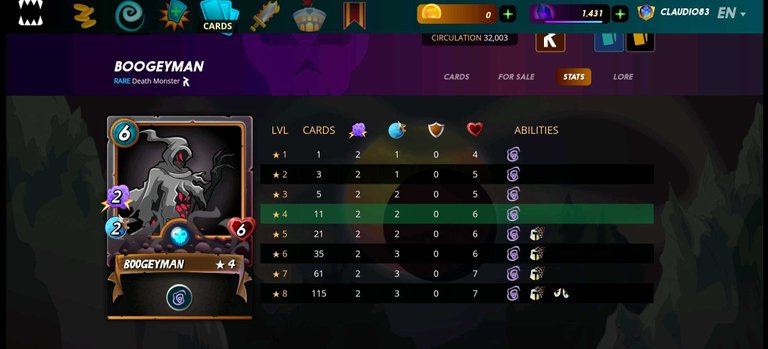 Another very faithful card, it has a +2 magic attack that knocks down enemy defenses and up to level 4 it has only the Slow ability that slows down opponents and offers an important advantage to all allies. A card that I exploit often, avoiding using an extra card like CREEPING OOZE for the same ability.
3. DARK ENCHANTRESS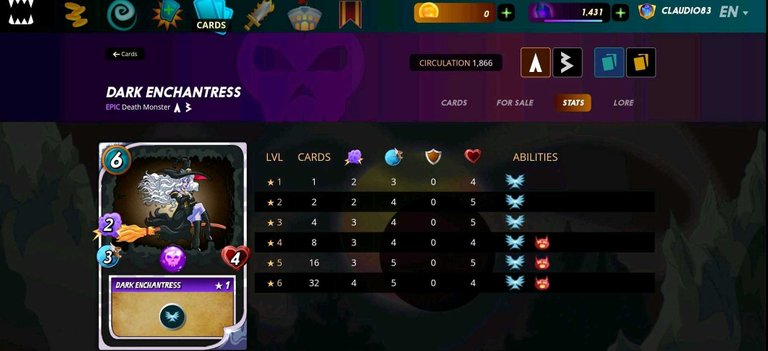 The Witch Enchantress is an alpha card and I take great advantage of her magic attack and speed. They often have it on Boogeyman because alone they can deal 4 damage points directly, avoiding armor. Then to be honest I love witches 😊
4. SOULSTORM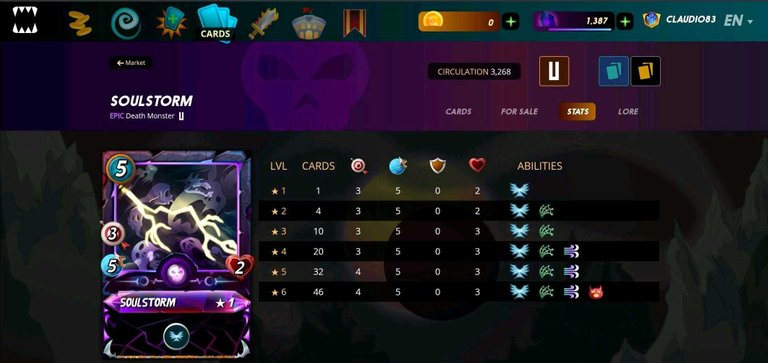 Here we are at the card object of this contest, Soulstorm has been positioned towards the center of the grid, avoiding attacks at the ends. The strategy worked and Soulstorm managed to mercilessly hit its opponents and contributed significantly to the battle 💪
5. UNDEAD BADGER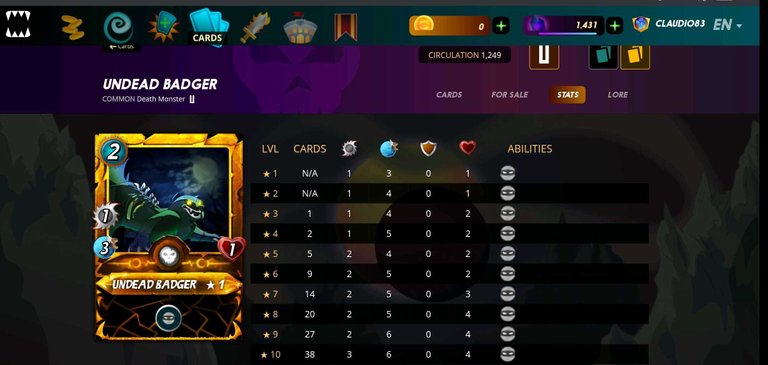 Golden card that allows me to have an increase in DEC at the end of the battle, he fought in an excellent way, attacking the last opponent's card, as per his ability and defending Soulstorm from possible opponent attacks!
6. FURIOUS CHICKEN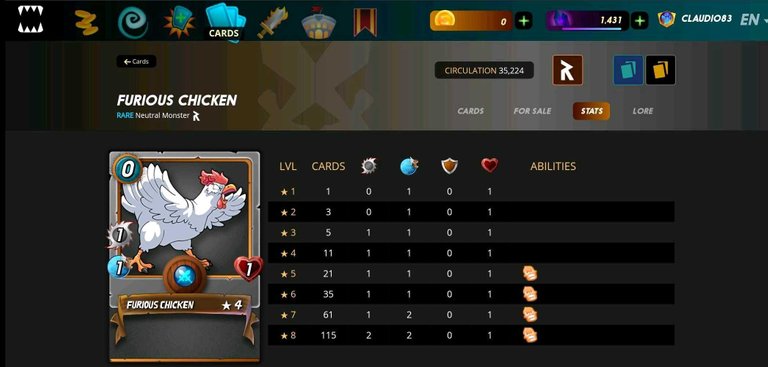 Omnipresent in my fights, it grants me some protection from queue attacks. Also at level 3 it has an attack +1 which always comes back very useful against opponents. Really a precious element 😊
Happy Game!
Thank you for taking the time to read this post
If you have not yet signed up for Splinterlands, I invite you to try. You can use my [referreal link] ([https://steemmonsters.com?ref=claudio83-27 (https://steemmonsters.com?ref=claudio83))
ITA
Ciao a tutti amici di @splinterlands,
eccoci qui ad un nuovo contest che ci permette di conoscere in dettaglio alcuni mostri del vasto regno di Splinterlands e ci offre anche l'opportunità di guadagnare qualche HIVE per il nostro lavoro di pubblicazione del post.
Il tema di oggi è Soulstorm, carta Epica UNTAMED, appartenente all'evocatore morte, un mostro dalle notevoli abilità offensive ma dalle scarse statistiche difensive. Infatti già al primo livello, la carta ha un attacco +3 da distanza, rendendolo di fatto uno degli attacchi a distanza più potenti, a livello base. Il punto debole come già anticipato è la difesa, avendo solo 2 punti vita e nessun punto armatura a disposizione. Un piccolo vantaggio è l'abilità Flying che permette di avere una chance di schivare attacchi dai mostri che non hanno abilità di volare.
La situazione difensiva non migliora con l'aumentare il livello della carta visto che al massimo livello i punti vita sono 3 e senza punti armatura acquisti ma Soulstorm raggiunge ben 4 abilità: oltre a Flying, ottiene anche le abilità Snare, Headwinds e Stun, aumentando esponenzialmente il potere del mostro.
Consigli: essendo una carta Fort in attacco ma debole in difesa, è opportuno evitare di schierarlo in prima o seconda posizione e in ultima posizione. Inserendo Soulstorm all'interno delle carte, si avrà una maggior probabilità di vita e un maggiore danno ai nemici.
Potete guardare la mia battaglia cliccando su link in basso e osservare come Soulstorm possa essere davvero un ottimo elemento in battaglia 😉
⚔️⚔️⚔️ [Link Battle](
https://m.splinterlands.io/#/battle/game/f981a3a3b77ba5d8c82e992bc19928aeceffff37)⚔️⚔️⚔️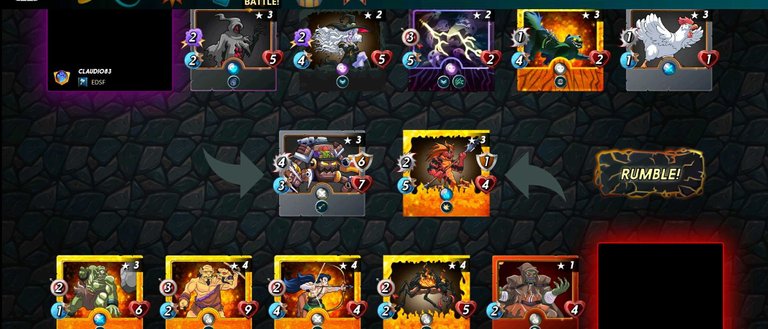 Qui vi spiego come ho disposto le mie carte per la battaglia
1. GOBLIN MECH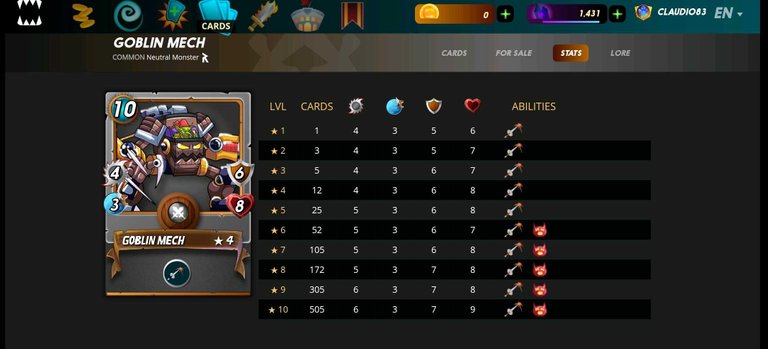 In prima posizione il tank d'assalto per eccellenza, fidato compagno d'avventura. Per merito suo, ho vinto le mie primissime battaglie. Attualmente è potenziato a livello 4 a sfoggia un potente attacco +5 ed una difesa ottima con ben 8 punti vita e 6 punti armatura.
2. BOOGEYMAN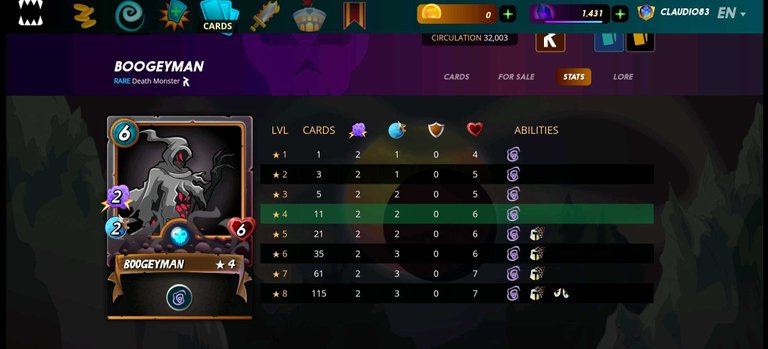 Altra carta fedelissima, ha un attacco magico +2 che abbatte le difese nemiche e fino a livello 4 ha solo l'abilità Slow che rallenta gli avversari e offre un vantaggio importante a tutti gli alleati. Una carta che sfrutto spesso, evitando di utilizzare una carta in più come CREEPING OOZE per la stessa abilità.
3. DARK ENCHANTRESS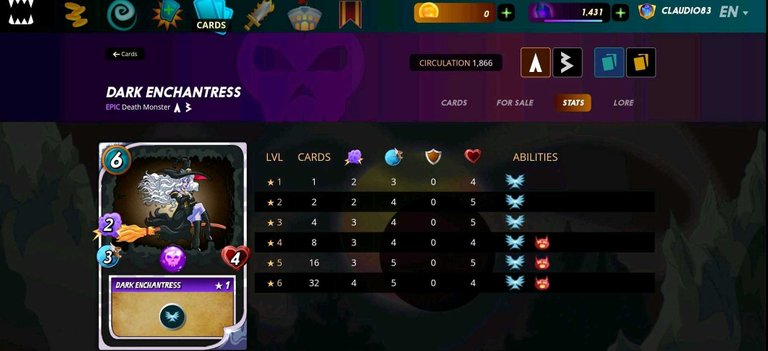 La strega Incantatrice è una carta alpha e sfrutto molto il suo attacco magico e l sua velocità. Spesso l'abbiano a Boogeyman perché da soli possono infliggere direttamente 4 punti danno, evitando le armature. Poi in sincerità io adoro le streghe 😊
4. SOULSTORM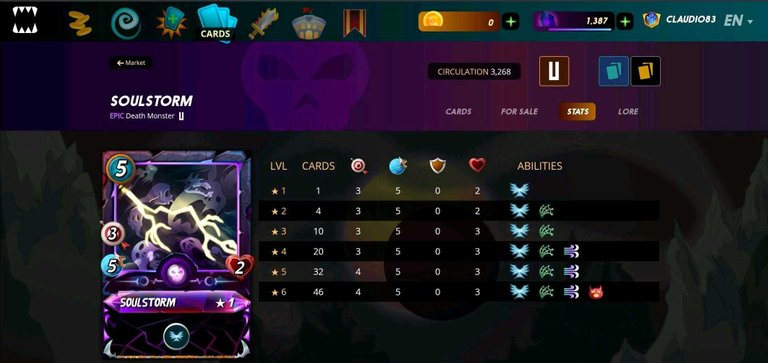 Eccoci alla carta oggetto di questo contest, Soulstorm è stato posizionato verso il centro dello schieramento, evitando attacchi alle estremità. La strategia ha funzionato e Soulstorm è riuscito a colpire senza pietà i suoi avversari e ha contribuito in modo significativo alla battaglia 💪
5. UNDEAD BADGER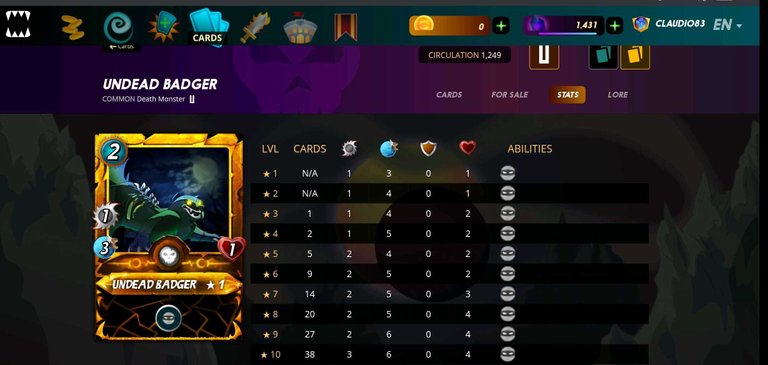 Carta dorata che mi consente di avere una maggiorazione dei DEC a fine battaglia, ha lottato in modo egregio, attaccando l'ultima carta avversaria, come da sua abilità e difendendo Soulstorm da possibili attacchi avversari!
6. FURIOUS CHICKEN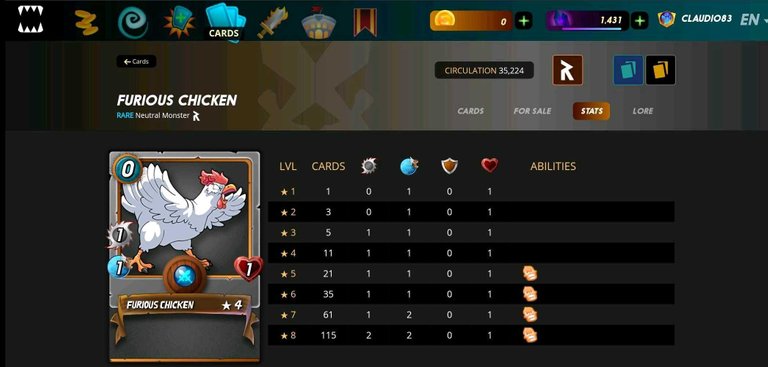 Onnipresente nei miei combattimenti, mi garantisce una certa protezione dagli attacchi in coda. Inoltre a livello 3 ha un attacco +1 che ritorna sempre molto utile contro gli avversari. Davvero un elemento prezioso 😊
Happy Game!
Thank you for taking the time to read this post
If you have not yet signed up for Splinterlands, I invite you to try. You can use my referreal link
Posted using Dapplr