Since my adolescence, I have been very passionate about video games and for a few years, with the advent of the PlayStation, I have always bought the hottest games on the market. At the time there were several arcades with old videogames and long lines of kids waiting to spend their money for pure fun.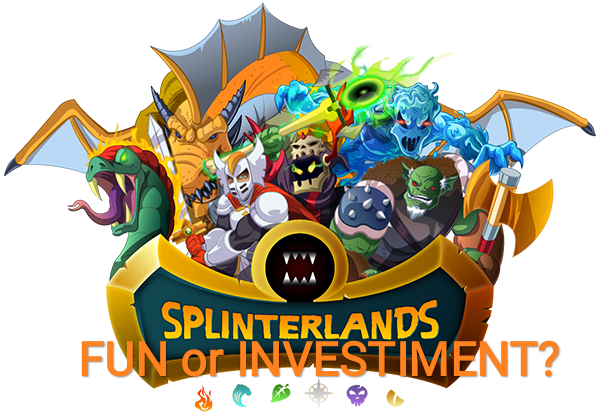 ---
We all grew up with the basic concept that to have fun you need to spend your money. And who among us hasn't burned a few hundred dollars on video games? On balance, I think I have easily passed a few thousand bills in my life.
Since I met Splinterlands, my vision on video games has changed dramatically. I never got to play and, not only pay nothing, but above all be rewarded myself for the time spent in my daily challenges.
Probably for those who have been playing it for some time, receiving DEC tokens at the end of each successful battle has become a standard procedure, indeed we would probably be angry if on the contrary we did not receive anything. Well we must consider that Splinterlands is a unique game of its kind for many determining factors: it is a game created on the blockchain, among the very first ever and it is also the most used DApp on the blockchain; offers a system of rewards in DEC tokens, which can be exchanged on an exchange or used in the game store, by purchasing other cards, potions or other.
The change that Splinterlands will bring to the games sector in the years to come will change the way we understand videogames. Having fun and earning is the dream of many and today it has come true.
The gain is gradual and proportional to the power of one's cards. It is evident that those who decide to invest money take a leap forward in addition to winning more challenges, they will consequently get more earnings. But, as I wrote to you at the beginning of this post, how many users spend money on games every day that provide no financial return yet spend millions of dollars every 24 hours.
The size of users Splinterlands looks at today is still very limited as it is a game known to a small slice of crypto enthusiasts, despite being the most used DApp. The probability of investing little money today can really make a difference in the future, if you believe in the project and in crypto.
My words are not those of a financial promoter, I do not have the knowledge, nor of a magician, I have no power to predict the future. My words are those of a game enthusiast, in love with @splinterlands and HIVE and I strongly believe in the feelings that the game gives me.
Let's enjoy the game and future updates. Fun always pays off.
Food Game!
Thank you for taking the time to read this post
If you have not yet signed up for Splinterlands, I invite you to try. You can use my referreal link
ITA
Sin dalla mia adolescenza, sono stato molto appassionato dei videogames e per alcuni anni, con l'avvento della PlayStation, ho sempre comprato i giochi più in voga sul mercato. All'epoca esistevano diverse sale giochi con i vecchi videogames e le lunghe file di ragazzi in attesa di spendere il loro soldi per puro divertimento.
Siamo tutti cresciuti con il concetto di base che per divertirsi è necessario spendere i propri soldi. E chi di noi non avrà bruciato qualche centinaio di dollari in videogames? A conti fatti, io penso di aver superato tranquillamente qualche migliaio di banconote nella mia vita.
Da quando ho conosciuto Splinterlands, la mia visione sui videogames è cambiata radicalmente. Non ho mai avuto modo di giocare e, non solo non pagare nulla, ma soprattutto essere io stesso ricompensato per il tempo speso nelle mie sfide giornaliere.
Probabilmente per chi ci gioca già da tempo, ricevere token DEC al termine di ogni battaglia vinta è diventato una procedura standard, anzi probabilmente ci arrabbieremmo se al contrario noi non ricevessimo nulla. Beh dobbiamo considerare che Splinterlands è un gioco unico nella sua specie per molti fattori determinanti: è un gioco creato su blockchain, tra i primissimi in assoluto ed è anche la DApp più utilizzata sulla blockchain; offre un sistema di rewards in token DEC, scambiabili su exchange oppure utilizzabili nel negozio del gioco, acquistando altre carte, pozioni o altro.
Il cambiamento che Splinterlands porterà al settore games negli anni futuri stravolgerà il modo di comprendere un videogames. Divertirsi e guadagnare è il sogno di molti ed oggi è diventato realtà.
Il guadagno è graduale e proporzionale al potere delle proprie carte. È evidente che chi decide d'investire del denaro effettua un salto in avanti oltre a vincere più sfide, otterrà di conseguenza più guadagni. Ma, come vi ho scritto all'inizio di questo post, quanti utenti spendono quotidianamente denaro in giochi che non forniscono alcun ritorno economico eppure si spendono milioni di dollari ogni 24 ore.
La dimensione di utenti in cui Splinterlands oggi guarda è ancora molto ristretta poiché è un gioco conosciuto ad una piccola fetta di appassionati crypto, nonostante sia la DApp più utilizzata. La probabilità di investire poco denaro oggi potrà davvero fare la differenza in futuro, se credete nel progetto e nelle crypto.
Le mie parole non sono quelle di un promotore finanziario, non ne ho le conoscenze, ne di un mago, non ho poteri di prevedere il futuro. Le mie parole sono quelle di un appassionato di giochi, innamorato di @splinterlands e di HIVE e credo molto nelle sensazioni che il gioco mi trasmette.
Godiamoci il gioco e i futuri aggiornamenti. Il divertimento premia sempre.
Buon Game!
Thank you for taking the time to read this post
If you have not yet signed up for Splinterlands, I invite you to try. You can use my referreal link