Risultati del Focus Quotidiano su Splinterlands - Disable Focus - (ITA/ENG) - Results of the Daily Focus on Splinterlands - Disable Focus
Buonasera a tutti e ben ritrovati.
Fortunatamente, anche se con una lentezza che sembra praticamente eterna, anche questa settimana lavorativa si avvia verso il suo finale, e si avvicina, sempre di più, ad un tanto atteso weekend ed in questo giovedì sera, nonostante la stanchezza si faccia sentire, eccomi rispuntare, nuovamente, con questo mio nuovo post quotidiano, dedicato, in questo caso, ai risultati delle mie missioni quotidiane su Splinterlands.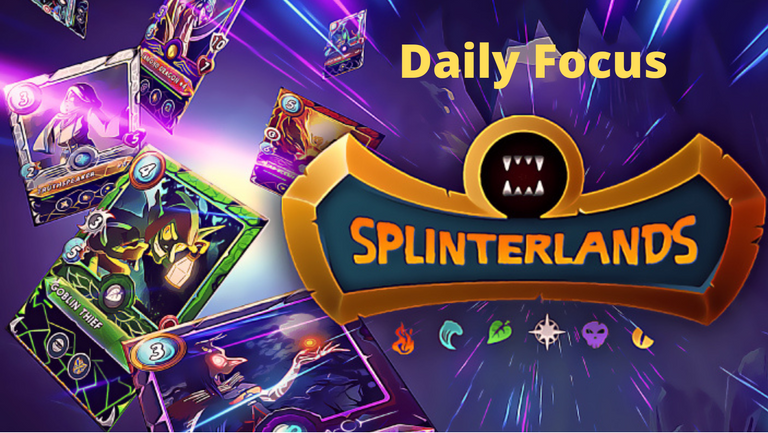 Se non altro, devo ammettere che le giornate lavorative che mi sono lasciato alle spalle, fino ad oggi, sono state un po' più serene del solito, poiché, se è vero che fisicamente sono state piuttosto impegnative, visto che mi ritrovo a completare un ordine, piuttosto importante, per una nave da crociera, che conta una notevole quantità di prodotti da completare, dall'altro mi ha concesso di fare tutto questo all'interno del magazzino, ovvero una delle "zone franche" dell'azienda per la quale lavoro.
Tutto questo, ha fatto sì che mi sia riuscito di rimanere sufficientemente distante da particolari rotture di scatole, ma, soprattutto, dalle tensioni, e dai nervosismi, che da giorni, ormai, stanno dilagando all'interno di questo luogo di lavoro piuttosto malsano, a causa, probabilmente, della defezione, ormai imminente, di ben due miei colleghi, che rivestono, entrambi, ruoli piuttosto chiave.
La situazione, quindi, si sta andando a complicare ulteriormente, e presto ci ritroveremo, se non verranno presi adeguati provvedimenti, che però, momentaneamente, non ho visto mettere in atto, piuttosto nei guai, visto che dubito si riuscirà ad andare avanti con la dovuta serenità, venendo a mancare delle figure che si occupano, ormai da almeno vent'anni, di tutto quello che riguarda la creazione, e la produzione, di determinati prodotti.
Ciò nonostante, chi dovrebbe preoccuparsi della cosa, ovvero quel completo ignorante che dovrebbe tenere le redini dell'azienda, sembra tirare avanti con una nonchalance quasi inquietante, che non si riesce a capire se sia dovuta al fatto di aver già provveduto a pensare ad una soluzione, o se, molto più semplicemente, sia dovuta ad un suo totale menefreghismo che, misto alla sua arroganza, gli fa pensare di poter andare avanti comunque, senza troppi problemi, così come avrebbe potuto fare il capitano del Titanic, e con gli stessi risultati, probabilmente.
Diventa sempre più fondamentale, quindi, che io mi decida, una buona volta, a prendere una decisione, e a perseguirla con determinazione, per riuscire ad allontanarmi, quanto più possibile, da tutto questo, così da riuscire a ritrovare una serenità che ormai ho perso, ma, soprattutto, che si sta ulteriormente deteriorando, visto che le mie paure, che mi hanno impedito fino ad oggi di mettere in atto determinate cose, stanno creando, all'interno di me stesso, ulteriore scompiglio.
Ma queste mie divagazioni personali, con le quali tendo a dilungarmi a volte un po' troppo, anche come sfogo, nulla c'entrano con l'argomento principale di questo mio post, e, di conseguenza, direi che è arrivato il momento di iniziare a parlare della reale protagonista dello stesso.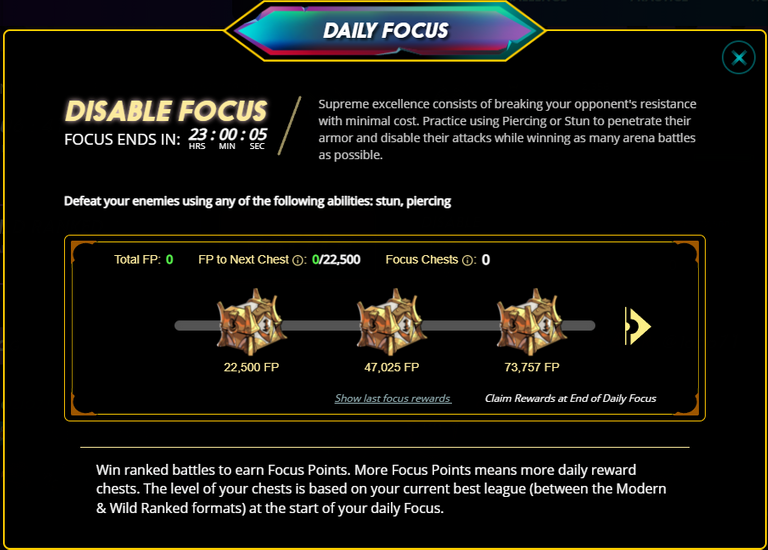 Il Focus della giornata in questione era, in questo caso, per la seconda voltata consecutiva, di tipo Disable, ovvero una delle quattordici nuove sfide, aggiunte qualche tempo fa al gioco, per dare più varietà allo stesso, che portano il totale delle missioni giornaliere sorteggiabili, a ben venti, rispetto alle sei iniziali.
In questo nuova sfida, per poter ottenere un numero di punti maggiori quando si vincono gli scontri contro i propri avversari, si dovrebbero, durante l'arco di 24 ore a disposizione, utilizzare carte, all'interno dei propri schieramenti, con le abilità Piercing, e Stun.
Per quanto riguarda la consueta difficoltà, le cose non sono cambiate un granchè dalle giornate precedenti, anche se, però, qualcosa, all'interno del gioco, risulta essere diverso, visto che, dal 21/03, è stato inserito un contatore di energia che regola la quantità di combattimenti giornalieri che possono essere svolti.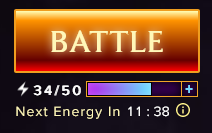 La barra di cui sopra, conta un totale di 50 slot, e, di conseguenza, consentirebbe di portare a termine, durante la giornata, almeno altrettanti scontri, ed ogni unità utilizzata, si ricarica nel giro di un'ora, ma, soprattutto, cosa che, secondo me, è la cosa più importante, questa novità consente di non dover tenere più conto del proprio ECR, che in precedenza andava a influire sulla qualità delle ricompense ricevibili ogni volta che si andava ad abbassare un po' troppo.
Trovo, di conseguenza, la cosa di un certo rilievo, poiché consente di ottenere, sempre, il ritorno migliore in caso di vittoria, e, soprattutto, non va a influire, per l'appunto, sui premi ricevibili, anche se per alcuni giocatori potrebbe apparire limitante, visto che non si può andare oltre ad un certo quantitativo di scontri giornalieri, apparentemente, salvo e investire in una ricarica della stessa.
La barra di energia, infatti, può anche essere ricaricata utilizzando i DEC, e, di conseguenza, in realtà, l'ammontare totale di combattimenti che si potrebbero, teoricamente, affrontare, arriva fino ad un massimo di 100, rendendo ancora più interessante, per chi avesse il tempo, e la voglia, di farlo, la possibilità di sfruttare al massimo questa cosa, per ottenere più rewards.
Per il momento la mia strategia consiste nello svolgere, più o meno, giornalmente, un massimo di 24 sfide, così che, nel tempo, mi riesca di ritrovarmi il giorno successivo, allo stesso punto di partenza, e tutto questo, per il momento, mi ha consentito, ad esempio, nella giornata della quale vi sto parlando, di riuscire a racimolare i punti sufficienti per ottenere cinque scrigni.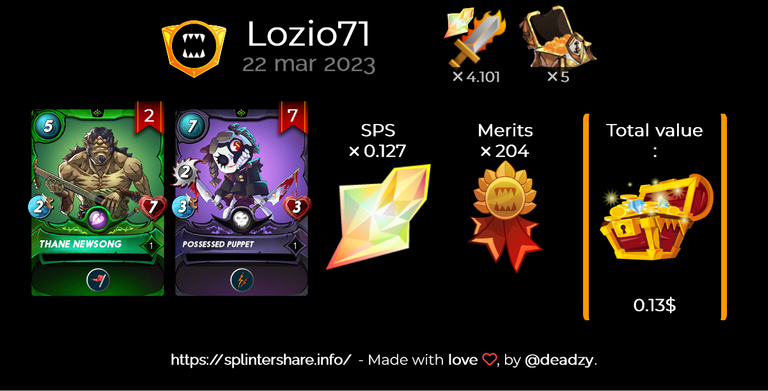 Vista la quantità non eccelsa degli stessi, non mi rimaneva altro da fare se non sperare che, almeno, la qualità del contenuto degli stessi potesse andare a compensare la cosa, facendomi ritrovare di fronte a qualcosa di sufficientemente interessante, per rendere la giornata un po' più positiva.
Devo ammettere che, fortunatamente, una volta proceduto all'apertura degli scrigni di cui sopra, le cose sono andate abbastanza bene, visto che mi sono ritrovato di fronte a 0,127 SPS, 204 Merits, che utilizzerò, appena mi sarà possibile, per l'acquisto di pacchetti di carte Gladius, 7 copie di Possessed Puppet dell'elemento morte, e, per concludere, 2 copie di Thane Newsong, carta epica dell'elemento terra.
Un risultato, quindi, che, dopo un paio di giorni che non si erano rivelati particolarmente interessanti, ritorna a portare verso l'alto una media che, comunque, dall'avvento delle carte Soulbound, risulta essere piuttosto positivo, andando a porre, finalmente, fine, ad un periodo di carestia che aveva iniziato a farmi addirittura odiare questo gioco, che ho sempre amato fin dall'inizio.
Tutte le novità introdotte negli ultimi tempi, però, a differenza di altre precedenti, non molto azzeccate, si stanno rivelando, via, via, sempre più interessanti, e stanno riuscendo a ridonare interesse, ed a riportare entusiasmo, verso Splinterlands, da parte di moltissimi utenti che, in precedenza, al contrario, non erano decisamente molto contenti della situazione che stavamo vivendo.
Sarebbe bastato visitare qualche forum, o qualche gruppo, dedicato al gioco, qualche mese fa, infatti, per rendersi conto di un malcontento strisciante, che stava diventando sempre più presente all'interno degli stessi, visto che, in molti, me compreso, stavano lamentandosi della deriva che lo stesso aveva preso, e invocavano, a gran voce, un cambiamento.
Evidentemente tali lamentele sono state, inaspettatamente, ascoltate, viste le ultime evoluzioni, che sembra stiano incontrando i favori del pubblico, e donando nuova linfa a tutto questo ecosistema che, comunque, sta continuando, da tempo, a muoversi, e in maniera piuttosto importante, senza, apparentemente, risentire più di tanto di un mercato bearish delle criptovalute in generale.
Al di là dei recenti cambiamenti apportati sul gioco principale, infatti, c'è da ricordare quanta carne al fuoco ci sia, che ruota intorno a questo vero e proprio mondo virtuale, visti, ad esempio, i due nuovi giochi in arrivo, ovvero la versione Tower Defence del principale, e quello dedicato, al contrario, al calcio, che hanno già riscosso notevole successo, vedendo le relative presale, di entrambi, andare velocemente esaurite.
Sembra, insomma, che Splinterlands, e tutto l'ecosistema che vi sta ruotando attorno, stia godendo di un'ottima salute, e questo, per noi utenti di vecchia data, non può che essere un segnale incoraggiante per spingerci a continuare a dedicare tempo, ed energie, tanto allo stesso, tanto a tutti i progetti satelliti che vi ruoteranno intorno, in futuro.
Per il momento, però, non vi voglio annoiare ulteriormente, e, di conseguenza, non mi resta altro da fare se non, augurarvi una buona serata, ed invitarvi, sempre che ne abbiate ancora voglia, a continuare a leggere i miei post ed a seguirmi.
P.S. Se non siete ancora iscritti a Splinterlands e volete iniziare anche voi a giocare a questo gioco potete iscrivervi da quì : Splinterlands
---
Good evening everyone and welcome back.
Fortunately, even if with a slowness that seems practically eternal, this working week is also heading towards its end, and is getting closer and closer to a long-awaited weekend and on this Thursday evening, despite the tiredness that makes itself felt, here I am resurface, again, with my new daily post, dedicated, in this case, to the results of my daily missions on Splinterlands.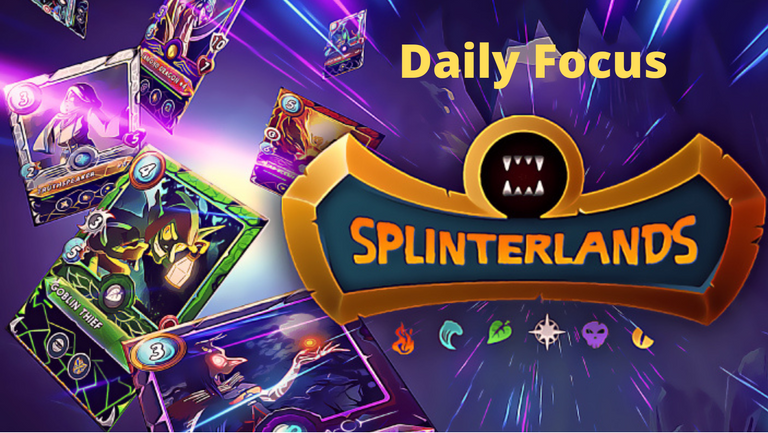 If nothing else, I have to admit that the working days that I have left behind, up to today, have been a little more serene than usual, since, if it is true that physically they have been quite demanding, given that I find myself completing a order, rather important, for a cruise ship, which has a considerable quantity of products to complete, on the other hand it allowed me to do all this inside the warehouse, or one of the "free zones" of the company for which Work.
All this has meant that I have managed to stay sufficiently distant from particular annoyances, but, above all, from the tensions and nervousness that have been rampant in this rather unhealthy workplace for days now. probably due to the now imminent defection of two of my colleagues, who both hold rather key roles.
The situation, therefore, is going to become even more complicated, and we will soon find ourselves again, if adequate measures are not taken, which however, at the moment, I have not seen implemented, rather in trouble, given that I doubt we will be able to go ahead with the due serenity, in the absence of figures who have been involved, for at least twenty years now, with everything related to the creation and production of specific products.
Nonetheless, whoever should be concerned about the thing, that is to say the completely ignorant person who should hold the reins of the company, seems to carry on with an almost disturbing nonchalance, which it is impossible to understand whether it is due to the fact that he has already taken steps to think of a solution, or if, much more simply, it is due to his total indifference which, mixed with his arrogance, makes him think he can go on anyway, without too many problems, just as the captain of the Titanic could have done, and with the same results, probably.
Therefore, it becomes more and more fundamental that I decide, once and for all, to make a decision, and to pursue it with determination, in order to be able to distance myself, as much as possible, from all this, so as to be able to find a serenity that I have now lost. , but, above all, that it is further deteriorating, given that my fears, which have prevented me up to now from putting certain things into action, are creating further havoc within myself.
But these personal digressions of mine, with which I tend to dwell at times a little too much, even as an outlet, have nothing to do with the main topic of my post, and, consequently, I would say that the time has come to start to talk about the real protagonist of the same.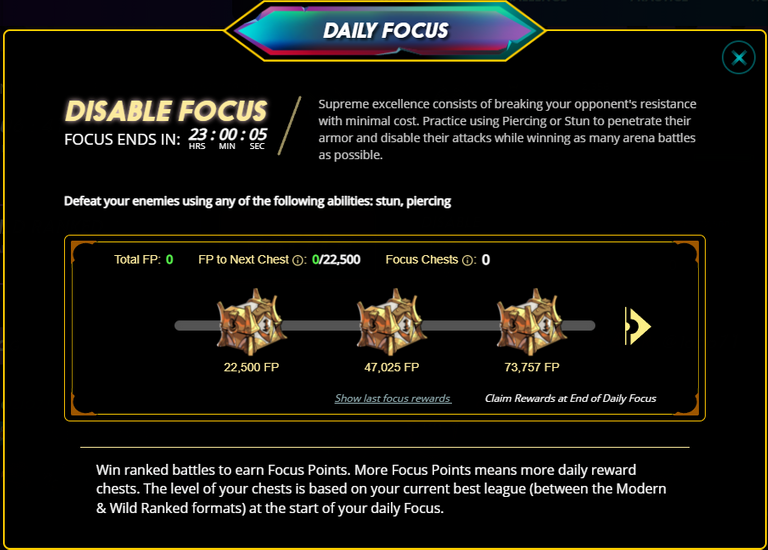 The Focus of the day in question was, in this case, for the second consecutive time, of the Disable type, or one of the fourteen new challenges, added some time ago to the game, to give it more variety, which bring the total of daily missions drawn, at twenty, compared to the initial six.
In this new challenge, in order to obtain a greater number of points when you win battles against your opponents, you should, during the 24 hours available, use cards, within your own deployments, with Piercing abilities , and Stun.
As for the usual difficulty, things haven't changed much from the previous days, even if, however, something, within the game, turns out to be different, given that, since 03/21, an energy counter has been added which regulates the amount of daily fights that can be done.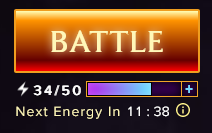 The above bar has a total of 50 slots, and, consequently, would allow at least as many battles to be completed during the day, and each unit used, recharges within an hour, but, above all, which, in my opinion, is the most important thing, this novelty allows you to no longer have to take into account your ECR, which previously went to affect the quality of the rewards receivable every time you went to lower a little too much.
Consequently, I find the thing of some importance, since it always allows you to obtain the best return in case of victory, and, above all, it does not affect, precisely, the prizes receivable, even if for some players it could appear limiting, given that it is not possible to go beyond a certain amount of daily clashes, apparently, except and invest in a recharge of the same.
The energy bar, in fact, can also be recharged using the DECs, and, consequently, in reality, the total amount of fights that could theoretically be faced, reaches up to a maximum of 100, making it even more interesting, for those who have the time, and the desire, to do it, the opportunity to make the most of this thing, to get more rewards.
For the moment my strategy consists in carrying out, more or less, a maximum of 24 challenges daily, so that, over time, I manage to find myself the next day, at the same starting point, and all this, for the moment, it allowed me, for example, on the day I'm talking about, to be able to collect enough points to get five chests.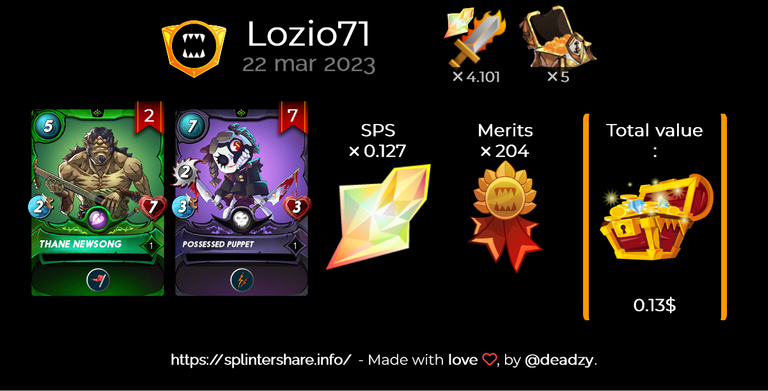 Given the not excellent quantity of the same, there was nothing left for me to do but hope that, at least, the quality of the content of the same could go to compensate for it, making me find myself faced with something interesting enough, to make the day a bit ' more positive.
I must admit that, fortunately, once I proceeded to open the chests mentioned above, things went quite well, since I found myself in front of 0.127 SPS, 204 Merits, which I will use, as soon as possible, for the purchase of packs of Gladius cards, 7 copies of Possessed Puppet of the element of death, and, finally, 2 copies of Thane Newsong, epic card of the element of earth.
A result, therefore, which, after a couple of days that hadn't turned out to be particularly interesting, returns to bring upwards an average which, however, since the advent of Soulbound cards, turns out to be rather positive, finally putting , end, to a period of famine that had even started to make me hate this game, which I've always loved from the beginning.
All the innovations introduced in recent times, however, unlike other previous ones, not very appropriate, are proving to be more and more interesting, and are managing to restore interest, and to restore enthusiasm, towards Splinterlands, on the part of many users who, previously, on the contrary, were definitely not very happy with the situation we were experiencing.
It would have been enough to visit some forum, or some group, dedicated to the game, a few months ago, in fact, to become aware of a creeping discontent, which was becoming more and more present within them, given that many, myself included, were complaining of the drift that the same had taken, and they clamored for a change.
Evidently these complaints have been unexpectedly heard, given the latest developments, which seem to be meeting the favor of the public, and giving new life to this whole ecosystem which, however, has been continuing to move for some time, and in a rather important way , without, apparently, being affected too much by a bearish cryptocurrency market in general.
Beyond the recent changes made to the main game, in fact, we must remember how much meat there is, which revolves around this real virtual world, given, for example, the two new games arriving, namely the Tower Defense version of the main one, and the one dedicated, on the contrary, to football, which have already enjoyed considerable success, seeing the relative pre-sales of both quickly sold out.
In short, it seems that Splinterlands, and the whole ecosystem that is revolving around it, is enjoying excellent health, and this, for us long-time users, can only be an encouraging sign to push us to continue dedicating time , and energies, both to the same, and to all the satellite projects that will revolve around it in the future.
For the moment, however, I don't want to bore you further, and, consequently, there is nothing left for me to do but wish you a good evening, and invite you, if you still feel like it, to continue reading my posts and to follow me.
P.S. If you haven't signed up for Splinterlands yet and want to start playing this game, you can sign up here: Splinterlands
---
---