Risultati del Focus Quotidiano su Splinterlands - Healing Focus - (ITA/ENG) - Results of the Daily Focus on Splinterlands - Healing Focus
Buonasera a tutti e ben ritrovati.
Anche se molto lentamente, come al solito, questa pesante, e pallosissima, settimana lavorativa, continua nel suo lento incedere, e, anche in questo martedì, dove la stanchezza si fa pesantemente sentire, a causa di una notte un po' agitata, eccomi, comunque, ritornare con questo mio nuovo post quotidiano, dedicato, in questo caso, ai risultati delle mie missioni giornaliere su Splinterlands.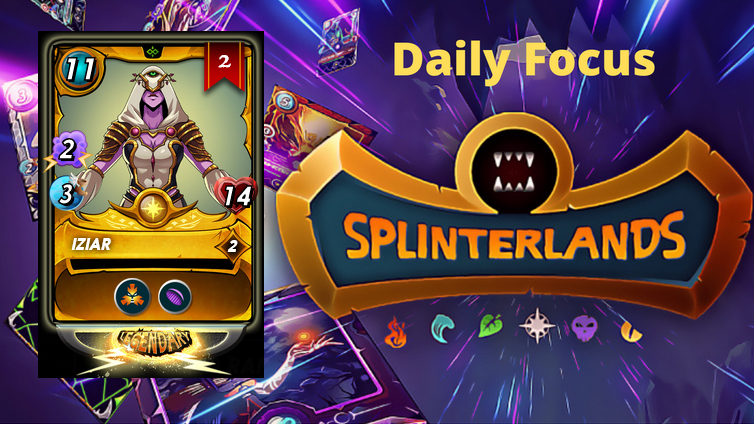 La nottata appena trascorsa, infatti, non mi ha concesso di riposare poi molto, poiché mille pensieri mi hanno tenuto sveglio per buona parte della stessa, anche se, in questo caso, si trattava di pensieri pieni di speranza, e positivi, perché potrei, forse, aver trovato un'ottima opportunità, che mi consentirebbe di cambiare, in parte, la mia vita.
Grazie ad una mia amica di Milano, infatti, potrei essere riuscito a trovare la possibilità di mettere un tassello, decisamente piuttosto importante, ad uno dei progetti ai quali sto lavorando da qualche mese, che potrebbe influenzare, in maniera molto importante, il mio futuro.
Ovviamente non voglio farmi prendere da facili entusiasmi, anche perché, prima di poter gioire definitivamente, sto attendendo una risposta definitiva sulla fattibilità della cosa, e, non essendo così scontata, non vorrei poi rimanere profondamente deluso, ma ammetto che, da quando ho ricevuto questa notizia, sono piuttosto agitato.
Se questa operazione dovesse andare in porto, e tutto dovesse andare come stabilito, infatti, il tutto apporterebbe una svolta, decisamente molto rilevante, in uno dei miei progetti, e, di conseguenza, nella mia vita da qui in avanti, e non sarebbe certo una cosa da poco.
Visti anche alcuni episodi, di un passato abbastanza recente, che mi sono accaduti, e che hanno visto uno dei miei progetti, che stava per andare in porto, crollare a causa di una persona che è venuta meno alla sua parola, però, questa volta non voglio farmi facili illusioni, col rischio, poi di, rimanere nuovamente fregato, e, di conseguenza, voglio andarci con i piedi di piombo.
Ma queste mie divagazioni personali, nulla c'entrano con l'argomento principale di questo mio post, e, di conseguenza, direi che è arrivato il momento di iniziare a parlare della reale protagonista dello stesso, ovvero dell'ultima missione da me completata.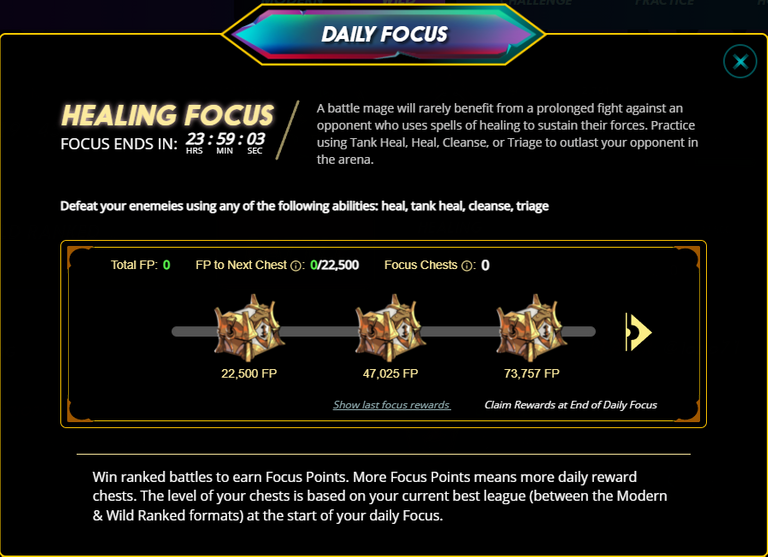 Il Focus di giornata era, in questo caso, di tipo Healing, ovvero una delle quattordici nuove sfide, aggiunte, ormai parecchio tempo fa, al gioco, per dare più varietà allo stesso, che portano il totale delle missioni giornaliere sorteggiabili, a ben venti, rispetto alle sei iniziali.
In questa nuova sfida, per poter ottenere un numero di punti maggiori quando si vincono gli scontri contro i propri avversari, si dovrebbero, durante l'arco delle 24 ore messe a disposizione, utilizzare carte, all'interno dei propri schieramenti, con le abilità Heal, Tank Heal, Cleanse e Triage.
Anche in questa occasione, gli avversari che ho affrontato mi hanno messo, fin da subito, in seria difficoltà, infliggendomi troppe sconfitte per poter sperare di riuscire a cambiare, più di tanto, lo scenario che mi vede, già da fin troppo tempo, annaspare di fronte ad una difficoltà che è cresciuta in maniera smisurata.
Come ciliegina sulla torta, poi, anche il fatto che, molte delle stesse, mi siano state assestate da Bot, il che, di conseguenza, sembra andare a confermare le mie supposizioni, che mi vedevano affermare il fatto che gli stessi avrebbero continuato a girare, ugualmente, anche con l'avvento delle nuove carte Soulbound.
Dettagli, anche se magari non di poco conto, a parte, resta il fatto che, tra alti e bassi, mi è riuscito di concludere la missione giornaliera, racimolando i punti necessari ad ottenere solamente cinque scrigni, cosa che mi ha un po' deluso, visto che speravo, sinceramente, di ottenere un risultato migliore.

Restava solo, a questo punto, come ogni giorno, di andare a vedere che cosa mi sarebbe riuscito di trovare all'interno degli stessi, nella speranza che, almeno, mi potessero riservare qualcuna delle nuove carte, che, onestamente, trovo molto interessanti, visto che mi hanno consentito di tornare a giocare, ottenendo risultati un po' più piacevoli.
Mai mi sarei aspettato, però, che queste potessero essere così sorprendenti come quelle di fronte alle quali mi sono trovato oggi, visto che, all'apertura degli scrigni, mi sono trovato davanti a 4 Alchemy Potion, 306 Merits, che, essendo entrato a far parte di una nuova Gilda ora posso usare per l'acquisto di pacchetti delel carte Gladius, due Terraceous Grunt dell'elemento terra, ma, soprattutto, per concludere in bellezza, due Iziar, carta leggendaria dell'elemento vita, ma nella loro edizione Gold Foil!!!
L'eventuale bilancio giornaliero, quindi, se dovessi mai stilarne uno, schizzerebbe a livelli stratosferici, che non raggiungevo da tempo immemore, visto che, solo in un'altra occasione mi era successo, in passato, di trovarmi di fronte ad una leggendaria Gold foil, tra le ricompense dell'allora edizione Beta.
So bene, in realtà, che, allo stato attuale, anche quelle due carte hanno un valore pari allo zero, e che non si saprà, per molto tempo, se un giorno possano valere qualcosa o meno, ma da giocatore reale, e fan sfegatato di Splinterlands, sinceramente sono ugualmente più che soddisfatto di poter arricchire la mia collezione con le suddette.
Dopo un lunghissimo periodo di carestia, che a me, personalmente, è sembrato praticamente eterno, quindi, sembra che le cose abbiano preso una svolta, e stiamo andando in una direzione completamente contraria, visto che, con l'arrivo delle Soulbound, le ricompense di fronte alle quali possiamo trovarci, sono decisamente di tutt'altro genere.
Tutto questo, ovviamente, sta riportando, in molti giocatori, quell'entusiasmo che, in precedenza, era andato perduto, e che aveva anche fatto pensare, a molti degli stessi, di abbandonare il gioco definitivamente, visto che non valeva più la pena di perdere, letteralmente, del tempo, a completare le missioni giornaliere, visti i risultati, decisamente deludenti, ai quali si andava incontro.
Devo ammettere, infatti, che anch'io, da qualche giorno, non vedo l'ora di poter trovare un po' di tempo da dedicare a svolgere il mio compitino quotidiano, ansioso di andare a scoprire quale possa essere il contenuto degli scrigni che mi riuscirà di racimolare con le mie partite.
Un cambiamento di rotta, da me tanto invocato, quindi, che, anche se rimane l'incognita legata al futuro valore delle nuove rewards, sta ridando fiducia a molti utenti nel confronto di questo gioco, dopo un periodo durante il quale lo stesso era andato un po' allo sbando, provocando un malcontento generale e strisciante che era diventato piuttosto palpabile.
Altra cosa di cui, poi, si dovrà tenere conto, sarà l'effetto che tutto questo apporterà nei confronti degli utilizzatori dei Bot, poiché viene da chiedersi, se tra noi utenti reali ci sono persone che ottengono risultati di questo genere, quali potranno essere quelli ottenuti da loro, e, di conseguenza, quante carte, di questa edizione, gli stessi riusciranno a racimolare, visto che, questa cosa, potrebbe, in seguito, andare a influire, quando le suddette potranno essere immesse a mercato, e quindi vendute, sul valore delle stesse.
Sinceramente, però, prima che tutto questo accada servirà almeno un anno di tempo, se non anche di più, e, di conseguenza, per il momento non intendo preoccuparmene più di tanto, augurandomi che, nel frattempo, creatori, e sviluppatori, di Splinterlands, abbiano trovato il modo per gestire la cosa senza che ci siano conseguenze, troppo pesanti, per l'economia del gioco.
Ora, però, non vi voglio annoiare ulteriormente, e, di conseguenza, per il momento, non mi resta altro da fare se non, augurarvi una buona serata, ed invitarvi, sempre che ne abbiate ancora voglia, a continuare a leggere i miei post ed a seguirmi.
P.S. Se non siete ancora iscritti a Splinterlands e volete iniziare anche voi a giocare a questo gioco potete iscrivervi da quì : Splinterlands
---
Good evening everyone and welcome back.
Even if very slowly, as usual, this heavy and boring working week continues in its slow gait, and, even on this Tuesday, where tiredness makes itself felt heavily, due to a somewhat restless night, here I am , however, come back with my new daily post, dedicated, in this case, to the results of my daily missions on Splinterlands.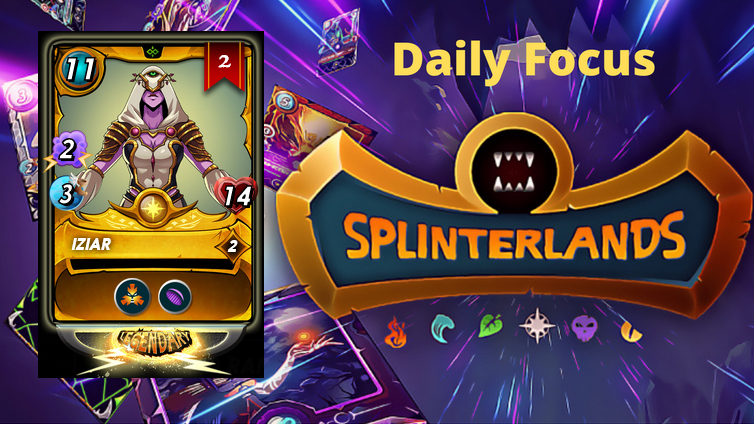 In fact, the night just passed did not allow me to rest much, since a thousand thoughts kept me awake for a good part of it, even if, in this case, they were thoughts full of hope, and positive, because I could, perhaps, having found an excellent opportunity, which would allow me to partially change my life.
In fact, thanks to a friend of mine from Milan, I might have managed to find the possibility of putting a piece, definitely quite important, in one of the projects I've been working on for a few months, which could influence my future in a very important way .
Obviously I don't want to get caught up in easy enthusiasm, also because, before being able to rejoice definitively, I'm waiting for a definitive answer on the feasibility of the thing, and, not being so obvious, I don't want to be deeply disappointed, but I admit that, since I received this news, I'm quite agitated.
If this operation were to go through, and everything were to go as planned, in fact, everything would make a turning point, definitely very significant, in one of my projects, and, consequently, in my life from here on out, and it certainly wouldn't be a little thing.
Also seen some episodes, from a fairly recent past, that happened to me, and which saw one of my projects, which was about to go through, collapse due to a person who broke his word, however, this time I don't want to have easy illusions, with the risk, then, of being screwed again, and, consequently, I want to go there with lead feet.
But these personal digressions of mine have nothing to do with the main topic of my post, and, consequently, I would say that the time has come to start talking about the real protagonist of the same, or the last mission I completed.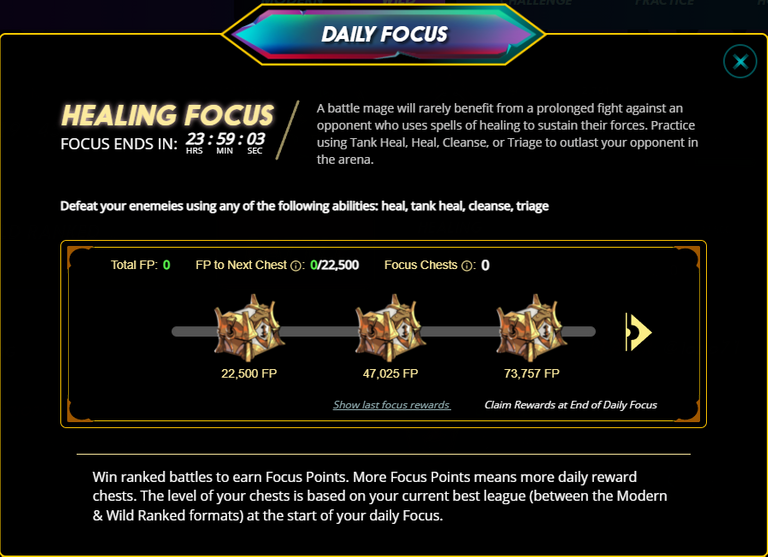 The Focus of the day was, in this case, of the Healing type, that is one of the fourteen new challenges, added quite some time ago to the game, to give it more variety, which bring the total of daily missions that can be drawn to twenty , compared to the initial six.
In this new challenge, in order to obtain a greater number of points when you win battles against your opponents, you should, during the 24 hours available, use cards, within your own deployments, with the abilities Heal, Tank Heal, Cleanse and Triage.
Even on this occasion, the opponents I faced immediately put me in serious difficulty, inflicting too many defeats on me to be able to hope to be able to change, all the more, the scenario that has seen me, for far too long, floundering in the face of a difficulty that has grown immeasurably.
As icing on the cake, then, also the fact that many of the same ones were given to me by Bots, which, consequently, seems to confirm my assumptions, which saw me affirming the fact that the same ones would continue to run , equally, also with the advent of the new Soulbound cards.
Details, although perhaps not insignificant, aside, the fact remains that, between ups and downs, I managed to complete the daily mission, collecting the points necessary to obtain only five chests, which disappointed me a bit , since I sincerely hoped to get a better result.

At this point, like every day, all that remained was to go and see what I would be able to find inside them, in the hope that, at least, they could reserve me some of the new cards, which, honestly, I find very interesting, since they allowed me to go back to playing, obtaining slightly more pleasant results.
I never expected, however, that these could be as surprising as the ones I found myself in front of today, given that, upon opening the chests, I found myself in front of 4 Alchemy Potions, 306 Merits, which, having entered a being part of a new Guild I can now use two Terraceous Grunts of the earth element to purchase packs of Gladius cards, but, above all, to conclude on a high note, two Iziar, a legendary card of the life element, but in their edition Gold Foil!!!
Any daily balance, therefore, if I were ever to draw one up, would rocket to stratospheric levels, which I hadn't reached since time immemorial, given that, only on one other occasion in the past had it happened to me to find myself in front of a legendary Gold foil, among the rewards of the then Beta edition.
I know well, actually, that, in the current state, even those two cards have a value equal to zero, and that it will not be known, for a long time, whether one day they can be worth anything or not, but as a real player, and an ardent fan of Splinterlands, honestly I'm equally more than satisfied to be able to enrich my collection with the above.
After a very long period of famine, which to me, personally, seemed practically eternal, therefore, it seems that things have taken a turn, and we are going in a completely opposite direction, since, with the arrival of Soulbound, the rewards before which we can find ourselves, are decidedly of a completely different kind.
All this, obviously, is bringing back, in many players, that enthusiasm which had previously been lost, and which had also made many of them think of abandoning the game definitively, since it was no longer worth playing. literally losing time to complete the daily missions, given the decidedly disappointing results to which we were going.
In fact, I have to admit that I too, for a few days now, have been looking forward to being able to find some time to devote to doing my daily homework, anxious to go and find out what might be the contents of the caskets that I he will be able to scrape together with my matches.
A change of course, which I have so much invoked, therefore, which, even if the unknown factor linked to the future value of the new rewards remains, is restoring confidence to many users in comparing this game, after a period during which it had somewhat in disarray, causing a general and creeping discontent that had become quite palpable.
Another thing that will have to be taken into account will be the effect that all this will have on the users of the Bots, since one wonders, if among us real users there are people who obtain results of this kind, what could be those obtained by them, and, consequently, how many cards, of this edition, they will be able to scrape together, since, this thing, could, later, go to affect, when the aforementioned can be placed on the market, and therefore sold on their value.
Honestly, however, before all this happens it will take at least a year, if not even more, and, consequently, for the moment I do not intend to worry too much about it, hoping that, in the meantime, creators and developers of Splinterlands , have found a way to manage it without there being consequences, too heavy, for the economy of the game.
Now, however, I don't want to bore you further, and, consequently, for the moment, there is nothing left for me to do but wish you a good evening, and invite you, if you still feel like it, to continue reading my posts and to follow me.
P.S. If you haven't signed up for Splinterlands yet and want to start playing this game, you can sign up here: Splinterlands
---
---