Risultati del Focus Quotidiano su Splinterlands - Healing Focus - (ITA/ENG) - Results of the Daily Focus on Splinterlands - Healing Focus
Buonasera a tutti e ben ritrovati.
Anche se fin troppo lentamente, e peraltro concludendosi in maniera piuttosto pesante, anche questa settimana lavorativa è finalmente giunta al termine, e ci apprestiamo a vivere un nuovo weekend, quanto mai atteso, ed anche in questo venerdì sera, seppure piuttosto stanco, eccomi ritornare, come di consueto, con questo mio nuovo post giornaliero, dedicato, in questo caso, ai risultati delle mie missioni giornaliere su Splinterlands.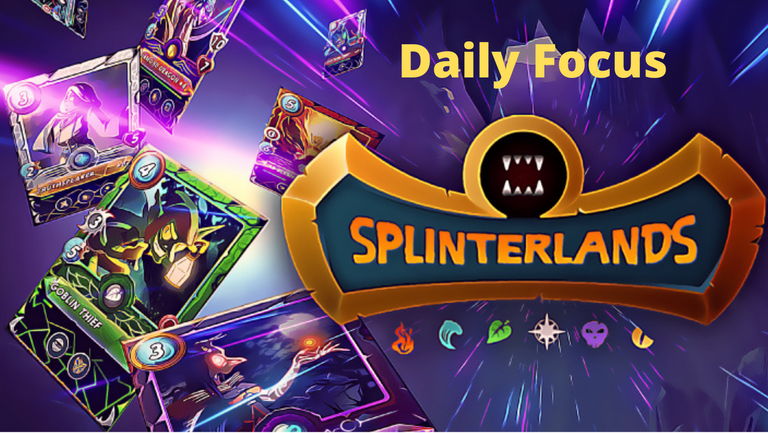 La giornata appena trascorsa si è presentata, fin da subito, in salita, visto che prevedeva l'arrivo di ben due container da scaricare, e se a questo, aggiungete il solito ambiente malsano, all'interno del quale sono costretto a trascorrere, quotidianamente, le mie otto ore lavorative, il tutto è stato piuttosto deleterio.
Figuratevi che, per assurdo, le circa due ore e mezza trascorse per mettere a magazzino le merci arrivati sui due camion di cui sopra, sono state, forse, quelle più serene, visto che, anche se pesanti, mi hanno consentito di stare distante da certi personaggi, ed evitare inutili discussioni che, oggi, sono capitate in maniera piuttosto sovente, causa nervosismo alle stelle.
Se a tutto questo aggiungete, come ciliegina sulla torta, un fortissimo mal di pancia, che mi ha preso durante la pausa, non so per quale motivo, facendomi stare male per almeno un paio d'orette, e che mi è passato solo perché, fortunatamente, una mia collega aveva dei medicinali in borsa, e ne ho subito assunto una fiala, potete immaginare il quadretto di questo venerdì.
L'unica nota positiva della giornata, quindi, è che questa è giunta al termine, e che ci attendono almeno due giorni di tranquillità, o almeno spero sia così, durante i quali potremmo riposarci un po', e goderci i nostri affetti, rilassandoci un attimo, e cercando di recuperare le forze necessarie ad affrontare un'altra settimana lavorativa.
Se non altro, almeno, mi auguro che alcune cose, che già da ieri sera hanno iniziato a muoversi, possano continuare ad andare per il verso giusto, perché questo potrebbe accelerare un processo di cambiamento che, nel tempo, spero il prima possibile, mi consentirebbe, finalmente, di poter prendere in considerazione la possibilità di infilare la porta, e andarmene, da questo luogo di lavoro che sembra un girone infernale dantesco.
Ma queste mie divagazioni personali, nulla c'entrano con l'argomento principale di questo mio post, e, di conseguenza, direi che è arrivato il momento di iniziare a parlare della reale protagonista dello stesso, ovvero dell'ultima missione da me completata.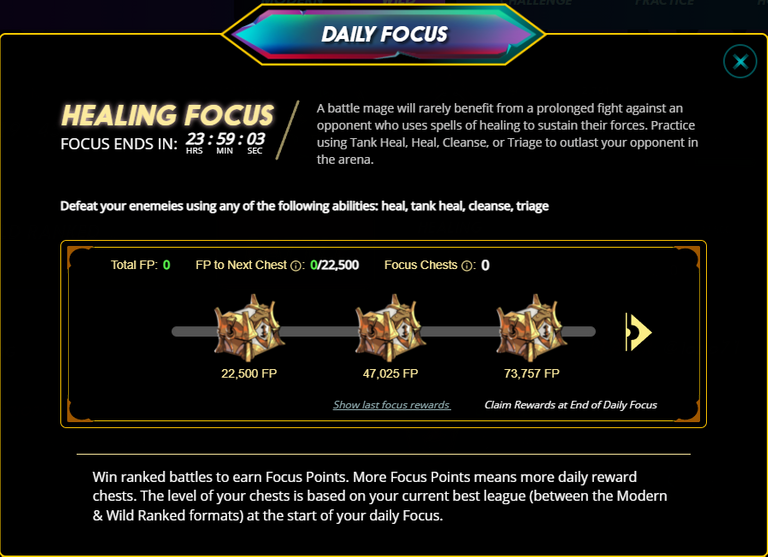 Il Focus di giornata era, in questo caso, di tipo Healing, ovvero una delle quattordici nuove sfide, aggiunte, ormai parecchio tempo fa, al gioco, per dare più varietà allo stesso, che portano il totale delle missioni giornaliere sorteggiabili, a ben venti, rispetto alle sei iniziali.
In questa nuova sfida, per poter ottenere un numero di punti maggiori quando si vincono gli scontri contro i propri avversari, si dovrebbero, durante l'arco delle 24 ore messe a disposizione, utilizzare carte, all'interno dei propri schieramenti, con le abilità Heal, Tank Heal, Cleanse e Triage.
Come fin troppo spesso accade durante i primi giorni di una nuova stagione, la difficoltà di gioco, che già si è notevolmente innalzata, in maniera, secondo me, anche troppo accentuata, si è ulteriormente alzata, vista che molti giocatori, che veleggiavano nelle leghe più alte, come da copione si sono ritrovati tutti quanti assieme a riiniziare da quella più bassa e, di conseguenza, ci si trova, spesso e volentieri, di fronte ad avversari piuttosto forti.
Già durante la giornata precedente a questa, quindi, mi ero ritrovato a precipitare al livello Silver, dove, purtroppo, continuo tuttora a ritrovarmi, poiché non mi sta riuscendo, in alcun modo, di ritornare al Gold dal quale avevo iniziato, subendo parecchie sconfitte che rendono molto complicata la cosa.
Devo ammettere, però, che alcune di queste ultime le ho subite poiché mi ritrovo un po' spaesato quando non riesco più a sfruttare, come ormai sono abituato a fare, le carte il mio possesso, utilizzandone tutte le abilità, perché limitato dal livello al quale mi trovo a giocare, e, di conseguenza, chi, magari, vi milita stabilmente, è decisamente più abile di me nello scegliere gli schieramenti da utilizzare.
Ancora bloccato nella mia posizione, quindi, sono riuscito, comunque, a concludere la giornata racimonando, almeno, i punti necessari ad aprire otto scrigni, anche se, essendo di livello inferiore, non so che cosa aspettarmi di trovare all'interno degli stessi.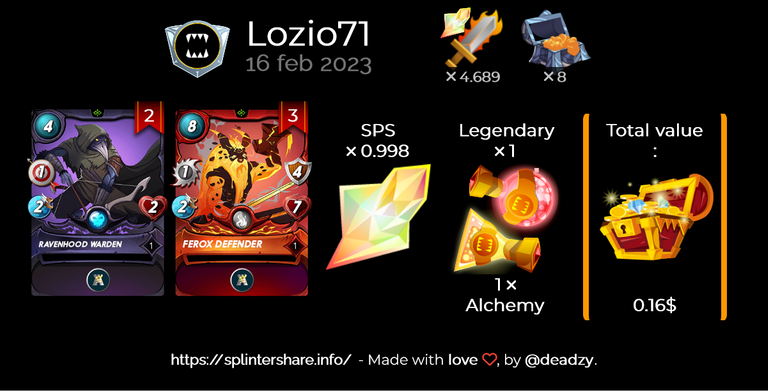 Devo ammettere, infatti, che non avevo realmente la più pallida idea di quale sarebbe potuto essere il contenuto degli stessi, visto che, finora, mi è capitato, per assurdo, di trovare le rewards migliori, proprio all'interno dei contenitori più semplici, rispetto a quelli teoricamente più preziosi, visto come è andata a finire la stagione precedente.
Una volta proceduto all'apertura degli stessi, mi sono ritrovato davanti a una Legendary potion, una Alchemy Potion, tre Ferox Deferder dell'elemento fuoco e, per concludere, due Ravenhood Warden dell'elemento morte.
Un risultato, quindi, senza infamia ne lode, che posso considerare nella media e, comunque, ritengo apprezzabile, visto che mi consente di aumentare, ancora, la mia collezione di carte Soulbound, che stanno arricchendo, nel tempo, il mio mazzo rinforzandolo.
Anche se non si tratta, quindi, di un bottino eccelso, come successo qualche giorno fa, dove le sorprese sono state a dir poco addirittura straordinarie, sono, comunque, sicuramente molto più piacevoli di quelli ai quali, purtroppo, in precedenza, c'eravamo abituati per lunghissimo tempo, e che erano diventati quasi ridicoli, rendendo, a volte insopportabile, anche l'idea di cimentarsi nelle missioni giornaliere vista anche la pochezza che si sarebbe, comunque, ottenuto.
Fortunatamente, però, dopo un lunghissimo periodo di carestia, sembra proprio che le cose abbiano preso una direzione completamente diversa, visto che, con l'arrivo delle Soulbound, le ricompense di fronte alle quali possiamo trovarci, sono decisamente di tutt'altro genere.
Grazie a tutto questo, molti giocatori hanno ritrovato quell'entusiasmo che, in precedenza, era andato perduto, e che aveva anche fatto pensare, a molti degli stessi, di abbandonare il gioco definitivamente, visto che non valeva più la pena di perdere, letteralmente, del tempo, a completare le missioni giornaliere, visti i risultati, decisamente deludenti, ai quali, come detto poco più sopra, si andava incontro.
Io per primo sono un esempio vivente di quanto ho appena sostenuto, visto che, da qualche giorno, non vedo l'ora di poter trovare un po' di tempo da dedicare a svolgere il mio compitino quotidiano, ansioso di andare a scoprire quale possa essere il contenuto degli scrigni che mi riuscirà di racimolare con le mie partite.
Ora, però, non vi voglio annoiare ulteriormente, e, di conseguenza, per il momento, non mi resta altro da fare se non, augurarvi una buona serata, ed invitarvi, sempre che ne abbiate ancora voglia, a continuare a leggere i miei post ed a seguirmi.
P.S. Se non siete ancora iscritti a Splinterlands e volete iniziare anche voi a giocare a questo gioco potete iscrivervi da quì : Splinterlands
---
Good evening everyone and welcome back.
Even if all too slowly, and moreover concluding in a rather heavy way, this working week has finally come to an end, and we are preparing to experience a new weekend, much awaited, and even on this Friday evening, albeit rather tired, here I am back , as usual, with my new daily post, dedicated, in this case, to the results of my daily missions on Splinterlands.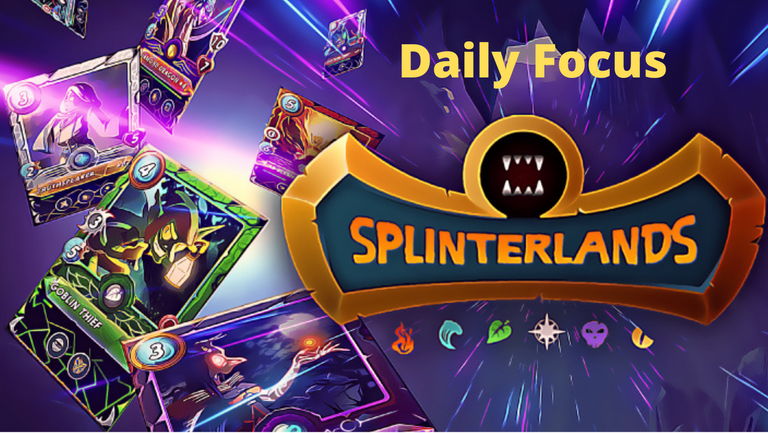 The day that just ended presented itself, right from the start, uphill, given that it foresaw the arrival of no less than two containers to be unloaded, and if to this, add the usual unhealthy environment, within which I am forced to spend, every day , my eight working hours, the whole thing was pretty bad.
Imagine that, ironically, the approximately two and a half hours spent putting the goods that arrived on the two trucks mentioned above into the warehouse were perhaps the most peaceful ones, given that, even if heavy, they allowed me to stay away from certain characters, and avoiding useless discussions which, today, have happened quite often, causes nervousness to the stars.
If you add to all this, as icing on the cake, a very strong stomach ache, which took me during the break, I don't know why, making me feel sick for at least a couple of hours, and which only went away because, fortunately, a colleague of mine had some medicines in her bag, and I immediately took a vial, you can imagine the picture of this Friday.
The only positive note of the day, therefore, is that it has come to an end, and that at least two days of tranquility await us, or at least I hope this is the case, during which we could rest a bit, and enjoy our affections, relaxing a moment, and trying to recover the necessary strength to face another working week.
If nothing else, at least, I hope that some things, which have already begun to move since yesterday evening, can continue to go in the right direction, because this could accelerate a process of change which, over time, I hope as soon as possible, will would allow, finally, to be able to consider the possibility of slipping through the door, and leaving, from this workplace that looks like Dante's circle of hell.
But these personal digressions of mine have nothing to do with the main topic of my post, and, consequently, I would say that the time has come to start talking about the real protagonist of the same, or the last mission I completed.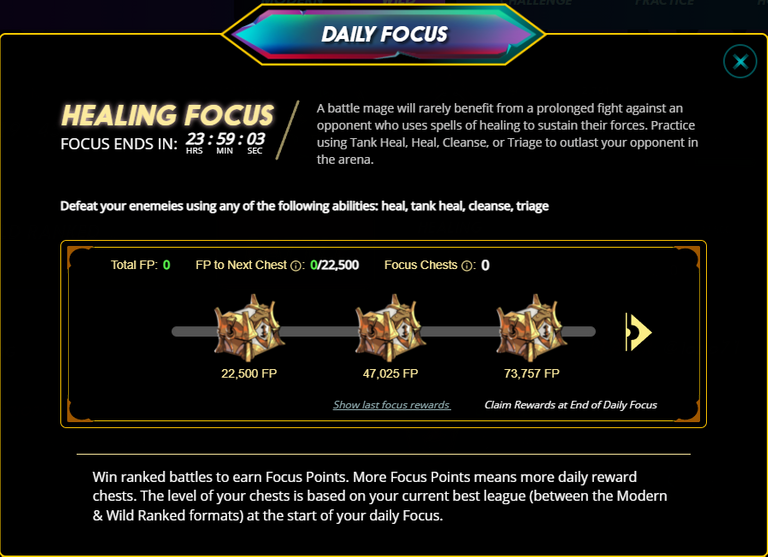 The Focus of the day was, in this case, of the Healing type, that is one of the fourteen new challenges, added quite some time ago to the game, to give it more variety, which bring the total of daily missions that can be drawn to twenty , compared to the initial six.
In this new challenge, in order to obtain a greater number of points when you win battles against your opponents, you should, during the 24 hours available, use cards, within your own deployments, with the abilities Heal, Tank Heal, Cleanse and Triage.
As all too often happens during the first days of a new season, the difficulty of the game, which has already risen significantly, in a way, in my opinion, even too accentuated, has risen further, given that many players, who sailed in the leagues higher, as expected they all found themselves together to start again from the lower one and, consequently, we find ourselves, often and willingly, in front of rather strong opponents.
Already during the day preceding this, therefore, I had found myself falling to the Silver level, where, unfortunately, I still continue to find myself, since I am not managing, in any way, to return to the Gold from which I had started, suffering several defeats which makes things very complicated.
I have to admit, however, that I suffered some of the latter because I find myself a bit lost when I can no longer exploit my possession of the cards, as I am used to doing by now, using all their abilities, because it is limited by level to which one I find myself playing, and, consequently, whoever, perhaps, plays there permanently, is decidedly more skilled than me in choosing the sides to use.
Still stuck in my position, therefore, I still managed to end the day by racking up, at least, the points necessary to open eight chests, although, being of a lower level, I don't know what to expect to find inside them.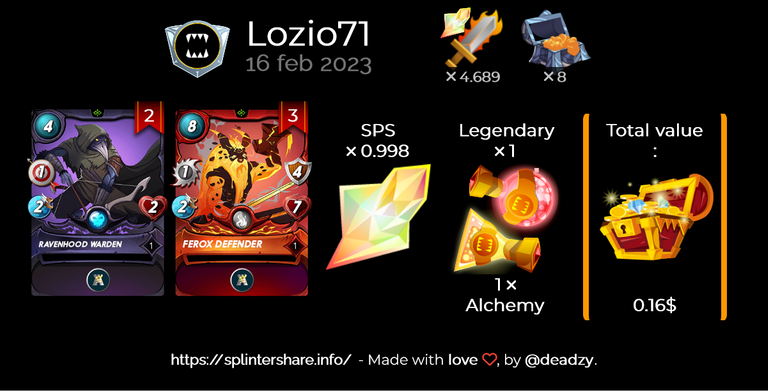 I have to admit, in fact, that I didn't really have the faintest idea of what their content could have been, given that, up to now, it happened, absurdly, to find the best rewards, right inside the simplest containers, compared to the theoretically more valuable ones, given how the previous season ended.
Once I proceeded to open them, I found myself in front of a Legendary potion, an Alchemy Potion, three Ferox Deferder of the fire element and, finally, two Ravenhood Warden of the death element.
A result, therefore, without infamy or praise, which I can consider average and, in any case, I consider appreciable, since it allows me to further increase my collection of Soulbound cards, which are enriching my deck over time, reinforcing it.
Even if it is not, therefore, a matter of excellent loot, as happened a few days ago, where the surprises were nothing short of even extraordinary, they are, in any case, certainly much more pleasant than those who, unfortunately, previously had we were used to for a very long time, and that they had become almost ridiculous, making even the idea of trying the daily missions unbearable at times, also considering the littleness that would have been obtained anyway.
Fortunately, however, after a very long period of famine, it seems that things have taken a completely different direction, given that, with the arrival of the Soulbound, the rewards we can face are decidedly of a completely different kind.
Thanks to all this, many players have found that enthusiasm that had previously been lost, and which had also made many of them think of abandoning the game permanently, since it was no longer worth losing, literally , of the time, to complete the daily missions, given the decidedly disappointing results, which, as mentioned above, we were meeting.
I for one am a living example of what I have just said, given that, for the last few days, I have been eager to find some time to devote to doing my daily homework, eager to find out what it could be the contents of the chests that I will be able to scrape together with my games.
Now, however, I don't want to bore you further, and, consequently, for the moment, there is nothing left for me to do but wish you a good evening, and invite you, if you still feel like it, to continue reading my posts and to follow me.
P.S. If you haven't signed up for Splinterlands yet and want to start playing this game, you can sign up here: Splinterlands
---
---