Terza stagione con le carte Soulbound su Splinterlands. Ecco i miei risultati. - (ITA/ENG) - Third season with Soulbound cards in Splinterlands. Here are my results.
Buonasera a tutti e ben ritrovati.
Anche se lentamente, anche questa nuova settimana lavorativa si sta avvicinando al suo finale, ed anche in questo giovedì sera, nonostante la stanchezza, soprattutto fisica, non manchi, eccomi ritornare con il mio consueto post quotidiano, dedicato, in questo caso, ai risultati di questo nuovo finale di stagione di Splinterlands.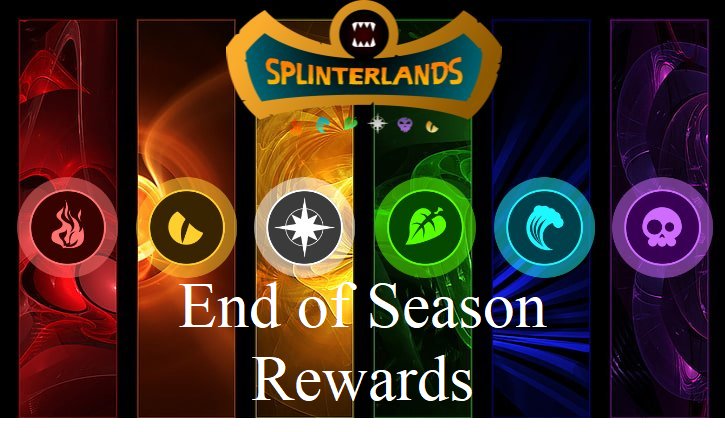 Fortunatamente la giornata odierna, se da un lato è risultata essere piuttosto stancante dal punto di vista fisico, visto che mi sono ritrovato, nuovamente, all'interno del magazzino, per continuare a portare avanti un ordine, riguardante dei prodotti da inviare ad una nave da crociera, piuttosto imponente, mi ha concesso, dall'altro, di godere di una notevole tranquillità a livello mentale, visto che sono stato ben distante da qualsiasi possibile discussione, o rottura di scatole.
Devo ammettere, quindi, che la stessa è trascorsa in maniera abbastanza veloce, e mi ha consentito di rientrare a casa decisamente molto più rilassato rispetto ai giorni precedenti, dove, se è vero che magari ho faticato un po' meno, ho accumulato, in compenso, una tale quantità di stress che, se avessi trovato una persona disposta a comprarlo un tanto al chilo, mi avrebbe, probabilmente, reso milionario.
Negli ultimi tempi, infatti, tensioni e nervosismi abbondano in maniera anche troppo eccessiva, finendo per rendere le giornate, trascorse all'interno di questo luogo malsano, sempre più insopportabili, visto che, non solo ci si ritrova ad avere a che fare con un datore di lavoro completamente ignorante, che con la sua arroganza maltratta i suoi dipendenti, ma a volte gli scontri finiscono per esserci anche tra di noi, per le minime cavolate.
Probabilmente tutto questo è legato, a doppio filo, alla situazione che si verrà a creare da fine aprile, quando uno dei pilastri dell'azienda, ovvero il nostro responsabile di produzione, da oltre 20 anni, ci abbandonerà per andare a lavorare da un'altra parte, perchè stanco della maleducazione, e dell'arroganza, con le quali viene trattato dal personaggio di cui ho accennato prima, e che ci farà ritrovare, certamente, a navigare in acque piuttosto agitate.
Attualmente, infatti, non è stato ancora preso nessun provvedimento per risolvere la questione, e temo che si tenterà di andare avanti, a tentoni, come si è sempre fatto, nella speranza di riuscire, comunque, a barcamenarsi, ma non sono affatto convinto che sarà una cosa molto semplice, ed anzi, al contrario, temo che saranno parecchi i problemi che ci ritroveremo ad affrontare, con ricadute inevitabili su tutti quanti noi.
Ma tutto questo non centra nulla con l'argomento principale di questo mio post e, quindi, senza perdere ulteriore tempo, andiamo subito a vedere che cosa mi ha riservato questo finale di stagione, con le nuove carte Soulbound, e procediamo con l'apertura dei relativi 37 scrigni che, faticosamente, mi sono aggiudicato.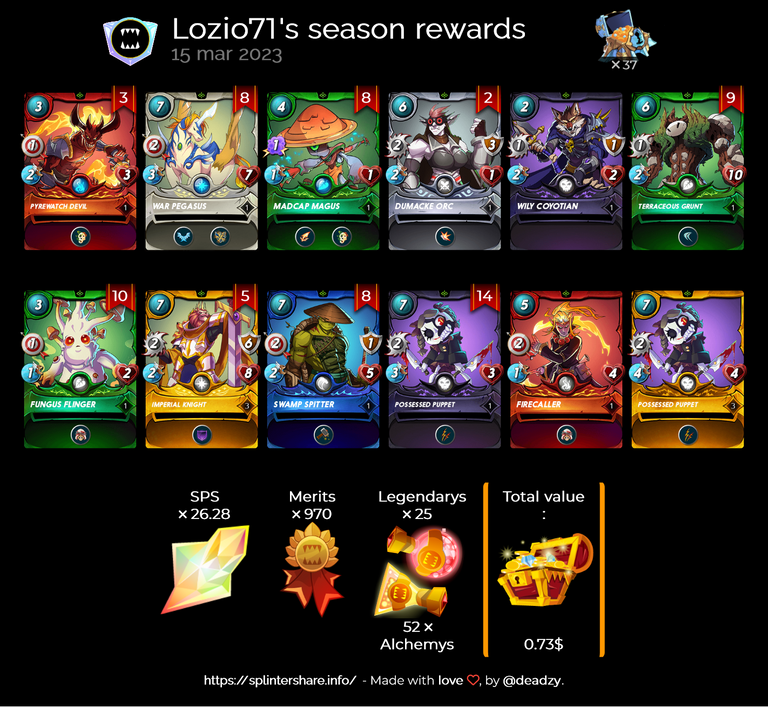 Devo ammettere che, viste alcune Rewards ritrovate negli ultimi giorni, da me passati all'interno della lega Diamond III, sono rimasto piuttosto deluso da da come sono andate le cose, visto che mi aspettavo molto di più, mentre, invece, mi sono trovato di fronte a ricompense abbastanza mediocri, che hanno reso questa giornata piuttosto deludente.
Viste anche alcune sorprese, particolarmente pregiate, di fronte alle quali mi sono trovato nei giorni precedenti, mi auguravo proprio che, anche in questa occasione, potessi avere l'opportunità di ricevere premi decisamente molto più interessante.
Purtroppo, come potete vedere voi stessi, non è andata affatto come mi auguravo, visto che, all'interno dei ben 37 scrigni che mi è riuscito di accumulare durante la Season appena terminata, non vi era alcuna traccia ne di Leggendarie, ne di Epiche di sorta e neppure di pacchetti dell'espansione Chaos Legion, lasciando il gradino più alto del podio, almeno secondo il mio punto di vista, alle 5 copie di Imperial Knight, dell'elemento vita, nella sua versione Gold Foil.
Scendendo di livello, e passando, quindi, in ordine di importanza, alle carte rare, mi sono trovato davanti a 8 copie di Madcup Magus dell'elemento terra, 8 copie di War Pegasus dell'elemento vita e, per concludere, 3 copie di Pyrewatch Devil dell'elemento fuoco.
Scendendo ancora di livello, e passando, quindi, alle carte comuni, l'elenco delle stesse era composto da una Firecaller dell'elemento fuoco, 14 Possessed Puppet dell'elemento morte in versione normale ed una in versioen dorata, 8 Swamp Spitter dell'elemento acqua, 10 Fungus Flinger e 9 Terraceous Grunt dell'elemento terra, una Wily Coyotan dell'elemento morte, e 2 copie di Dumacke Orc delle cosidette carte neutrali.
Rimanevano, quindi, da prendere in considerazione, un insieme di altri contenuti vari tra le quali 52 Alchemy Potion, 25 Legendary Potion, 970 Merits, che sfrutterò per acquisare dei pachetti di carte Gladius, e, per concludere 26,28 SPS.
Vista la giornata un po' deludente ho deciso, nel tentativo di risollevarne le sorti, di utilizzare la notevole quantità di Merits ricevuti, sia all'interno degli scrigni di cui sopra, sia grazie a una delle ultime Brawls appena concluse, dove la Gilda della quale faccio parte è arrivata in terza posizione, ho tentato la sorte acquistando ben due pacchetti di carte dell'espansione Gladius.
Speranzoso di trovarmi, almeno in questo caso, di fronte a qualche piacevole sorpresa, come mi era capitato qualche tempo fa, ho provveduto subito ad andare ad aprire i suddetti, ansioso di scoprire se la sorte, almeno questo caso, mi sarebbe stata più benigna.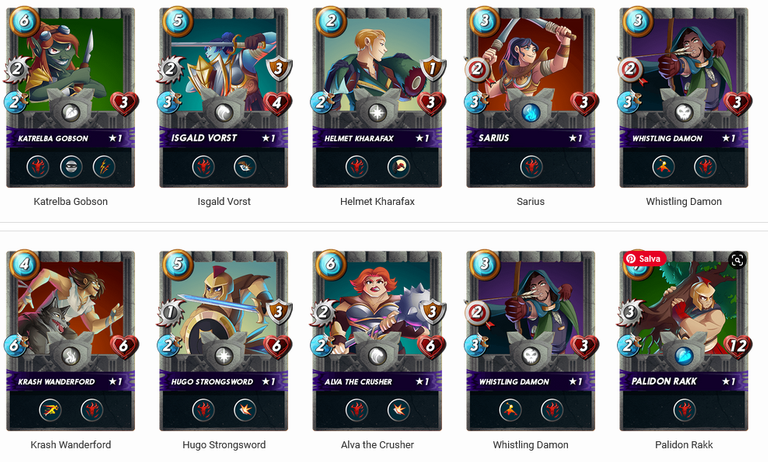 Purtroppo anche in questo caso niente da fare, visto che mi sono ritrovato di fronte a ciò che prevede la classica media per quanto riguarda i pacchetti di carte, di ogni tipo, che si possono ricevere, o acquistare, all'interno di questo gioco, e, di conseguenza, le uniche due carte degne di nota sono state le due rare Palidon Rakk e Sarius.
Rimaneva, a questo punto, da controllare, solamente il contenuto dei quattro scrigni relativi alla missione Focus precedente, che però, visto che il tutto era stato sfalsato da quel blocco, del gioco, al quale mi ero ritrovato di fronte qualche sera fa, che mi aveva impedito di continuare a giocare, ed anche di aprire i 4 bauli che ero riuscito ad aggiudicarmi, sono riuscita ad aprire soltanto ieri sera al mio rientro dal lavoro.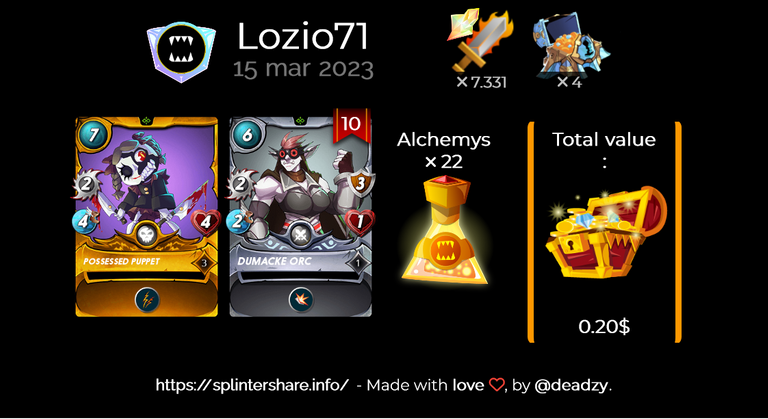 La giornata è in esame, però, si è conclusa così come era iniziata, visto che, anche in questo caso, i risultati erano piuttosto deludenti, consentendomi di ritrovarmi davanti a 22 Alchemy Potion, 10 Dumacke Orc delle cosiddette carte neutrali ed una Possessed Puppet dell'elemento morte, ma nella sua versione dorata, ovvero un bottino ben misero, soprattutto se considerando la lega alla quale stavo giocando, anche se è vero che il relativo winner rate, probabilmente, era piuttosto basso.
Non vorrei, tar l'altro, che proprio questo ultimo valore possa essere andato, in qualche maniera, ad influire anche sulle rewards ricevute per il finale di stagione, perché, in tutta la sincerità, lo troverei piuttosto spiacevole, visto che, far dipendere gli esiti di una cosa come questa, da una semplice giornata finale andata storta, sarebbe quanto meno sgradevole, e andrebbe a rovinare un percorso fatto da ben più giornate, magari decisamente migliori.
Quale che sia la reale motivazione, comunque, resta il fatto che, in questo caso, non posso certamente dirmi soddisfatto di come sono andate le cose, anche se, comunque, come detto sopra, visto alcune sorprese piacevoli nei giorni precedenti, forse non dovrei comunque lamentarmi.
Resta poi da prendere in considerazione anche il fatto che, tutti quanti noi, arriviamo da un periodo che, da tempo immemore, non era poi così interessante per quanto riguarda le Rewards che eravamo in grado di ricevere, che erano anche ben peggiori di queste.
Voglio evitare, quindi, di perdere tempo in inutili lamentele che, innanzitutto, non cambiano certamente i risultati di fronte ai quali mi sono trovato, che dovrò, comunque, gioco forza, accettare, perché non vi è modo di cambiarli, e poi che forse sono anche ingiuste, visto che, ad ogni modo, da quando sono arrivate le carte Soulbound, le cose sono decisamente migliorate.
Mi auguro soltanto che questo possa essere un episodio a se stante, e che, già a partire dalla prossima occasione, possa essere lasciato tranquillamente alle spalle, mettendomi di fronte ad un finale di stagione decisamente di livello superiore, e nel frattempo cercherò di continuare a fare del mio meglio per ottenere i migliori risultati possibili, e continuare ad accaparrarmi quante più rewards possibili, per andare a migliorare la mia collezione.
Ora, però, non vi voglio annoiare ulteriormente, e, di conseguenza, per il momento, non mi resta altro da fare se non, augurarvi una buona serata, ed invitarvi, sempre che ne abbiate ancora voglia, a continuare a leggere i miei post ed a seguirmi.
P.S. Se non siete ancora iscritti a Splinterlands e volete iniziare anche voi a giocare a questo gioco potete iscrivervi da quì : Splinterlands
---
Good evening everyone and welcome back.
Even if slowly, this new working week is also approaching its end, and even on this Thursday evening, despite the tiredness, especially physical, I am back with my usual daily post, dedicated, in this case, to the results of this new Splinterlands season finale.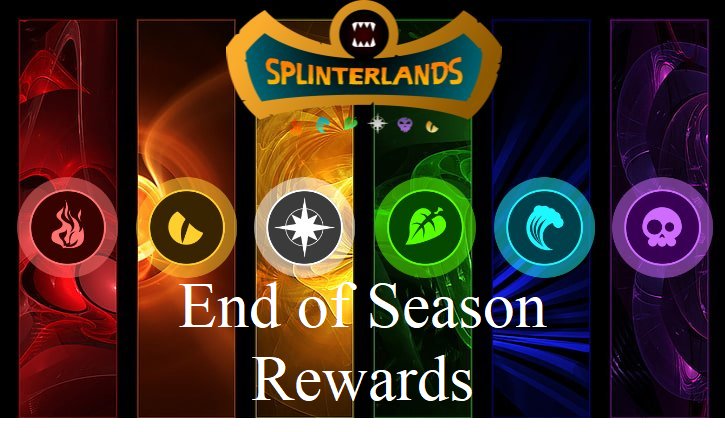 Fortunately today's day, if on the one hand it turned out to be rather tiring from a physical point of view, given that I found myself once again inside the warehouse, to continue carrying out an order concerning products to be sent to a ship cruise ship, rather impressive, has allowed me, on the other hand, to enjoy considerable peace of mind, given that I have been well away from any possible discussion, or annoyance.
I have to admit, therefore, that the same went by quite quickly, and it allowed me to return home much more relaxed than in the previous days, where, if it is true that perhaps I struggled a little less, I accumulated, in compensation, such an amount of stress that, if I had found a person willing to buy it by the kilo, it would probably have made me a millionaire.
In recent times, in fact, tensions and nervousness abound in an even too excessive way, ending up making the days spent in this unhealthy place increasingly unbearable, given that, not only do we find ourselves having to deal with a completely ignorant employer, who mistreats his employees with his arrogance, but sometimes the clashes end up even between us, for the slightest bullshit.
All of this is probably linked, intertwined, to the situation that will arise from the end of April, when one of the pillars of the company, i.e. our production manager for over 20 years, will leave us to go to work for a on the other hand, because he is tired of the rudeness and arrogance with which he is treated by the character I mentioned earlier, and which will certainly make us find ourselves navigating in rather troubled waters.
At present, in fact, no steps have yet been taken to resolve the issue, and I fear that an attempt will be made to go ahead, gropingly, as has always been done, in the hope of succeeding, in any case, in getting by, but I am not at all convinced that it will be a very simple thing, and indeed, on the contrary, I fear that there will be many problems that we will find ourselves facing, with inevitable repercussions on all of us.
But all this has nothing to do with the main topic of this post of mine and, therefore, without wasting any more time, let's go immediately to see what this season finale has in store for me, with the new Soulbound cards, and let's proceed with the opening of the related 37 caskets that I painstakingly won.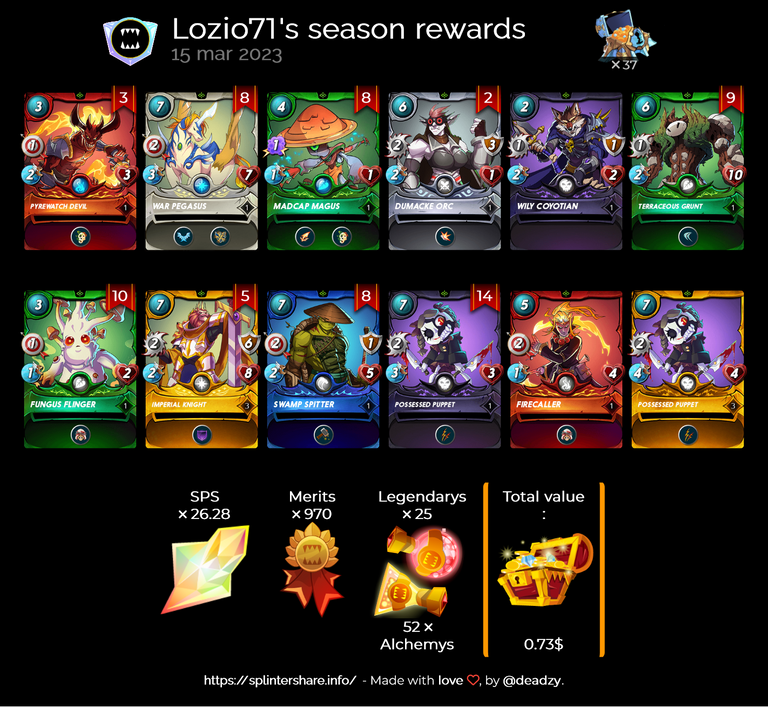 I must admit that, having seen some Rewards found in the last few days, which I spent within the Diamond III league, I was rather disappointed with how things went, since I expected much more, while, instead, I found myself faced with fairly mediocre rewards, which made for a rather disappointing day.
Having also seen some particularly valuable surprises that I encountered in the previous days, I really hoped that, also on this occasion, I could have the opportunity to receive much more interesting prizes.
Unfortunately, as you can see for yourself, it didn't go at all as I hoped, given that, within the 37 chests that I managed to accumulate during the just ended Season, there was no trace of either Legendary or Epic of any kind and not even of Chaos Legion expansion packs, leaving the top step of the podium, at least in my point of view, to the 5 copies of Imperial Knight, of the life element, in its Gold Foil version.
Going down a level, and then passing, in order of importance, to the rare cards, I found myself in front of 8 copies of Madcup Magus of the earth element, 8 copies of War Pegasus of the life element and, finally, 3 copies of Pyrewatch Devil of the fire element.
Going down a level again, and then moving on to the common cards, the list of the same was made up of a Firecaller of the fire element, 14 Possessed Puppets of the element of death in the normal version and one in the golden version, 8 Swamp Spitters of the element water, 10 Fungus Flinger and 9 Terraceous Grunt of the element earth, a Wily Coyotan of the element death, and 2 copies of Dumacke Orc of the so-called neutral cards.
Therefore, a set of other various contents remained to be taken into consideration, including 52 Alchemy Potions, 25 Legendary Potions, 970 Merits, which I will use to acquire packs of Gladius cards, and, finally, 26.28 SPS.
Given the somewhat disappointing day, in an attempt to improve its fortunes, I decided to use the considerable quantity of Merits received, both within the chests mentioned above, and thanks to one of the last Brawls that has just ended, where the Guild of which I belong to came in third position, I tried my luck by buying two packs of cards from the Gladius expansion.
Hoping to find myself, at least in this case, faced with some pleasant surprise, as happened to me some time ago, I immediately proceeded to go and open the aforementioned, anxious to find out if fate, at least in this case, would have been more benign to me .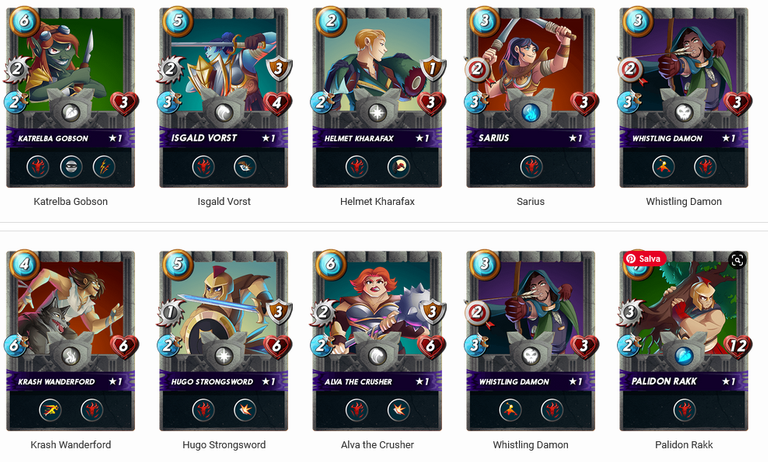 Unfortunately, also in this case nothing to do, since I found myself faced with what the classic average foresees with regards to the packs of cards, of all kinds, which can be received, or purchased, within this game, and as a result, the only two cards of note were the two Palidon rares Rakk and Sarius.
At this point, only the contents of the four chests relating to the previous Focus mission remained to be checked, which however, given that everything had been offset by that block, of the game, which I had found myself facing a few nights ago, which it had prevented me from continuing to play, and also from opening the 4 trunks that I had managed to win, I only managed to open yesterday evening when I returned from work.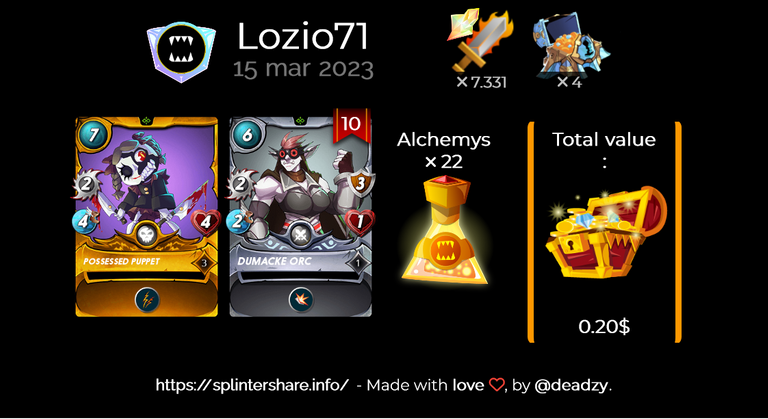 The day is under consideration, however, it ended as it had begun, given that, also in this case, the results were rather disappointing, allowing me to find myself in front of 22 Alchemy Potions, 10 Dumacke Orc of the so-called neutral cards and a Possessed Puppet of the element of death, but in its golden version, i.e. a poor loot, especially considering the league I was playing in, even if it is true that the relative winner rate was probably quite low.
On the other hand, I would not like this last value to have gone, in some way, to also influence the rewards received for the season finale, because, in all honesty, I would find it rather unpleasant, given that making the results of something like this, from a simple final day gone wrong, would be at least unpleasant, and would ruin a journey made over many more days, perhaps decidedly better.
Whatever the real motivation, however, the fact remains that, in this case, I certainly cannot say I am satisfied with how things went, even if, however, as mentioned above, having seen some pleasant surprises in the previous days, perhaps I shouldn't still complain.
It also remains to take into consideration the fact that, all of us, come from a period that, since time immemorial, was not that interesting as regards the Rewards that we were able to receive, which were even far worse than these.
Therefore, I want to avoid wasting time in useless complaints which, first of all, certainly do not change the results I found myself facing, which I will have to, however, forcefully accept, because there is no way to change them, and then which perhaps they're also unfair, since, however, since Soulbound cards arrived, things have definitely improved.
I only hope that this can be an episode in its own right, and that, starting from the next occasion, it can be safely left behind, putting me in front of a decidedly higher level season finale, and in the meantime I will try to continue do my best to get the best possible results, and keep grabbing as many rewards as possible, to go and improve my collection.
Now, however, I don't want to bore you further, and, consequently, for the moment, there is nothing left for me to do but wish you a good evening, and invite you, if you still feel like it, to continue reading my posts and to follow me.
P.S. If you haven't signed up for Splinterlands yet and want to start playing this game, you can sign up here: Splinterlands
---
---