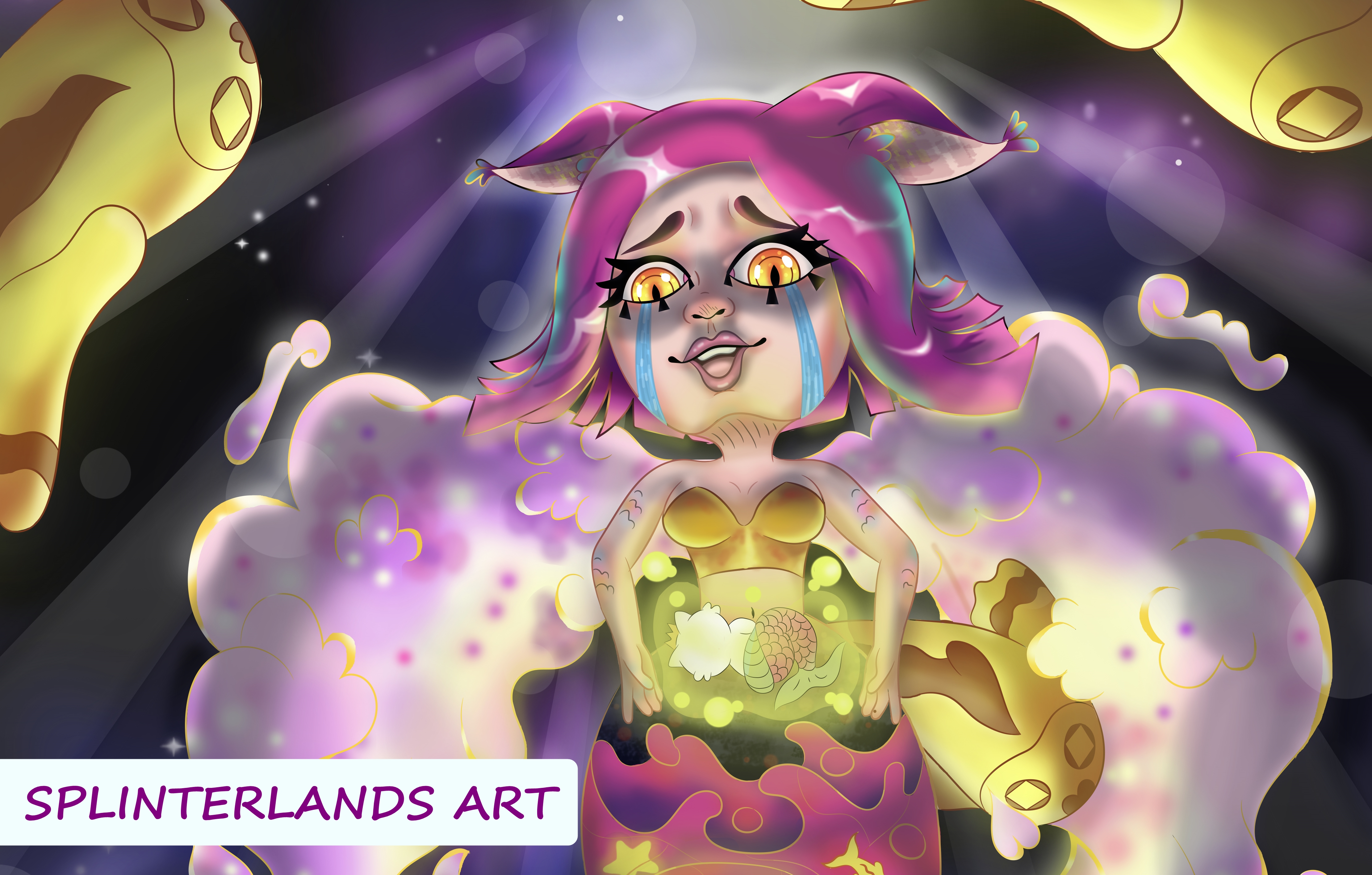 My participation in the art contest of @splinterlands <3

¡Hi! After having weeks without participating, I come with everything!



YESSSS, I finally managed to take some time to create an art for @splinterlands. I am very excited because it took me about 2-3 days to finish it, because I still didn't know the color palette or the result I wanted.
So I took time to experiment and stick with what I liked best.
NOW YES, LET'S START!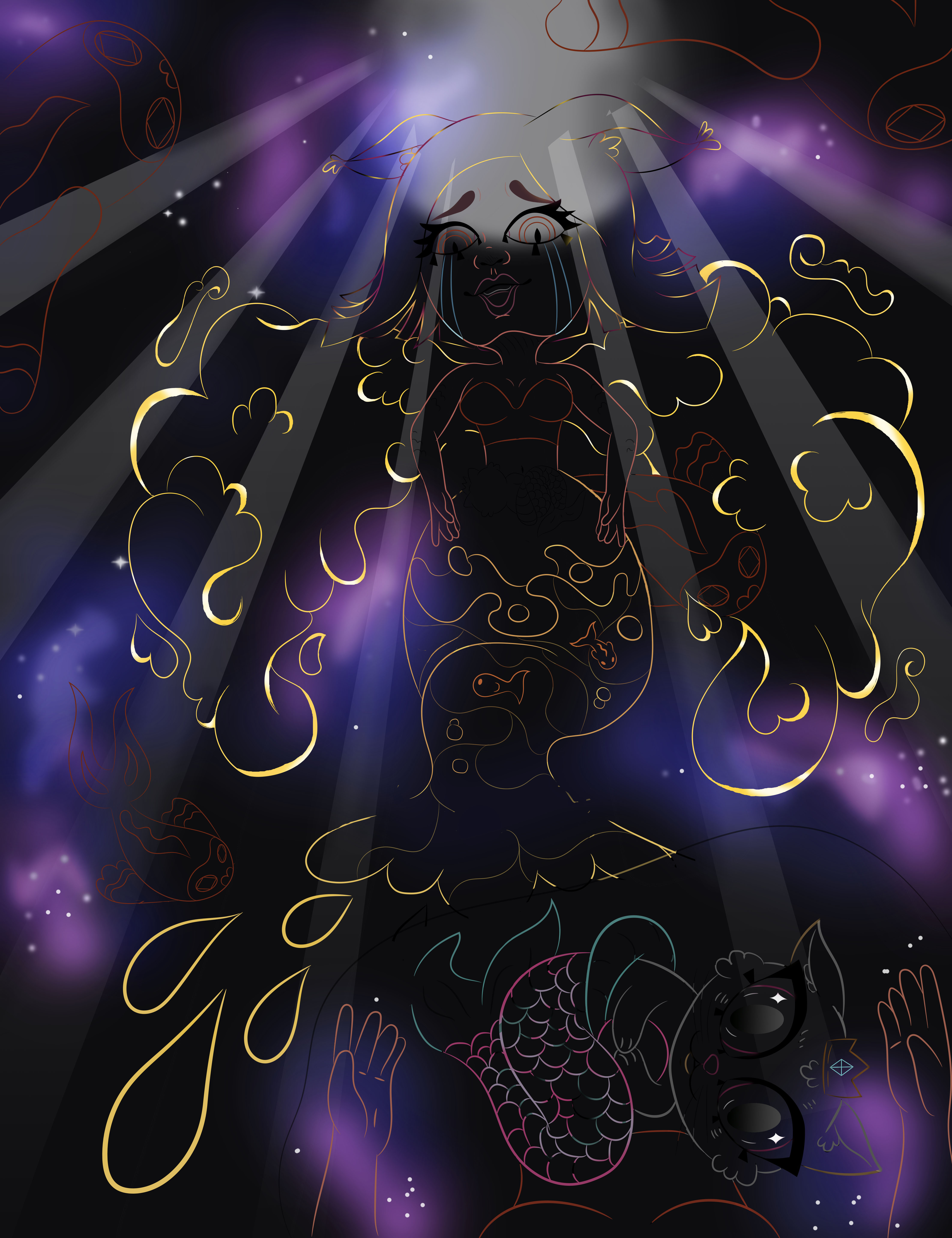 FIRST STEP: or at least for me, the fund. In this case I started at the bottom because I had never painted a universe and I felt that it was going to be difficult for me, but I tried and tried and I liked the result. I ALSO PAINTED THE LINES, THE MAJORITY OF DORADO.

💦 THE PROCESS! 💦



| | |
| --- | --- |
| I started painting the wings, added shadows and textures in various places. I already had some synchronicity between color and everything else. | Here I had added the fish, I decided to make them as if they were pieces of gold, since yellow complemented as a color. |
Believe me, here it looks easy, but it took me 2 to 3 days to complete it, because I wanted to do the details with order and perfection.

LAST BUT NOT LEAST:



Let's take some time to admire a character that was yet to be painted, the Nekoreno: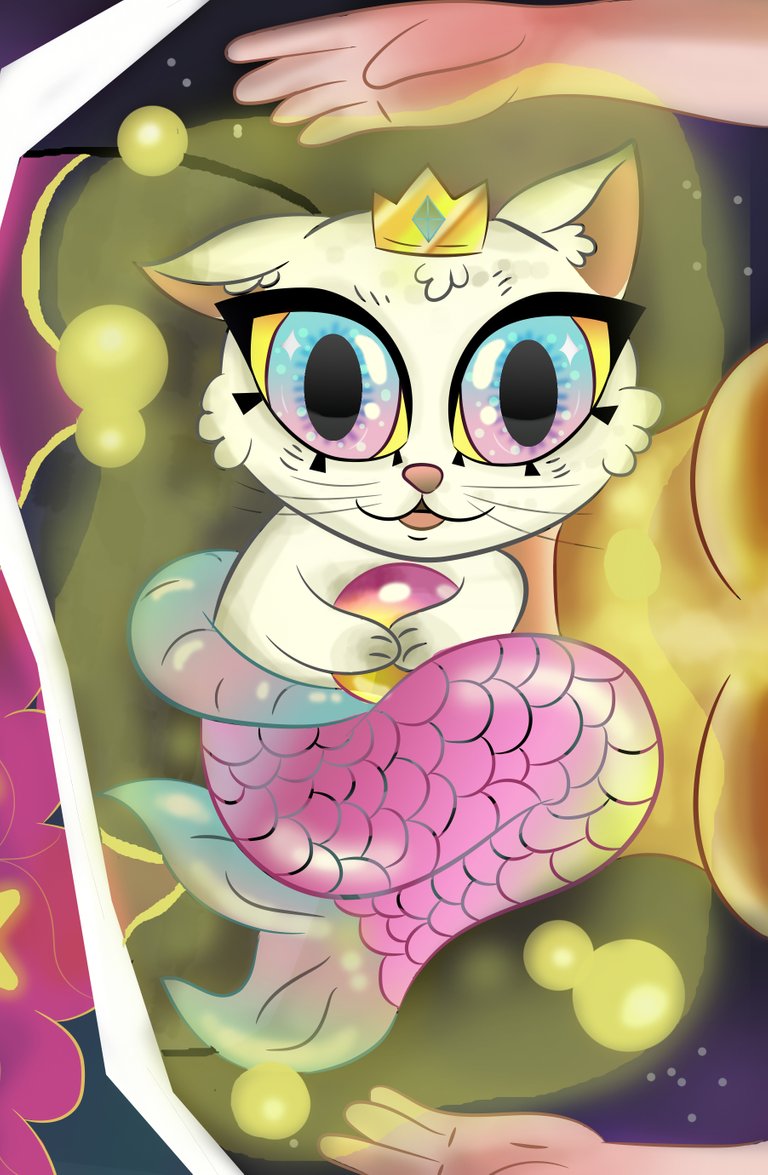 PRACTICALLY THESE TWO CHARACTERS THAT APPEAR IN THE ILLUSTRATION ARE NEKORENOS, only that the woman is a nekorena (by the ears of cats) female, human ... and the other is an animal nekoreno.
For those who do not understand this term, especially those who speak English, in Spanish it is more understandable. Nekoreno is half fish or mermaid and half human with cat or simply cat features.

FINAL SCORE: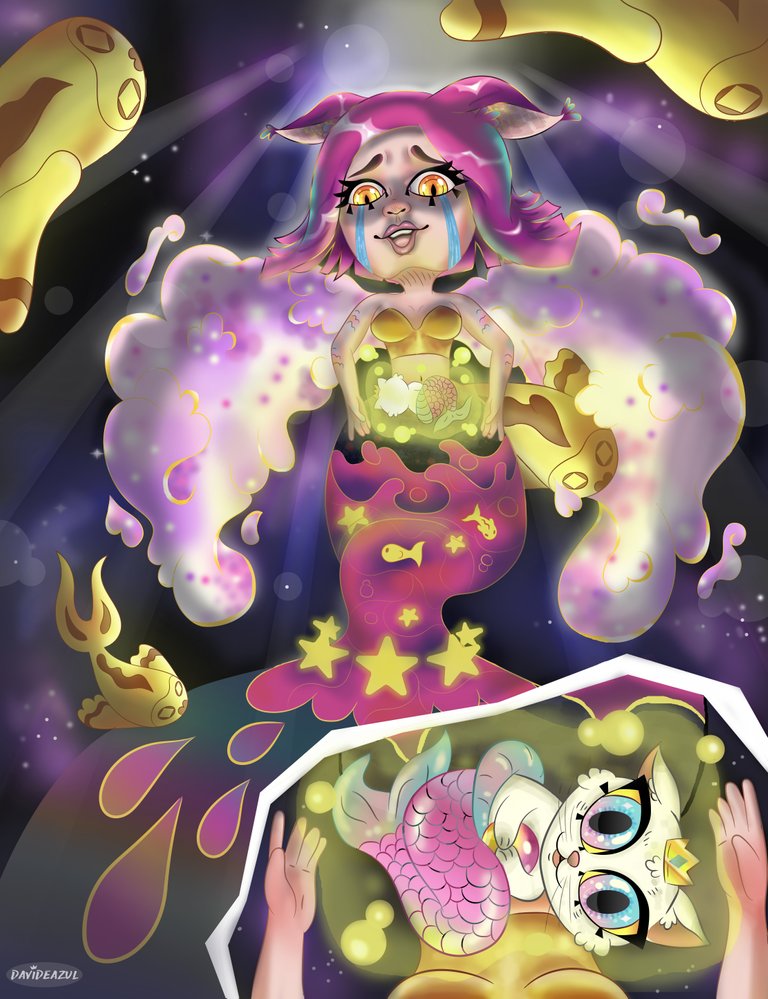 I wanted to pose this illustration as if it were the meeting of a son with his mother, that is why he has it in his womb. Did you like the concept of the illustration?

You like me? Follow me on my social networks:
Greetings to all! Have a nice day / afternoon / night 💝



---
POST EN ESPAÑOL
---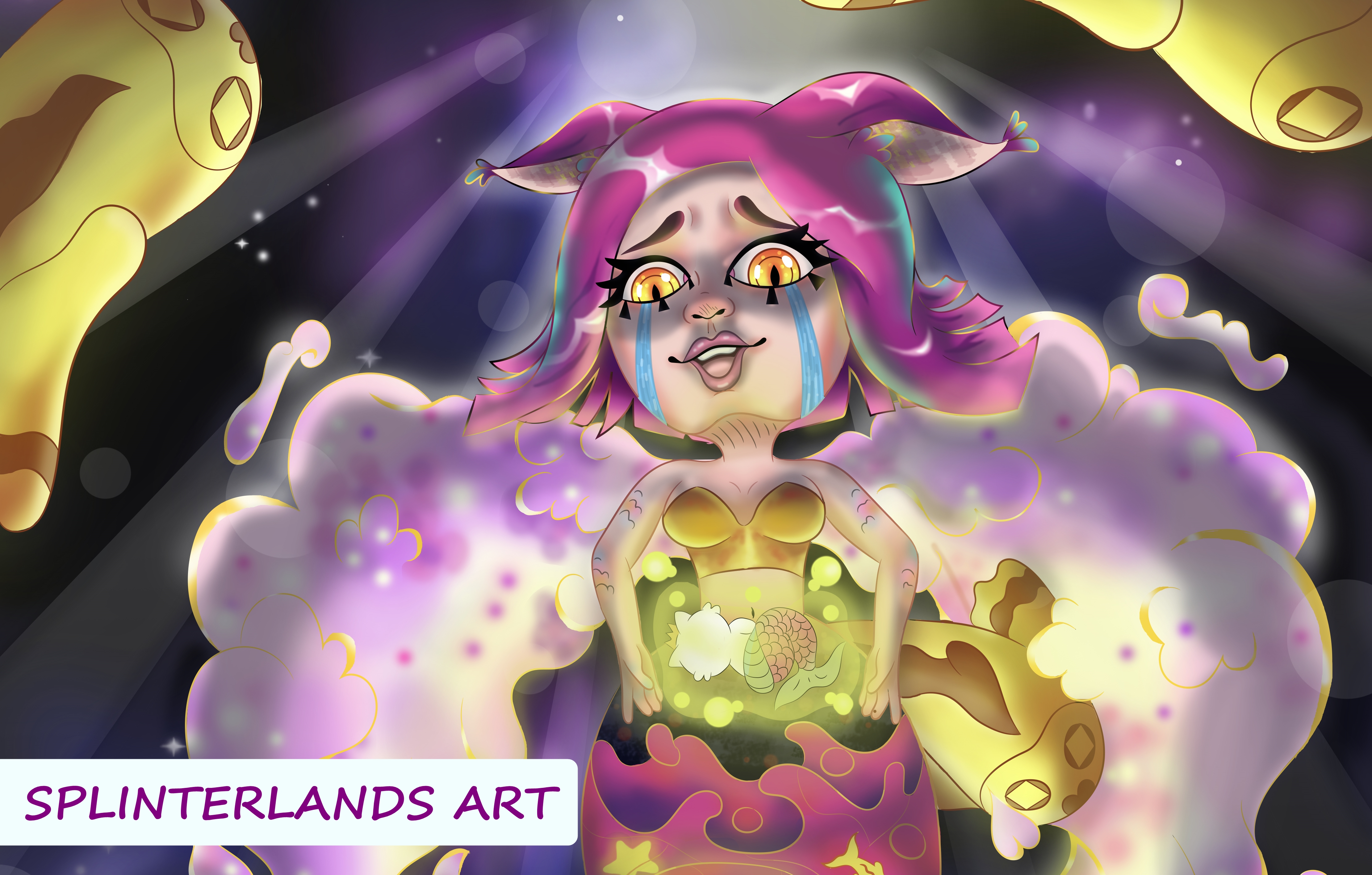 Mi participación en el concurso de arte de @splinterlands <3

¡Hi! Luego de haber tenido semanas sin participar, ¡vengo con todo!



YESSSS, al fin logro tomar un tiempo para crear un arte para @splinterlands. Estoy muy emocionado porque tardé alrededor de 2-3 días en terminarlo, porque aún no sabía la paleta de color ni el resultado que quería.
Así que me tomé un tiempo para experimentar y quedarme con lo que más me gustaba.
AHORA SI, ¡COMENCEMOS!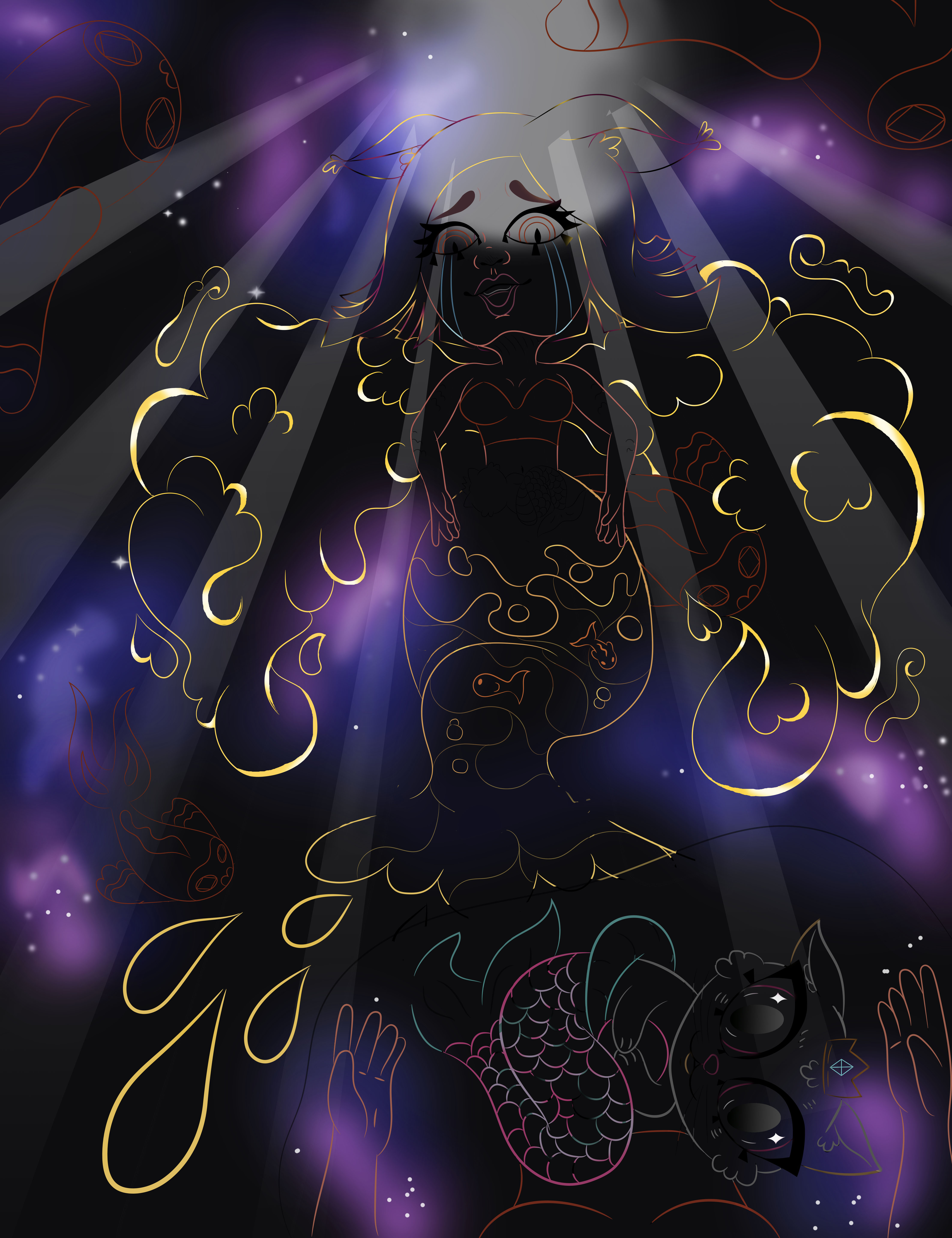 PRIMER PASO: o al menos para mi, el fondo. En este caso comencé por el fondo porque nunca habia pintado un universo y sentía que me iba a ser dificil, pero probé y probé y me gustó el resultado. TAMBIÉN PINTÉ LAS LÍNEAS, LAS MAYORÍAS DE DORADO.

💦 ¡EL PROCESO! 💦



| | |
| --- | --- |
| Empecé a pintar las alas, agregué sombras y texturas en varios lugares. Ya tenía cierta sincronía entre el color y todo lo demás. | Aquí había agregado los peces, decidí hacerlos como si fuesen piezas de oro, ya que el amarillo complementaba como color. |
Créeme, aquí se ve fácil, pero tardé de 2 a 3 días en culminarlo, porque quería hacer los detalles con orden y perfección.

POR ÚLTIMO, PERO NO MENOS IMPORTANTE:



Tomémonos un tiempo para admirar un personaje que faltaba por pintar, el nekoreno: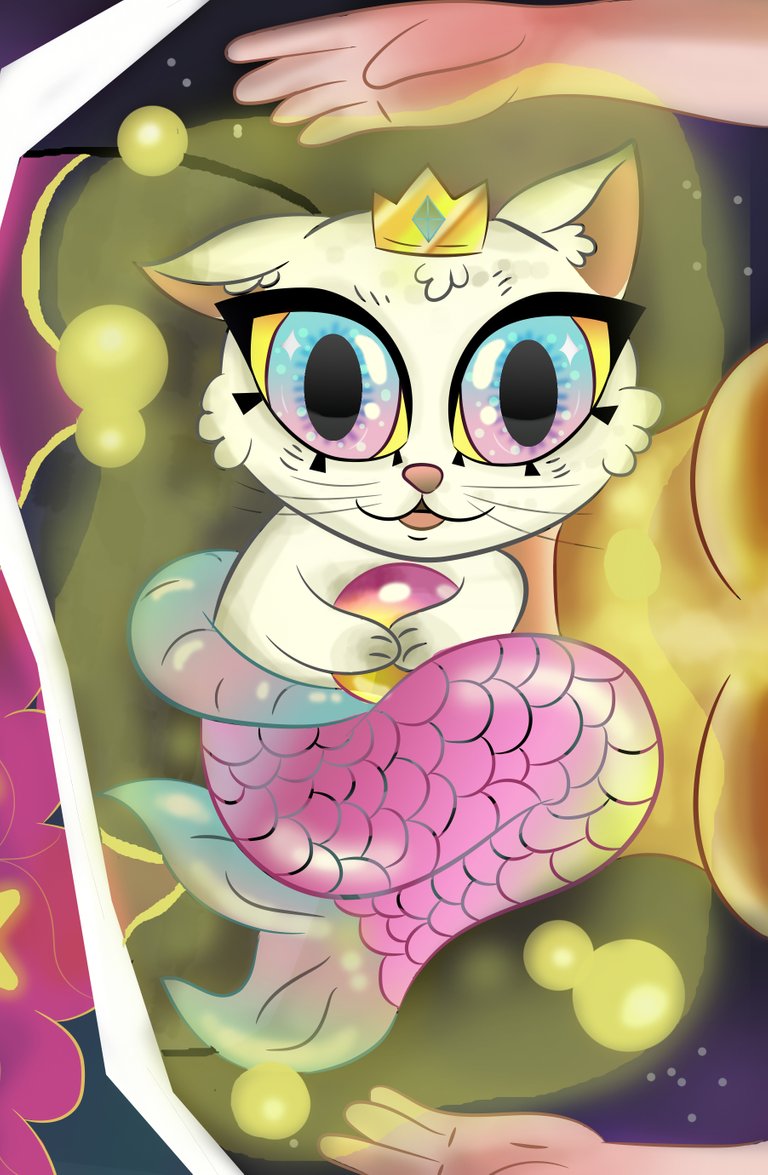 PRÁCTICAMENTE ESTOS DOS PERSONAJES QUE APARECEN EN LA ILUSTRACIÓN SON NEKORENOS, solo que la mujer es una nekorena (por las orejas de gatos) mujer, humana... y el otro es un nekoreno animal.
Para los que no entienden este término, sobre todo los que hablán inglés, en español es más entendible. Nekoreno es mitad pez o sirena y mitad humano con rasgos de gato o simplemente gato.

AHORA EL RESULTADO FINAL: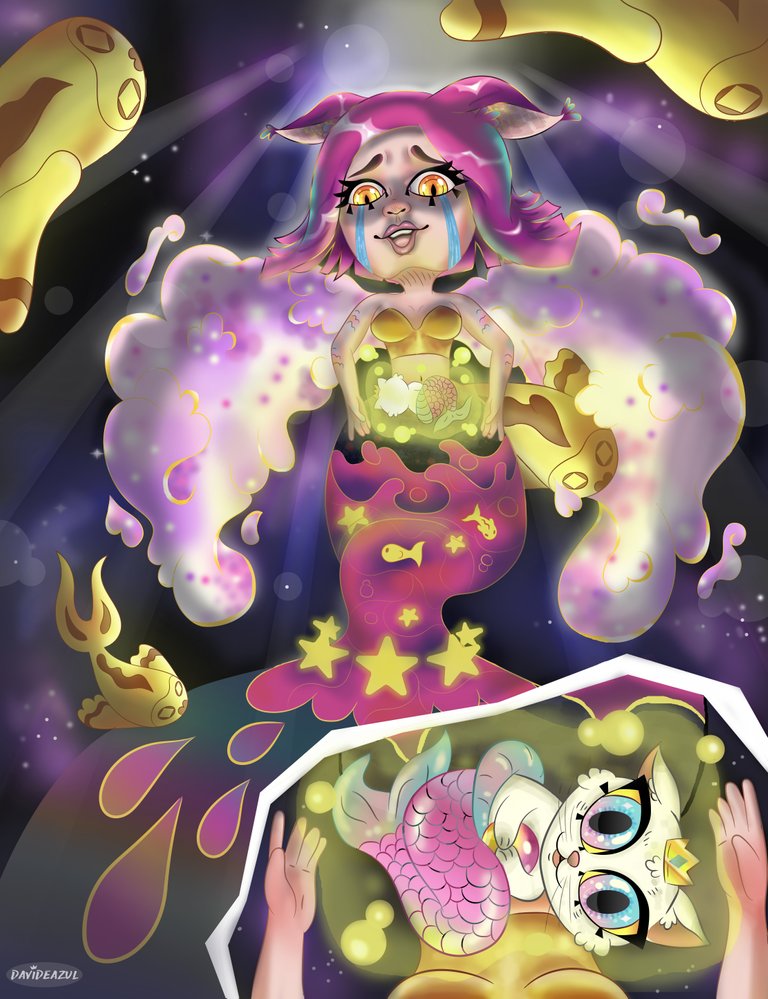 Quise plantear esta ilustración como si fuese el encuentro de un hijo con su madre, es por ello que la tiene en su vientre. ¿Les gustó el concepto de la ilustración?

¿Te gustó? Sigueme en mis redes sociales:
¡Saluditos a todos! Que tengan un buen día / tarde / noche 💝