Time to Play Splinterlands! DEC Price Through The Roof

With the release of splintershards (SPS), the new governance token for splinterlands on Monday July 26th, we are seeing some big moves
There are more sign ups than ever currently with the airdrop of SPS around the corner. I won't go into the details as @splinterlands has made all the necessary posts to understand the roll out. But what I want to talk about is how this has affected the market and why it actually might be a good time to sell DEC...
Have a look at the chart for DEC/HIVE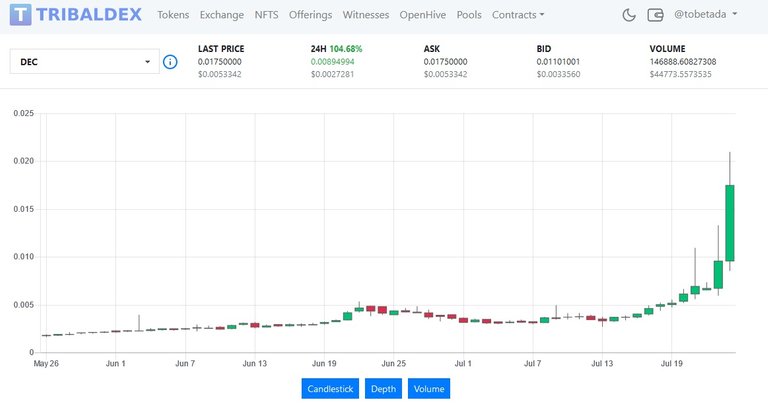 This is a clear run up from the hype around SPS now. Currently DEC has spiked 17x from it's "pegged" price at 0.001. People are now trying to stack up on DEC as much as possible in order to receive a bigger share of SPS tokens. However, at these prices I think that it makes more sense to sell. First, this is an unsustainable price range; hype never holds up for long, so I would expect prices to come crashing down again. However, I don't think that we will go to 0.001 again anytime soon, as DEC has now become much more valuable. But I doubt that 0.1-0.2 is sustainable. Second, buying DEC now only makes sense if you plan on hodling it. As the airdrop is going to occur over one year it wouldn't make sense to spend DEC in the first weeks or even months of the airdrop. One would have to hold it for one year to get the most out of it. Depending on how SPS performs this might still be worth it however.
If you are playing splinterlands I would definitely think about selling DEC as soon as it rolls in from the battles. On average I am getting about 30 DEC/battle which equates to 0.46 Hive! Say what?! This means I am earning now about 1-2 Hive every 10-15 min. Not a bad deal...
Anyway, whatever you decide, I hope that splinterlands will become even more successful which would be a hige gain for Hive and all of the community as well! This is a perfect synergy and it might be how we get the Hive train rollin'

⛅🌦🌧🌦🌧🌨☁🌩🌦⛅🌧☁🌤🌥🌪🌧🌨🌩⛅🌦☁🌤🌥🌤⛅🌤⛅🌦⛅

⛅🌦🌧🌦🌧🌨☁🌩🌦⛅🌧☁🌤🌥🌪🌧🌨🌩⛅🌦☁🌤🌥🌤⛅🌤⛅🌦⛅

---
---