Great Chaos Legion Cards for your Collection: Base Level Card Edition Part 2: Life / Death / Neutral


Hey there Splinters,
After I have shared my secret passion for Doctor Blight with you earlier (Doc Blight - overrated or priceless), we jumped into a more general look on some of the new Chaos Legion cards which you might find worth adding to your collection. In the first edition of my review I focus on level 1 card versions as you might mainly use them in the bronze ranks or as a novice. You might remember that I have already presented some of my favourite Fire, Water and Earth base level cards (for those of you who have not run into this previous post, you can find it here: Great Chaos Legion Base Level Cards for Fire, Water and Earth). This time we will have a look on Life, Death and Neutral cards which help you to prevail in battle already on a base card level.

The Prismologist on level 1 comes with 3 ranged attack, 2 speed, 2 armor, 4 health points and the Blast ability. Of course, the card's ranged combat goes perfectly together with the new life summoner General Sloan who gives a plus 1 buff on this attacking type.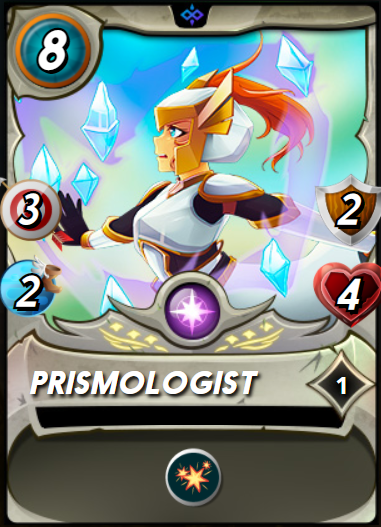 Costing 8 mana, the card is pretty expensive and might not be used well in battles with a low mana cap. However, with its Blast ability it can deal a huge amount of damage per turn as it will not only hit the targeted monster but also the adjacent ones. With 2 armor on top of the 4 health points you should also be assured that the Prismologist does not directly leave the board when being hit for the first time. Nevertheless, to unleash the full power of the card, the Prismologist certainly needs some cover, e.g. provided by Adelade Brightwing who can help to repair the Prismologist's armor. If you can protect this epic card for some turns from being targeted by your opponent too often, it will wipe out their forces thoroughly.
The Riftwing is another monster which just goes smoothly together with the new Chaos Legion summoner for their splinter. The card on level 1 comes with 3 speed and 5 health points at the cost of 4 mana. It cannot attack and has the Flying and Scavenger abilities.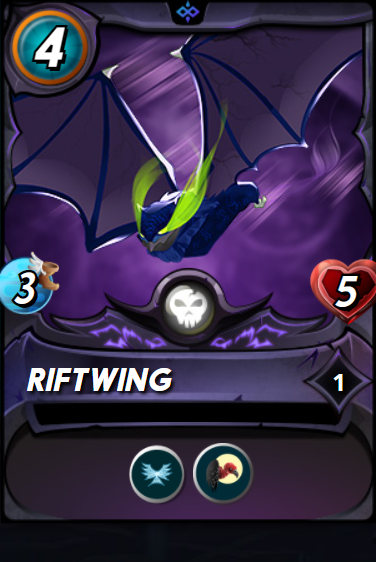 Compared with the last card (Prismologist) we looked at, the Riftwing is at the complete different end of the Splinterland's tactics scheme: At least at level 1 it cannot deal any damage to the opponent, but it can buy your heavy-hitters a lot of time to strike before the line of defence build by the Riftwing is surmounted. With 3 speed and the Flying ability, it has a up to 45% change to dodge enemy attacks. Additionally, Scavenger helps the Riftwing to stay longer on the board even if it could not evade your opponent attacks. It might usually be a good idea to not put the Riftwing in first position, but at least have a zero mana unit in front of it to allow Scavenger to do some of its magic before it is prime dodge time for the Riftwing.
Well, to be honest, I do not assume any of the Chaos Legion neutral cards to be a real game-changer on level 1. In case you read my review on Doctor Blight, you will have seen already that even for this legendary guy I personally came to the conclusion that he is only great on higher card levels. The Xenith Monk e.g. is a very versatile monster as soon as he gains the Tank Heal ability with level 2 - but on level 1 without the ability, he is pretty useless. In total, it might be the Disintegrator who among the neutral Chaos Legion cards makes the best job already on base card level. The monster comes with 2 melee atack and armor, 5 health point and a speed of 1 at the cost of 7 mana. It has the Demoralize ability.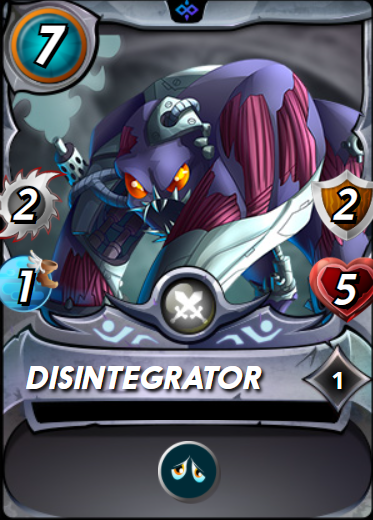 The Disintegrator makes up a quite nice tank in the lower leagues. Its strength is certainly the Demoralize ability. As a neutral card the monster can be used in nearly any battle. In the novice and bronze leagues you fill regularly see more opponents who base their decks on melee power, making the melee nerf provided by Demoralize more valuable. If you do not use the Disintegrator as first position tank and instead put it behind a monster with the Shield ability any of your opponent's monsters with two or less melee attack won't be able to cause any damage on your tank at all. Thus, the Disintegrator can be a versatile defense support which is especially great whenever your opponent relies on melee power or the ruleset gives advantages to melee units.

Well, Splinters... I hope you find this overview useful when you are about to decide what the next cards for your collection shall be. Excited to see your thoughts on the new life, death and neutral cards - what are your favourites so far?
If you like the content, stay tuned for the second edition of the Chaos Legion card review: Great mid-level Cards to help you through the Silver and Gold Leagues.

You have not found your way into the Splinterlands yet and want to start your play to earn journey now? Sign up for free and start playing. Happy if you support me by using my referral code, when signing up: https://splinterlands.com?ref=simsahas
---
---