Cartel-Monster's First Week On The Battleground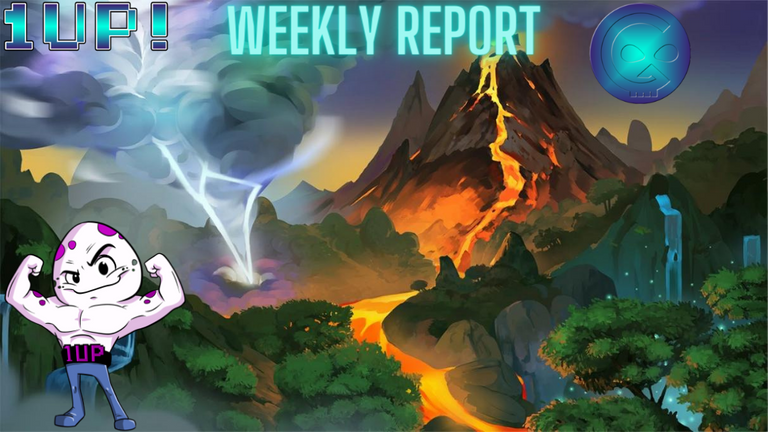 Hello everybody welcome to the first edition of the #oneup cartel-monster report. This will be a weekly report of what the @cartel-monster account has made for the week. It will cover DEC and SPS gains and also any tournament winnings and how well we did in them. It will also cover how well I did for the week as the official cartel operator for their Splinterlands account.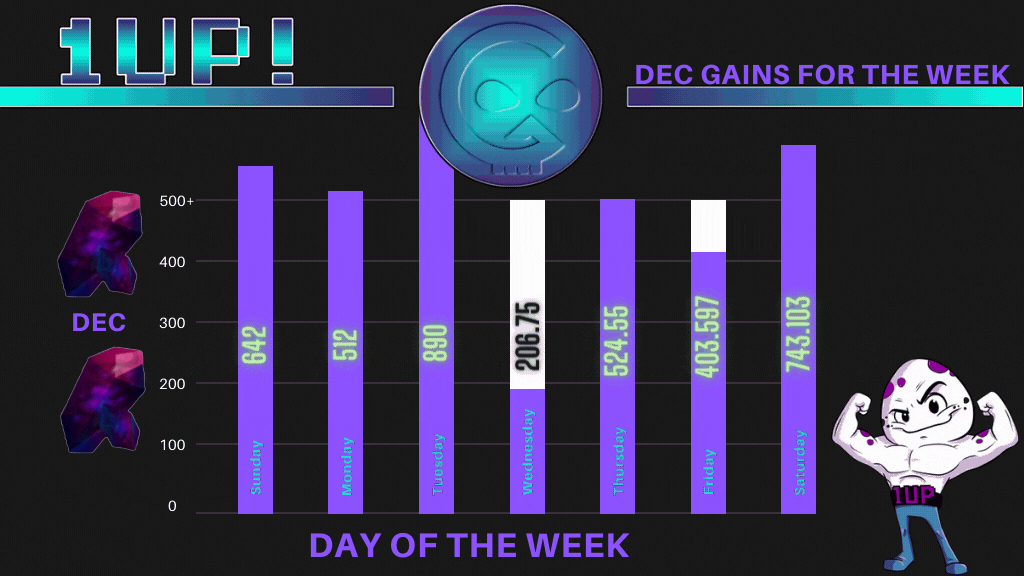 So here is how we did in terms of DEC gains for the first week. In total, we netted a smooth 4056 DEC getting to play with a deck full of gold foils and hitting some nice win streaks we were very profitable for the first week and this was also when the DEC pool was a bit more dried up. The top 3 days were Saturday, Sunday, and Tuesday gaining 2275 DEC from just those 3 days combined.
Here is a breakdown of the rewards for each day as well:
Monday: 512 DEC
115 DEC from Tourney: Happy Holidays From Clove71 Finished 7th Overall
Chest Rewards: 3 Rares, 3 Commons, 22 DEC
Card Value: $0.679
Tuesday: 890 DEC
Chest Rewards: 2X Commons, 1 Potion, 72 DEC
Cards Value: $0.129
Wednesday: 206.75 DEC Including Chests,
Chest Rewards: Pelacor Mercenary, Gargoya Lion, 1 Legendary Potion, 16 DEC
Cards Value= $0.124
Thursday: 524.55 DEC Including Chests
Chest Rewards: 2 Commons, 1 Rare, 2x Legendary Potions, 34 DEC
Cards Value: $0.346
Friday: 403.597 DEC Including Chests
Chest rewards: 3 Commons, 4 Potions, 8 DEC
Cards Value: $0.165
Saturday: 766.103 Including chests
Chest rewards: 3 Commons, 1 Rare, 2 potions, 23 DEC
Cards value: $0.250
Sunday: 642 DEC
Chest rewards: 2 Commons, 2 Rares, 1 Potion, 21 DEC
Cards value: $0.576
Overall a very good week in terms of DEC gains, chest rewards were not that good getting a total value of $2.269 in cards and 196 DEC worth about $0.91. We only played in one tournament this week placing 7th overall getting 115 DEC for the entry fee of just 1 DEC. Going forward we will be playing in the gold tournaments where there is a lot of SPS to be earned and hopefully, we can start adding some SPS to these totals as well.


Battles, Ranking, Overall Performance
Going into the battles I started out in novice as this was a brand new account set up for the cartel. I quickly ran up the rankings running through opponents left and right amassing an impressive 42 straight win streak and peaking at gold 1 making it in the top 30 for a short while.

Obviously, this changes a lot towards the end of the season and you will need around a 3100 rating to get a place on the leaderboards. I was trying my best to get back there but unfortunately could not make it back into the top 30. So instead I jumped up to diamond since there are only 20 hours left in the season at the time of writing this and I didn't think I could push back up to the top 30 in gold.
Even with all the cards this account has access to, there are still a few deficiencies mainly no fire or death currently. But that will change soon as the cartel builds up this account with chaos legion cards. I find for pushing into the leaderboards at least the top 30 you need access to pretty much everything or be a really good player as I'm still learning I'm not quite there yet.
I did however have an epic battle against the #1 ranked gold player ula.ocean and ended up getting a crazy win against him. It was definitely the highlight of my Splinterlands career so far and if you want to see it check this post here: BEATING THE RANK #1 GOLD PLAYER: Alric VS Valnamor. It was a truly epic battle and I go into detail about my strategy and how I pulled it off predicting what he was gonna play and countering it accordingly.
Now it is just time to wait for the next 20 hours let the ECR recover and wait to open the 40 end-of-season chests. I also can't wait for the start of next season with all these gold cards and the pool getting reset I think I may be able to get a pretty impressive number in DEC rewards once it starts.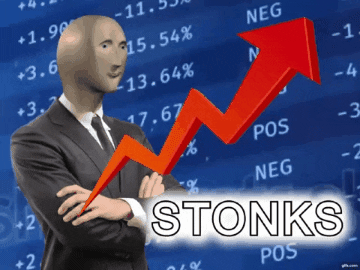 Source

About The Oneup Cartel
The 1UP-Cartel is a meta-guild for blockchain games & HIVE community gamification, they are making huge innovations for gamers and content creators on the HIVE blockchain. If you want to know more about them and become a cartel operator yourself check out this amazing post by one of the founders @flauwy: The 1UP-Cartel: A Meta-Guild For Blockchain Games & HIVE Community Gamification.
The cartel is constantly looking for new and amazing members that want to create exceptional content on HIVE and further the growth of the cartel. If you think this applies to you or you can bring something to the cartel please join the discord today and get in touch with @flauwy to learn more.

Join the 1UP Cartel Today Discord
Follow me over on Twitch

Check me out on YouTube

Thumbnail made using Canva
---
---