If you participated in the land presales on Splinterlands, or provided liquidity in the initial phase on Uniswap for the ETH-DEC pool, or simply bought raffle tickets on Hive-Engine (or LeoDex), today is the day when the raffle takes place.
In a few hours actually, as you can see in the screenshot I took moments ago: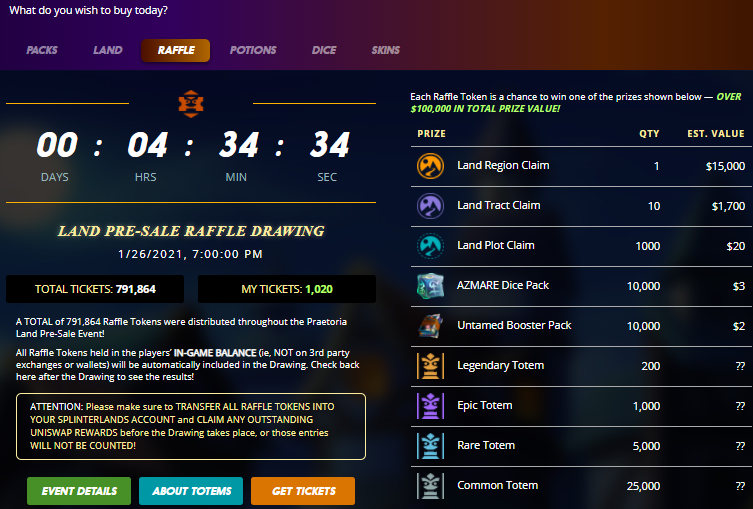 This raffle adds some nice perks for anyone with tickets to participate, on top of the actual land presale you were part of (or not).
Matt made some calculations here, and chances are 1 in 15 raffle tickets is a winner, ON AVERAGE. That means some may be luckier than others with their tickets.
Prizes in the raffle are as follows:
| Prize | Quantity | Est. Value |
| --- | --- | --- |
| Land Region Claim | 1 | $15,000 |
| Land Tract Claim | 10 | $1,700 |
| Land Plot Claim | 1,000 | $20 |
| AZMARE Dice Pack | 10,000 | $3 |
| Untamed Booster Pack | 10,000 | $2 |
| Legendary Totem | 200 | ?? |
| Epic Totem | 1,000 | ?? |
| Rare Totem | 5,000 | ?? |
| Common Totem | 25,000 | ?? |
---
What would you wish for? Don't say a region or even a tract, I'm pretty sure everyone would be happy with those picks.
Can you imagine buying a plot and ending up with an entire region after the raffle?! Hey, even tract owners would be in the seventh heaven if one of their raffle tickets would win a region!
Personally I was kinda unlucky in the presales (as many others), and wasn't able to buy in phase 1, with 50% discount per plot. I did purchase a tract however in phase 2, with 40% discount per plot (and 15% discount for bulk buying).
There is an advantage of participating in phase 2 instead of phase 1, unless I'm mistaken. I received more raffle tickets because I spent more. And as we can see, this raffle should improve the ROI of the initial investment.
I received 1020 raffle tickets, which would mean more or less 68 winning tickets, depending on my luck too.
The potential raffle winnings can be separated in three:
All three can be sold and transform in ROI immediately (more or less, depending on demand). On top of that, packs can be opened and cards can be sold individually or burned for DEC.
The alternative is to hodl them (or the cards after opening the packs), and use them.
In this case, packs have an immediate value because they can be integrated in and improve your collection right now.
Both land and totems will be usable in the future.
Packs and individual cards on the other hand can be bought easily, because there's a developed market for them. The market for land and totems is just forming, and they will not be print in this form by Splinterlands, as packs are.
For these reasons and my own preference for long(er) term investments I wish to win as many totems as possible (rare and above? :), and at least one legendary totem. That of course if we exclude from the wishlist the first two options, which are great through their estimated value alone, without counting anything else.
Posted Using LeoFinance Beta