Cost optimisation in Splinterlands / Optymalizacja kosztów w Splinterlands [EN/PL]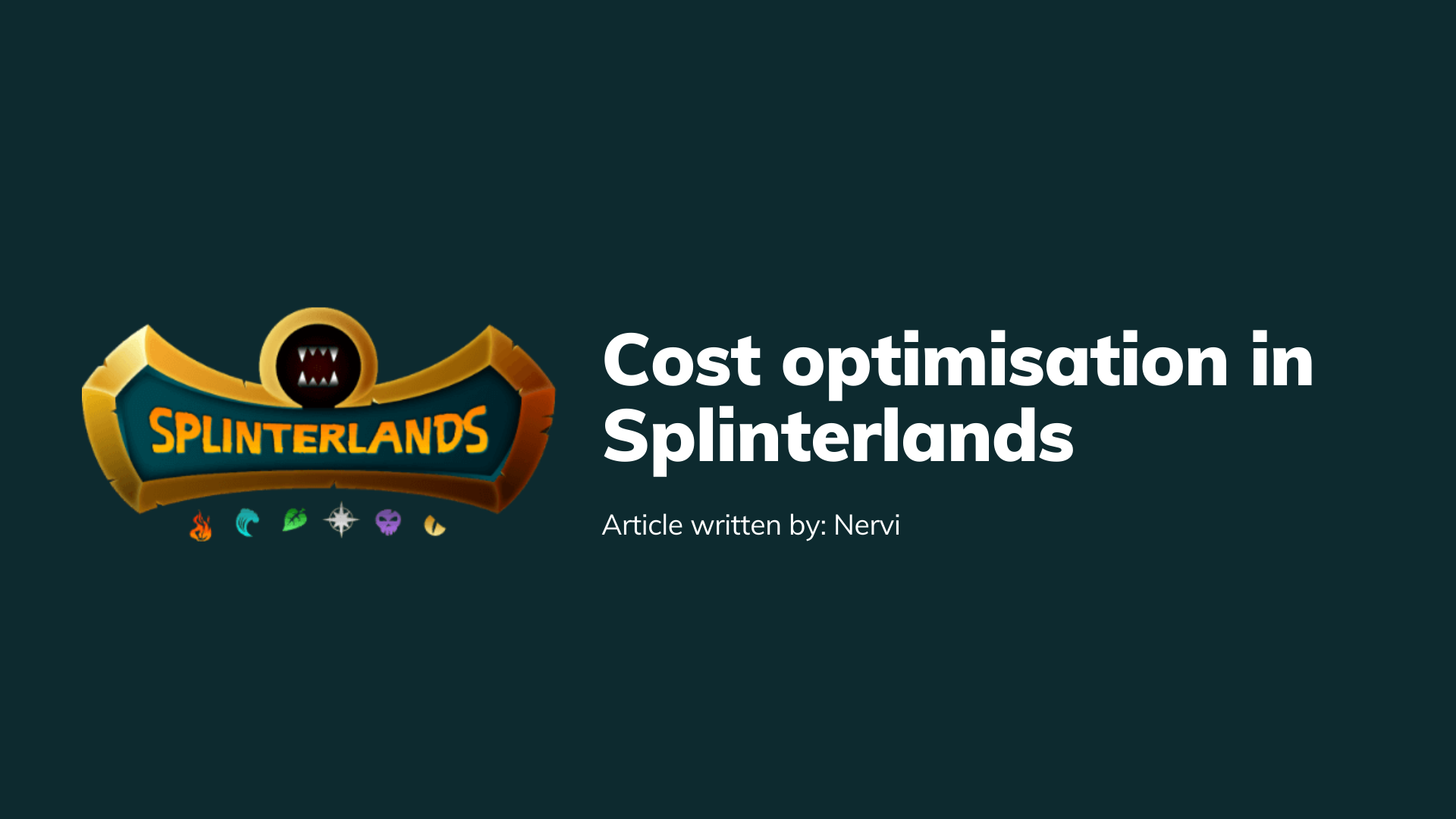 Most of us probably know that in the game Splinterlands we can buy credits. We receive them for purchases made by our referrals and we can also buy them ourselves using PayPal or one of the many cryptocurrencies. However, it seems to me that not many people realise that by using Splinterlands credits we are able to save a few percent on purchases in Splinterlands.
The current price of a DEC at the current HIVE exchange rate is $0.00115 per unit. In contrast, one Splinterlands credit costs $0.001. It will always cost that much, it is rigidly pegged at a ratio of $1 to 1000 credits. So DEC today is 15% more expensive than Splinterlands credits. Should we care about that?
We should, especially when we buy something on the site, like potions. I currently have 199 Untamed packs and 66 Dice packs. This gives us a total of 265 packs. Let's assume that I would really like to have as many as possible chances to maximize my profits. So I need to buy Alchemy Potion and Legendary Potion. Five for each packet. So we have 2650 potions. This is quite a large amount. The current price for 1325 Legendary Potion is 49820 DEC or 49820 credits. I leave out the fact that we get 132 potions for free. Let's assume for the sake of calculation that they are of no use to us now. 49820 credits is equally 49.82 dollars. We can settle the payment in many cryptocurrencies, for example HIVE or HBD. Today's cost for 49820 credits is 155.017 HIVE. In the case of DEC, we have to expect a cost of 179,787 HIVE. This is almost 25 HIVE difference to the disadvantage of DEC.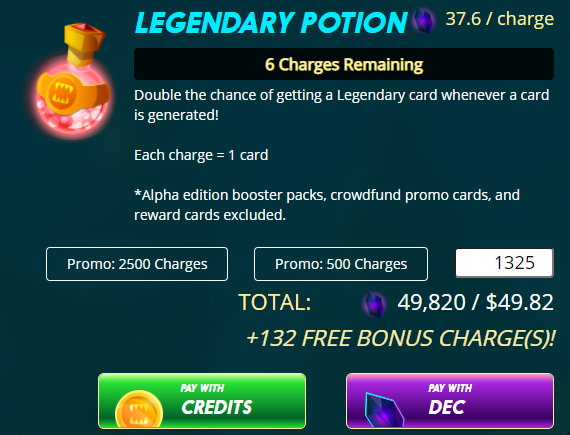 In the case of Alchemy Potion the situation is similar. 1325 Alchemy Potion costs 62275 credits or 193,755 HIVE. For DEC the result in HIVE is 30,979 HIVE more. 224,734 HIVE when buying potions for DEC.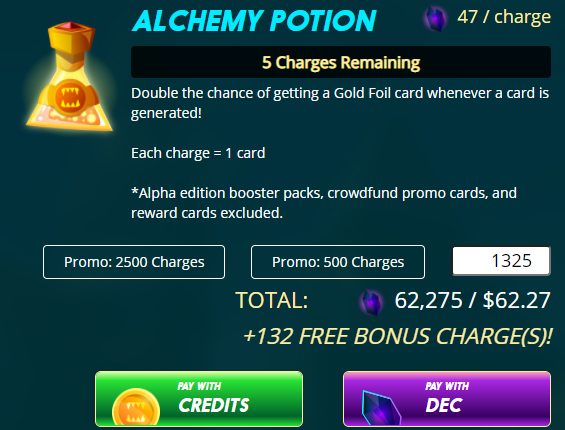 In summary, we would have paid 55,749 HIVE more for the same purchase. This is the difference. That much HIVE we could, for example, throw into HIVE Power and support users :) I wanted to flag this topic today because DEC has been more expensive than $0.001 for a while now and it's worth paying attention to save more than a few percent HIVE for a minute of work.
Thanks and until the next one, Nervi.
---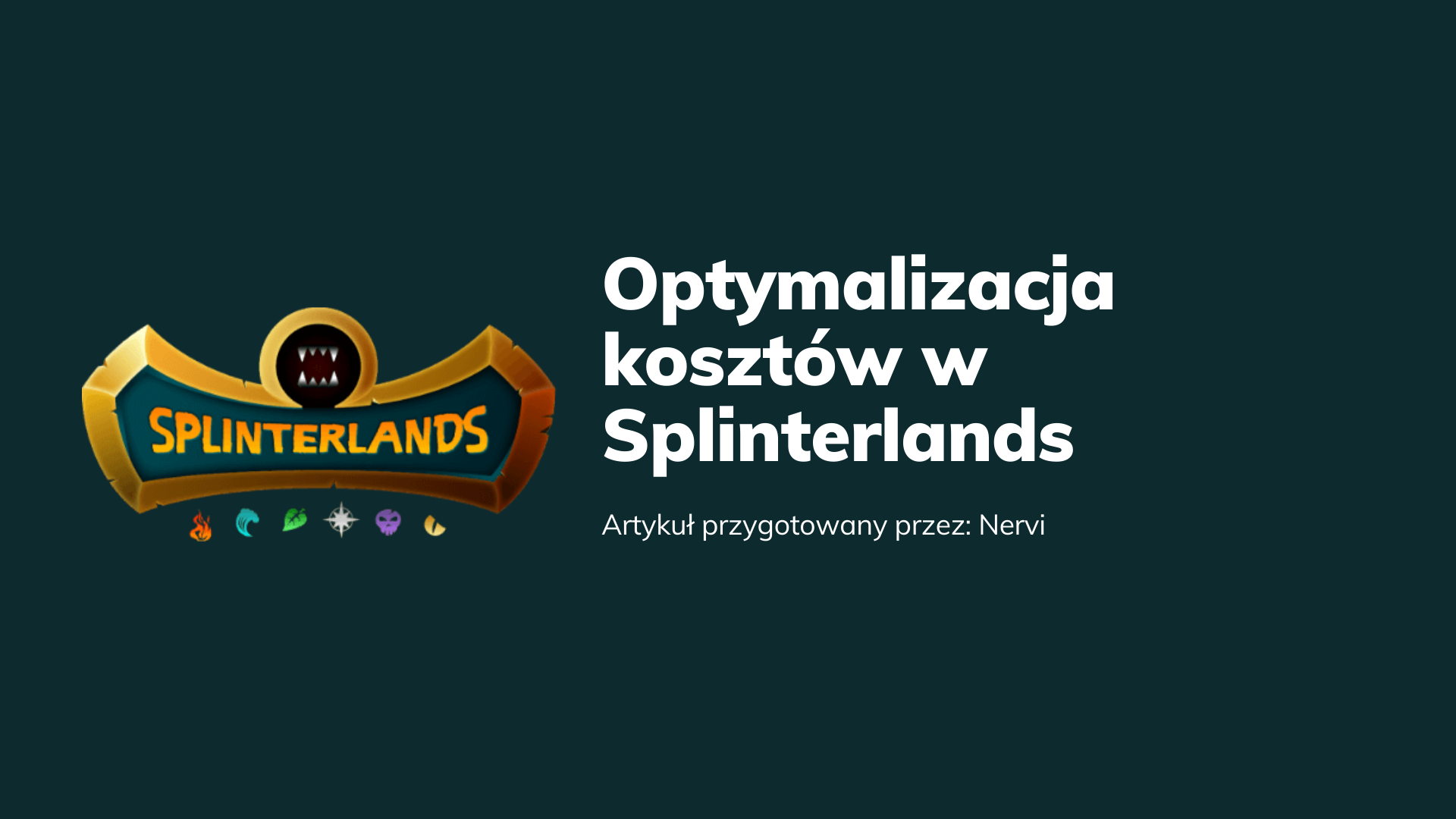 Pewnie większość z nas wie, że w grze Splinterlands możemy zakupić kredyty. Otrzymujemy je za zakupy zrobione przez naszych poleconych oraz możemy sami je kupić za pomocą PayPala lub jednej z wielu kryptowalut. Wydaję mi się jednak, że niewiele osób zdaję sobie sprawę, że używając kredytów Splinterlands jesteśmy w stanie zaoszczędzić parę procent na zakupach w grze Splinterlands.
Aktualna cena DEC przy obecnym kursie HIVE wynosi 0.00115 dolarów za sztukę. Natomiast jeden kredyt Splinterlands kosztuje 0.001 dolara. Zawsze tyle będzie kosztować, jest on sztywnie powiązany w stosunku 1 dolar do 1000 kredytów. Tak więc DEC dzisiaj jest droższy o 15% niż kredyty Splinterlands. Czy powinno to nas obchodzić?
Powinno, szczególnie kiedy kupujemy coś na stronie, na przykład mikstury. Aktualnie mam 199 paczek Untamed oraz 66 paczek Dice. Łącznie daje to nam 265 paczek. Załóżmy, że bardzo chciałbym mieć jak najwięcej szans aby zmaksymalizować zyski. Muszę zatem kupić Alchemy Potion oraz Legendary Potion. Po pięć dla każdej paczki. Tak więc mamy 2650 miksturek. Jest to całkiem pokaźna ilość. Aktualna cena dla 1325 Legendary Potion to 49820 DEC lub 49820 kredytów. Pomijam fakt, że dostaniemy 132 mikstury za darmo. Uznajmy dla obliczeń, że teraz się nam nie przydadzą. 49820 kredytów to równo 49.82 dolarów. Płatność możemy uregulować w wielu kryptowalut, na przykład HIVE czy HBD. Dzisiejszy koszt dla 49820 kredytów to 155.017 HIVE. W przypadku DEC musimy liczyć się z kosztem 179.787 HIVE. Jest to prawie 25 HIVE różnicy na niekorzyść DEC.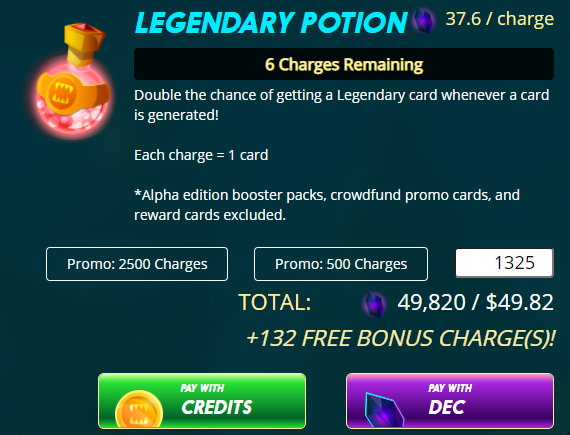 W przypadku Alchemy Potion sprawa wygląda podobnie. 1325 Alchemy Potion to koszt 62275 kredytów lub 193.755 HIVE. Dla DEC wynik w HIVE wynosi o 30.979 HIVE więcej. 224.734 HIVE w przypadku kupna mikstur za DEC.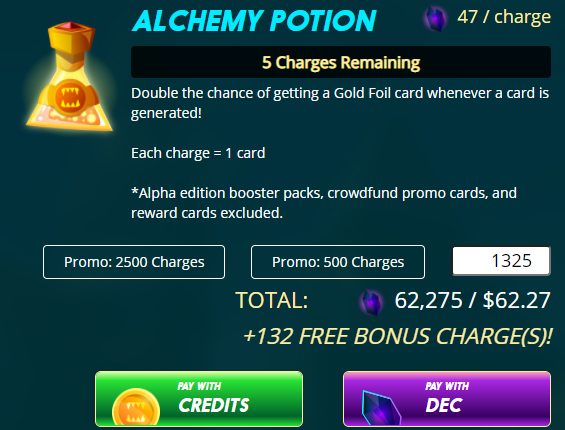 Podsumowując, za ten sam zakup zapłacilibyśmy 55.749 HIVE więcej. Jest to różnica. Tyle HIVE możemy przykładowo wrzucić w HIVE Power i wspierać użytkowników :) Chciałem dzisiaj naznaczyć ten temat, ponieważ od jakiegoś czasu DEC jest droższy niż 0.001 dolara i warto zwracać uwagę, żeby za minutę roboty zaoszczędzić ponad kilka procent HIVE.
Dziękuję i do następnego, Nervi.
Posted Using LeoFinance Beta
---
---