How I saved 84% with CardAuctionz / Jak zaoszczędziłem 84% dzięki CardAuctionz [EN/PL]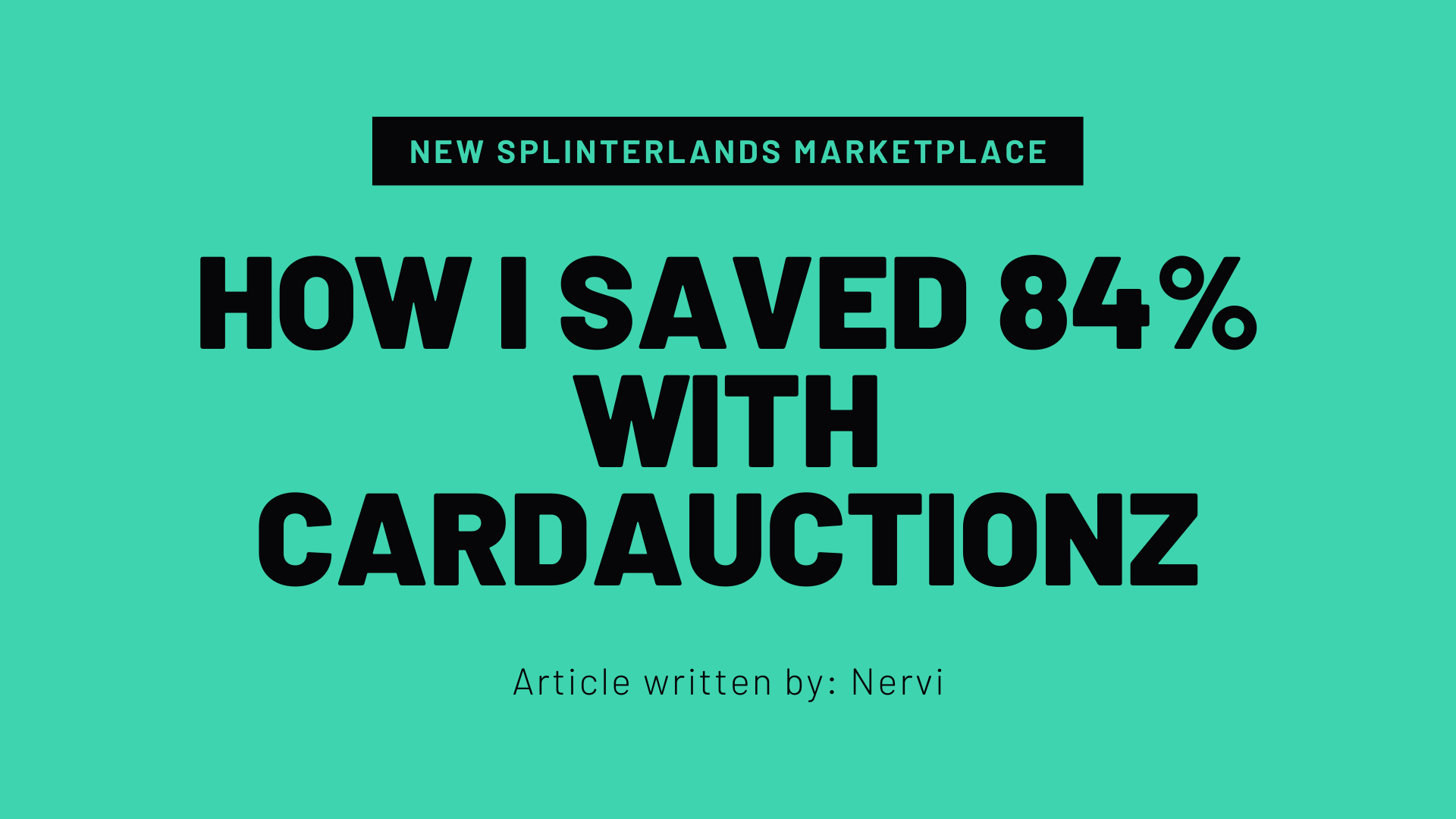 The Splinterlands market is growing at an alarmingly fast pace. Currently, the Splinterlands game market is worth over $13.5 million. A great number, and I'm glad to see such good and engaging games being developed in the Hive environment.
People who frequently purchase game cards have to face the fact that sometimes you have to pay a lot of money for the cards. But what if I told you that you can get a refund on the purchase of cards and even buy them for 10% of the price?
Today I'm going to describe a website called CardAuctionz, which I discovered some time ago. It is a site founded by @MarcusWahl - promoter of the Hive blockchain and projects based on this ecosystem (and more!).
CardAuctionz differs little in its functioning from PeakMonsters, the most popular service for buying and borrowing cards in Splinterlands. However, it offers two very interesting features.

CardAuctionz market home page
Cashback for card purchases
This is a feature that I have given up on buying cards on PeakMonsters. For every purchase you make through the CardAuctionz interface, you receive a small portion of Dark Energy Crystals back. These are visible in the form of a CAC token available on the site. It is equivalent to a DEC and we can resell it or buy more. What do CAC tokens give us? We can use them to buy more playing cards or to bid for them. I will talk about bidding a little later.
Let us assume that we want to buy a Chromatic Dragon card. Its current value on the market is 25 dollars. Next to the price you can see the amount of cashback that you will receive after purchasing the card. In this case it is $0.875 or 3.5% comes back to us after the purchase. A really cool thing, especially when we buy playing cards in bulk.

In the preview below, we can see how much we will pay for this card (our choice of paying by DEC or Credits) and how much CAC we will get back. In this case we will pay over 26K DEC for the card and get almost 800 CAC and 130 Gift CAC immediately. Gift CAC is the same token as CAC only it is only usable on CardAuctionz website. Cashback is 3.5%, 3% can be immediately exchanged for DEC without commission and 0.5% stays on the site for later use.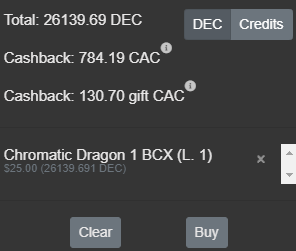 Card auctions
To promote the platform and to encourage new users to use it, Marcus places several to a dozen Splinterlands cards up for auction at very attractive prices almost every day. The bidding usually lasts a couple of hours and the winner is the one whose bid is the last one after the time expires. I myself was curious and bid on the cards I wanted to buy from the beginning. It turned out that I saved practically 84% of the nominal price of all the auctioned cards. Below, I present you with a table I made of the cards I won.
| Card name | Buy price [$] | Card price [$] | Discount [%] |
| --- | --- | --- | --- |
| Molten Ogre | 0.032 | 0.121 | 73.5 |
| Centauri Mage | 0.014 | 0.14 | 90 |
| Minotaur Warrior | 0.012 | 0.062 | 80.6 |
| Mushroom Seer | 0.015 | 0.254 | 94.1 |
| Armorsmith | 0.012 | 0.143 | 91.6 |
| Serpentine Spy | 0.013 | 0.09 | 85.6 |
| Failed Summoner | 0.013 | 0.079 | 83.5 |
| Octopider | 0.014 | 0.16 | 91.3 |
| Grim Reaper | 0.06 | 0.12 | 50 |
| Serpentine Spy | 0.016 | 0.09 | 82.2 |
| Ice Pixie | 0.023 | 0.144 | 84 |
| Boogeyman | 0.025 | 0.113 | 77.9 |
| Demented Shark | 0.021 | 0.084 | 75 |
| Armorsmith | 0.012 | 0.143 | 91.6 |
As you can see, by averaging, I only paid 16% of the price for 14 cards. This is a very good way to increase your card collection at a very low cost. However, you have to be quick because someone might win these cards before you do!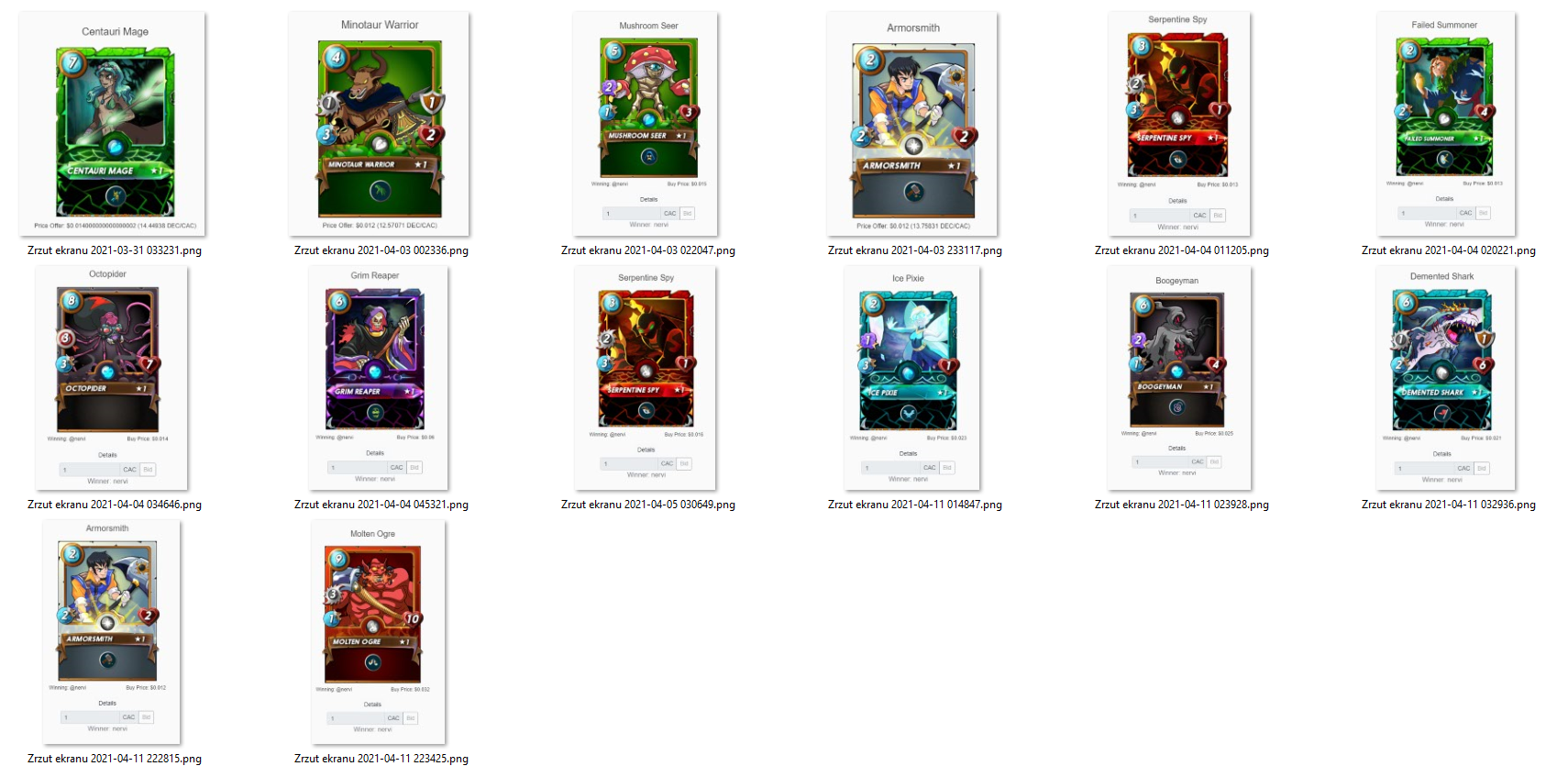 Summary
CardAuctionz is a very promising project which unfortunately lacks users. This can be seen by the fact that I almost always see the same usernames when bidding. My next suggestion is to improve or change the design of the site. But this is just the visual aspect and my subjective opinion. At the end of the day, it is worth giving CardAuctionz your attention because maybe you will find your new way to buy and win cards for the game @splinterlands.
CardAuctionz homepage
Official CardAuctionz discord
Thank you, see you at the auction, Nervi.
---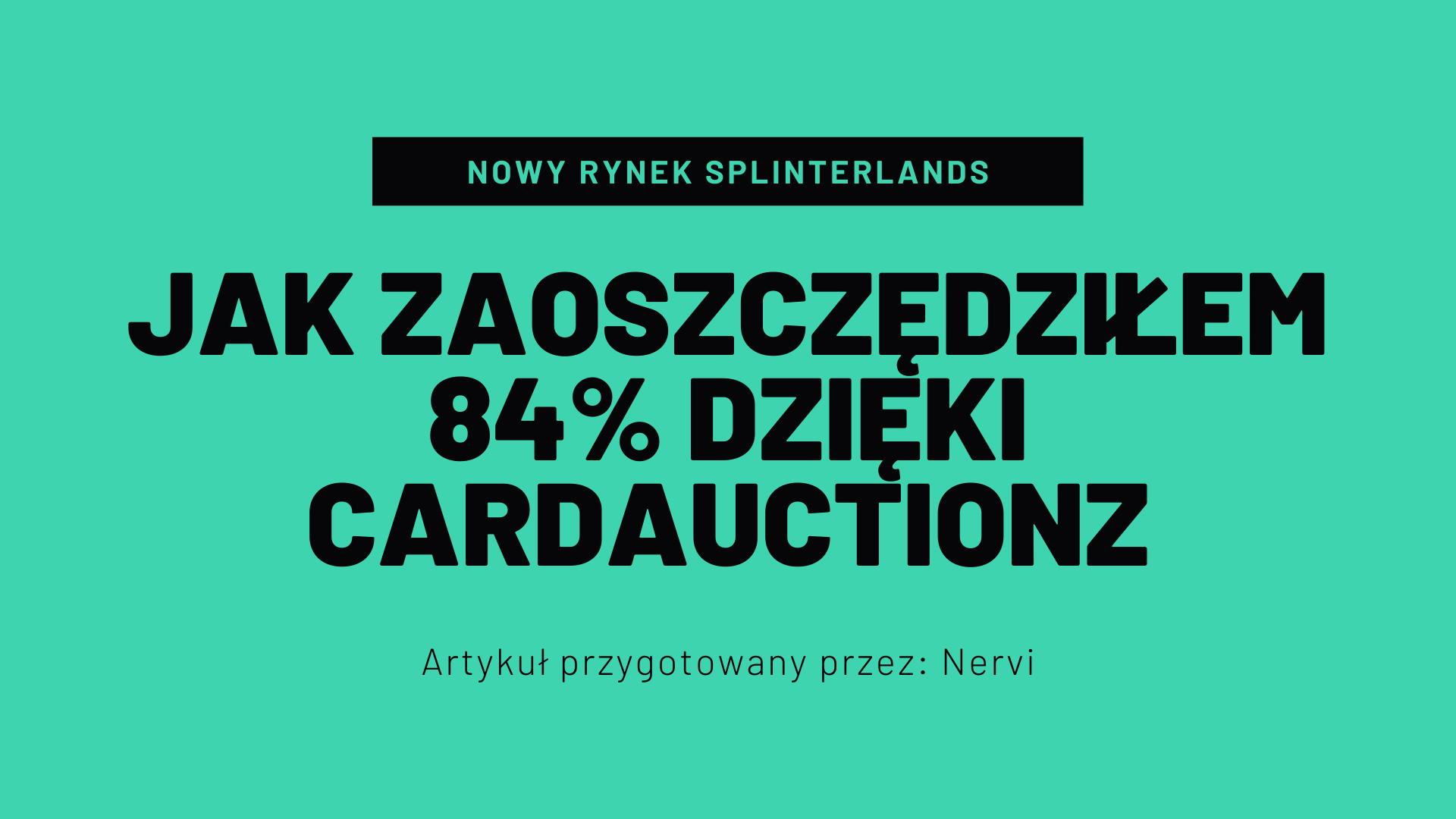 Rynek Splinterlands rozwija się w zatrważająco szybkim tempie. Aktualnie rynek gry Splinterlands wart jest ponad 13,5 miliona dolarów. Wspaniała liczba, cieszę się, że tak dobre i wciągające gry powstają w środowisku Hive.
Osoby, które często dokonują zakupów kart do gry muszą mierzyć się z tym, że czasami trzeba za karty zapłacić spory pieniądz. A co jeżeli powiem Wam, że na kupnie kart możecie otrzymać zwrot a nawet kupić je za 10% ceny?
Opiszę dzisiaj stronę CardAuctionz, którą odkryłem jakiś czas temu. Jest to strona założona przez @MarcusWahl - promotora blockchainu Hive oraz projektów opartych na tym ekosystemie (i nie tylko!).
CardAuctionz w swoim funkcjonowaniu mało różni się od PeakMonsters, najpopularniejszego serwisu do kupna i pożyczania kart w Splinterlands. Oferuje za to dwie bardzo ciekawe i interesujące funkcje.

Strona główna rynku CardAuctionz
Cashback za kupno kart
Jest to funkcja na rzecz której odpuściłem kupowanie kart na PeakMonsters. Za każdy zakup dokonany przez interfejs CardAuctionz otrzymujemy małą część Dark Energy Crystals z powrotem. Są one widoczne w formie tokenu CAC dostępnego na stronie. Jest on równowarty DEC i możemy go odsprzedać lub dokupić więcej. Co dają nam tokeny CAC? Możemy za pomocą nich kupować więcej kart do gry lub je licytować. O licytowaniu powiem nieco później.
Załóżmy, że chcemy kupić sobie kartę Chromatic Dragon. Aktualna jego wartość na rynku to 25 dolarów. Obok ceny widoczna jest kwota Cashbacku jaki otrzymamy po zakupie karty. W tym wypadku jest to 0.875$ czyli 3.5% wraca do nas po zakupie. Naprawdę fajna rzecz, szczególnie kiedy masowo kupujemy karty do gry.

Na poniższym podglądzie możemy zobaczyć ile zapłacimy za tę kartę (do wyboru mamy płatność przez DEC lub Credits) oraz ile dostaniemy CAC z powrotem. W tym wypadku za kartę zapłacimy ponad 26 tysięcy DEC i otrzymamy natychmiastowo prawie 800 CAC oraz 130 Gift CAC. Gift CAC to ten sam token co CAC tylko on jest możliwy do wykorzystania tylko na stronie CardAuctionz. Cashback wynosi 3.5%, 3% możemy od razu wymienić na DEC bez prowizji a 0.5% zostaje na stronie do późniejszego wykorzystania.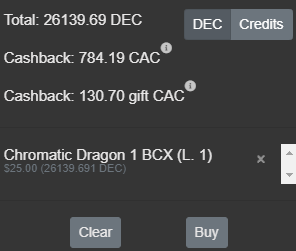 Licytacja kart
W celu promocji oraz zachęcenia nowych użytkowników do korzystania z platformy Marcus prawie codziennie wrzuca od kilku do kilkunastu kart Splinterlands możliwych do zlicytowania po bardzo atrakcyjnych cenach. Licytacja trwa zwykle parę godzin i zwycięża ten, którego oferta będzie ostatnia po upływie czasu. Sam byłem ciekaw i od początku licytowałem karty, które chciałem kupić. Wyszło na tym, że oszczędziłem praktycznie 84% ceny nominalnej wszystkich zlicytowanych kart. Poniżej przedstawiam Wam tabelkę jaką sporządziłem odnośnie wygranych kart.
| Nazwa karty | Cena kupna [$] | Cena karty [$] | Zniżka [%] |
| --- | --- | --- | --- |
| Molten Ogre | 0.032 | 0.121 | 73.5 |
| Centauri Mage | 0.014 | 0.14 | 90 |
| Minotaur Warrior | 0.012 | 0.062 | 80.6 |
| Mushroom Seer | 0.015 | 0.254 | 94.1 |
| Armorsmith | 0.012 | 0.143 | 91.6 |
| Serpentine Spy | 0.013 | 0.09 | 85.6 |
| Failed Summoner | 0.013 | 0.079 | 83.5 |
| Octopider | 0.014 | 0.16 | 91.3 |
| Grim Reaper | 0.06 | 0.12 | 50 |
| Serpentine Spy | 0.016 | 0.09 | 82.2 |
| Ice Pixie | 0.023 | 0.144 | 84 |
| Boogeyman | 0.025 | 0.113 | 77.9 |
| Demented Shark | 0.021 | 0.084 | 75 |
| Armorsmith | 0.012 | 0.143 | 91.6 |
Tak jak widzicie, uśredniając, za 14 kart zapłaciłem jedynie 16% ceny. Jest to bardzo dobry sposób aby powiększać swoją kolekcję kart bardzo małym kosztem. Należy jednak być szybkim bo ktoś może wygrać te karty przed nami!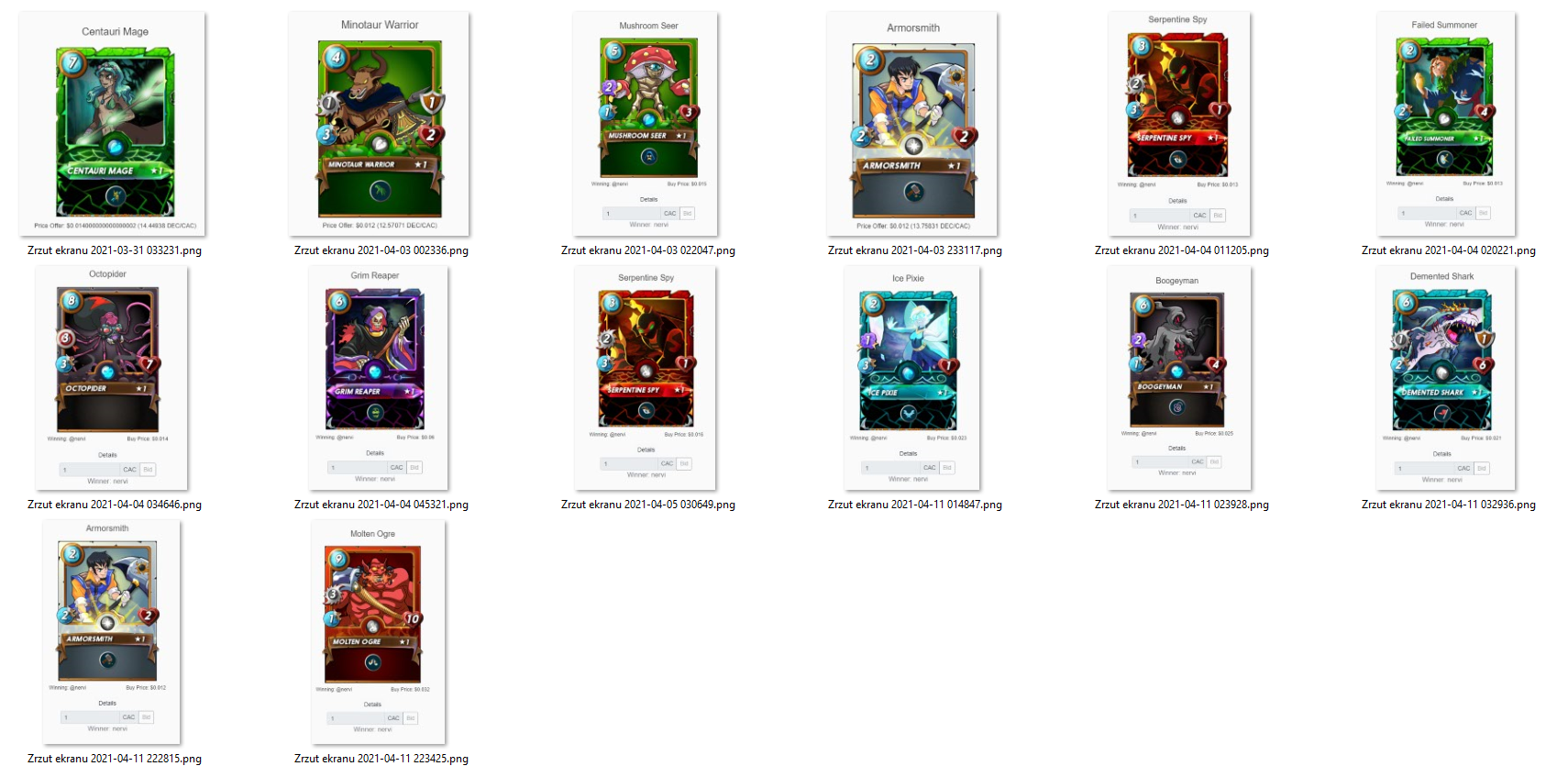 Podsumowanie
CardAuctionz to bardzo obiecujący projekt, któremu niestety brakuje użytkowników. Widać to chociażby po tym, że podczas licytacji prawie zawsze widzę te same nazwy użytkowników. Moją kolejną sugestią jest usprawnienie lub zmiana wyglądu strony. Ale to tylko aspekt wizualny i moja subiektywna opinia. Koniec końców, warto poświęcić CardAuctionz swoją uwagę bo może tak jak i ja odnajdziecie swój nowy sposób na kupowanie i wygrywanie kart do gry @splinterlands.
Strona główna CardAuctionz
Oficjalny discord CardAuctionz
Dziękuję, widzimy się na licytacji, Nervi.
Posted Using LeoFinance Beta
---
---