Away from Blockchain for a week but my assets kept on growing...
It has been almost a week! Without any sort of entertainment, fun, no thoughts were chasing me back and forth! My best friends were just sleep and pain all along. As it felt like I am sleeping whenever I can and I am waking up with pain all over my body. As if someone has beaten me up all through night and I was waking up with all the after affects of those beatings. Ahh not to forget soar throat was there to infuse few more pain within my body. As if the other issues were not enough.
---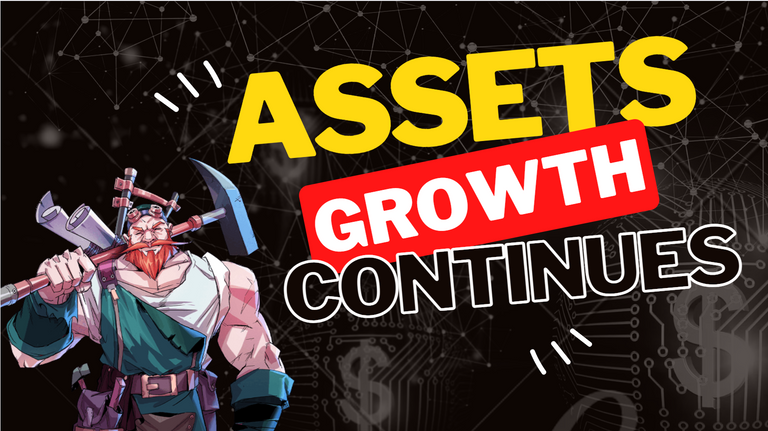 ---
As much as it sounds like a break, believe me it is not. I am not taking a vacation of sorts but my physical condition suddenly went bad and I had to take rest for almost a week. It was probably one of the worst week for me this year. Although, nothing serious happened! I caught cold (had cold ice cream, drink, went out for a long ride without proper winter clothes) and seems like, I finally welcomed winter in a grand way.
Since I was away for almost a week, I was wondering what should I do when I will start to explore HIVE once again. Now that I am sitting in front of my PC and getting caught up with everything, I was exploring what has happened with my HIVE account? To my surprise, I was quite fascinated with some of the automated tasks. Although, there were some steps which has made me realize I just lost a week full of growth and I could have obtain some more HIVE assets. To start with, I would like to say my blog has been empty for a week! My last post was approximately a week ago. So that's a bummer. One whole week just got wasted. And this week I will not get any sort of posting rewards. That's a shame.
---
What else have I obtained?
---
Passive income has been my prime target on HIVE. Yes. there seems to be some traditional ways to obtain passive income on HIVE. Some of them are pretty exquisite while some are not! HIVE POWER, is one of that method which helps a HIVE user to grow in the chain. As of this moment, I have very low HP, but yet I am getting some nice return.
---
My curation reward. Yes, it has been bumping up and down. I need to keep a look on it more frequently. As it might give me some additional benefits along the way.
---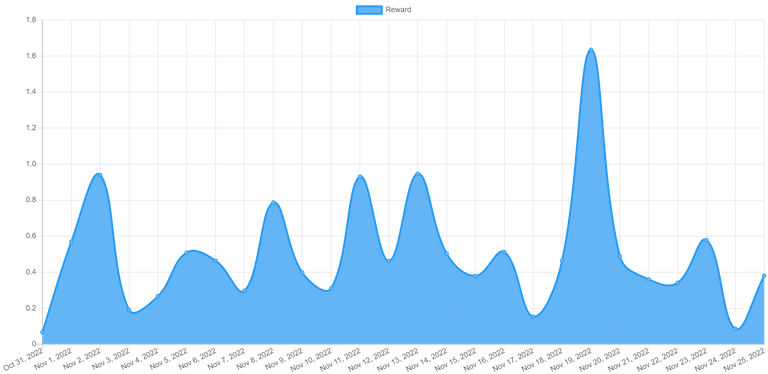 Image source : Peakd analytics
---
---
The one place where money does literally falls from the sky. Yep, it might sound little odd but it is somehow a truth. Anybody who is interested in the game, may try it out for themselves. Although, with the recent layoffs it was sort of a bad news for us all but I suppose as of now the team would be giving more focus on building the eco system even more better. So in my absence, what was I getting during the last few days from Splinterlands?
---
---
My SPS stash has been increasing everyday! I have staked SPS in my Hive account and it has been generating revenue for me every single day. As of my staked SPS balance, I am successfully receiving 17 SPS (approx) every day. Although, this is subjective to change in the coming days. Since more SPS gets staked the less rewards user will receive. If I precisely, count my revenue for the last seven days it would be around 102 SPS for a week. Current price of 100 SPS is 10.723448 SWAP.HIVE ($3.905394). Well, it might not sound a lot of money but just imagine what those users are getting who are considered a whale in the chain. My stake is nothing compared to those folks. Some are earning more than $50 every single day. Such a crazy place is Splinterlands.
---
My GLX balance has been the cherry on the top for myself. Needless to say, we have been getting GLX for quite some days. The airdrop is to run over 365 days. Although week/s has passed by and the price of GLX has been setting down. So keeping that in mind, I was able to collect some nice price for the GLX which I was selling almost everyday as I was expecting the price to settle down in the coming days. So it happened as well and we are seeing the price coming down to 0.30 ish HIVE during the last two days. Free money has been growing on the tree of GLX even when I was not performing any tasks. But just staking and being on the platform of HIVE aka Splinterlands has helped me got those free HIVE :)
---
Card renting has been working very much fabulously for me for the last few days. I have been using Splexgg service and here is my referral link if you want to try out their service. I will write a separate post about how and what I have been doing with this rental service. I have a set of cards which is not that much in value and if I play with them I will probably not even cross a certain league but with this service I am getting DEC everyday and I am preserving those DEC's in my account. So nice little passive income coming to my account everyday.
---
I am not sure where else....
---
Will I get something beneficial as HIVE. As because if I want to look elsewhere for such passive income I would either be fooled by scam projects or I would have to be a whale to survive among those high APR's. Which is why I am pretty much focused on increasing my stake on HIVE related assets. Which is why I have been building my assets slowly and I have been performing tasks which would literally help me in the coming days. I mean, not only in terms of passive income but in near future I want to be financially independent due to HIVE. That day, would be an achievement which I will cherish for the rest of my life.
---
Splex.gg Rental Service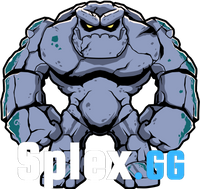 Optimize your time and the return on your Splinterlands assets!
---
---
---
If you want to play Splinterlands
---
Best regards
Rehan
---

Posted Using LeoFinance Beta
---
---