Think of this as a casual Hive users guide to Hivefest5 talks:
A lot of people were disappointed by the ALTspaceVR glitches on PC. As a meet up, it was kind of a nightmare, but as a conference with information and updates from various projects, Hivefest5 was a massively successful showcase of what we have to offer.
Despite our difficulty in finding a boost in our user base this past year since becoming Hive, our chain is emerging as a potential power player in the move to Web 3.0.
Over the past few weeks, I've stopped seeing Hive as a social network, and started seeing it as an underlying protocol for a variety of dApps and use cases, which is what many of the developers have seen it as all along. It's not to say Hive can't be social at its core, but eventually so much will be built on the first layer that most of the social and artistic and community stuff will probably move to second layer organically. Hivefest drove that home hard.
I am starting to see Hive almost like a tiny version of a new internet with a built in payment protocol and governance mechanism, and a sign in function (keychain allows us to use our hive login the same way we can use gmail and Facebook to sign in to various websites), and our Hiveapps are like websites on this mini internet. The list of Hiveapps keeps growing.
Hivefest really helped me conceptualize this as something not forced upon us by witnesses and developers but as something that is occurring naturally through the capabilities of the blockchain. Hivefest showcased the progress made over our first year as one of the most decentralized community of communities out there. For the longest time, I wanted the first layer to be a better place for content creators but now I see how much is going on at the second layer and who could complain? This is why the big players at Hive have always been focused on developers. Luckily the social users have stuck around because we help raise awareness which brings in more potential developers and projects.
Though we couldn't really hang out much in AltspaceVR, @roelandp did a fantastic job bringing the speakers together, hosting in all his quirkiness, and almost pulling off this awesome way to meet up in times when travel is extremely difficult. I don't blame him for the glitches, this is just an instance of the technology not being ready.
Day 1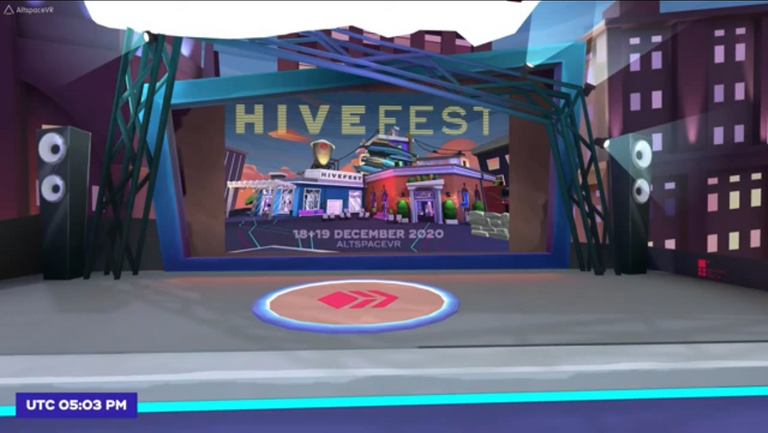 The first day was a reminder that while things on the surface move slowly at times, a lot is happening under the hood.
The biggest impression was probably from Hive-engine's @cryptomancer (if I'm not mistaken @yabapmatt and aggrieved are also involved in this), and the way they are trying to make it easy to build businesses on top of Hive. I don't understand much about the technicals of smart contracts but I understand how making tokenization easy will allow many different 2nd layer projects to thrive on hive, attracting everything from artists to website developers to business owners. This focus on the second layer make me want to support front-ends like @naturalmedicine who serve a distinct niche and aren't as far along with developments as something like Leo which has more investment and tech savvy people on board. I hope we can help these front ends find the tech savvy people.
It was great hearing from @howo and @blocktrades and learning that they have over a dozen developers working on the back-end along with the other hive developers and that there are over 100 developers working on hive based dApps. For a small community we sure have a lot going on.
I also like this idea from the next Hard fork of expiring governance votes after a long period of inactivity. I hope services like hive.vote could implement that as well. It's kind of strange to see inactive users still throwing their weight around.
I'm a big fan of @jarvie and Peakd and so their plans for a smartphone app is really exciting. Their work on analytics has been fantastic as well. They mentioned something about marketing being on their roadmap and they have been consistently the best way to access the entire hive blockchain in a user friendly way so I am happy to see that as part of their plans. They are looking for a developer or two so if you know someone who might be interested, please contact them, I'd love to see their future developments soon!
@ecency has done great with their app too and @good-karma is always really responsive towards feedback. It will be interesting to see how these two apps evolve along side each and seeing the different paths they take.
The gaming is somewhere where I don't spend much of my focus but I thought @yabapmatt's plan to onboard users through light-accounts first and incentivizing people to sign up at Hive from there is a really good play and as I've said before, the quality of music and art on that game is impressive.
Nice to see how new games are developing, @qwoyn showed off Hash Kings, I love the idea of strengthening the weedcash community at Hive because I think that whole scene has a natural overlap with crypto, and I'd love to see more countries opening up to it.
I loved how @themarkymark brought up the way he presents Hive to others because I think we need to do more to integrate our work at hive with our other interactions with friends, work and social media rather than trying to PREACH hive to people. If you are going to preach, turn it into a seminar for content creators or people looking to get into crypto or some niche and how hive can benefit them. Otherwise just make it fun and seamless with your life off-chain.
I already am mixing up things I learned from Hive-engine and Hive keychain but Hive Keychain has been essential in making Hive more user friendly and it making it easier to conceptualize how we are moving towards Web 3.0 so props to @stoodkev
And while the whole wrapping of coins seems a little ridiculous to me when ETH fees are so high, it will be an important thing in the future so I'm glad we have a head start thanks to @fbslo.
In summary
There was no huge stand out speaker for me in Day 1 but rather a bunch of impressive projects with real development going on and a more and more cohesive vision which is incredibly impressive due to the fact that we have no centralized leadership and a ton of different ideas and opinions. It seems there is enough overlap in our overall goals that we are able to put aside our differences enough to have a little functioning society here which means we will be able to build a strong foundation to keep evolving and represent a variety of different users and projects with different prerogatives. Even the strongest on the platform seem less interested in holding on to power and more interested in the potential of what we can build.
While I always think it's important to maintain some healthy skepticism, it seems we are in safer hands than we have ever been, we are essentially in our own hands.
That's why I'm watching the BTC/Hive price carefully and getting ready to buy more Hive. With competent people all over the place who are able to communicate and build consensus, I am happy to have a little less bitcoin and become a bigger player at this amazing platform which has become home for me.
Day 2 write-up coming soon....
EDIT: Part 2!
🌎🌎🌎🌎🌎🌎🌎🌎🌎🌎🌎🌎🌎

Come join us in Hive Cross Culture where we talk and share ideas about Culture, language and travel and share any bilingual content. Join our discord
We also have a @crossculture account curating bilingual posts and running contests to support local communities. If you like what we do, please consider delegating to @crossculture or follow our trail 🙂