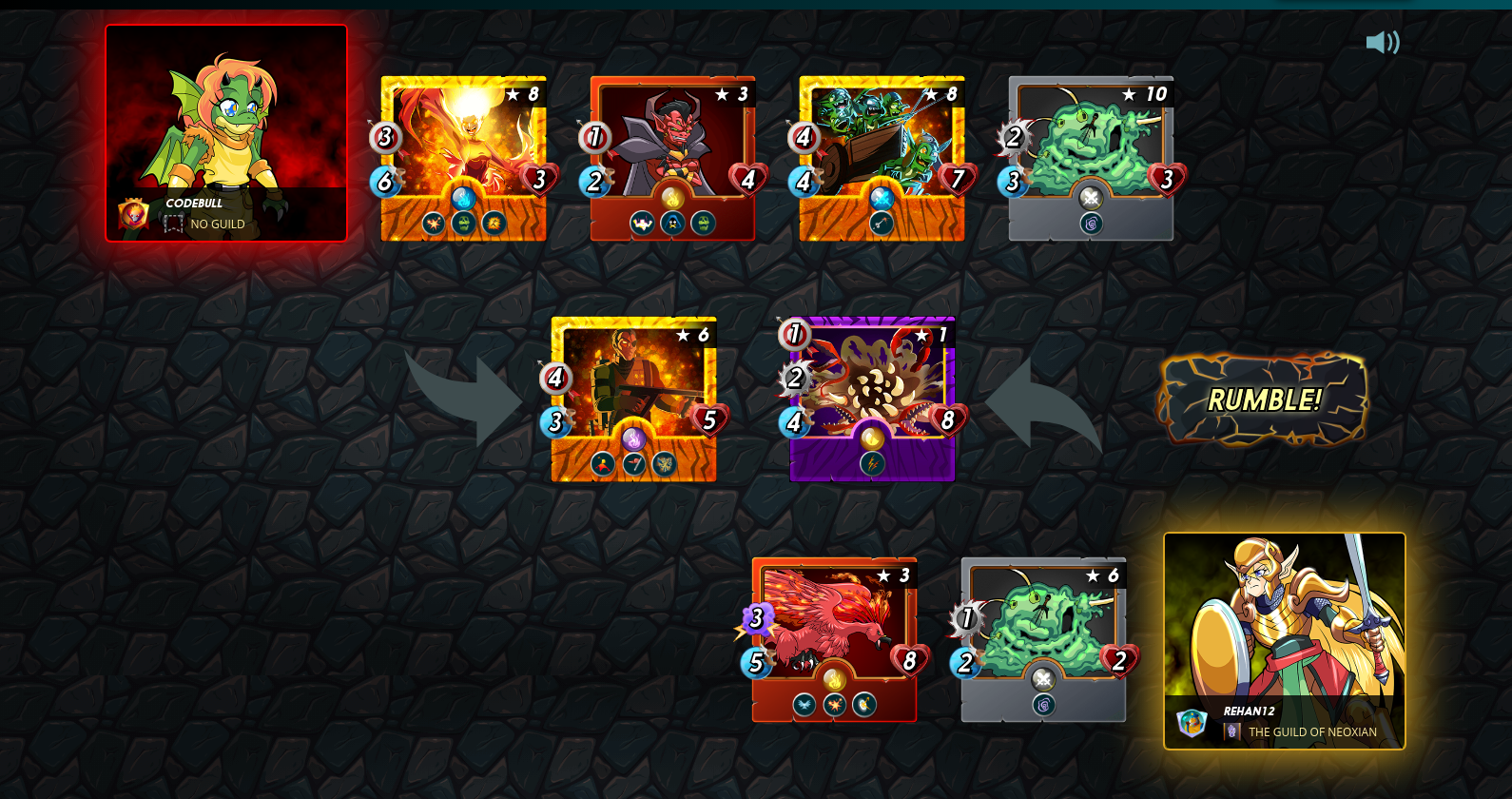 Battle Link
Today's top battle is between me and rehan12.
Ruleset: Close Range and Odd Ones Out
Mana Limit: 21
I have selected Talia Firestorm (Lvl 6) summoner, and Ferexia General (Lvl 6), Fire Elemental (Lvl 8), Lord of Fire (Lvl 3), Goblin Chariot (Lvl 8), Creeping Ooze (Lvl 10) monsters. Opponent has fielded Daria Dragonscale (Lvl 5) summoner and The Vigilator (Lvl 1), Creeping Ooze (Lvl 6), Elemental Phoenix (Lvl 3) monsters.
This battle has earned me 38.938 DEC and 42 rating points.
Today's Quest Rewards
| Cards | Gold | Legendary | Dec | Orb |
| --- | --- | --- | --- | --- |
| Baby Unicorn, Sand Worm, Gloridax Soldier | 2 | 5 | 322 | 0 |
Today's All Battles
| Me | Result | Opponent |
| --- | --- | --- |
| Selenia Sky (Lvl 3), Chain Golem (Lvl 2), Manticore (Lvl 4), Pirate Archer (Lvl 6), Azmare Harpoonist (Lvl 5), Fire Spitter (Lvl 5), Furious Chicken (Lvl 6) | Win View | Selenia Sky (Lvl 4), Furious Chicken (Lvl 1), Clay Golem (Lvl 8), Silvershield Warrior (Lvl 10), Silvershield Knight (Lvl 10), Peacebringer (Lvl 8), Defender of Truth (Lvl 6) |
| Lyanna Natura (Lvl 4), Peaceful Giant (Lvl 5), Earth Elemental (Lvl 4), Javelin Thrower (Lvl 4), Goblin Chariot (Lvl 4), Highland Archer (Lvl 5), Child of the Forest (Lvl 4) | Win View | Pyre (Lvl 5), Molten Ogre (Lvl 5), Giant Roc (Lvl 4), Kobold Miner (Lvl 5), Flame Imp (Lvl 5), Fire Elemental (Lvl 5) |
| Lyanna Natura (Lvl 4), Minotaur Warlord (Lvl 2), Brownie (Lvl 3), Khmer Princess (Lvl 4), Goblin Sorcerer (Lvl 4), Javelin Thrower (Lvl 4), Mitica Headhunter (Lvl 1) | Loss View | Daria Dragonscale (Lvl 6), Chromatic Dragon (Lvl 4), Giant Roc (Lvl 8), Serpentine Mystic (Lvl 5), Goblin Shaman (Lvl 8), Fire Spitter (Lvl 2), Cerberus (Lvl 7) |
| Lyanna Natura (Lvl 4), Chain Golem (Lvl 2), Earth Elemental (Lvl 4), Khmer Princess (Lvl 4), Goblin Sorcerer (Lvl 4), Screeching Vulture (Lvl 5), Goblin Chef (Lvl 5) | Win View | Tyrus Paladium (Lvl 4), Lord Arianthus (Lvl 2), Grumpy Dwarf (Lvl 5), Divine Healer (Lvl 4), Defender of Truth (Lvl 3), Silvershield Archers (Lvl 4), Peacebringer (Lvl 4) |
| Lyanna Natura (Lvl 4), Flesh Golem (Lvl 5), Earth Elemental (Lvl 4), Brownie (Lvl 3), Furious Chicken (Lvl 4) | Loss View | Wizard of Eastwood (Lvl 7), Furious Chicken (Lvl 6), Kron the Undying (Lvl 3) |
| Lyanna Natura (Lvl 4), Flesh Golem (Lvl 5), Screeching Vulture (Lvl 5), Khmer Princess (Lvl 4), Goblin Chef (Lvl 5), Creeping Ooze (Lvl 5), Furious Chicken (Lvl 4) | Win View | Alric Stormbringer (Lvl 5), Sea Monster (Lvl 6), Naga Windmaster (Lvl 5), Pirate Archer (Lvl 5), Creeping Ooze (Lvl 6), Furious Chicken (Lvl 1) |
| Talia Firestorm (Lvl 6), Ferexia General (Lvl 6), Fire Elemental (Lvl 8), Lord of Fire (Lvl 3), Goblin Chariot (Lvl 8), Creeping Ooze (Lvl 10) | Win View | Daria Dragonscale (Lvl 5), The Vigilator (Lvl 1), Creeping Ooze (Lvl 6), Elemental Phoenix (Lvl 3) |
| Lyanna Natura (Lvl 4), Lord Arianthus (Lvl 2), Prismatic Energy (Lvl 4), Wood Nymph (Lvl 5), Javelin Thrower (Lvl 4), Mitica Headhunter (Lvl 1), Mushroom Seer (Lvl 4) | Win View | Pyre (Lvl 8), Cerberus (Lvl 5), Pyromancer (Lvl 1), Elemental Phoenix (Lvl 4), Fire Demon (Lvl 5), Beetle Queen (Lvl 5), Cornealus (Lvl 1) |
| Lyanna Natura (Lvl 4), Prismatic Energy (Lvl 4), Kron the Undying (Lvl 1), Tortisian Chief (Lvl 3), Magi of the Forest (Lvl 3), Brownie (Lvl 3), Goblin Sorcerer (Lvl 4) | Win View | Lyanna Natura (Lvl 5), Rexxie (Lvl 4), Prismatic Energy (Lvl 4), Mushroom Seer (Lvl 3), Wood Nymph (Lvl 6), Magi of the Forest (Lvl 1), Goblin Sorcerer (Lvl 4) |
| Selenia Sky (Lvl 3), Stone Golem (Lvl 6), Earth Elemental (Lvl 4), Brownie (Lvl 5), Furious Chicken (Lvl 6) | Win View | Daria Dragonscale (Lvl 5), Haunted Spirit (Lvl 7), Furious Chicken (Lvl 4), Skeleton Assassin (Lvl 8) |
| Lyanna Natura (Lvl 4), Flesh Golem (Lvl 5), Screeching Vulture (Lvl 5), Brownie (Lvl 3), Javelin Thrower (Lvl 4), Mitica Headhunter (Lvl 1), Furious Chicken (Lvl 4) | Loss View | Alric Stormbringer (Lvl 3), Frozen Soldier (Lvl 3), Creeping Ooze (Lvl 4), Ruler of the Seas (Lvl 2), Ice Pixie (Lvl 1), Pirate Captain (Lvl 4), Water Elemental (Lvl 3) |
---