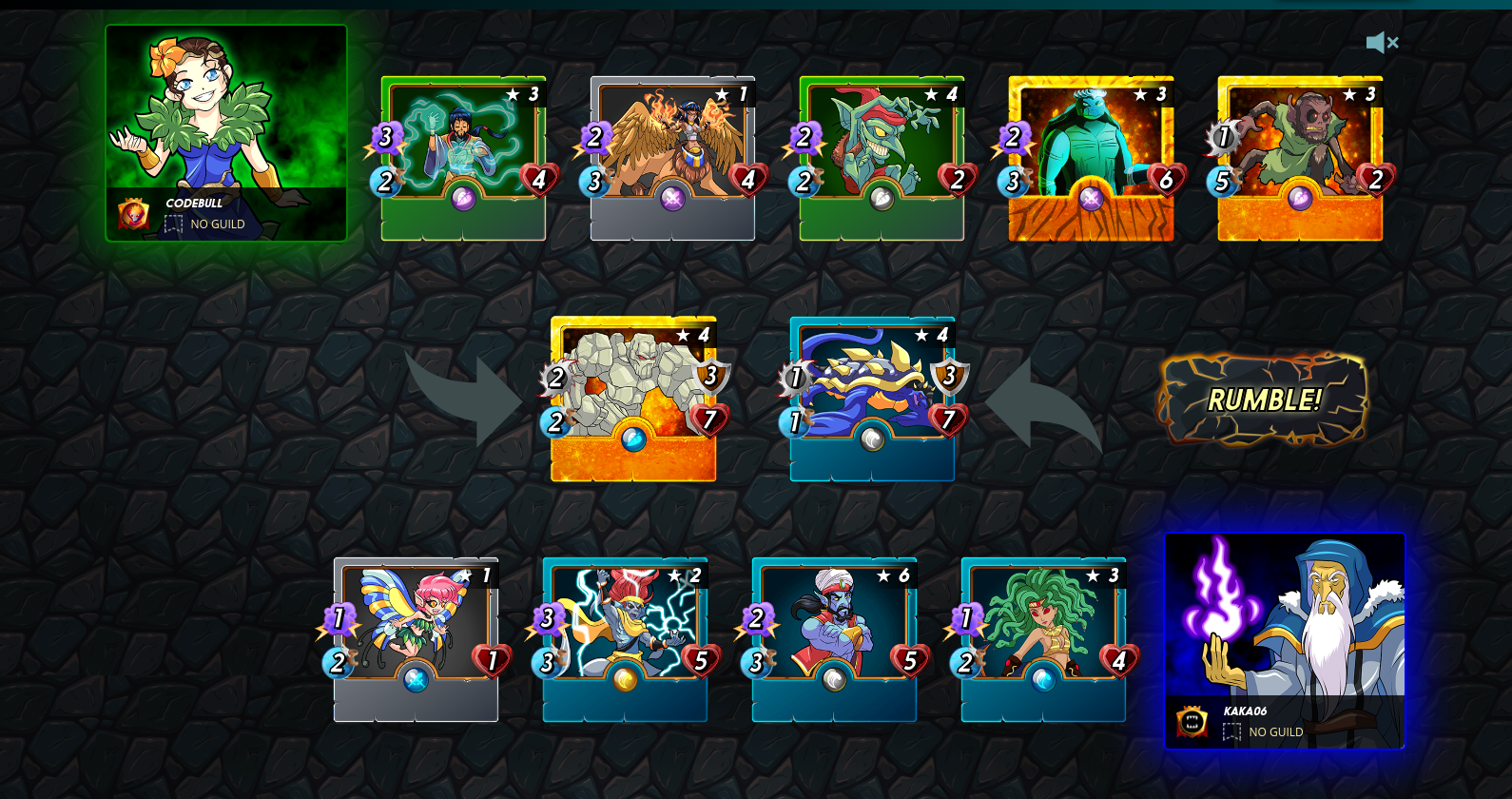 Battle Link
Today's top battle is between me and kaka06.
Ruleset: Back to Basics and Melee Mayhem
Mana Limit: 26
I have selected Lyanna Natura (Lvl 4) summoner, and Stone Golem (Lvl 4), Magi of the Forest (Lvl 3), Magi Sphinx (Lvl 1), Goblin Sorcerer (Lvl 4), Tortisian Chief (Lvl 3), Brownie (Lvl 3) monsters. Opponent has fielded Alric Stormbringer (Lvl 5) summoner and Spineback Turtle (Lvl 4), Medusa (Lvl 3), Sea Genie (Lvl 6), Ruler of the Seas (Lvl 2), Enchanted Pixie (Lvl 1) monsters.
This battle has earned me 26.849 DEC and 18 rating points.
Today's Quest Rewards
| Cards | Gold | Legendary | Dec | Orb |
| --- | --- | --- | --- | --- |
| Silvershield Sheriff, Screeching Vulture, Wave Runner, Gelatinous Cube, Sand Worm | 3 | 2 | 81 | 1 |
Today's All Battles
| Me | Result | Opponent |
| --- | --- | --- |
| Lyanna Natura (Lvl 4), Stone Golem (Lvl 4), Magi of the Forest (Lvl 3), Magi Sphinx (Lvl 1), Goblin Sorcerer (Lvl 4), Tortisian Chief (Lvl 3), Brownie (Lvl 3) | Win View | Alric Stormbringer (Lvl 5), Spineback Turtle (Lvl 4), Medusa (Lvl 3), Sea Genie (Lvl 6), Ruler of the Seas (Lvl 2), Enchanted Pixie (Lvl 1) |
| Lyanna Natura (Lvl 4), Minotaur Warlord (Lvl 2), Magi of the Forest (Lvl 3), Magi Sphinx (Lvl 1), Spirit Miner (Lvl 2), Tortisian Chief (Lvl 3), Mushroom Seer (Lvl 4) | Win View | Alric Stormbringer (Lvl 4), The Kraken (Lvl 2), Peaceful Giant (Lvl 3), Pirate Captain (Lvl 2), Naga Windmaster (Lvl 3), Centaur (Lvl 4), Water Elemental (Lvl 3) |
| Lyanna Natura (Lvl 4), Chain Golem (Lvl 2), Screeching Vulture (Lvl 5), Earth Elemental (Lvl 4) | Loss View | Zintar Mortalis (Lvl 5), Lord Arianthus (Lvl 3), Haunted Spirit (Lvl 5), Furious Chicken (Lvl 3), Cursed Slimeball (Lvl 1), Shadowy Presence (Lvl 1), Undead Priest (Lvl 3) |
| Lyanna Natura (Lvl 4), Furious Chicken (Lvl 1), Kron the Undying (Lvl 1), Magi Sphinx (Lvl 1), Magi of the Forest (Lvl 3), Goblin Sorcerer (Lvl 4) | Win View | Delwyn Dragonscale (Lvl 4), Khmer Princess (Lvl 1), Serpentine Mystic (Lvl 1), Mushroom Seer (Lvl 3), Spirit Shaman (Lvl 1), Earth Elemental (Lvl 3), Goblin Sorcerer (Lvl 4) |
| Lyanna Natura (Lvl 4), Unicorn Mustang (Lvl 4), Chain Golem (Lvl 2), Javelin Thrower (Lvl 4), Mitica Headhunter (Lvl 1), Goblin Chariot (Lvl 4), Mantoid (Lvl 4) | Win View | Delwyn Dragonscale (Lvl 4), Nectar Queen (Lvl 4), Peaceful Giant (Lvl 4), Sand Worm (Lvl 2), Wood Nymph (Lvl 4), Mushroom Seer (Lvl 3), Javelin Thrower (Lvl 3) |
| Lyanna Natura (Lvl 4), Unicorn Mustang (Lvl 4), Failed Summoner (Lvl 3), Khmer Princess (Lvl 4), Barking Spider (Lvl 5), Mitica Headhunter (Lvl 1), Mantoid (Lvl 4) | Loss View | Alric Stormbringer (Lvl 3), Frozen Soldier (Lvl 3), Spineback Turtle (Lvl 4), Spirit Miner (Lvl 1), Ruler of the Seas (Lvl 1), Naga Windmaster (Lvl 3), Centaur (Lvl 4) |
| Lyanna Natura (Lvl 4), Chain Golem (Lvl 2), Kron the Undying (Lvl 1), Khmer Princess (Lvl 4), Magi of the Forest (Lvl 3), Goblin Thief (Lvl 4), Enchanted Defender (Lvl 5) | Win View | Prince Rennyn (Lvl 4), Goblin Mech (Lvl 10), Prismatic Energy (Lvl 3), Magi of the Forest (Lvl 3), Wood Nymph (Lvl 6), Barking Spider (Lvl 1), Centaur (Lvl 1) |
| Lyanna Natura (Lvl 4), Unicorn Mustang (Lvl 4), Prismatic Energy (Lvl 4), Mushroom Seer (Lvl 4), Javelin Thrower (Lvl 4), Mitica Headhunter (Lvl 1), Goblin Chariot (Lvl 4) | Loss View | Alric Stormbringer (Lvl 5), Sea Monster (Lvl 6), Prismatic Energy (Lvl 5), Sea Genie (Lvl 6), Ruler of the Seas (Lvl 2), Crustacean King (Lvl 6), Naga Windmaster (Lvl 5) |
---