hive.pizza | Witness Updates, Airdrops, Events, Za Burn & more!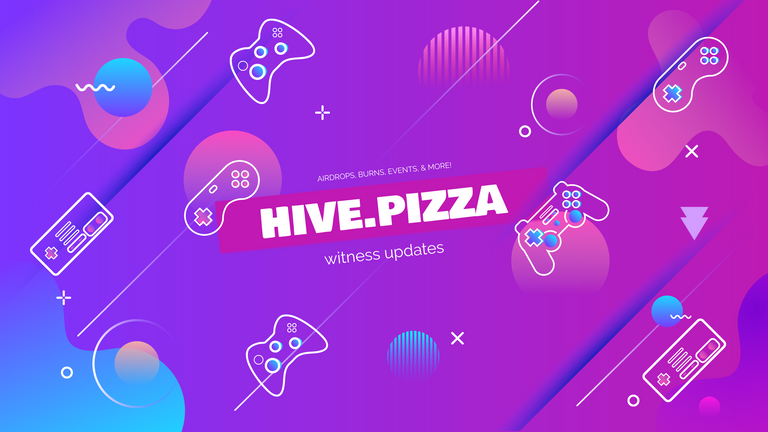 Hey everyone!
We hope everyone had a safe New Year weekend and are transitioning into 2022 okay! Over in the PIZZA Discord server we ended the year and brought in 2022 with quite the bang. Not only did we have basically a full weekend-long party, but we surprise airdropped our year-end NFT and gave away hundreds of dollars worth of games and PIZZA tokens!
We'll go over some of that in just a moment but first, I wanted to make sure everyone had a chance to review some of the awesome behind-the-scenes stuff that has been going on over in the PIZZA shop! Our amazing Gourmet Chef @hivetrending recently published a new developer post highlighting some of the 'under-the-hood' items we've been working on such as our involvement in the Beem Python library, https certificates for our node monitors, project x mention, and more!
You can read the first 2022 PIZZA developer post in full here so make sure you tab it up and give it a read immediately after this post! 😀
1 Million Burns
We are excited to announce that we were on-schedule and executed a burn on over 1 million PIZZA tokens by January 1st, 2022 which is a little under $100,000 usd at current value. This signifies the completion our first successful year as a project here at HIVE and prepares us for many more burns and years to come!
HAPPY ONE MILLION!
Witness update
Rank: 68/63
We continue to see an incredible amount of support coming in week over week and our Witness ranking continues to grow. With over 2,500 discord community members and over 7,500 wallet holders already, we are confident that this year our Witness will see top 50 achieved!
If you want to support a project that is fully focused in not only bringing and onboarding more users to HIVE, but have already released and are continuing to build tools that are aiding in making HIVE an even more awesome place every day, please consider casting a vote for @pizza.witness!



Staker Rewards & Year-End Airdrop
We want to thank everyone for their patience on the "big announcement" around staking rewards. We're getting pretty close to that announcement and while I don't want to put a date on it yet, the holiday is finally coming to a close and I am going to be requesting some time from work here in the next few weeks to finish wrapping this up if not done by then already. Thanks again for being human about this and understanding why we fell behind on this release. In the meantime, we're definitely still insanely busy bringing you guys additional rewards and other awesome things/events!
With that said, we're extremely happy to announce our surprise airdrop of the year-end NFT for those who were staking 200 or more PIZZA tokens at the time of the snapshot, which was during our first New Year party event kickoff on January 1st in the PIZZA Discord server! This NFT signifies the end of a tough but rewarding year. While we definitely experienced hardship and made a few tough decisions, we overcame it at every crossing. The PIZZA community is resilient and absolutely amazing!
This is just the first of more airdrops to come. We're preparing a pretty awesome announcement that will ring out in the coming weeks for our stakers. Things are going to get bigger and better in 2022 for the PIZZA community!
If you missed the NFT drop, you can still pick it up from our official @hive.pizza NFT Showroom account for 8 HIVE. All proceeds go directly to the project for future NFT minting.



You can view the full NFT image on showroom here
Discord Server Update
Our Discord server plays a large role in bringing together awesome people, and we have a lot of them! To facilitate our growing community (which is exploding with growth) we have implemented additional roles, structure, and community engagement tools to help facilitate a diverse and
New Music Bot in Development - Introducing Marinara!

We identified that our community required another music bot (we're getting busy!) so we've started developing a new and awesome Music and Community bot for the PIZZA community called Marinara Music Bot! You can now use this bot alongside our awesome music robot ZaBot and our 24/7 LoFi bot to listen to great tunes at any time in the day or night!
I am considering integrating the PizzaBox project (a general-use public community bot we're building) into Marinara going forward as it would be ideal to package all of the moderation tools and games we've built into one bot leaving us with just Marinara and Pizzabot, which is our infamous HIVE-based Discord server bot that is used in over 10 servers already.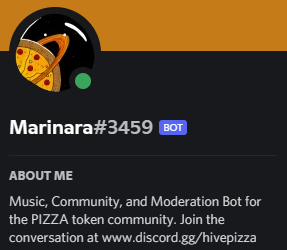 Role Updates

We have adjusted a few roles to give users more control over their pings and interests. Whether you're into movies, music, writing, or even food...we have an interest for you!
All roles have received a full color spectrum update.



Level System

For those who have been around the PIZZA community for a while know that we've had a system for tracking your community engagement in place for a while now. This past weekend we implemented the ranking system for this which is now live and in effect. If you were already active in the community, you will immediately be adjusted for the rank you should receive based on your engagement score upon typing in the server for the first time since the system went into place.
These ranks will lead to additional roles and rewards such as PIZZA tokens and even NFTs. We will be releasing more information on these engagement rewards very soon! Happy engaging!



Giveaways

If you stake more than 200 PIZZA tokens you are currently eligible for even more staking rewards in our Discord server through our engagement giveaways! Here are some of the awesome rewards that were earned by stakers engaging in our Discord server this past week:

Over 2,000 PIZZA tokens
x4 25 SPS awards winners
x4 50 SPS awards winners
x3 Hash King Seeds winners
x4 11,250 BUDS winners
x4 Discord Nitro winners
x11 Steam video game key winners
x5 Exode Weapon NFT winners
x4 Rising Star PIZZA Bike NFT winners



New Discord Tipping Commands

If you did not already know, you can send PIZZA tokens to and from one another through our partnership with tipcc. We've customized some additional commands for usage in the server to allow users to tip their friends such as '$tip user 1 large za' to send a full PIZZA token or '$tip user 1 medium za' to send half of a PIZZA token. Expect more fun ways to tip friends to come very soon!
Events
Our event schedule is really starting to heat up as we bring the HIVE community together for fun throughout the week. The New Year's weekend saw events all throughout the day as we worked to cover as many time zones as we could to keep the party raging! We were supposed to hold two separate NYE parties but the party never ended and turned into a full-on 8+ hour community party. You guys are animals! Here are a few other other fun events we saw happen in the PIZZA Discord server over the weekend:
8+ hour dance party DJ'd mostly by @thebeadflex with over 40 people signed in and participating
PIZZA Trivia w/ token rewards
Crab Games (a free game on Steam that parodied Squid Games) w/ participation and winner rewards
Key and Peele marathon
Invite Contest
Last One Standing endurance contest
Multiple staker and non-staker giveaways
We had tons of fun listening to music, dancing, playing games, meeting new people, and earning some pretty great rewards!
Upcoming Contests
We have some pretty cool new events coming up that we'd like to shed some light on in case you were not aware!
First, @cryptoniusrex hosts a bi-weekly Chess Tournament with some pretty epic prizes! We know many of you like Chess, come play and earn your spot among the greats! You can read more about the Chess tournament and the next date in the latest post here.



Details for our first gif competition will be announced in the next few days. If you love making memes, gifs, or animation you will have an awesome opportunity to score some great loot by participating in the contest. Please keep an eye out for details!



The PIZZA team is also sponsoring a large upcoming Splinterlands tournament with over $300 in prizes! I highly recommend our Splinterlands crew jump on this and represent!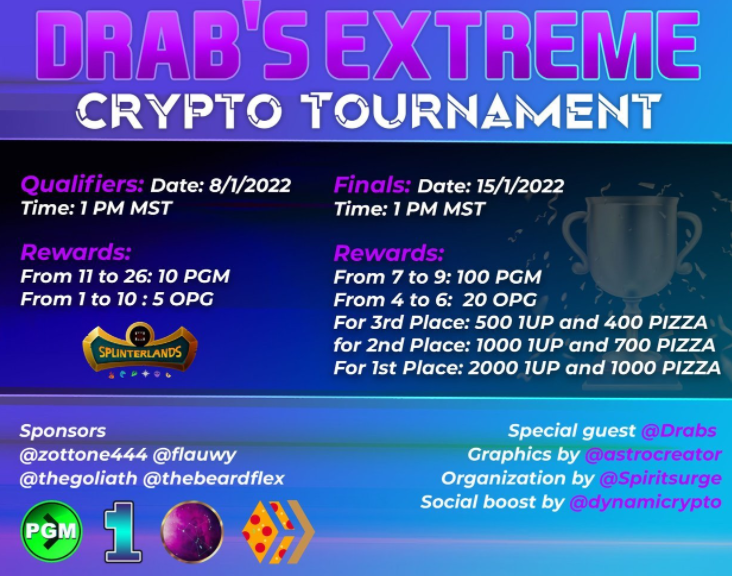 Misc
We have a few more donations pending for the Holiday Music Album! I am just waiting for those to clear and we will be sending them out to the artists who participated in the hive.pizza Holiday Album! If you missed it, you can stream the hive.pizza Christmas album for free on our Holiday page located at https://hive.pizza/holiday.


If you are interested in partnering with the PIZZA project, please feel free to reach out to me through DM on Discord or on here. We have active partnerships with several projects, games, and communities are always interested in having a conversation!


We will be looking to grow our community moderation team more in the coming weeks to help support our amazing growth. We will be looking at people who are actively engaging and demonstrating great community behaviors. Please make sure you are in our Discord server if this is something that may interest you.
REWARDS
Discord Photo Engagement
We will be changing up the format of the Discord Photo Engagement a bit as we have definitely seen a ramp up in submissions and making the decision myself is becoming much harder! You guys submit some really amazing looking pies!
Going forward, we will be asking the community to emoji the submissions they enjoy the most and will be making our decisions based on engagement + amazing-ness of the provided Za photo.
We would like to invite you all to help us backdate the competition and vote on any photos in our #pizza-pics channel that were posted on or after December 26th. Next week we will get back to business and reward this week + next week participants.
Lucky 5 Raffle Weekly $PIZZA Holders
(randomly chosen weekly from all holders with >= 1 $PIZZA in their wallet)
These lucky winners have won 3% of their staked $PIZZA holdings value back!
@jackyng @nilarwin @olivia08 @amberyooper @chunkysoupsvc
500+ Tier Raffle for $PIZZA holders
These 5 bonus winners are drawn from holders with >= 500 $PIZZA
Congratulations and thank you for locking up your tasty za! Enjoy your bonus rewards of 3%!
@diamonddreamer @okean123 @abh12345 @a1-shroom-spores @quekery
Daily Winners
Congratulations! You have won an instant 4% APR of your staked $PIZZA holdings back in additional $PIZZA!
@nayhlaingsoe @double-eagle @dajokawild @uncorked-reality @aussieninja @rondonshneezy @lotto-de

DELEGATE TO PIZZA
Please consider delegating your HP to our @hive.pizza curation account. Not only does it help our project grow, but it also allows us to further ramp up our onboarding and curation services. The Pizzabot you know and love also consumes more and more HP every day which has to come from our curation account. Not only this, but you will farm your share of the daily $PIZZA rewards pool!



You can also check out the HIVE.PIZZA website here.
Buy $PIZZA
Leodex
Tribadex
Hive-Engine

Join the Discord and $PIZZA NATION

Join our curation trail here
Vote for us as Hive-Engine witness here
Vote for us as HIVE WITNESS HERE
---
---