Hive has made a gamer out of me. I'm currently involved in three games. dCity, RisingStar and of course Splinterlands.
I thought it would be fun to do a weekly blog post about what I'm working on and the strategies I'm using to play each game. I've got almost 2 years experience playing Splinterlands the rest of the games I'm just learning as I go.
Where to start first?
RisingStar
RisingStar... I guess this is considered an RPG. You're a lowly street musician / busker working your way up the ranks to stardom. I've had a lot of fun playing this. Basically you're collecting cards and fulfilling missions. As you climb the ranks you earn Starbits which are in game currency.
Cards have different values of skill levels, luck, number of fans and IM... Not sure what IM is but I currently have 65 of them.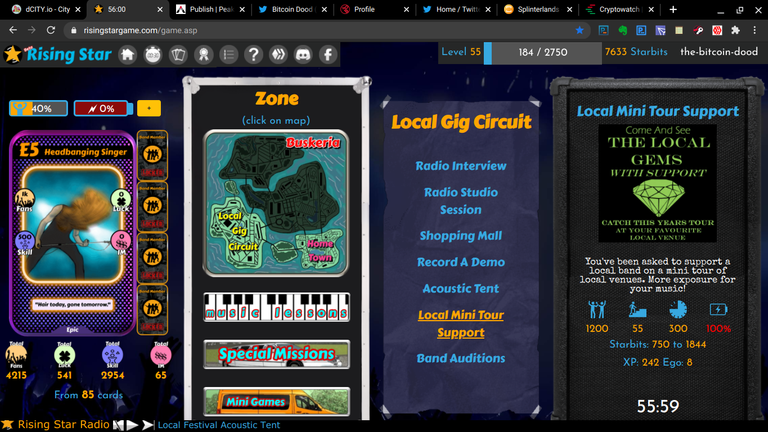 The game just entered BETA and they had an offering of 12 packs of cards for 100000 Starbits. Basically they were giving you two free packs because they're normally 10000 Starbits a pack. They also tossed a Mozart card. I found out about the card pack promotion through a blog post @steevc wrote.
I'm not going to go through every card in my collection in this post, but here's a capture of the Mozart card I scored. You can see Mozart down there in the bottom right hand corner.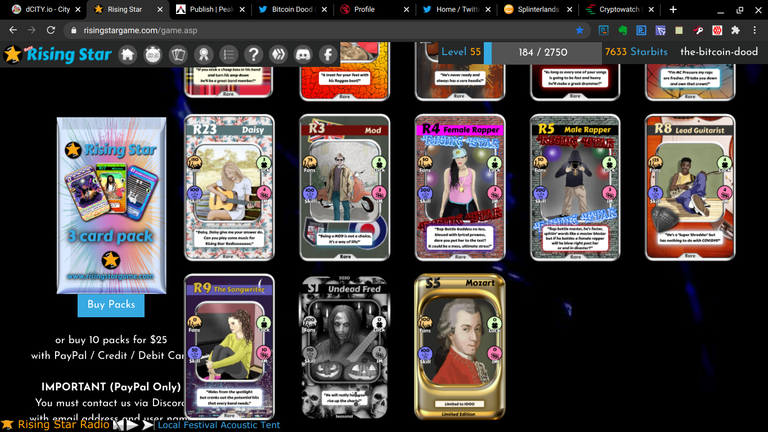 Current Strategy:
If you go back up to the first picture I posted you'll see a couple power bars above the headbanger card on the left. The yellow bar is ego. From what I understand the amount of ego you have affects the amount of Starbit you earn for each mission.
Unfortunately when I bought the 12 pack deal it sent my fans through roof and when you have more fans than skill you end up with an Ego problem. So currently I'm doing 100% power missions, then with the new power generated during the missions I'm taking music lessons which help to lower my ego. I'll then finish up with some small 15% power missions until I'm close to 1 or 2% power, then power up with pizza, do another 100% mission and repeat the entire process.
I'll start sharing some images of my cards and any new cards I buy in future posts.
dCity
I think I posted a little about dCity last week. Here's where I'm at currently.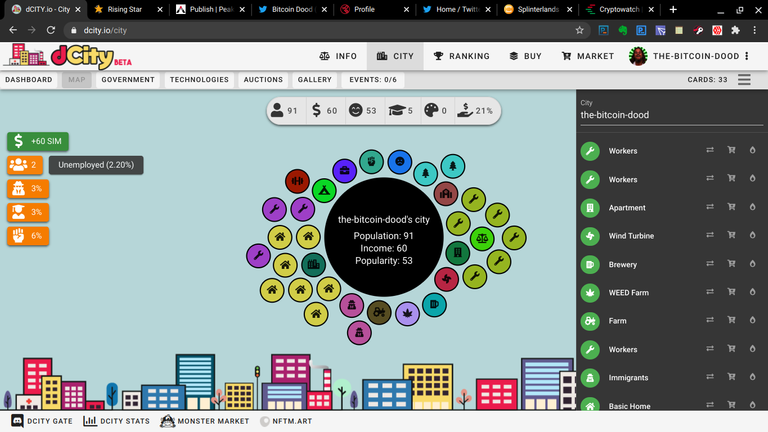 This is my basic set up. I should of kept track of the amount of Hive I invested to get here but I didn't... I'm guessing maybe around 50 hive to start give or take a few.
I currently have a population of 91 generating about 60 SIM per day. Unemployment is a little above 2%. I purchased a job center and a couple immigrants after my last post. I also won a couple homeless people and the job center has already converted one homeless into a worker! YaY virtual capitalism! I'll post any new additions and why I added them each week as I grow.
Current Strategy
At this point I'm going to use this as my foundation and reinvest any SIM earnings back into the game along with a few HIVE each week till the game starts paying for itself and I have a much larger population. I'm also earning BEER and WEED through a weed farm and brewery that I purchased.
If anyone has a good strategy for this game or knows of some revenue generating cards I must have please share in the comments. I'm starting my third week of playing here and just winging it as I learn.
Splinterlands
I'm currently stuck in Silver I this season. I have 9 days to make it into Diamond III. I haven't made it into the diamond leagues since the deck power rule change.

I currently have 214 cards with a deck power of 256,385.

Current Strategy
I'm trying to complete my nightly quests adding to my deck regularly. I need a deck power of 325,000 to advance into the Diamond II leagues. I'm currently focusing on building my summoners. Most of my summoners are between a level 3 and level 5. I have many newer summoners that are currently at a level 1.
I'll start posting some updates as I level up my summoners. My latest acquisition is this Delwyn Dragonscale currently at a level 3. It was a cheap summoner and I'm going to continue to build him each week. I like the idea of having a powerful dragon summoner as well because I can use some of the more powerful cards in my other Splinters that are currently limited by that Splinters summoner level. For instance if I level this up to a level 6 summoner I'll be able to use my level 6 cards in the Earth Splinter as well as the Neutral Splinter. I'll post more about this in my next week.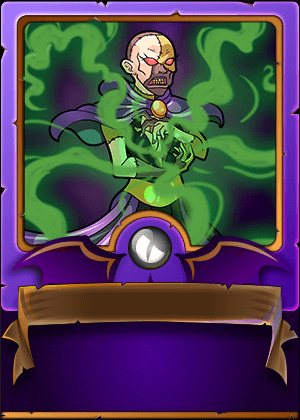 Well that's where I'm at with Hive gaming. If you have any tips or tricks for me please share them in the comments. I'm learning as I go and appreciate all the help I can get. Especially for dCity.
Thanks for reading and game on!