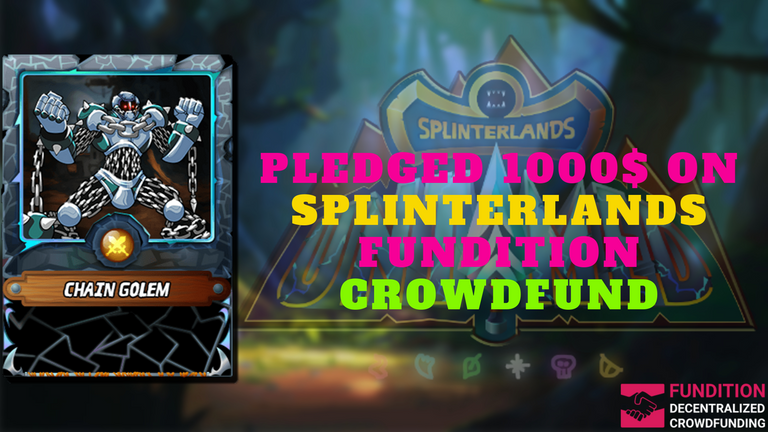 Good Morning/afternoon/evening @splinterlands fans, Many of you already know about ongoing @splinterlands Kickstarter crowdfund. From this crowdfund you can get stickers, shirts, books, decks, and early access to Untamed. So many physical rewards will be given out from Kickstarter crowdfunding as reward. There is a total of 13 different pledge on Kickstarter most of them have physical loot. So to purchase a pledge from Kickstarter you need to pay Shipping cost, also you need to use Credit Card to pay those amounts. But most of you know many countries don't support cryptocurrency or cryptocurrency-related projects, so using bank payment can be dangerous for some users. After Kickstarter release all those rewards and especially after CHAIN GOLEM bonus announcement, I was so excited to buy a 1000$ pledge but the issue was the Kickstarter Payment method. So a few days ago I asked @aggroed that they are going to do a fundition campaign like previous or not, he responded positively and Here is


By @splinterlands.


Kickstarter is all about physical loot. You will get physical rewards only from Kickstarter crowdfund. Fundition only offers digital rewards. Let's see if I pledge 1000$ on Kickstarter crowdfund then what rewards I will get :
FOR US $1000 PLEDGE ON Kickstarter :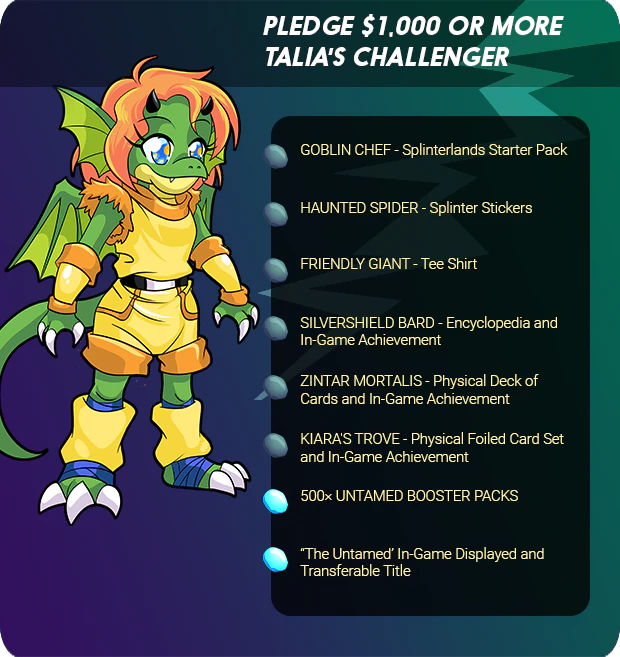 I will get all this physical + Digital rewards from @splinterlands if I pledge on Kickstarter crowdfund. But I need to pay 100$ shipping fee too, so the total cost will be 1100$.

As I said before fundition is only for digital rewards. For 1000$ pledge on fundition you will get same reward as Kickstarter but no physical rewards. And for fundition crowdfund you no need to pay any shipping fee because you are not getting any physical rewards from fundition crowdfund. I am less interest on physical stuff, so I choose fundition. For $1005 Pledge I will get :
GOBLIN CHEF - Splinterlands Starter Pack.
500(+75)x UNTAMED BOOSTER PACKS.
The Untamed In-Game Displayed and Transferable Title.
1000(+ 20%) Alchemy Brilliant potion charge.
1000(+ 20%) Legendary Brilliant potion charge. (If Kickstarter total fund reach US $200000)
One Max Normal Foil CHAIN GOLEM Legendary Card.
One Max Gold Foil CHAIN GOLEM Legendary Card.
Also, all KS/fundition contributions will be eligible for the first airdrop.

Why I choose fundition, why not Kickstarter?
As I said before I am less interest on physical stuff, So I don't think it will be good deal for me to pay $100 extra for those physical rewards. Also, Kickstarter only accepts fiat/bank money, but I can spend crypto on Fundition crowdfund.

Let me know your thoughts
On the KickStarter/Fundition & Presale in the comment section below.