| | In my previous post I introduced many of you, my dear readers, to an interesting Airdrop launched by PALnet.io. |
| --- | --- |
INTRODUCTION

Right away it seemed to be very obvious that their marketing campaign has been very efficient - almost everyone I know had already heard about this social media platform.

I've noticed solid hype around this project and the team behind it.
And the general strong believe that PALnet will do well in the future.
But will it really do well?
Today, just 2 weeks later I decided to share with you all my little experience with this platform. However my goal is mostly to find out what other people think about PALnet. What are the strengths and weaknesses of this social media platform? I wonder how many people believe that PAL token has actually a future and how many of us would actually use PALnet.io site instead of steemit.com (or other front ends).
SIMILARITIES AND DIFFERENCES

Visually at the first glance PALnet does look like just another "clone" of Steemit.com as the interface isn't that much different. The initial question raised in my head: why do we need another front-end, that looks like a copy of an old one from Steemit ?(which is not really considered to be user-friendly)
Below I will share a few spotted differences and hopefully some of you can add few more, which i didn't spot in the first place.
So let's start with the obvious:
PAL reward system is 50/50 (authors/curators), which is exactly the way Steemit will be after HF21 (Hard Fork 21)
we receive our full rewards in PAL tokens. So we can trade 100% of our rewards right away without the need of powering down (unsteaking).
wallet is simplified and is "build in" (which makes it so convinient to use it; it used to be that way on Steemit in the past)
only posts with "PALNET" tag are being displayed
PROMOTED - publications from this tab are also being displayed on the "trending" page (I found it a great step in the right direction as we need to find ways
Anything else? Oh yeah. There is one more drastic change. The one that put's me off the most from using PALnet.io: DISSAPEARING COMMENTS
DISSAPEARING COMMENTS on PALnet.io

This is in my opinion on one of the biggest issues with this platform. Regardless how much I initially believed in the future of PALnet and how I appreciate the work done by their developers, I must to say that this problem can be a nail to the coffin. For some unknown reason this platform isn't displaying all comments. Please allow me to share example of the very same post being displayed both: on Steemit and PALnet.io: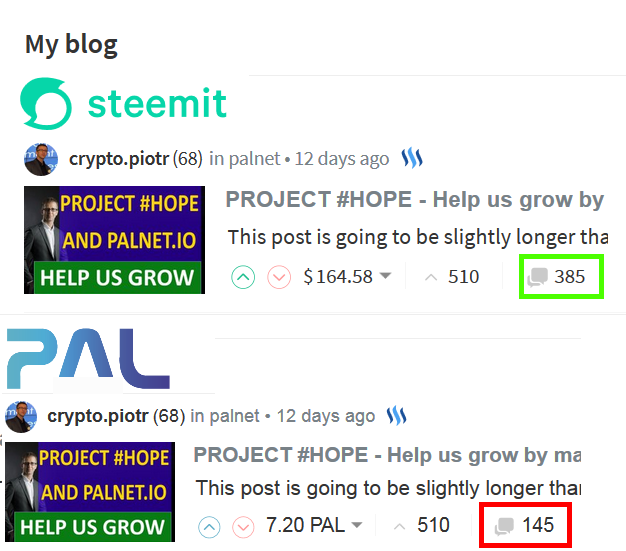 When I noticed it for the first time I was like: WTF???!?!?!?
Do you guys see the problem?How can 240 comments simply "dissapear"? That's like over 60% comments not being displayed. I also checked the "Replies" tab and it's not any different. Many users comments I usually would be able to see while using Steemit or Steempeak - are simply not being shown on PALnet.io. I believe this is a serious issue, one that should be solved by developers ASAP.
I'm pretty sure that there is some good technical reason behind it, however it's also important to understand that this is the biggest threat for PALnetp People will simply not care about a technical explanations and they will stop using PALnet.io to browse and engage with others if this continues. I may be wrong, but that's at least how I see it.
FINAL THOUGHTS / SHARE YOUR OPINION

I really do wish PALnet and their team all the best, to the point that I invested my own time in promoting their airdrop and I also invested part of my own STEEM into PAL tokens. However personally I'm not planning to use this platform to navigate and engage with other users until problem of "invisible comments" will be fixed.
I would also like to ask all readers about your own experience with PALnet.io. Could you share own opinion with me? Did you spot any other meaningful differences between Steemit and PALnet? Is there any reason to believe that PAL tokens will have a future? What is your own experience with this platform so far?
Please do share your thoughts with me. I read, reply and upvote all quality comments.

Additional important question:
Does anyone know what actually does happen to rewards if I upvote post on Steemit published by someone, who doesn't have account on PALnet? This person won't receive his 50% of PAL reward. So does it mean that that 50% is being waster / burned? Or perhaps in that case as curator I will receive 100% of reward as a curator?
Yours,
Piotr
cc: @nopal4u, @aggroed, @swelker101, @organduo, @khaleelkazi, @isaria, @followbtcnews, @danielsaori, @discordiant, @crimsonclad, @clayboyn, @ma1neevent, @juliakponsford, @sircock, @kubbyelizabeth, @partitura, @victoriabsb, @edicted, @roknavy*