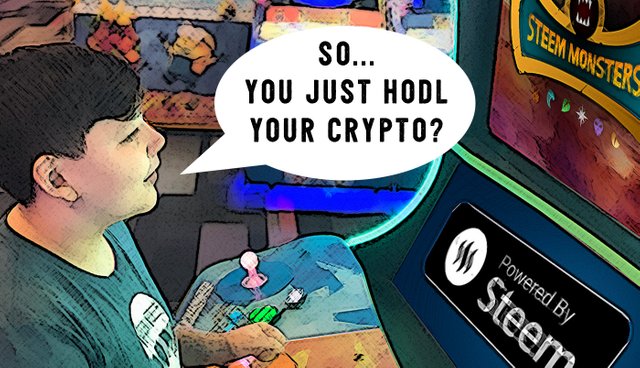 HODL.
It's a mantra that almost all of us live by. It's the commitment to hold strong to the idea that crypto has a bright future. So we buy, and we hold it.
And we hold it.
And...did we moon yet? No? Okay...still holding...
yawn
...holding...
ZZZZzzzzzzzzzzz...
That's the world at large. That's 99% of crypto. You buy some like it's a gold bar or a stamp. And then you put it away somewhere...maybe cold storage? Maybe you put it in a little flash drive thingy and hope that the stupid thing works when you get around to taking the funds out.
Every so often, you check the value of your crypto. The market goes up! You're happy. The market goes down. You're sad.
And that's pretty much it. That's typically what it means to be a crypto enthusiast.
If you're feelin' lucky, you whip out your credit card and get more crypto. Rinse and repeat.
And then you pat yourself on the back for HODLing. For essentially doing nothing other than just owning it.
---
It seems to me that sometimes people forget that STEEM is different. STEEM is not for HODLing. You don't stick it in a coffee can somewhere and drop it in a hole for a rainy day.
STEEM is not for people who like to watch moss grow.
STEEM is for people who ENGAGE. CONNECT. BLOG. VLOG. JOG. PLAY. DO.
STEEM is for DOers.
Don't be the guy who stands in the corner of an arcade with tokens in their pocket, hoping that their 4 tokens will be worth more tomorrow. Meanwhile, everyone else in the room is playing games to earn MORE tokens, which in turn can be used to go buy toys off the prize wall.
STEEM is meant to be PLAYED.
Tokens are turning into other tokens. There's prize tickets flying everywhere. People are running around, having fun and playing games that reward the players. It's insanity!
It's cool.
And that's the mindset you need to have when you look at STEEM. If you're not Powering Up, Delegating, Upvoting, Posting, Buying Tribe Tokens, Playing Games, and going absolute nuts with your Steem...then what are you doing?
STEEM is the real deal.
While the rest of the world is patiently waiting for the development of a blockchain-based rubber duck to squeeze, we're drowning in an ever-expanding roster of toys. I can't even keep up.
There's more Games, Apps, and Tribes every day. There's not enough time in the day.
I check my Steem Engine token rewards, and I'm like "what the heck!" So many friggin' tokens, haha. I don't even use all those tags! But I must have upvoted someone who did...WEEEEeeeeee..!!!
This is what I could fit on my screen: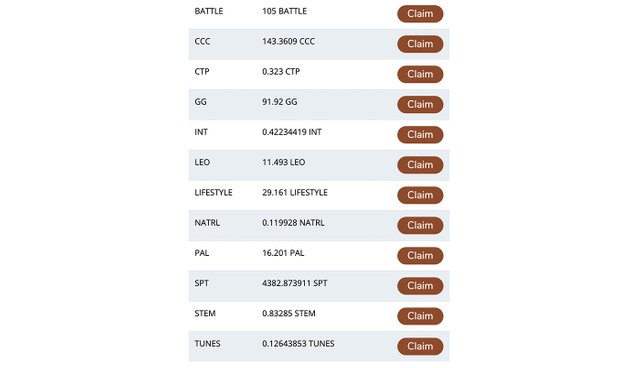 Where can you go and see this sort of user-friendly, easily-accessible earning potential? And WITHOUT all the typical, soul-draining transaction fees?
Use Steem to buy Splinterland cards. Play the game to earn Steem Engine tokens. Trade the tokens to buy Tribe tokens. Stake those tokens, and get involved in a community. Power up your Steem and delegate to a project you're excited about.
Play to earn more.
Post to earn more.
Delegate to earn more.
Do stuff with your Steem. Invest your Steem. Spend your Steem. Talk to your Steem. Just do something with it. Because otherwise you're missing the point of Steem.
And unlike other blockchains, if crypto ever goes to absolute ZERO (spoiler alert: It's not going to zero)...everyone else walks away with nothing. Meanwhile you had FUN. You played games. You built relationships. You saw the world differently and contributed to a worldwide movement to promote freedom and prosperity.
Steem is the blockchain industry's secret, underground arcade.
Go play some games before it gets crowded.