SOME FRIENDS I HAVE MET IN NATURE LATELY(LOTS OF SPRING BABIES.)
I hope you enjoy this selection of animals I have been lucky enough to not only see but also photograph so I can share with my Steemit friends.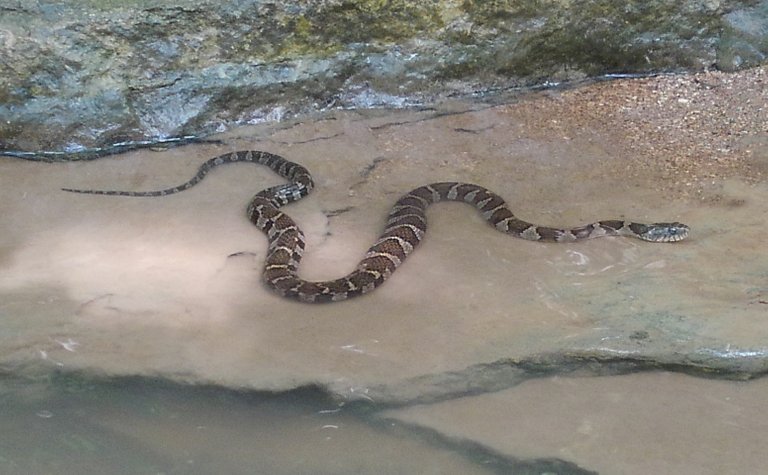 THIS GUY IS A WATER SNAKE I FOUND WHILE AT WORK, BUILDING A WALL IN A CREEK. HE WAS NOT IN A GOOD MOOD, SO I DIDN'T HANG OUT LONG AND I DIDN'T HOLD HIM. THESE SNAKES ARE KNOWN TO BE AGGRESSIVE DURING MATING SEASON.(WHICH IT IS)
---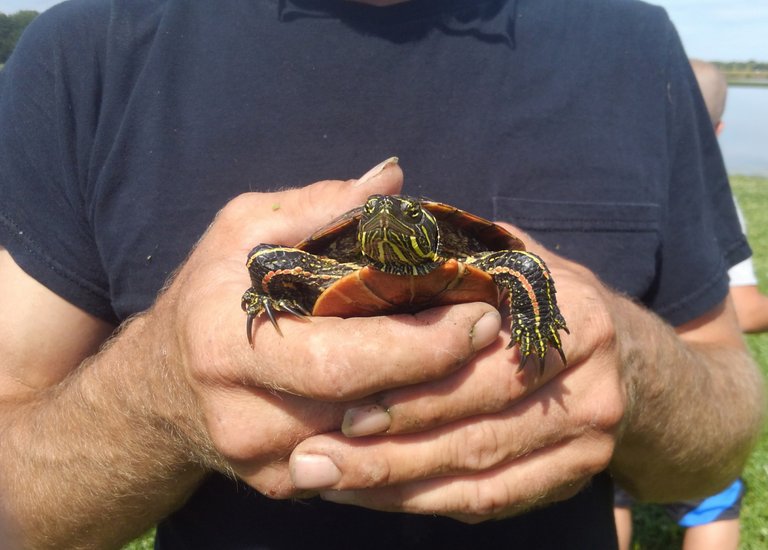 NEXT UP IS THIS RED-EARED SLIDER. SHE IS A FRIEND WE SAW WHILE FISHING. THESE TURTLES ARE ALWAYS FRIENDLY AND LOVE FOR THEIR SHELLS(AND HEADS) TO BE PET. THEY EAT BUGS AND BERRIES.
---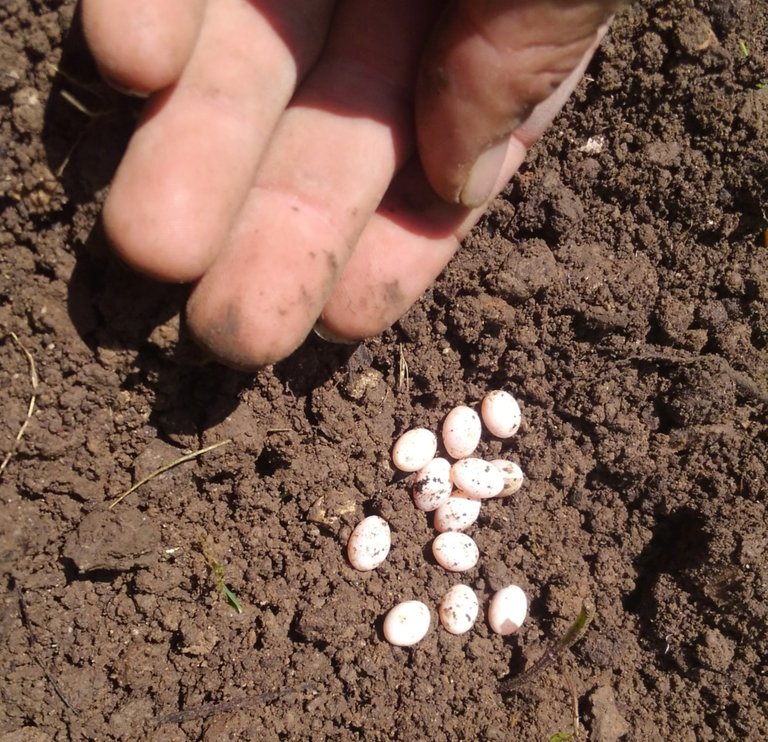 THESE LITTLE GUYS AND GALS ARE PROBABLY MY FAVORITE FIND I SHARE TODAY. THEY ARE LITTLE BABY SNAKE EGGS. I FOUND THEM WHILE SHOVELING DIRT AT THE BOSSES HOUSE. I WAS LUCKY ENOUGH(AND THEM TOO) NOT TO BREAK A SINGLE EGG BEFORE THEY CAUGHT MY EYE. WE MOVED THEM FROM OUR DIGSITE TO A NEW SAFE LOCATION. I WISH THEM THE BEST OF LUCK!
---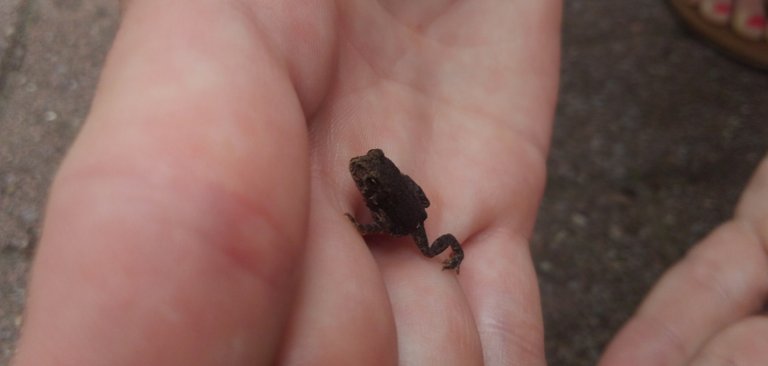 THIS BABY COMMON TOAD WAS FOUND BY MY SON, EVAN. DON'T WORRY, A TOAD PEEING ON YOU WON'T CAUSE A WART. THAT IS JUST A WIVES TALE.
---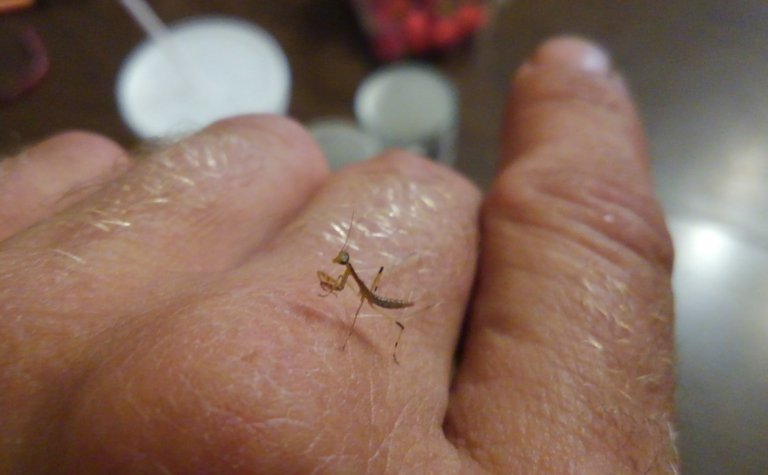 THIS IS A PRAYING MANTIS. HE IS ALSO JUST A BABY. HIS NAME COMES FROM THE FACT THAT HE LOOKS LIKE HE IS PRAYING WHILE HE IS WAITING FOR A MEAL(LIKE A BUG) TO FLY BY. IF YOU ZOOM IN ON THIS PICTURE, YOU CAN SEE WHAT I MEAN.
---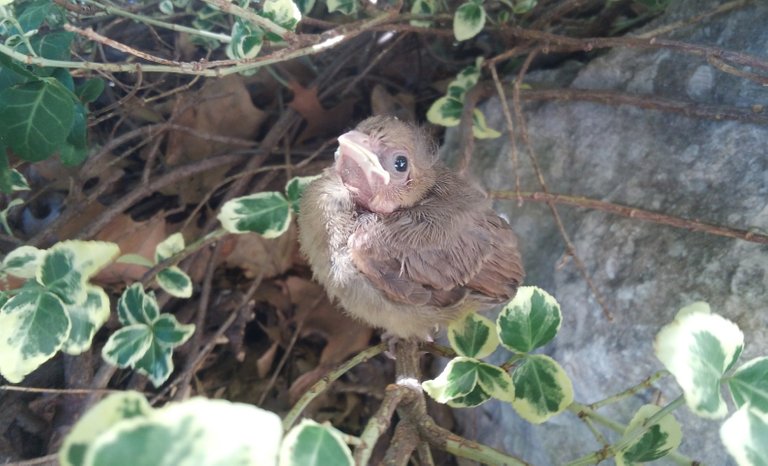 AND LAST BUT NOT LEAST IS THIS BABY ROBIN. HE FLEW FROM HIS NEST BEFORE HIS WINGS COULD SUPPORT HIM. THIS IS OKAY AND HAPPENS WITH LOTS OF BIRDS. HIS MOMMY WILL CONTINUE TO FEED AND PROTECT HIM FOR THE NEXT WEEK OR SO UNTIL HE IS BIG ENOUGH TO FLY. AS A MATTER OF FACT, SHE WAS RIGHT BEHIND EVAN AND I(YELLING AT US)AS WE TOOK HIS PICTURE.