Daily Status
Moved on to "Busking with A license" mission. One more level up and I can take music classes.
Level: 9
Fans: 1111
Skill: 995
Luck: 681
Income multiplier: 31
star bit: 3592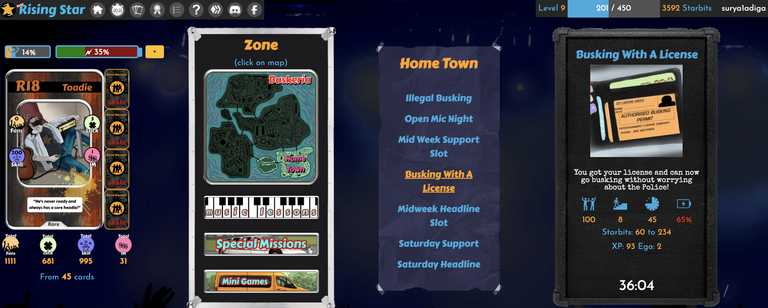 Card winners
@mawit07 : 10
@logicforce : 6
@bocatan : R18
@proto26 : 13
@sirdemian : R19
Congratulations to all the winners. Cards have been sent out.
Pack openings


Rising star Tips
If you dont have a pizza box please consider buying one as it will come handy in storing pizzas which can be used for energy boost. Valuable tip from @proto26.
There was an earlier tip to take up music classes when possible as it will help gain more experience and skill with less energy.
Card give away rules
Please vote and comment on the post to be eligible for next draw.
You may comment about strategy to play, best practices on blog/ give away or any information you like to share.
Splinterlands give away update
As mentioned in the previous post, I will be starting a splinterlands give away with below rewards
2 X 100 DEC
1 X Rare or better monster/ summoner opened from packs or received as quest reward or bought from market.
To be eligible for the splinterlands give away please upvote and comment in this post