EN: This post is participating in the "SHARE YOUR BATTLE Weekly Challenge! BARKING SPIDER".
---
RU: Эта публикация принимает участие в "Конкурс Splinterlands: "SHARE YOUR BATTLE Weekly CHALLENGE! / Поделись своим поединком! Тема: «BARKING SPIDER»".
---
---
EN: I expect that this contest was accepted as many participants as always (and I will recommend to see the posts of other participants in the comments on the starting Contest's post), and they will show (showed) a lot of excited battles with the Barking Spider using. I decided to demonstrate a rather exotic battle, with the lower Mana Cap (14 points) and where both players decided to choose Earth Splinter:
RU: Я ожидаю, что в данном конкурсе примет как всегда много участников (и я порекомендую посмотреть посты других участников в комментариях к стартовому посту данного конкурса), и они покажут (показали) множество красочных боёв и применений карты Barking Spider. Я решил продемонстрировать достаточно экзотический бой, в малой Мане (14 очков) и где оба игрока приняли решение выбрать Стихию Земли: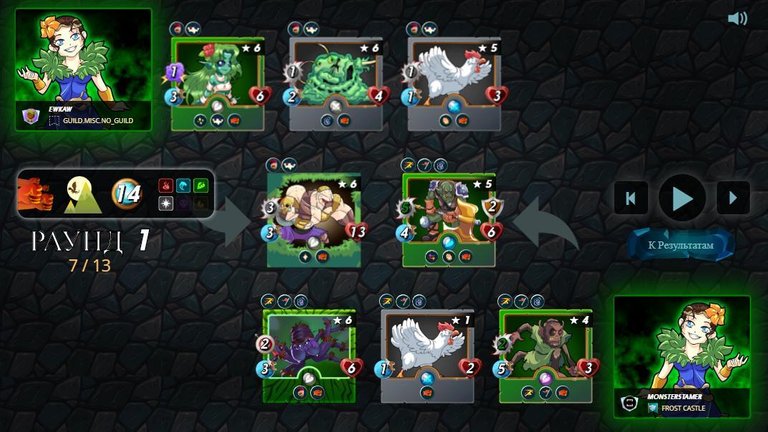 (click to view this battle with Barking Spider/кликните, чтобы посмотреть поединок c участием этой карты)
EN: So what do we see here?
Each player has chosen his own composition. It is very interesting that I chose to play a game without treatment. This is extremely risky, since the ability(ies) of Monsters Healing (when the battle rules allow it) is most often a guarantee of victory. But I did it, with the assistance of the Barking Spider and his Blind Ability to get my tank dodges from Melee, and meanwhile the opponent's tank was defeated! Single damage by magic from the rival's Wood Nymph only enraged my Stonesplitter Orc.
---
RU: Итак, что мы здесь видим?
Каждый игрок выбрал свой состав. Очень интересно, что я выбрал сыграть партию без Лечения. Это крайне рискованно, так как наличие лечения у монстров (когда это позволяют правила боя) чаще всего является залогом на победу. Но у меня получилось, при содействии Barking Spider и его Способности Слепота получить увороты моего танка, а тем временем танк оппонента был повержен! Единичные уроны магией от Wood Nymph противника только раззадорили моего Stonesplitter Orc-а.
---
---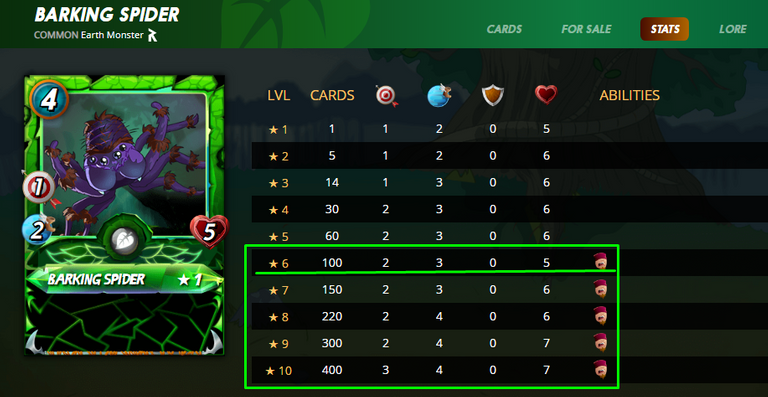 EN: A few words about Barking Spider Stats: the Blind Ability this card gains only at 6th level. Unfortunately, below this level, this card is practically useless or of a little use (because there are other cards that you can use for the same amount of mana). To get this benefit, you need to put together 100 cards or more.
*Good luck&success everyone in the game battles!
---
RU: Пару слов о Характеристиках этой карты: свою способность Слепота карта приобретает только с шестого уровня. К сожалению, до этого уровня эта карта практически бесполезна и малоприменима (потому что есть другие варианты, что можно задействовать на это же количество маны). Для получения данной пользы нужно собрать воедино 100 карт и более.
Всем удачи и успехов в игре!

EN: For those who don't know what this is all about: Splinterlands is a collectible card crypto game on the Hive blockchain. To (confirm) actions in the game, transactions are used in the blockchain, and each card is a unique token (which you can sell, trade, burn, rent smbdy). In addition, the cards have a fairly wide variety of parameters; daily in the market players sell cards in total about several thousand dollars!
---
RU: Для тех, кто не в курсе о чём здесь вообще речь: Splinterlands – это коллекционная карточная криптоигра на блокчейне Steem. Для (подтверждения) действий в игре используются транзакции в блокчейне, а каждая карта представляет собой уникальный токен (который вы можете продать, торговать, сжечь, сдать в аренду). К тому же карты имеют достаточно широкое разнообразие по параметрам; ежедневно на рынке игроки продают карт суммарно порядка несколько тысяч долларов!