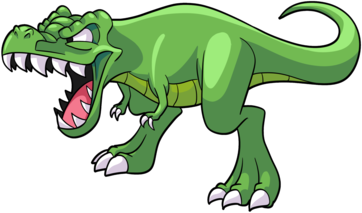 Yippe, it is another weekly battle challenge in the splinterland world and guess what we are using Rexxie as the main card. I actually miss the last challenge because we are to use maggot and that was the first time I will be hearing that card actually exist because I never use it before and to top it, I forgot to post about it. Rexxie isn't my favourite cards because I don't really use the Earth summoner only on rare occasions and if I have to use it in my daily quest, I always skip it, I don't knw the main reason. Maybe because I didn't level my earth monster cards or because of their abilities, am yet to know but I do see someone of my opponent use it and do win. Maybe when the earth spirit shows up, it might motivate me to start using my earth summoner.
Rexxie is a green Rex dragon with short hand and a dangerous one because I do see that type of dragons in movies with that their small hand and two fat legs killing other small dragons and every human dey see, have even forgot if they can breath out fire from their month like other dragons, I would have love to see a real one, yes one that is alive and walking but do they still exist? Someone once told me they are myth, they don't exist and so on. How true is that. Let go back to splinterland.
Match Details
This awesome battle was between me and @makspowerbro16 in a 35 mana cap and with the odd mana rule. Lolz how will I put it, the rules ask us to use old numbers cards such as 1, 3 ,7 etc cards. He use the water summoner so it was a great batter between earth and water. Hmmm can earth and water fight, only possible on steemmonster. I use the 3-2-1 formation which means 3 melee attack, 2 magic attack and one range but didn't place them well when arranging. I put Rexxie as my number one because it has 4 melee, 3 speed and 7 lives so he should fight first, since it is a dangerous cards, it can try and make way before it got destroyed and with the help of other cards, Rexxie destoryed 3 cards.
I backed it up with the Nectar Queen, an earth melee card with 9mana, 4 melee, 2 speed and 10 lives. Definitely a strong melee card with the flying ability. Nectar didn't work so much because it serve as a backup plan for Rexxie. Other cards I used include Mushroom seer, a 5 mana cap card with 2 magic attack, with the ability which reduce all enemy magic card by 1. Javelin thrower also 5 mana cap with the snipe Ability, so it can thrower the opponent some range javelin, the card really work well. Goblin Sorcerer, a 3 mana cap with one magic attack. Then lastly my flash Brownie, one of the best in earth card because of the ability to increase all friendly card with one speed. 3 brownie in a match will make the march more interesting. It didn't attach but make the work easier.
Decided to up my editing a little, first time using kinemaster video editing app. And I think I try a little, need to work on it